There are a lot of old famous, rare vintage Rolex watches out there – those incredibly hard to find, white whale, unicorn, million-dollar timepieces that we'd all like to stumble upon. Better yet, own in our collections. But, the thriving vintage market also features a lot of rare, lesser-known stunners that you probably didn't know about. Here, we're going to introduce you to a handful of vintage Rolex hidden gems. Maybe after this, you can spot something that someone else might miss.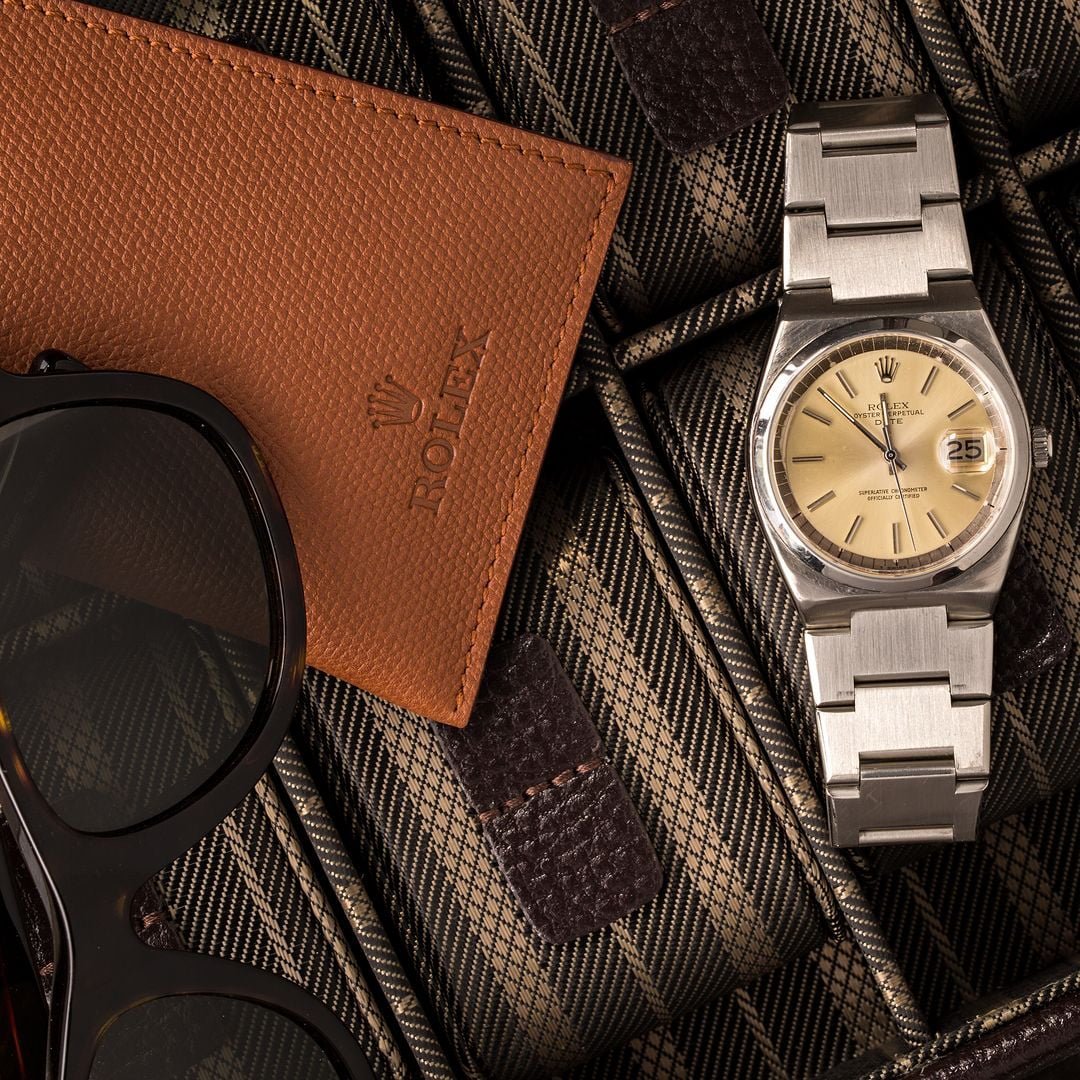 Vintage Rolex Submariner ref. 5512 – Gilt, Exclamation Dial
There are two things that make this vintage Rolex Submariner incredibly rare, and they're both on the dial. First up us that glossy gilt black dial, which while it sounds fancy, is really just what we call the first dials that Rolex used on their sports watches. Regardless, they are still very rare and hard to find, as this Submariner dates all the way back to 1961. Another rare feature of the dial on this timepiece is the "exclamation point" – which you'll notice if you look very closely at the six o'clock hour marker. Here you'll see the rectangular hour marker has a small dot under it, a trait produced in limited quantity between 1961 and 1962 to identify a lower radiation count compared to other and earlier dials.
Vintage Rolex Date ref. 1530 – Rare Quartz Look-Alike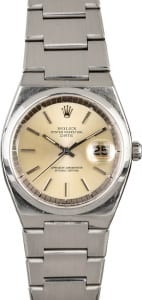 No, this isn't an Oysterquartz. But with that case shape and integrated Oyster bracelet, it's an easy mistake to make. In fact, what makes the reference 1530 so rare is its weird tie to the Rolex Oysterquartz surprise being the fact that it was never really meant to exist. So what's the deal? Well, when Rolex was trying to figure out how to make their own Quartz caliber, they had already produced the case they knew they'd eventually pair with it. The thing was, creating the new quartz caliber was taking a lot more time than anticipated. So, they tossed a Caliber 1575 inside and the Rolex Date 1530 was born. Production only lasted until 1977 and it's estimated that about only 1,500 examples were ever made.
Vintage Rolex Submariner ref. 1680 – Red Line, Meters First Dial
I'm sure you already know about the famously collectable 'red' Submariner. You can already see that this watch has that sought-after vintage feature; but, what also makes this Submariner rare and collectible is that 'meters first' dial. Nowadays on the Submariner you'll see feet first, followed by meters, like this: 1000ft = 300m. So the old meters first dials, only produced on the Mark I, Mark II, and Mark III versions, are pretty rare in this watches long-history. It also says something that the reference 1680 was the first Submariner to feature a date complication, making this a pretty special piece.
Vintage Rolex GMT-Master ref. 1675 – Gilt Dial, Faded Pepsi Bezel
To an untrained eye, you might think that a faded bezel would make a vintage watch worth less. But, by now, you can probably suss out that this feature makes it even more desirable. Now, it is certainly not for all collectors – and Rolex surely didn't think an aged bezel would ever help their pieces become more popular. But alas, here we are, in this fun and strange watch collecting world. Here, you can see the aluminum "Pepsi" bezel on this vintage GMT-Master with a gilt dial from 1966 has wonderfully faded to these light blue and barely-red colors. Over the years, this would happen due to prolonged exposure to sunlight, sweat, and even friction from coming into contact with clothes. Since it was customary to replace "worn out" bezels, relatively few examples have survived all these years, making them really popular amongst serious collectors.
Vintage Rolex Day-Date ref. 1803 – White Gold with Jubilee Bracelet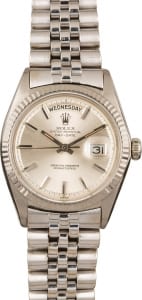 An early and beautiful model, the ref. 1803 is one of the most collectible vintage Rolex Day-Date watches out there. This model was produced between 1959 to 1977, with the vast majority crafted from yellow gold, making this white gold version even more rare and sought-after by collectors. What also makes this timepiece rare and extra special is that the case appears to have never been polished – which is really important for purist collectors who are behind the 'honest' watch movement.