There was a time when the name Rolex was most commonly associated with watches built for adventure; rugged, professional models, created to keep on ticking no matter what was thrown at them. Whether on top of the highest peak on earth, or diving into its deepest abyss, there was nothing to compare with the robustness and longevity of a Rolex watch.
While their sport/tool collections has only gotten stronger and somehow even more reliable over the years, the brand is now more closely linked to notions of achievement, luxury, and opulence. Wearing a Rolex watch of any description is a tacit signal that you have attained a certain level of success.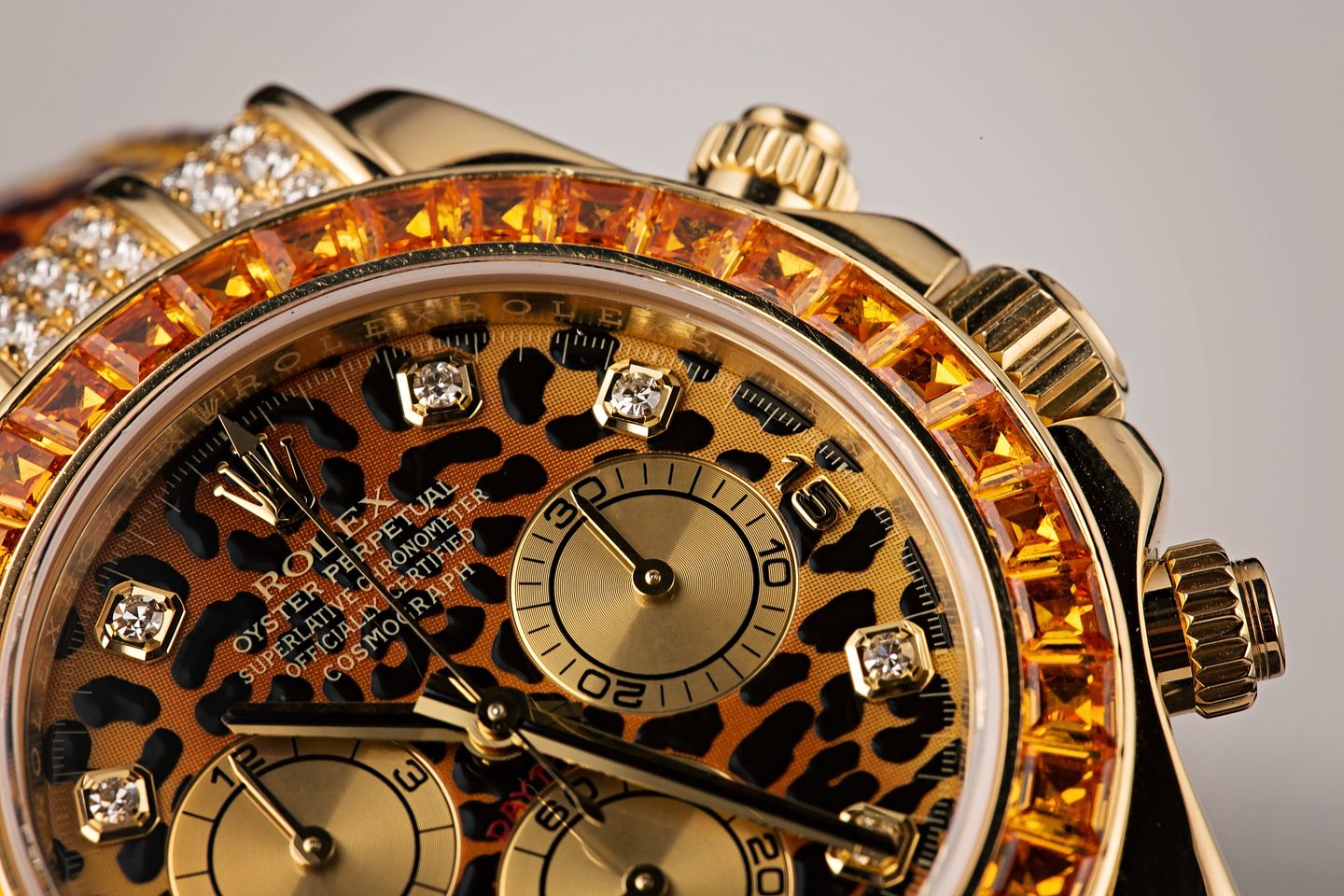 The Concept of a Rolex Watch as a Luxury Item
That switch hasn't happened by accident, but was rather a well thought out and highly effective response to the quartz crisis. With the tsunami of electronics sweeping in from the east in the '70s and '80s, the company quickly realized that competing on terms of price and timekeeping accuracy was a non-starter and so changed its business model to concentrate on the concept of exclusivity and artistic craftsmanship.
Fast forward a few years, and that shift in focus has conjured up some extraordinarily lavish timepieces – watches forged from the finest of precious metals and festooned with enough gemstones to sink a ship. These are the watches for the one-percent, incredibly expensive examples of pure flamboyance, full of in-your-face excess.
Love them or hate them, below we take a closer look at a couple of the most luxurious Rolex watch references out there, both from the brand's 'Professional' series of sports watches.
Rolex Daytona ref. 116598SACO – 'Leopard Daytona'
Although no longer in production, the astonishing-looking and highly-polarizing 'Leopard Daytona' changes hands on the pre-owned market these days for anywhere between $50,000 and $70,000. That's a lot of money, but the Rolex Daytona ref. 116598SACO is a lot of watch.
With the underlying architecture of a standard in-house Daytona, it is all up to the showmanship in front to justify the price tag. The 40m 18k yellow gold case houses a leopard print dial, dappled with black lacquer spots, a motif carried over onto the length of the leather strap. Eight hand-set diamonds fill in for hour markers, with only the 3/6/9/12 indexes left un-gemmed.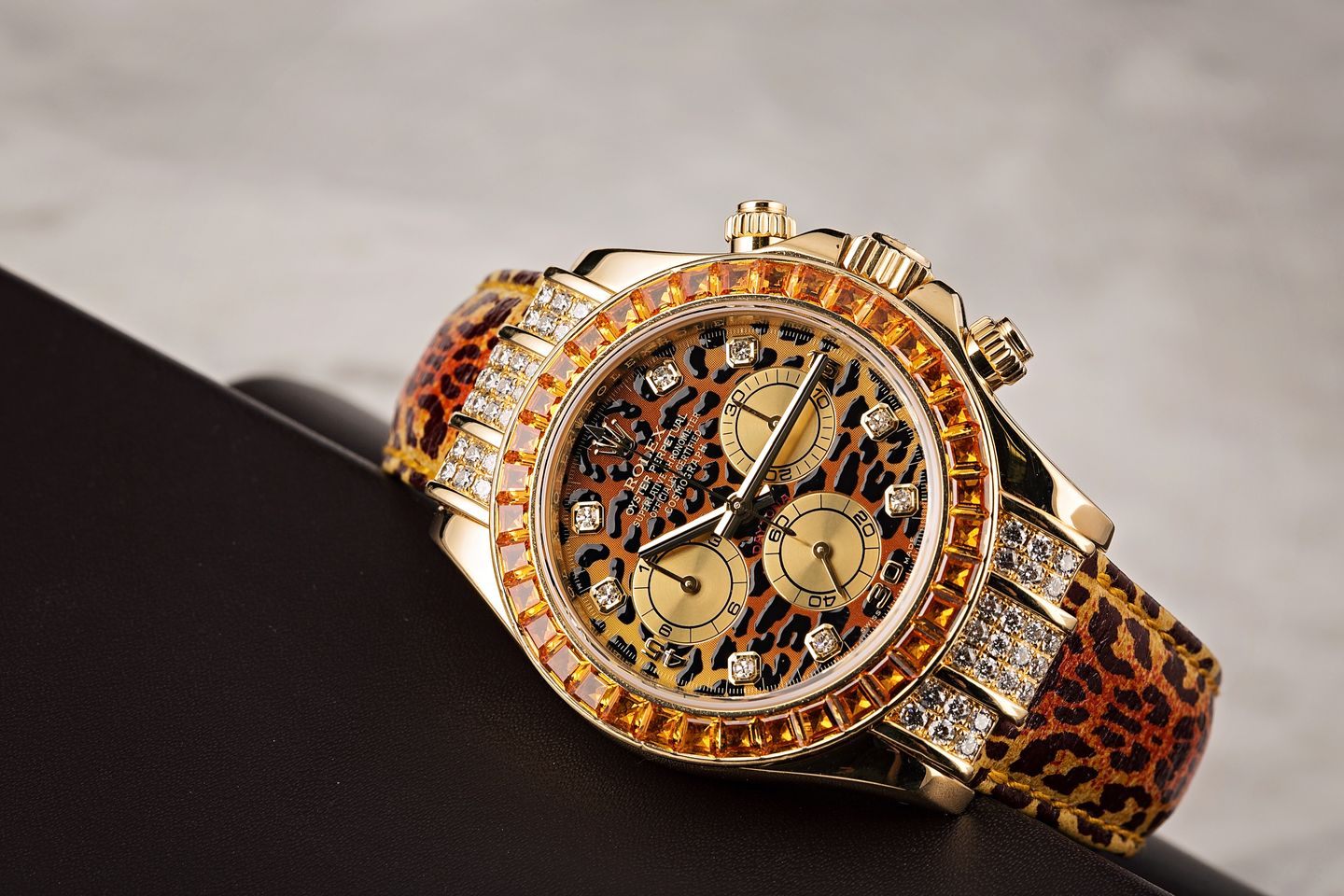 The bezel is encrusted with 36 slightly trapezoidal, baguette-cut cognac sapphires, and there are a further 48 brilliant-cut diamonds set into the lug-hoods that take the place of end links where the case meets the bracelet.
Originally released in 2004 to a somewhat horrified reaction from traditionalist followers of the usually restrained brand, during the last decade or so, the Leopard's extreme looks have become more and more accepted. While wallflowers still need not apply, the Rolex Daytona ref. 116598-SACO is easily one of the most luxurious Rolex watch references out there, and is gaining evermore interest from modern, extravagant collectors.
Rolex GMT-Master II ref. 116769TBR – 'GMT-Master Ice'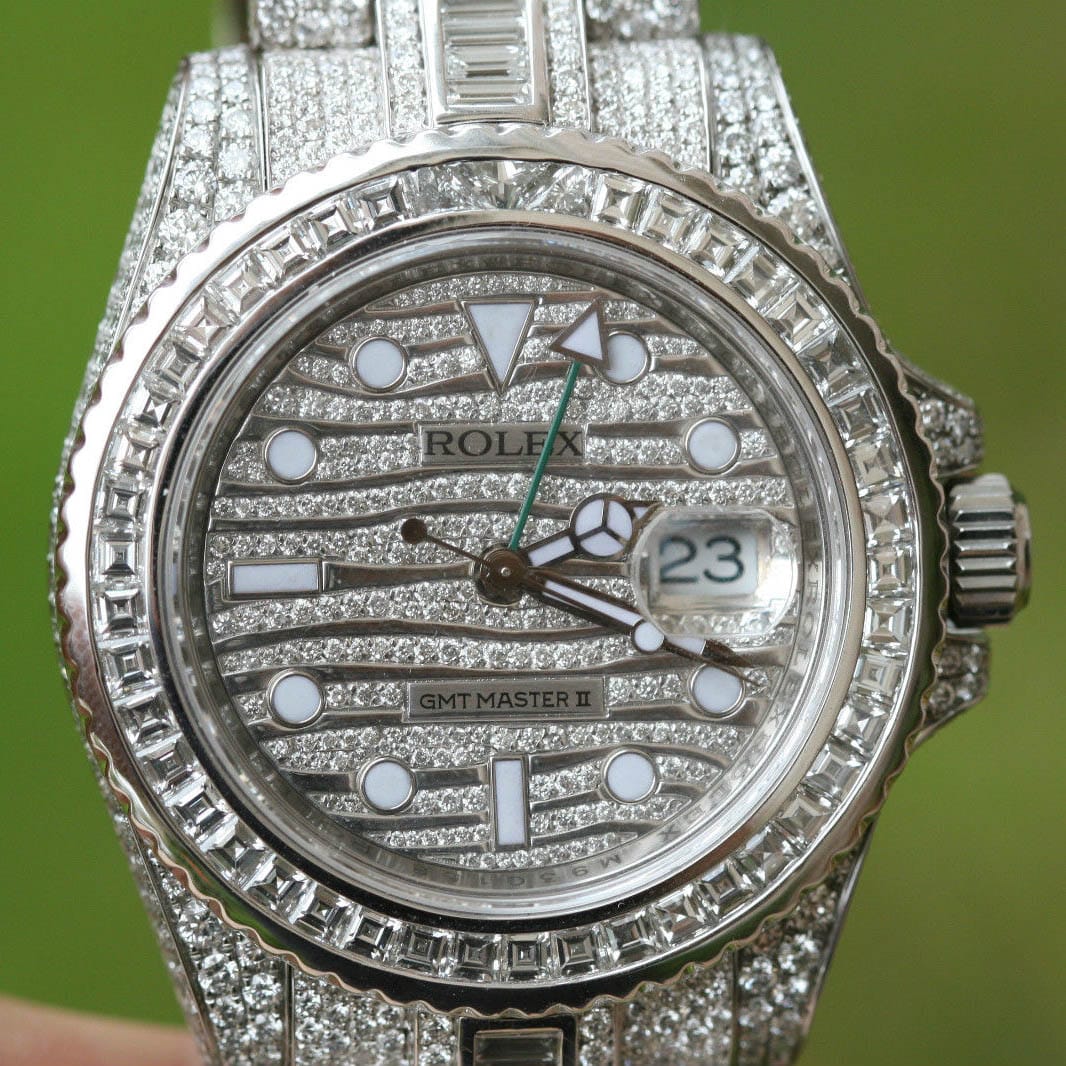 Immediately taking the prize for the most expensive watch in the Rolex lineup upon its release in 2007, the GMT-Master II ref. 116769TBR had an original retail price of $485,350. These days, with it now only available on the pre-owned market, you might be able to snap one up for as little as $375,000 if you are lucky enough to find one for sale.
The 'GMT-Master Ice' is a standard-issue 18k white gold Rolex GMT-Master II underneath, the brand's iconic dual timezone luxury travel companion. However from a distance, you'd be forgiven for not realizing this. The watch's 24-hour bezel, easily its most distinctive feature, is hidden below a sea of baguette-cut diamonds – 44 in total, with one large triangular inverted triangle at the top. With no numerals whatsoever, the bezel on the GMT-Master Ice can't be used to track a third timezone, but does it matter? Of course not!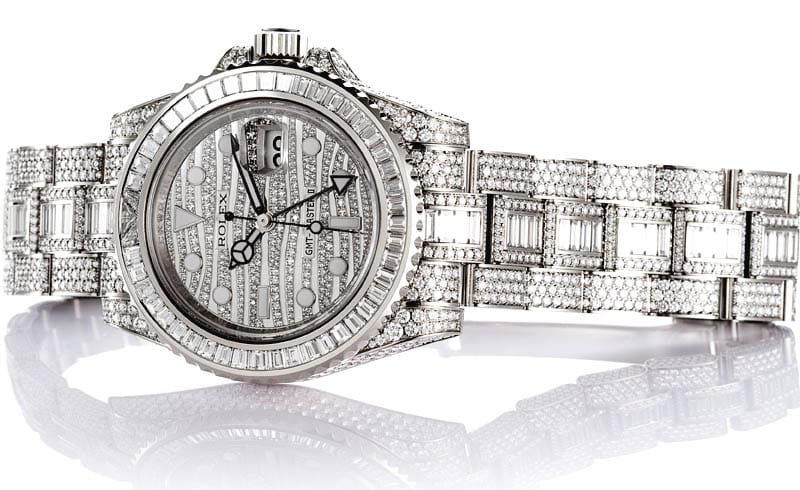 In all, 30 carats of the world's finest diamonds are used to cover pretty much every inch of this watch. There are 79 on the 18k white gold case and lugs, round cut and hand placed into custom settings. Gems are strewn over the entirety of the bespoke bracelet, and there are scores of additional stones arranged in waves across the dial. Inside is the Cal. 3186, the GMT movement that preceded the current Cal. 3285. A superb movement, it is a COSC-certified chronometer, offering users a blue Parachrom hairspring, a jumping independently adjustable hour hand, and a 50-hour reserve.
With that in mind, no one is going to be parting with this sort of money because strict functionality or timekeeping accuracy is their top priority. Again, this is all about standing out and wearing a watch that showcases its owners' net worth – and does so unapologetically. You only have to have a rundown of the 'Ice's' rumored list of owners – the likes of Brad Pitt, David Beckham, and Cristiano Ronaldo – to see this isn't about hiding lights under any bushels.
Whether it appeals to your tastes or not, there is no denying that the ref. 116769TBR is an absolutely amazing creation, and easily one of the most luxurious Rolex watch references of all time.