There are obviously a lot of factors that people consider when buying a watch – the face, what kind of numerals circle the dial, the type of bracelet, the style of the bezel. One thing that often tends to be an afterthought is the size of the watch itself. However, you could argue this is one of the most important things to consider when shopping for a new luxury watch. And while you can also argue that size also comes down to taste, the fact of the matter is that some Rolex watches may just look too small on your wrist while others may be far too oversized.
So now you're wondering, 'what size should I buy?' Luckily, we are here to help. There are two main categories for men's watches, 'mid-size' and 'large size,' each encompassing different Rolex watches.
Mid-Size Rolex Watches
Specs: 36mm, 37mm, and 39mm
Watches: Datejust, Yacht-Master, Cellini, Explorer, Oyster Perpetual
Good for: Timeless look, vintage look, smaller frames
36mm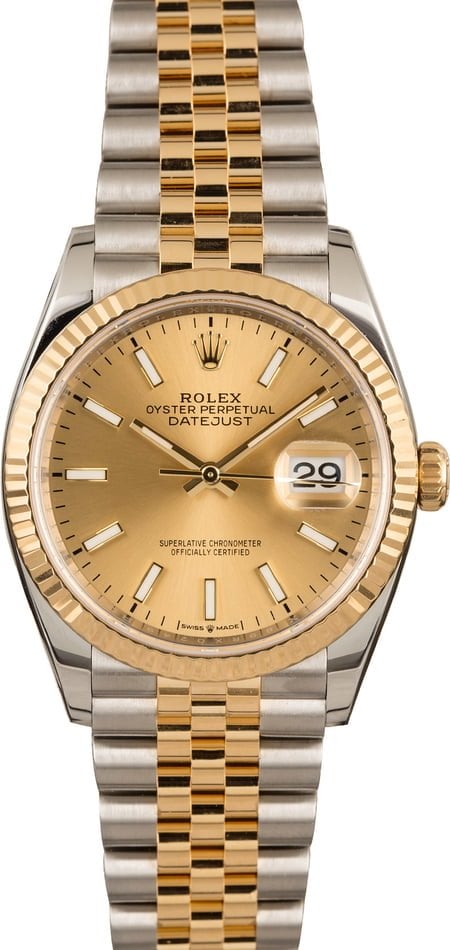 The mid-size Rolex watches for men span three sizes, the most famous being the classic 36mm Datejust. The traditional 36mm version was previously the standard men's size, but with the introductions of the larger 41mm models, the classic Datejust 36 has become one of the brand's most versatile models, appealing equally to both male and female buyers. You already know this as the classic everyday watch, so it's pretty fitting that Rolex has forged it in a size that's universally timeless. And by that we mean it's the kind of size that's never going to go out of style – never too small, and in no way large. This is the best size for people who want something comfortable, unobtrusive, and utterly classic. The equally classic Oyster Perpetual collection is also offered with the option of a 36mm case size.
37mm
The next size up is the Yacht-Master 37mm, which is actually a unisex watch. The versatile 37mm case size offers a lot more wrist presence than the Lady Yacht-Master, while simultaneously being noticeably lighter and more compact than the standard 40mm men's model. Since there's only one watch with this case size, you have to be a fan of the Yacht-Master collection in order to enjoy it; however, it is the only Rolex sports model with a rotating bezel that is available in a size smaller than 40mm, making it the go-to option for those that want a mid-size Rolex sports watch.
39mm
Finally, there's the 39mm Explorer, Cellini, and Oyster Perpetual models. Technically, Rolex categorizes these as 'large size' watches, but most collectors will agree that this is by no means a large-sized watch (only large by Rolex standards). While the Rolex Explorer has historically had a case diameter of 36mm, the current 39mm version offers the perfect size for all those who want something that still feels classic on the wrist, while simultaneously offering a contemporary look and feel that is more in-line with modern preferences.
Large Rolex Watches
Specs: 41mm, 42mm, 43mm, and 44mm
Watches: Datejust, Day-Date, Daytona, Air-King, Submariner, GMT-Master, Milgauss, Sky-Dweller, Yacht-Master, Explorer II, Sea-Dweller, Deepsea
Good for: Big-watch enthusiasts, bolder look, larger-frames
Let's get something straight off the bat: Rolex doesn't really make "big" watches – at least not by everyone else's standards. Today, the average-sized men's watch is around 40mm to 42mm, so while these 'large Rolex watches' are bigger than their various mid-sized counterparts, they're not particularly large when compared to models from other brands. In fact, because of Rolex's relatively modest sizing, most of you reading this will have no problem at all slipping on a 'large' Rolex.
40mm
The 40mm collection is by far the largest, spanning classics like the Day-Date and everyone's favorite chronograph, the Daytona. Other notable models with case diameters of 40mm include the Air-King, Submariner, GMT-Master, Yacht-Master, and Milgauss. These watches sit substantially on the average wrist, giving them great readability and prominence. However, as noted above, the 40mm size is quite average by industry standards, meaning that these watches are going to have plenty of wrist presence, while still remaining very comfortable to wear all day, every day. Rolex's 40mm watches are great for someone who wants a modern watch that has a substantial presence without being 'over the top' or too flashy.
41mm
The 41mm Datejust is for everyone who loves the classic aesthetic of the 36mm Datejust but who wants something that is bolder and feels more significant on the wrist. The current Datejust 41 adheres to the same design and proportions of the classic 36mm model, but is noticeably larger in size, making it the perfect watch for those who love the timeless look of the Datejust, but who think the 36mm just looks too small on them.
42mm
Among the 42mm Rolex watches, you will find the Sky-Dweller, Yacht-Master, and Explorer II. These are all iconic, impeccably designed, highly-functional Rolex timepieces with cases that are larger than the traditional Rolex watches for men. While 42mm is still considered average by today's standards, you can really see and feel the difference here with these watches. All of these 42mm models offer additional functionality beyond the normal time and date displays of most Rolex watches, so many individuals who opt for these models are more than likely drawn to their unique features, rather than just their large case diameters.
43mm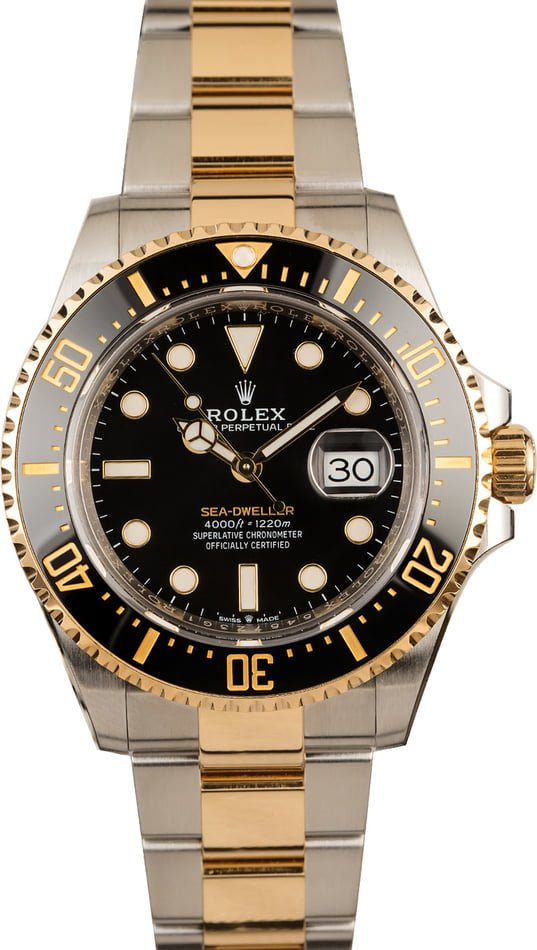 The 43mm Sea-Dweller is among the largest watches currently produced by Rolex; however, it is still not the largest offering in the brand's current catalog. With depth rating of more than four times the 300 meters offered by the Rolex Submariner, the Sea-Dweller is Rolex's ultimate collection of professional dive watches. Historically, the Rolex Sea-Dweller was a 40mm watch; however, many collectors complained that it was too thick relative to its fairly standard 42mm case diameter. The lastest 43mm version of the Rolex Sea-Dweller remedies this issue, creating a watch that is noticeably larger than the Submariner, while still adhering to similar overall case proportions.
44mm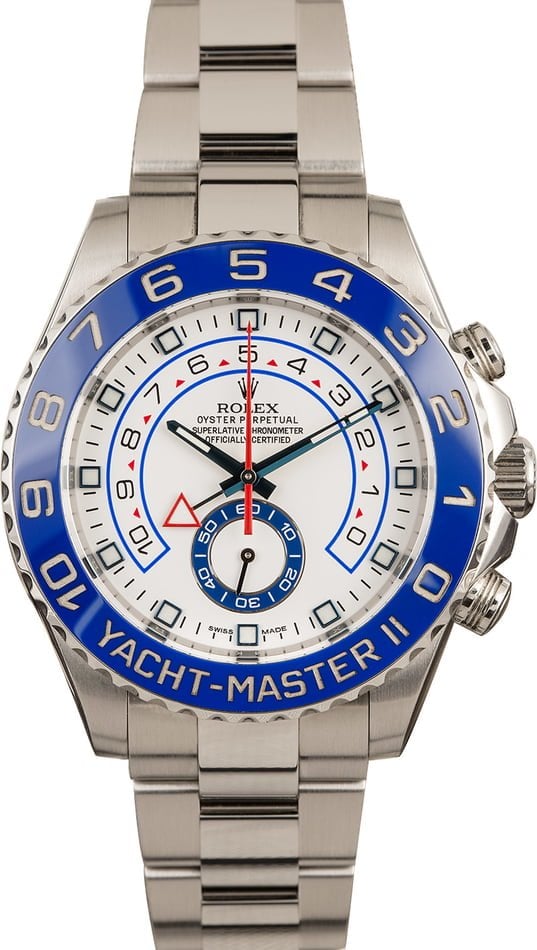 Finally, the biggest of the bunch, The Yacht-Master II and the Deepsea Sea-Dweller are the largest Rolex watches currently available and have case diameters of 44mm. Both the Yacht-Master II and the Deepsea are among the most technologically advanced timepieces that Rolex produces, with the Yacht-Master II offering an adjustable flyback countdown timer, and the Deepsea Sea-Dweller offering a unique case architecture that allows it to withstand depths of 3,900 meters. Their large cases are necessary for their advanced functionality, but some collectors may find these models to be slightly too big for their wrists. Regardless, both of these 44mm models are the largest Rolex watches currently available and represent the most advanced and capable professional sports watches in the brand's entire catalog.