Panerai is a brand that set out its stall early and has rarely wavered from its established DNA since. At least that's the popular perception. But the truth is, not quite straightforward as it seems…
Sure, when you think of Panerai, you probably think of hulking diameters, cushion-shaped cases made of steel, highly-legible sandwich dials with bright lume, and a reputation as a dive watch producer extraordinaire even though its two best-known models (the Radiomir and Luminor) wouldn't pass the ISO 6425 because they lack rotating bezels.
There's a reason these stereotypes exist. They aren't too far from reality. But behind the scenes, Panerai – a proud member of the Richemont Group – invests heavily in the research and development of new materials for watchmaking. Some of those results have been pretty impressive, so we're going to break down a few of them here for your amusement. Goodbye steel. Goodbye titanium. Hello, loads of things you've never heard of before because they didn't exist until the mad material scientists at Panerai dreamed them up.
Ceramica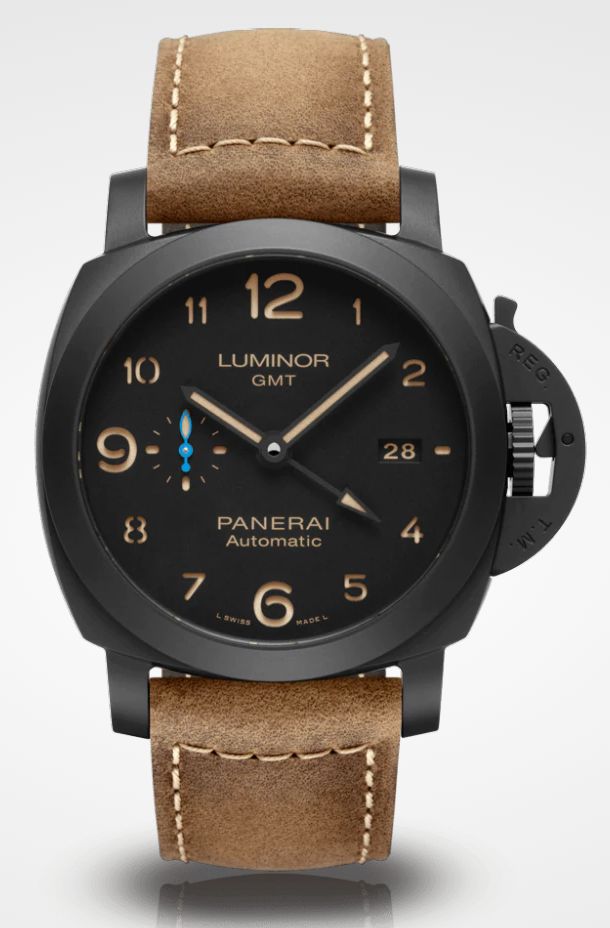 Ceramic has never enjoyed more widespread acceptance as a mainstream material in watchmaking as it does in 2019. Previously, it has been the preserve of ceramic specialists (like Rado) that dedicated their entire operation to what was, at the time, a USP (Unique Selling Point).
However, today ceramic is to the exterior of watches what silicon has become to the interior. These are avant-garde materials accepted for their utility and aesthetic prowess. The special type of ceramic employed by Panerai is synthetic and begins life as Zirconium Oxide powder. As with most ceramics in the industry, the final product looks beautiful and gem-like, almost other-worldly, but Panerai has taken pains to ensure it remains on brand, often choosing to mattify the surfaces for a duller, more rugged appearance. But the smooth surface shouldn't fool anybody – thanks to its birth by fire, these ceramics can be up to five times harder than steel.
Composite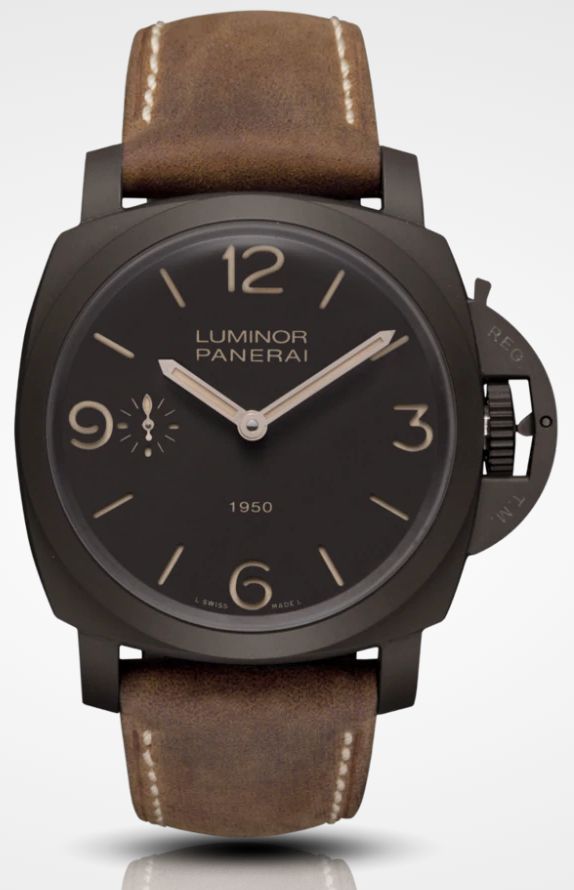 Of all Panerai's in-house materials, Composite has the vaguest name. It is, in fact, a type of synthetic ceramic that is created by ceramicizing aluminum. This material, with its lightweight metal core, is versatile and highly resistant to corrosion, temperature, and magnetism. Like all hard materials, brittleness is the only concern, but Panerai's advanced understanding of Zirconium Oxide ensures the likelihood of chipping is limited.
BMG-Tech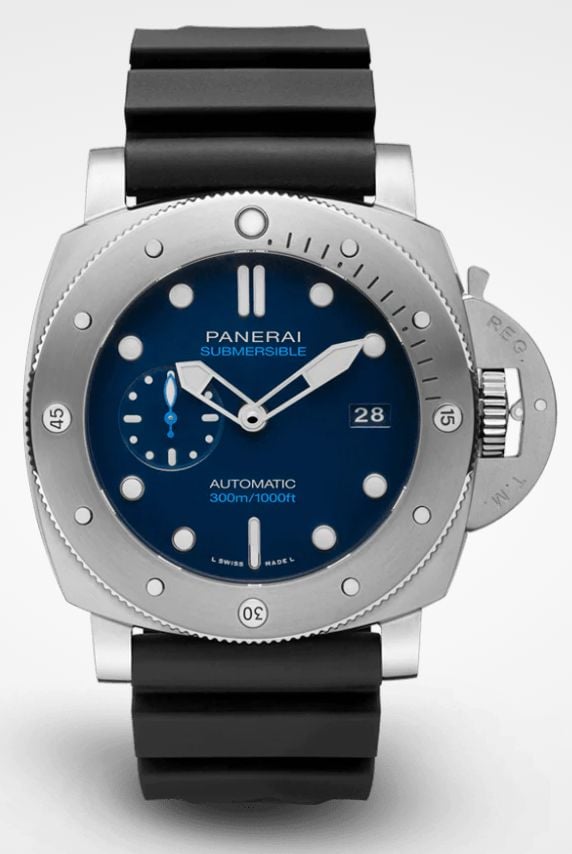 Have you ever heard of the Panerai Luminor Submersible 1950 BMG-Tech™ 3 Days Automatic (reference PAM00692)? If not, go and take a look at it above before you read on. Without cheating, what do you think it's made of? It looks like titanium but it is actually made of a material know as Bulk Metallic Glass (at least the name is starting to make sense…).
Experimental (with emphasis on the "mental") materials like this are what makes Panerai special. We've seen tons of other brands bring glass and glass fiber into the arena of case construction, but almost exclusively intending to blow our minds with industry-upending aesthetics. Here, Panerai's goal was exactly the opposite: To create a material that is simply better at doing what that material is supposed to do. But exactly how is BMG-Tech™ supposed to be superior to good old steel or titanium?
Bulk Metallic Glass possesses a disordered atomic structure, which manifests after the material is subjected to high pressures and temperatures followed by a blink-and-you'll-miss-it cooling phase that lasts just a few seconds. This rapid shift from high temperature to low prevents the atoms from arranging in a regular formation (kind of "freezing" them in place, although not literally). This disordered molecular structure means the material is incredibly resistant to external shocks, due to its ability to dissipate the force of impact throughout its whole. It is an ideal improvement for a watch that is expected to find itself in physically stressful situations.
Not only is BMG-Tech™ resistant to shocks, it is also able to withstand corrosive environments and navigate magnetic fields without being adversely affected. These characteristics make it an ideal material for a watch case and a superb skin in which to wrap the in-house calibers of which the brand is understandably proud.
Carbotech
While BMG-Tech floats under the radar thanks to its innocuous appearance, Carbotech storms into the radar control tower, grabs a big red Sharpie, and puts an enormous X on the readout to indicate that it has arrived and is looming over you in a somewhat threatening manner. Yes, Carbotech is the opposite of a shrinking violet. This composite material, which was developed as an offshoot to carbon fiber, is light, strong, resistant to changes in temperature or magnetism, and has an eye-catching appearance.
Due to the irregular structure of each Carbotech billet from which these cases are machined, every single one is unique. The zebra-like patterns vary from model to model, giving each piece its own distinctive character. It is less glitzy than the typical carbon fiber weave most people think of when the material's name is mentioned and more subtle than the flecks and scars one might expect to find on a forged carbon case. The result, despite being black and imposing, is weirdly graceful. This is helped by the fact Panerai has figured out the best way to machine this new material, as all the angles and edges are as crisp as can be.