The Bob's Watches vault is like a candy store for adults. Well, adults who are really, really into watches. Here, we get everything from brand-new luxury timepieces to vintage watches and collectible treasures. Today, we're focusing on the latter – highlighting the vintage Rolex watches that everyone on the Bob's team can't seem to stop talking about. We think once you get a look, you won't be able too, either. A word of friendly advice: shop responsibly.
Rolex Submariner 5513 with Ghost, Fat Font Bezel
Rolex's Submariner is one of their most popular models, and it's easy to see why. This watch is not only effortlessly cool but also totally durable. Part of the reason why the ref. 5513 was so popular and remained in production for so long is because of the innate love for this timepiece. And because of this, the ref. 5513 is one of the most common vintage Rolex sport watches on the market, thanks to its almost 30-year production run. What we have here though, is a unique watch from this popular reference that will make you want to invest in one anyway.
Let's start with the bezel that probably made you do a double-take. In the industry, we call this a 'ghost' bezel, and it's unique faded finish occurs naturally due to years of wear. Despite their "worn" appearance, ghost bezels are actually really sought-after within the collector community, and it's a huge plus that this particular one has aged beautifully into this lighter blue/gray hue. On top of that, this is a fat font, "kissing 4" bezel which makes it all the more collectible. Looking to the Mk1 tritium meters-first dial, you'll notice those wonderful creamy lume plots which have also aged over the years. If you want to invest in a unique vintage Submariner, you shouldn't really look any further than one like this.

 Rolex 'Pepsi' GMT-Master ref. 1675 with Glossy Gilt Dial
Back when the GMT-Master was still relatively new in the 1950's and 1960's, Rolex manufactured it with glossy dials that had galvanically-printed gold text. Because these "gilt" dials were only used in the early days of the GMT-Master, over the years, they've become increasingly rare and highly-desirable amongst collectors of vintage watches. The particular watch pictured here was released in 1966, and was actually made in the last group of GMT-Masters that were fitted with these glossy gilt dials, making an example such as this highly desirable for vintage aficionados.
But, besides the fact that it has this unique dial, we can't overlook the fact that the markers have aged to that incredible, creamy yellow color that makes collectors swoon. Of course, it also has that iconic red and blue 'Pepsi' bezel that we all know and love. While many vintage watches (particularly sports models) will show some wear and have some stretch in their bracelets, it only goes to show how much fun they have been to wear over the years.

 Rolex 'Paul Newman' Daytona ref. 6239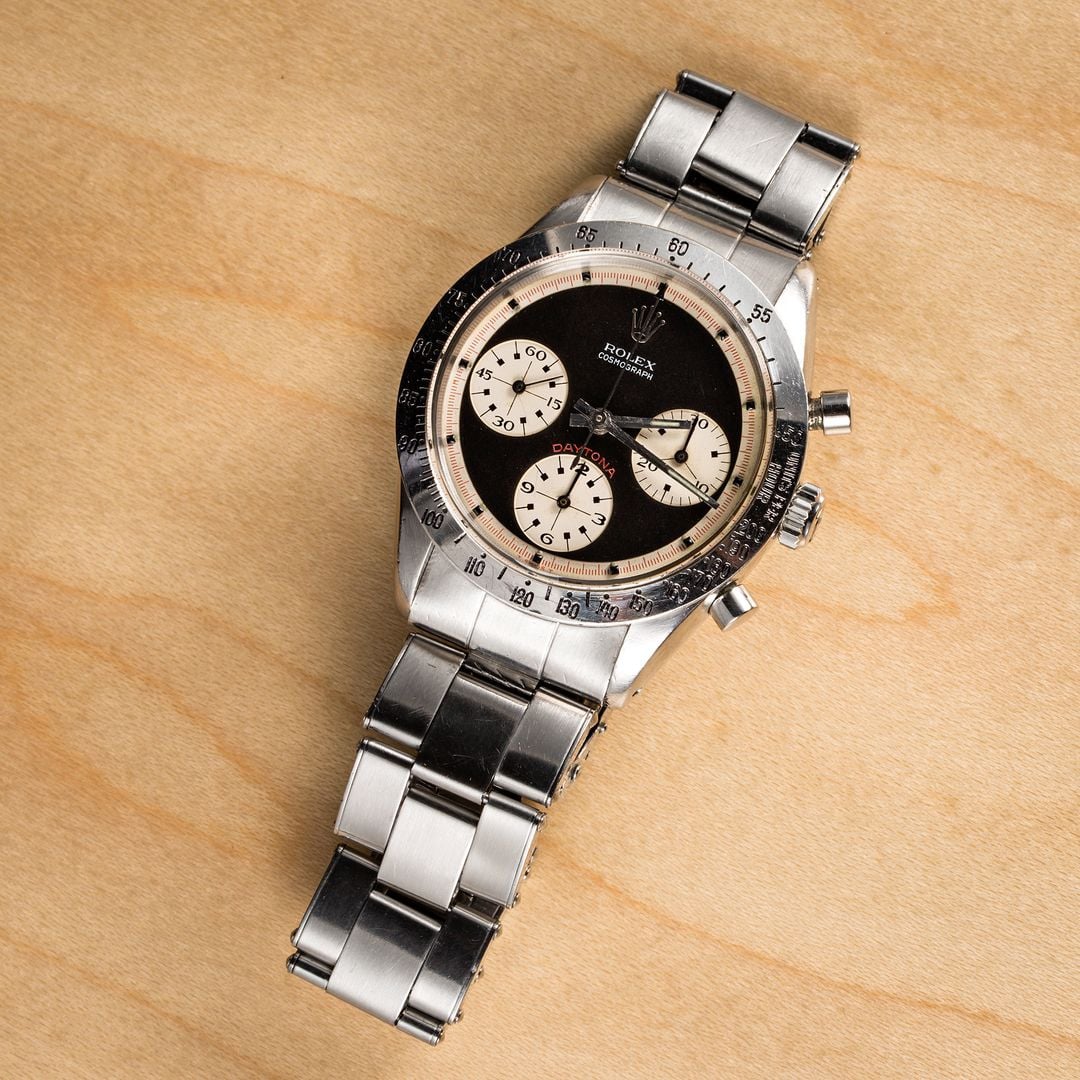 Your heart just skipped a beat, didn't it? A vintage Daytona is on any collectors list – but a vintage Paul Newman Daytona is really the holy grail. After Paul Newman's personal Rolex Daytona sold for some $17-million in 2017, the desirability of these timepieces has only gone up. But don't let their high prices scare you off, because these vintage watches are an investment for both your bank account and heart.
I mean, how could you not fall head-over-heels for that mint-condition three-color Paul Newman dial? Condition is everything with these timepieces, and on the example pictured here, all the lume plots are intact, the original bezel has minimal wear, and its tritium handset matches perfectly. At some point the stainless steel case appears to be lightly polished, but with the rest of the watch's condition so beautiful and well-intact, this vintage Rolex Daytona still holds mega value – some serious investment potential.