Just recently, the world was introduced to the latest iteration of the Apple Watch, known as the "Series 2," during the company's press conference, held earlier this month in San Francisco. Fans of the wearable device were pleased to see the inclusion of a newer, and faster processor, a brighter screen, GPS capabilities for fitness tracking, and a "swim proof" water resistance rating of 50 meters, which make the watch considerably more functional for day to day use. While the release of the watch was indeed exciting, collectors of watches were stunned to see Apple announce that they are now the world's second largest force in watch manufacturing, next to Rolex. This is an interesting statement that can be understood better with a little further analysis, so today, let's take a closer look at what this really means.
 Upon hearing this news, several watch collectors reacted with the same response, by asking "Is the Apple Watch really a watch?" This is the main question to consider when discussing what this all means for the watch market, and in the minds of many, the Apple Watch is not, but a wearable computer instead. This is because even though the watch may be an attractive option when looking at timepieces in a comparable price range, it serves a different purpose than say a Rolex would.
 For example, take the somewhat disposable nature and short lifespan of the Apple Watch, no matter what generation. Upon purchasing a fine watch such as a Rolex, you're essentially guaranteed to be provided with years of loyal service and timeless style if maintained well, whereas an Apple Watch is sure to be made increasingly more obsolete with release of every new model. Another point to consider is the fact that a wrist-mounted computer cannot match the beauty of a precisely engineered mechanical movement, backed by generations of fine craftsmanship and history.
 With this said, not all sectors of the watch are fully impervious to the effects of the Apple Watch. Where many are already seeing decreases in watch sales is at the lower end of the market, whereby new watch owners are opting for an Apple product instead of a basic wristwatch. Again, it's important to note the differences between an Apple Watch and a true watch, but with all the useful features offered in the latest model, it's understandable why many first time watch buyers are going the wearable computer route.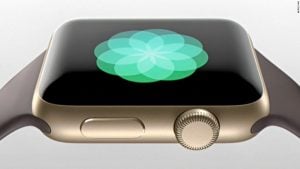 The bottom line here is that while sales Apple Watch may indeed be very strong, their impact on horology as a whole, and the high end watch collecting market is minimal. In a good wristwatch, individuals look for the signs of outstanding craftsmanship, timeless aesthetics, and while the Apple Watch arguably does provide added functionality, it just doesn't serve the same purpose as something like a Rolex, and should looked at as being an electronic device, instead of a watch.
While the Apple watch has its pros and cons we will stick to the Rolex. If you're looking for a purposeful device, perhaps you can add this to help with your swing.