Following in the same lines as the Submersible Mike Horn and Submersible Guillaume Néry, this Submersible Marina Militare Carbotech is the third in the set of very limited edition Panerai watches that are packaged with unique and exclusive experiences. In this case, you're looking at two days of training with a special Commando squadron of the Italian Navy, but before we get to that, we need to discuss a few other key details.
The Panerai Submersible Marina Militare Carbotech
Its 47mm case, though hefty from a visual standpoint, is a serious featherlight thanks to its Carbotech construction. Much as we've seen elsewhere with "proprietary" materials, Carbotech is Panerai's own carbon fiber-based composite that they've been using for cases in recent years.
This time around, it is used for both the case and dial of the Submersible Marina Militare Carbotech. The natural texture of each piece is slightly different, as the case and bezel has a sort of wood grain feel to it, whereas the dial is more abstract – almost closer to meteorite in appearance than anything. Collectively, the two details give the watch an interesting stealth/camouflage sort of look, complemented by its olive drab accents (white accents are used on the non-limited edition version of the watch).
Looking at its lumed indices, we've got something new here from Panerai. They are not painted, nor are they part of a multi-piece sandwich dial. Instead, solid puck-like blocks of lume make up the applied indices on its dial. Though you wouldn't notice in daylight, the lume plot on the minute hand and on its bezel are a slightly more bluish tinge than its indices. Flipping it over, we have the coat of arms of the COMSUBIN – one of the two elite Italian naval forces that purchasers of this watch will be able to train with.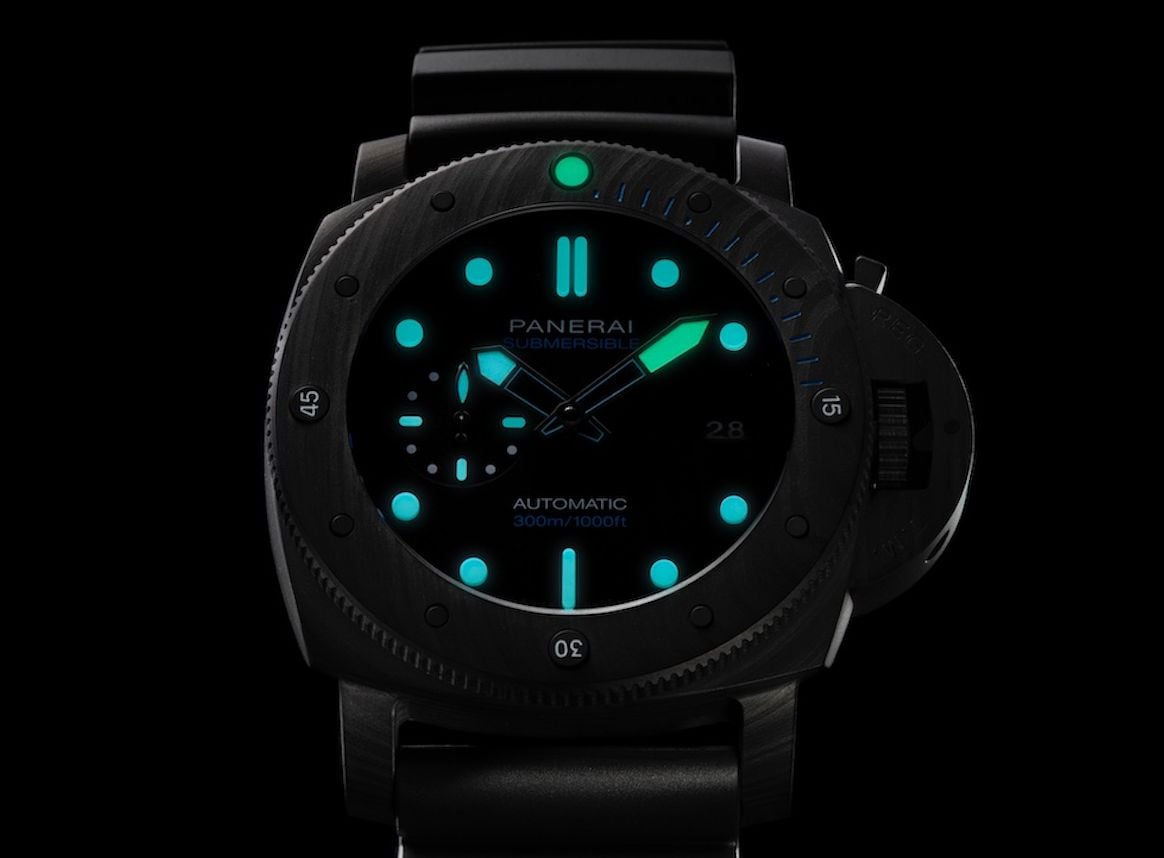 COMSUBIN is short for Comando Raggruppamento Subacquei ed Incursori Teseo Tesei, and though this name was only formally adopted in the early 1960s, their roots trace back to the Decima MAS – the first modern underwater combat arm of the Italian Navy. The Decima MAS were a highly effective unit in World War II, and were most well known for their use of manned torpedoes that successfully destroyed a significant count of allied ships between 1940 and 1945.
Based in La Spiza since their inception, these specialty forces are loosely the Italian equivalent of US Navy SEALS, with units that operate both on and below the surface. The shade of green used for the rubber strap and indices of the Submersible Marina Militare Carbotech is taken directly from the uniform colors of the current ComSubIn, which is a cool detail, though I don't suspect you'll ever see this watch on the wrist of one of the unit's enlisted members. During the two training days that come with the purchase with this watch, participants will train with both units.
Limited to Just 33 Pieces
One of the interesting details about this piece that most enthusiasts won't immediately be aware of (and one that Panerai isn't even really communicating about) is why they chose to limit the piece to 33 units instead of 10 or 15. The number was chosen because 33 is the number of gold medals of honor that were received by members of the Decima MAS and its successor organizations, many of whom were killed in action. Fellows like Teseo Tesei and others were responsible for laying the groundwork that made the ComSubIn what it is today.
What I find special about this watch is the simple fact that even if you're not a military history buff, and regardless of how much you know or care about all this, the piece is just so well executed that it's still very appealing at a product level. So often when brands go down the rabbit hole of trying to be historically significant, or pay homage to something, they lose sight on good design (think Range Rover Zenith, or Hublot Ferrari watches for example).
When I first saw this piece my guttural reaction was "man, that's just cool", and the more I researched, the more interesting the story became. I hope that some of Panerai's sister brands under the Richemont umbrella take note of how to do design inspiration properly in a way that doesn't dissuade those outside the targeted niche.