It's hard to believe that it's been a year since Rolex introduced the pair of steel and ceramic Daytona watches. While Rolex unveiled some solid pieces at Baselworld 2017—including new Daytona models—there's still more buzz around the "older" Daytona ref. 116500LN from 2016. In fact, a stainless steel Daytona with a black Ceramic bezel is still a challenge to find thanks to its insane global demand. And one look at the stunning pair of Rolex chronographs, and it's easy to see why.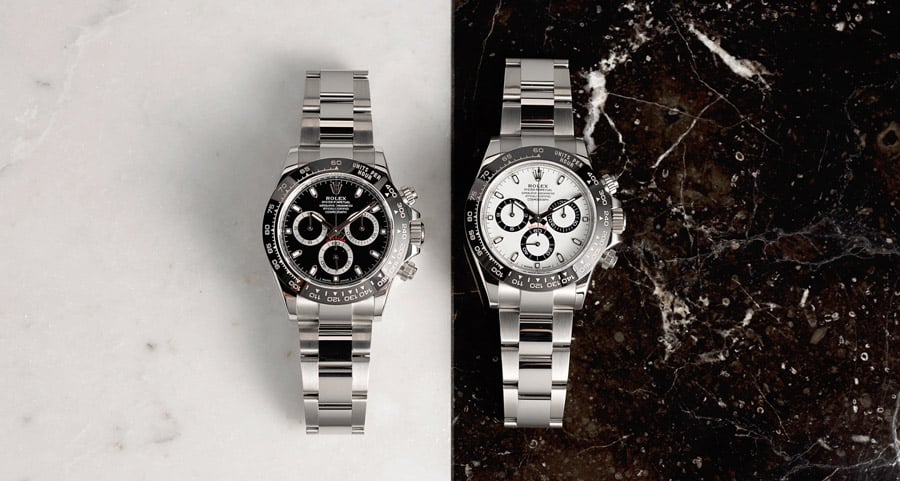 Rolex Cerachrom
Before we take a look at the steel and ceramic Daytona watches, let's revisit what Cerachrom is and find out why it's so desirable. The name "Cerachrom" is a combination of "ceramic" and "chrom" (the ancient Greek word for color). This is what Rolex chose to name their particular brand of patented ceramic alloy to be used on the bezels of their contemporary sports watches. The Cerachrom ceramic bezel made its debut in 2005 on the completely redesigned GMT-Master II.
The "chrom" portion of Cerachrom probably has something to do with the fact that the color of a Rolex Cerachrom ceramic bezel is immune to sun exposure. Therefore, unlike the faded bezels of vintage Rolex watches, a Cerachrom bezel should sport the same color six decades from now as it does today. Another appealing benefit of Cerachrom is its resistant to scratches.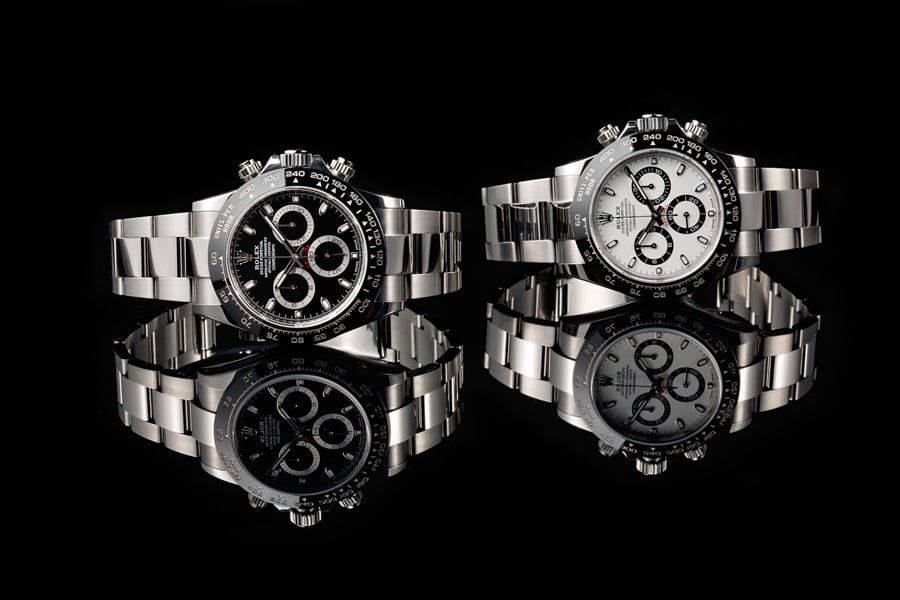 However, Cerachrom is not without its faults. It is quite brittle and can be prone to shattering if it gets knocked at a certain angle. Furthermore, replacing a Cerachrom bezel is vastly more expensive than an acrylic or aluminum one. Yet, many are willing to overlook these points in return for a very attractive component of modern Rolex sports watches, such as the Daytona.
Ceramic Daytona 116500
Prior to last year's launch of the ref. 116500LN, Rolex already offered a few Daytona models with Cerachrom ceramic bezels. But, the Cerachrom was only available on Everose gold and platinum models, thus completely out of reach for many. It was a ceramic bezel on a stainless steel Daytona that everyone wished for.
And finally, over a decade after the very first Cerachrom Rolex watch, the Daytona ref. 116500LN made its grand entrance to a very receptive audience. With its 40mm stainless steel Oyster case, black Cerachrom ceramic bezel, and stainless steel Oyster bracelet, the Daytona ref. 116500LN was exactly the Rolex chronograph everyone wanted. Don't forget about its very close relative with a brown dial, the Daytona 116515.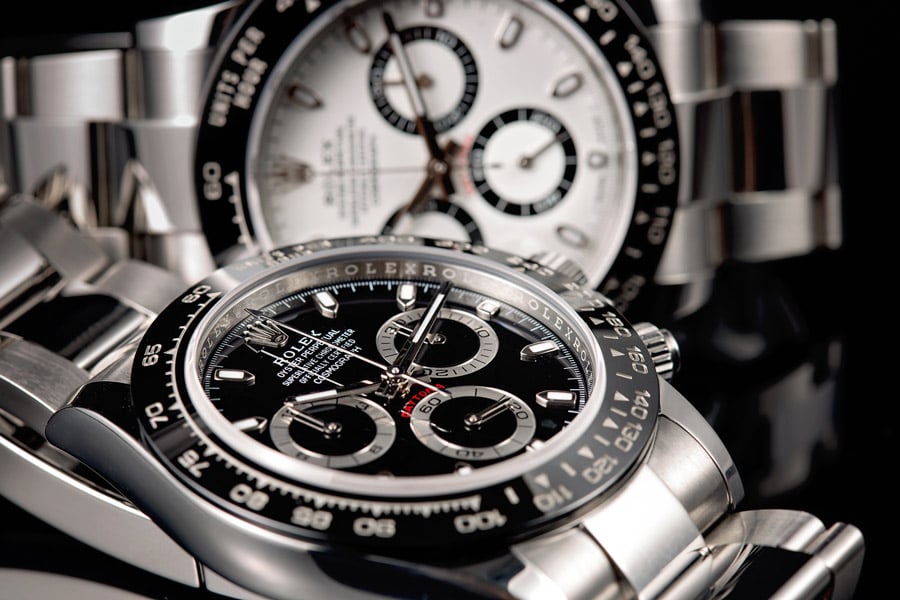 The new Daytona runs on the Caliber 4130—the same automatic mechanical chronograph movement of the ref. 116500LN's predecessor, the ref. 116520. Except now, since Rolex redefined its Superlative Chronometer parameters in 2015, the 4130 boasts a very impressive accuracy rating of -2/+2 seconds per day. This Rolex in-house movement operates at 28,800 beats per hour and offers a power reserve of 72 hours. The center chronograph hand is accurate to 1/8 of a second.
Black or White Daytona?
While the bezel has changed, the layout of the trio of registers remains the same on the new stainless steel Daytona models—30-minute subdial at 3 o'clock, small seconds at 6 o'clock, and 12-hour counter at 9 o'clock. Rolex offers two dial versions of the Daytona ref. 116500LN—a black one and a white one. The white Panda dial is particularly reminiscent of some vintage Daytona models, while the black dial version coupled with the matching black bezel is exceptionally sleek. Each version has their loyal fan base, but frankly, both are glorious.
The Daytona ref. 116500LN was so highly anticipated, that the moment it was released it instantly became an icon. In fact, March 16, 2016, will forever be remembered in horology history as the day the dynamic duo of steel and ceramic Daytona watches was born.
Which is your Daytona 116500LN of choice? The black dial or the white dial one?