Omega offers one of the largest and most diverse collections of any luxury watch manufacturer. Despite a catalog that consists of hundreds of different models, all Omega watches fall into one of four main collections: Seamaster, Speedmaster, Constellation, and De Ville. However, each one of those is further divided into a number of different sub-collections with each one spanning an astonishing variety of different models.
This diversity within the catalog means that you are virtually guaranteed to find an Omega watch that is right for you, but it also means that there are often a number of fantastic models that can simply get overlooked due to the massive fame and popularity of some of the brand's other timepieces. Case in point, the chronograph editions of the Diver 300M from the previous generation of Omega Seamaster watches.
Omega Seamaster Diver 300M Chronograph
Seamaster Diver Chronograph Key Features:
– Case Size: 41.5mm or 44mm
– Materials: Stainless Steel
– Functions: Time w/ Running Seconds, Date Display, 12-Hour Chronograph, Helium Escape Valve, Regatta Countdown Feature (Optional), GMT-Functionality (Optional)
– Dial: Luminous Hour Markers (Multiple Options Available).
– Bezel: Unidirectional, Ceramic Insert w/ 60-Minute Scale
– Crystal: Sapphire (Domed)
– Movement: Omega Caliber 3330 or Caliber 3603 (GMT model)
– Water Resistance: 300 Meters / 1,000 Feet
– Strap/Bracelet: Stainless Steel Bracelet w/ Foldover Clasp
Click here for our Ultimate Buying Guide on the Omega Seamaster.

The Omega Seamaster Diver 300M Collection
The Omega Seamaster Diver 300M has become one of the cornerstone offerings of the brand's modern catalog. First launched in 1993 as a refined take on a professional dive watch, the Omega Seamaster Diver 300M was chosen as the original watch of James Bond when Omega first started its partnership with the film franchise, and it was the model that Agent 007 exclusively wore during the Bond movies of the 1990s.
Characterized by its scalloped diver's bezel, skeletonized sword hands, and manually-operated helium escape valve protruding from the side of the case at the 10 o'clock location, the Omega Seamaster Diver 300M offers a unique design language that permeates through to every single model that makes up the range. Regardless of the colors, complications, or materials featured on the watch, all Seamaster Diver 300M models are immediately identifiable as members of this iconic Omega collection.
The Often-Overlooked Chronograph Models
Since the standard time-and-date model (particularly the blue dial variant) is the one worn by James Bond and the most popular configuration of the Seamaster Diver 300M, the chronograph versions (as a whole) often get overlooked, despite offering a truly impressive set of features and a similar overall aesthetic – just with pushers on either side of the winding crown and a corresponding set of registers on the dial.
Furthermore, since Omega also produces chronograph versions of the Seamaster Planet Ocean, it is a bit easier to see how these other Seamaster chronographs can escape the notice of buyers. On top of that, the Speedmaster is likely the first watch to come to mind when most people think of a chronograph from Omega and with this many other great chronograph sports watches from the brand, it is easy to see how these Seamaster Diver 300M Chronograph models can frequently get missed.
While they are often overlooked, these Omega dive chronographs have quite a lot to offer and their overlooked status means that they provide tremendous value for the money when you find them on the pre-owned market. Their combination of professional diver durability paired with advanced functionality makes them excellent sports watches that were designed to be worn every single day and in a variety of different settings.
A Lot Of Watch For The Price
What you get with these Omega Seamaster Diver 300M models is a professional dive watch paired with the functionality of a 12-hour chronograph. On top of that, these Seamaster divers are not overtly tool-like in their appearance, and they offer a classic yet versatile styling that retains a certain degree of refinement, despite being a highly capable sports watch. The standard models from the previous generation can be found with either 41.5mm or 44mm cases, while the regatta and GMT versions are exclusively offered in 44mm.
These Omega Seamaster Diver 300M chronograph watches largely stay true to the same core design language established by their 1990s predecessors. However, they are thoroughly modern timepieces both inside and out, and they offer users a number of contemporary features such as ceramic bezel inserts and sapphire crystals. In no way are these watches heritage pieces or trying to emulate anything from the past. Instead, they are modern-day sports watches that have simply always stayed close to their initial designs.
A Professional Dive Watch
At their core, these versatile chronographs are still diver's watches and they offer all of the standard functions that you might expect to find on one. Their stainless steel cases are water-resistant to 300 meters (1,000 feet), their claps include fold-out wetsuit extensions, and all of the models feature a unidirectional 60-minute timing bezel fitted with a durable ceramic insert. Protecting their dials is a domed, scratch-resistant sapphire crystal, and all of the various iterations also include a manually-operated helium escape valve located on the side of the case at the 10 o'clock location.
One of the most interesting features about newer iterations of the Omega Seamaster Diver 300M Chronograph is that their pushers do not screw-down (despite the appearance of their design), and they can actually be operated while underwater without compromising the water-resistance of the watch. These more recent versions of the Seamaster Diver 300M Chronograph feature an advanced gasket system that allows them to be operated at depth, so this is one of the few dive chronographs that you can actually operate while you are diving.
The dials and hands offer a highly legible display despite the wealth of information that they offer. A trio of sub-dials sit at the 3, 6, and 9 o'clock locations, with an added date window placed inside the hours register at 6 o'clock. The skeletonized sword hands, applied hour markers, and zero minute marker on the bezel are all given a generous application of luminescence, and the minute hand and bezel even glow green while the rest of the hands and dial markers glow blue for increased visibility in the dark.
As these watches are well-equipped for life underwater, their clasps feature fold-out wetsuit extension systems like those you will find on many other Omega dive watch models. The collection's signature "Seamaster-style" bracelet is very solid on this generation and features a nicely constructed fold-over clasp. While the clasp itself does not offer any micro-adjustment settings beyond the fold-out wetsuit extension, the bracelet does include half-links so that you can get a perfect fit.
Additional Regatta Timer and GMT Options
All of the chronograph models from these recent generations of the Omega Seamaster Diver 300M series feature date displays and 12-hour chronographs. However, there are also models that take things one step further by adding regatta countdown indicators and even GMT functionality to this already feature-packed professional diver's watch.
The yacht-racing edition is largely the same as the 44mm version of the standard chronograph model and it's powered by the exact same movement. What separates it is the regatta indicator along the periphery of its minute counter to help users track the countdown to the start of a race. One unique feature about the standard chronograph and regatta editions is that their date correcting buttons are located inside the knobs of their helium release valves. Instead of adjusting the date through the crown, all you have to do to advance the date is to press the small button located on the surface of the knob for the helium gas escape valve.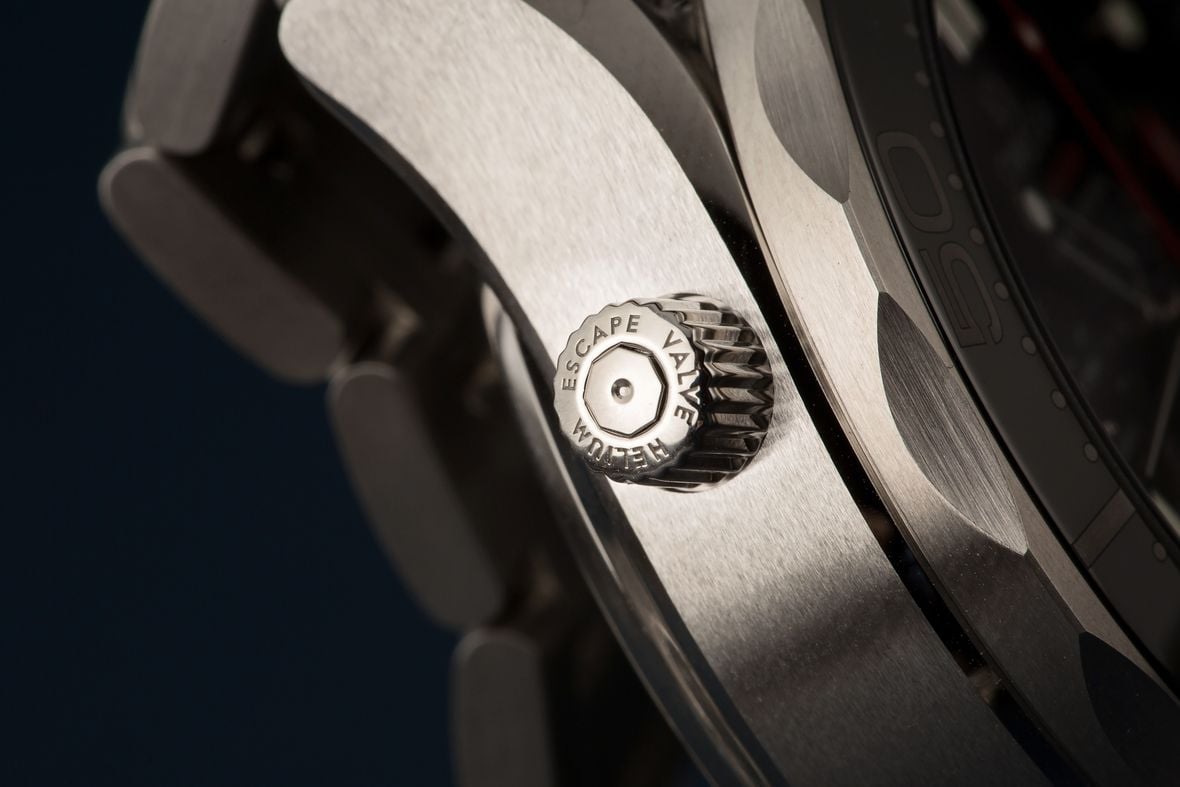 Like the regatta version, the GMT variant of the Omega Seamaster Diver 300M is only found with 44mm cases. Since these models still feature 60-minute external dive bezels, they include 24-hour tracks along the periphery of their dials that are used in conjunction with an additional GMT hand to display a secondary timezone. Additionally, rather than having a quick-set date activated by a hidden button in the helium escape valve, the GMT version offers "true GMT" functionality and includes an independently-adjustable, jumping local hour hand that is accessed through the screw-down winding crown.
Internally, these Omega Seamaster Diver 300M Chronograph models are all powered by self-winding mechanical chronograph movements that are fitted with Omega's signature Co-Axial escapements. Both the 41.5mm and 44mm standard models along with the regatta editions are powered by the Caliber 3330, which is an integrated, column wheel activated chronograph with a free-sprung balance and Si14 silicon hairspring, while the GMT variation receives the Caliber 3603, which is also a column wheel-controlled chronograph with a free-sprung balance.
Go Anywhere, Do Anything
The Seamaster Diver 300M was a logical choice when it was selected to be the official Omega watch for James Bond. Unlike models from the Planet Ocean series that are unapologetically sporty and tool-like in their overall aesthetics, those from the Diver 300M side of the Seamaster collection are a bit more dressy and refined in their appearance, despite still offering all the necessary features of a highly-capable professional dive watch.
With that in mind, these various chronograph models are still inherently modern and sporty. Their thick cases that provide 300 meters of water resistance and house their self-winding chronograph mechanisms are also the very same things that will prevent them from effortlessly slipping under the sleeve of a well-fitted dress shirt. A Seamaster Diver 300M Chronograph will never be a direct replacement for an ultra-thin traditional dress watch. Instead, it is the type of watch that you can wear all day at the beach and then out to a nice dinner when you are on vacation.
Two of the most popular types of luxury timepieces are dive watches and chronographs, and the Omega Seamaster Diver 300M Chronograph simultaneously delivers on both of those fronts without making a single compromise in terms of its overall functionality. It may not often receive the attention that it deserves due to the mainstream fame of some of its sports watch siblings, but these Omega Diver 300M chronographs perfectly embody the ethos of a highly-capable luxury sports watch.