It has been a big year for the Panerai Submersible. Separating from the Luminor as its own watch collection, and adding a healthy selection models to the roster, fans of the most utility-focused PAM are in for a treat in 2019. Of the many additions, three in particular are significant standouts for an unorthodox reason – they being offered in tandem with three different once-in-a-lifetime experiences for the lucky buyers of each watch.
In the case of the Guillaume Néry edition (named for the record-holding French free diver), You're also purchasing the opportunity to go free diving with Néry in Moorea, French Polynesia – Néry's home and the location of his record-setting 126m dive. With the price set at $40,000 ($20,600 more than the other Guillaume Néry piece without the experience included), we trust that Panerai will spare no expense when it comes to the travel and logistics for this trip. That element aside, the watch itself has a lot of appeal, as much technically as it does aesthetically, so let's jump into it.
Panerai Submersible Guillaume Néry Edition
So first things first, this watch is big. At 47mm across, this is at the upper register of Panerai's diverse case size options out there. With my 6.75 inch wrists, I sadly would not be able to get away with it, but if you're a big fan of big watches, I'd suggest taking a closer look. That said, even with smaller wrists, it's not as overbearing as you would expect for a handful of key reasons.
First, the stubby lugs of the Submersible case keeps the watch from hanging dramatically off of your wrists. From there, its black DLC titanium case not only lightens the watch physically but also makes it appear more compact on the wrist than it reads on paper. Finally, as many will attest, watches with external bezels also wear smaller than their all-dial counterparts. At this size, even with bigger wrists, this thing screams "tool watch" – and though its case and rubber strap are both matte black, don't expect this thing to fly under the radar in any respect.
Functionally speaking, I'm a huge fan of this Submersible chronograph, regardless of its size. It is one of the few chronographs left in the market that uses a Lemania 5100-style central chronograph minutes hand, though the caliber is entirely made by Panerai themselves. This setup means that they are able to display running seconds, as well as chronograph seconds, minutes, and hours all while maintaining a two-register configuration. As a big fan of chronographs across the board, this is pretty much my favorite configuration out there, and a selfish part of me hopes that this one day appears in a 42mm version.
The self-winding caliber P.9100 is not your average chrono caliber in many respects. On top of its unique layout, it boasts a three-day power reserve, and uses a very stable and magnetic-resistant alloy called Glucydur (found in numerous other watches) for its balance wheel. The caliber isn't particularly slender at just over 8mm thick, but given the design of this watch, that isn't really an issue.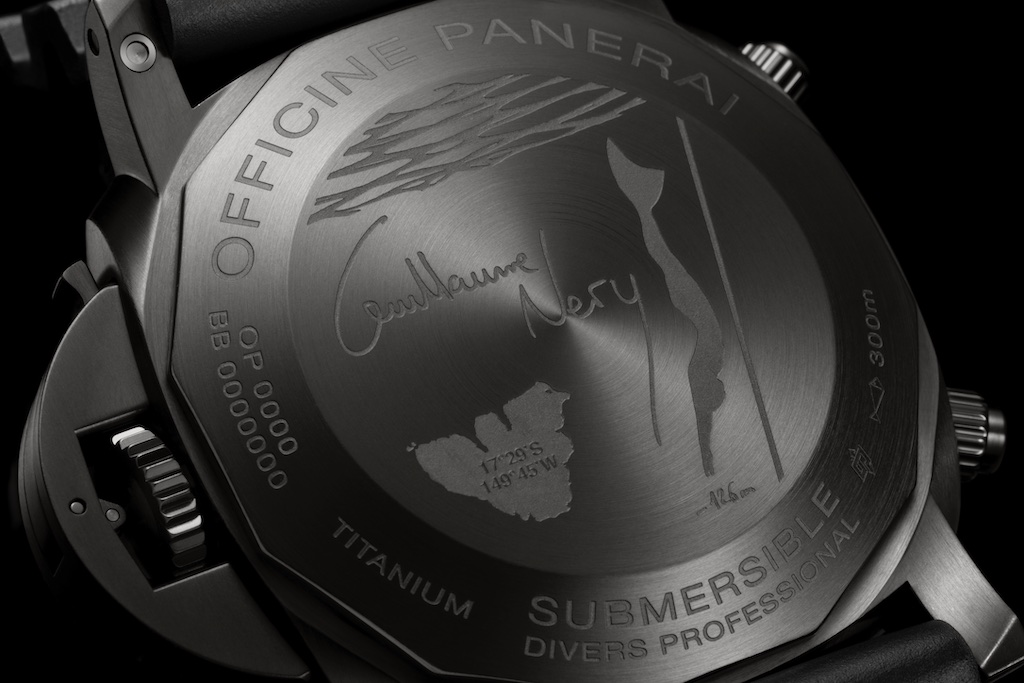 Aesthetically speaking, I'd be pretty quick to argue that this is one of the best looking Panerai models on the market right now, so long as you aren't afraid of a little color. Its dégradé dial fades from a vibrant teal to black as it departs the central hands and heads to its outer perimeter – though depending on the available lighting it can appear a touch more blue. Its large luminous indices and oversized lume plot on its bezel are indicative of the Submersible line.
Both its bezel and oversized chronograph pushers are designed with function first in mind, as both are designed in a way that is easy to grip, should you be wearing a wetsuit. The pushers (of course) screw down to aid with its 300 meters of water resistance, though Panerai really didn't go overboard in that respect. These days, brands love building watches that can hit depths of 500+ meters, which is effectively nonsense considering the actual diving range of both recreational and professional divers alike.
At the end of the day, I have no doubt Panerai that will easily move these 15 pieces. The brand still has a massive cult following, and even though it's a bit pricey, there are bound to be collectors out there that will love the opportunity to jump on this exclusive experience to dive with Néry himself. For the rest of us, the standard version of the Submersible Chrono Guillaume Néry will have to do the trick.