It's a fact that Rolex collectors love nicknames. From superheroes and cartoon characters to Hollywood actors and soda companies, Rolex nicknames have become an inherent part of watch collecting culture and they provide watch enthusiasts all around the world with a lot of entertainment. However, sometimes the collecting world can get a bit carried away with nicknames, and that might just be the case when it comes to the new Rolex Batman GMT-Master II – namely, the Rolex Batgirl.
Don't get us wrong, the nickname itself is great, but when you really break it down and look at the other nicknames for the GMT-Master and GMT-Master II, the Batgirl nickname being used for the reference 126710BLNR just doesn't make all that much sense in the context of the other nicknames that exist for Rolex's GMT watches. Now, all of these nicknames (no matter how ubiquitous and frequently used they may be) are entirely unofficial, so there really is no right or wrong answer, but here's why we think you should reconsider the Rolex Batgirl nickname.
Rolex GMT-Master II Reference 126710BLNR
GMT-Master II 126710BLNR Key Features:
– Reference Number: 126710BLNR
– Production Years: 2019 – Present
– Case Size: 40mm
– Materials: Oystersteel (904L Stainless Steel)
– Functions: Time w/ Running Seconds, Date Display, GMT-Functionality
– Dial: Black w/ Luminous Hour Markers
– Bezel: Bidirectional, Black and Blue Cerachrom Insert w/ 24-Hour Scale
– Crystal: Sapphire (Flat w/ Cyclops Lens)
– Movement: Rolex Caliber 3285
– Water Resistance: 100 Meters / 330 Feet
– Bracelet: Jubilee Bracelet or Oyster Bracelet (as of 2021)
Click here for our ultimate buying guide on the Rolex GMT-Master II.
Where Did the Rolex Batman and Batgirl Nicknames Come From?
Historically, many of the various nicknames for Rolex GMT-Master and GMT-Master II watches were based on a soda theme – "Pepsi" for red and blue, "Coke" for red and black, and "Root Beer" for brown and gold. However, when the reference 116710BLNR GMT-Master II first appeared in 2013 with its black and blue ceramic bezel, it marked a significant turning point – both for the Rolex GMT-Master II and for its accompanying nicknames.
The ref. 116710BLNR was the first time that an entirely new bezel color option had been added to Rolex's GMT watch since the reference 16760 (the very first GMT-Master II model) was launched in 1982 and introduced the red and black "Coke" bezel to the collection. Additionally, the new black and blue GMT-Master II also featured Rolex's first split-color Cerachrom bezel – something that the brand had originally claimed was too difficult to manufacture. Rather than going by another soda-themed nickname, the reference 116710BLNR quickly picked up its now-famous "Batman" nickname due to being the same colors as the famous comic book superhero.
The Rolex Batgirl Nickname
When Rolex updated the black and blue GMT in 2019, the new version of the watch featured the updated Caliber 3285 movement, slightly more refined case proportions, and most notably, it was exclusively fitted with the 5-link Jubilee bracelet, rather than with a 3-link Oyster bracelet like before.
Officially titled the Rolex GMT-Master II reference 126710BLNR, some people started calling the new watch "The Batgirl" shortly after its release. The nickname itself came from the fact that the lugs on the new ref. 126710BLNR are a bit thinner and more curved than the ones found on the original Batman GMT-Master II, plus the Jubilee bracelet provides the watch with a slightly more refined and dressy overall aesthetic. While the Rolex Batgirl moniker does serve as a way to quickly distinguish one black and blue GMT-Master II watch from the other, the name itself doesn't really make sense in the context of the other nicknames that currently exist for Rolex's GMT line of watches.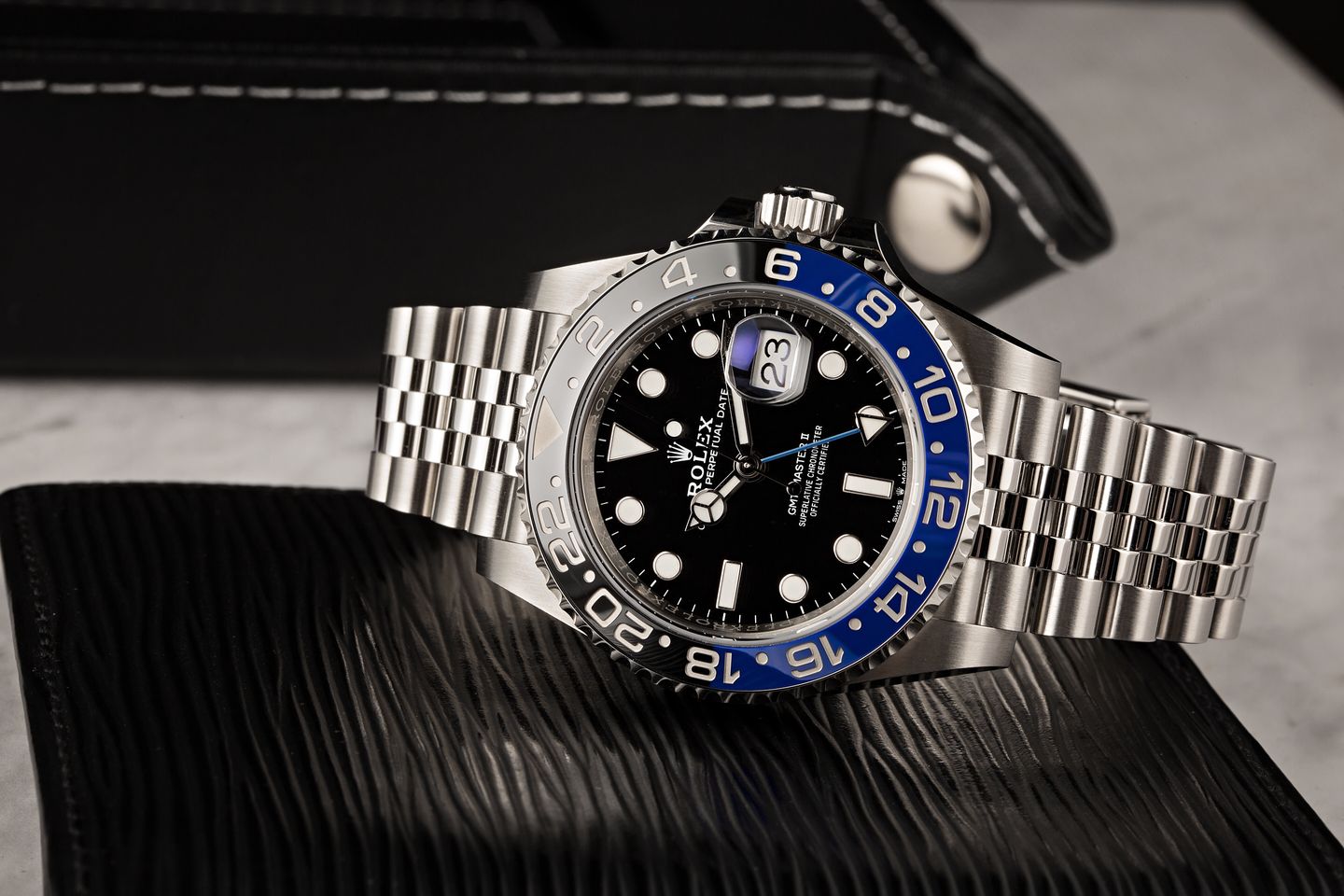 Rolex GMT-Master II Nicknames
Historically, the various nicknames for Rolex GMT-Master and GMT-Master II have stemmed from the colors of their bezel inserts, but each new generation did not receive a different nickname. For example, all Rolex GMT watches with red and blue bezel inserts go by the same "Pepsi" nickname, regardless of their specific reference – or even the style and materials of their signature red and blue bezel inserts.
The red and blue bezel has been a staple on Rolex's collection GMT watches since the very first GMT-Master was released to the public in 1955, and it has been produced in Bakelite, aluminum, and ceramic. However, any Rolex GMT watch with a red and blue bezel is simply called a "Pepsi" – you don't call one with a ceramic bezel a "Pepsi Max" nor is a "Diet Pepsi" the nickname for a vintage model with a faded bezel insert. Additionally, if the bezel falls off, the watch is not suddenly called a "Pepsi Zero" – so, why give the two black and blue GMT-Master II watches different nicknames?
Furthermore, the "Root Beer" moniker is an even more all-encompassing nickname that applies to a number of different references. It can pertain to both the vintage GMT-Master watches fitted with brown and gold aluminum bezels, and the new models in either Everose Rolesor or full 18k Everose gold that feature bezels made from black and brown ceramic. A modern Root Beer GMT-Master II represents a huge aesthetic departure from a vintage example and in this instance, the only common theme is the color brown. Virtually everything else is different on a vintage Root Beer GMT-Master compared to its modern counterpart, yet these two watches both go by the same "Root Beer" nickname.
Potential Confusion in the Long Run
Watches are some of the most unisex and gender-neutral objects that people wear on a daily basis, and any person can wear any watch that they want. With that in mind, Rolex technically classifies all of its GMT-Master watches as men's models, so it's not like the Batgirl nickname is especially fitting due to it being a model intended specifically for women. However, if Rolex does at some point produce a smaller-sized version of the black and blue GMT, then people will inevitably want to call that new watch the Batgirl, and this will inevitably cause quite a bit of confusion if the reference 126710BLNR is already going by that nickname.
Additionally, both black and blue GMT-Master II watches have been incredibly popular models for Rolex, and there is a fairly good chance that the brand will continue to produce other GMT models with black and blue bezels in the future. Unless those new watches are also going to be given various bat-themed nicknames, then there is no reason at all to call the current reference 126710BLNR the Batgirl – especially considering that it uses the exact same black and blue Cerachrom (ceramic) bezel insert that is found on its "Batman" predecessor.
Rolex Batman or Rolex Batgirl?
At the end of the day, there is no right or wrong answer when it comes to Rolex nicknames. These titles are entirely informal and completely unofficial. However, given the other nicknames for Rolex's GMT and GMT-Master II watches, and given how similar the current ref. 126710BLNR is to its black and blue bezel predecessor from the previous generation, it might just make the most sense to use the same "Batman" nickname for the reference 126710BLNR.
The "Rolex Batgirl" name might be catchy, but it really doesn"t make all that much sense when you look at how the Pepsi, Coke, and Root Beer nicknames all apply to more than one model. Just like the rest of the nicknames for Rolex GMT-Master watches, the name should correspond with the color of the bezel insert. In the same way that all of the red and blue bezel models go by the same "Pepsi" nickname, it simply makes the most sense if all the black and blue ones be called "Batman" GMT-Master watches.
Rolex nicknames are entirely unofficial and there is no "right" answer – all of this is just our opinion and more importantly, just for fun. Are you a fan of the Rolex Batman or Rolex Batgirl nickname? Tell us what you think in the comments below!