The Rolex Sea-Dweller Deepsea 116660 is, as noted in our previous report, one of the most exceptional timepieces the legendary Swiss watch brand has ever created. While the iconic Submariner is classed at 1,000 ft., the Deepsea destroys that number with an awe-inspiring depth rating of 15,000 feet. But even those who will never dive into anything deeper than a vodka martini love the watch for its lust-worthy looks, with its utterly unique black ceramic bezel and blue-black gradient dial with the DEEPSEA legend in bright green.
The easy excuse for wearing such a thing every day is that you never know what life will throw your way. Should you, for instance, suddenly be drafted into service by MI6 to replace James Bond, you'll want to be properly equipped (at least until they issue you an official Omega). It's that spirit of adventure and being ready – and able – for anything that inspires so many Rolex owners to purchase their watches in the first place. So following our expedition with the Deepsea behind the wheel of the new Rolls-Royce Dawn, we decided to embark on a further adventure with the ultimate tool watch firmly strapped to our wrist.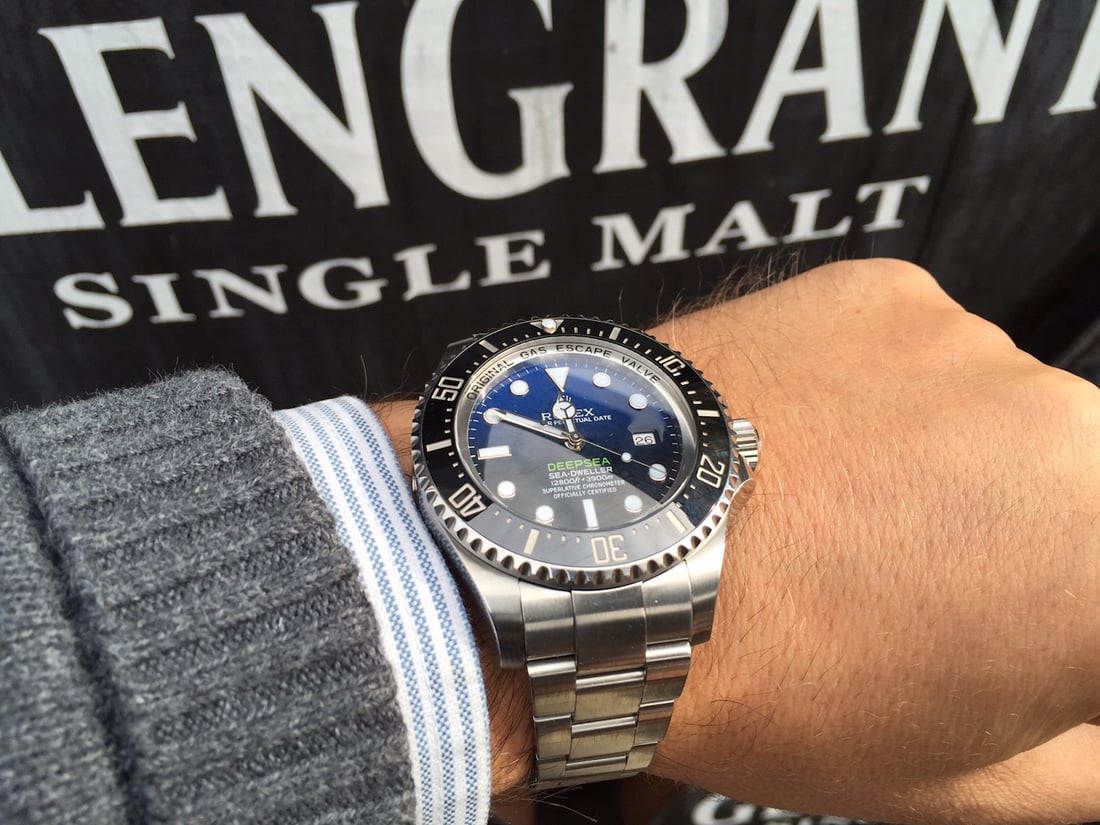 The mission this time out was a week-long tour of Scotland's famed single malt Scotch distilleries, with stops along the way at various castles, fine dining establishments, and sporting clay ranges. Things of beauty in a rugged landscape, a description which can equally be applied to Rolex watches the world over. In place of the Dawn, the Deepsea would find itself at the wheel of a Land Rover Defender, another icon of indestructible mechanical elegance. And though it never actually descended under water, there was enough rough weather along the way to test its capabilities in an extreme environment.
At Balfour Castle on Orkney, for example, home to one of the most rugged climates – and the most beautiful landscapes – in all of Europe, as well as the legendary Highland Park distillery, which makes some of the very finest single malt whisky in the world. Ditto the equally acclaimed Bruichladdich distillery on Islay, where they make the smokiest Scotch known to man. The Deepsea may be the result of decades of collaboration between Rolex and the planet's most renowned diving professionals. But it could well have been designed for this gentlemanly adventure in mind.