As I browse the blogs, comment sections, and Instagram, I see a lot of fanfare around particular Rolex models: the Submariner, Daytona, GMT-Master – even the Explorer. They get all the love. But at a time when a plane ticket to a far-flung destination is a better status symbol than a designer bag, why isn't Rolex's Sky-Dweller – built for the jetset – tossed in the carryon? Why doesn't this slick, modern and elegant watch get the attention it so rightly deserves? 
Under the assumption that the Rolex Sky-Dweller has simply flown under your radar for the past few years, I'm going to highlight all the awesome features that make this watch soar. 
The Sky-Dweller it totally sophisticated
This watch is undeniably handsome. But it's what's ticking inside that makes the Sky-Dweller one of the most sophisticated Rolex timepieces ever created. Introduced with much anticipation in 2012, the Caliber 9001 movement allows wearers to keep track of two time zones seamlessly. 
The Sky-Dweller also features a patented annual calendar complication (named SAROS), which can distinguish between months with 30 and 31 days, and only requires setting once per year at the end of February. Additionally the watch boasts 14 patents, showcasing Rolex innovation at its very finest.
It's the refined sports watch we all need 
The Sky-Dweller is sporty with all the right refinements. Whether you have a white, black, or chocolate dial there's that iconic red triangle that always points to home time on the off-center rotating disc. The rectangular hands outfitted with easy-to-see lume follow your local time zone. Then there's the 12 month indicators located along the outer edge of the dial, and lastly a date window which sits right where you'd expect it over at 3-o'clock.
And even though there seems to be a lot going on here, nothing about the face of this sports watch is busy – at all. It's clean and refined and offers a level of mechanical complexity that you just don't see in the other Rolex sports watches. There's also that signature fluted bezel which adds some beautiful dimension as it catches the light – the stainless version of the Sky-Dweller is even outfitted with a white gold bezel for added glam.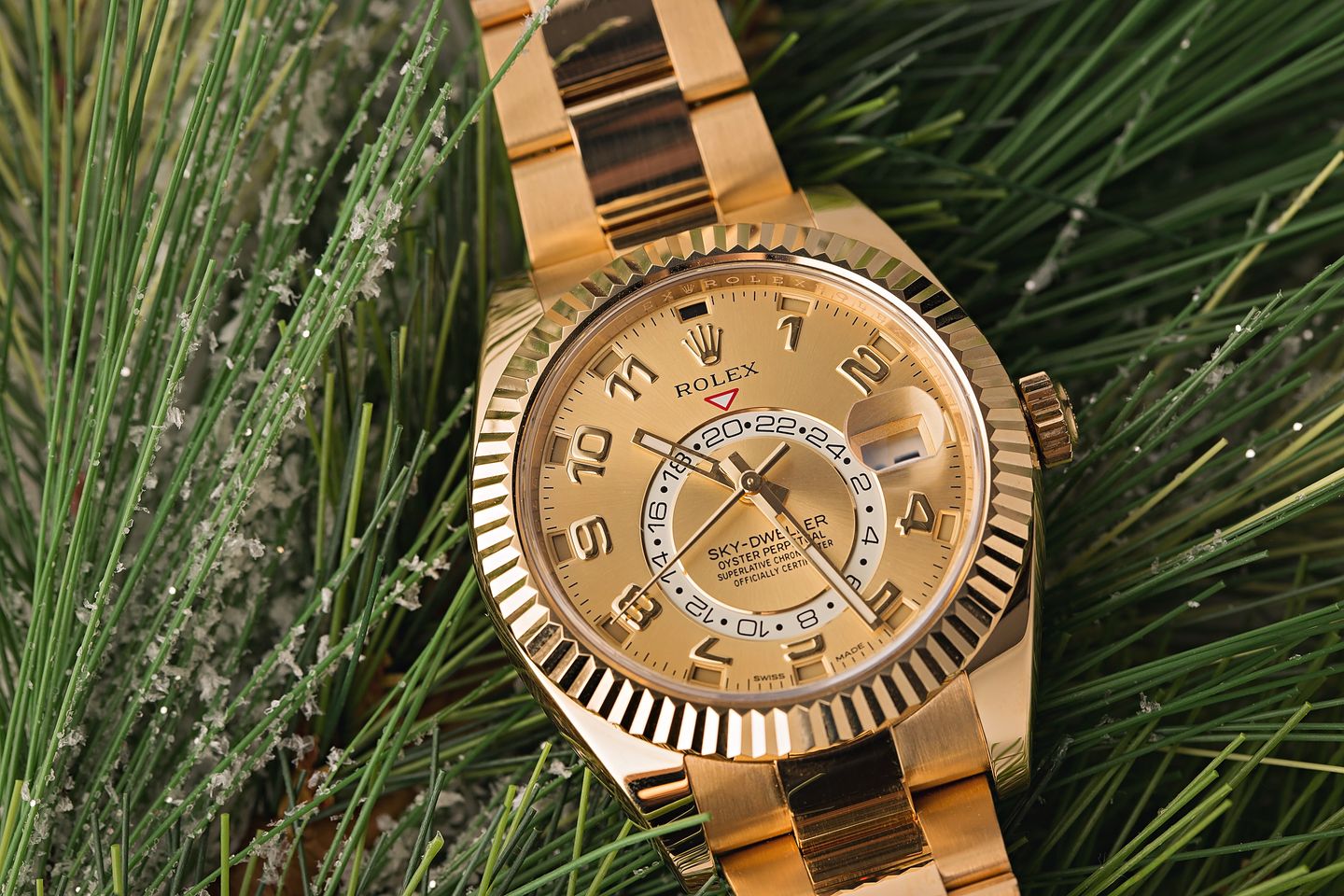 So, why is the Sky-Dweller flying under the radar?
I think it's clear I think the Sky-Dweller isn't getting the attention that it deserves. But to be honest, I can understand how it happened. Only introduced in 2012, this watch hasn't had all that much time to capture the public's attention. And to be honest, I think this watch has simply been glossed over for two main reasons.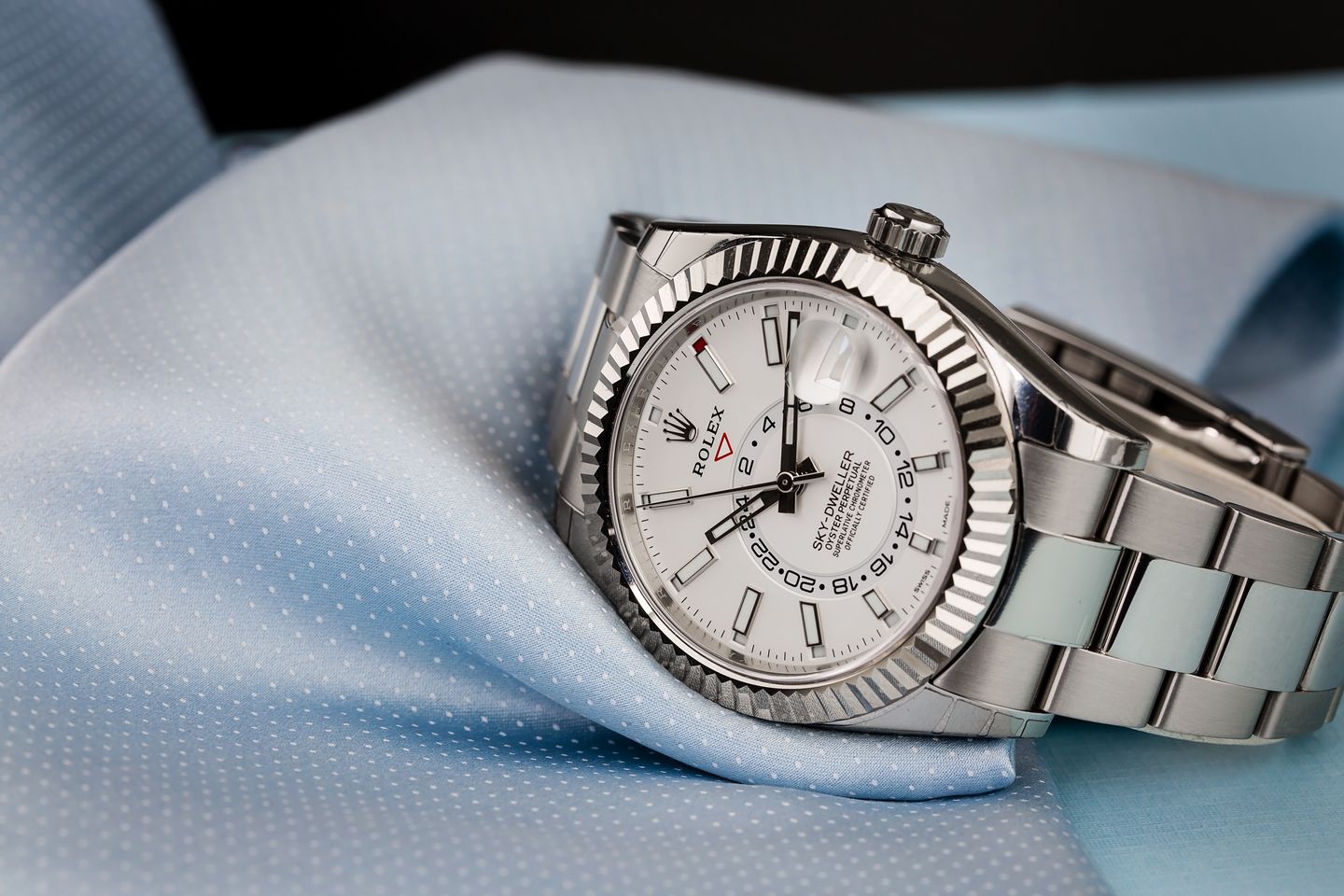 1. Its Classic Aesthetics Are Overlooked by Trends
The first is that this watch was released at a time when watch aesthetics were starting to gravitate towards two different ends of the spectrum. For one, there's been a resurgence of vintage wrist watch style – incorporating the old-school looks into new watches and collectors opting for retro classics with provenance and history. 
The Sky-Dweller is neither of those things, and since it was just introduced this decade, it isn't backed up by any sort of pedigree other than the Rolex name. And at the same time, we've seen a fascination with edgy, colorful, and bold haute-horlogerie. The Sky-Dweller simply falls somewhere in the middle of these two trends – elegant and modern, yet still decidedly classic. 
2. People Don't See Its Versatility 
Secondly, there's the fact that the Sky-Dweller is inherently dressier than your average Rolex – I mean, just look at it. But, this highly advanced traveler's watch is still far from a Cellini. While handsome and refined, the dial is still dynamic, and it is still water resistant to 100 meters. But, I think it's the alloys that may throw people off from seeing it as an everyday watch.

While there is a basic, sporty stainless model, it's outfitted with a white gold bezel that elevates the look and may throw off collectors a bit. Then there's the pink Everose gold which has a history of being associated with dress watches. The two-tone stainless steel and 18k yellow gold should be inviting, as it is quite standard in sports watches nowadays. But, maybe it's the dial and the two-tone together that make people shy away from it as a daily watch.

Nonetheless, I think these are all silly reasons to ignore this watch. This watch might look a bit dressier but it still comes in enough alloy and dial combinations that you can tailor it to your own style. Plus, if you're part of the jet-set anyways, there's no such thing as being too dressed up. And even if so, this watch is far from that. 
The price tag – which is about $4k more than your average Submariner – might really be what's steering collectors away. But you get what you pay for when it comes to the Sky-Dweller, both in mechanical ingenuity and killer design. So if you ask me, an extra few grand to get your hands on a beautiful, high-performance timepiece with one of the most advanced movements that Rolex has ever put forward is more than worth it.