Cash wire prices shown.
*
Prices may be higher if other payment methods are selected.
* Prices may be higher if other payment methods are selected.
About the Rolex President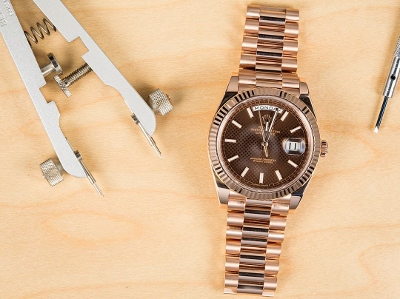 Rolex President Reference Number(s):
1803 1804, 1807, 6511, 6611, 18026, 18038, 18039, 18048, 18078, 18238, 18239, 18248, 18308, 18346, 19018, 118205, 118206, 118208, 118209, 118235, 118238, 118239, 118296, 118338, 118339, 118346, 118348, 118366, 118388, 118398, 118399
Years Rolex President was Produced:
1956 - Present
Rolex President Nickname Origin:
Rolex's Day-Date line of watches is frequently referred to as the Rolex "President." While the "President" name actually only applies to the specific style of bracelet designed specifically for the Day-Date, it has become possibly the most commonly used nickname in the world of Rolex ownership. The "President" name is the result of a long history of Day-Date ownership by a number of different United States Presidents. During the early 1960s, America's 36th President, Lyndon B. Johnson wore a Day-Date, and Rolex ran prominent advertising campaign centered on the watch's connection to the Oval Office. Over the years, a number of different U.S. Presidents and world leaders have chosen to wear this iconic watch, and the "President" nickname has become forever synonymous with Rolex's Day-Date line of watches. Browse our full selection of presidential watches for sale by visiting our used Rolex President watches page.
Rolex President Celebrity Associations:
Brad Pitt, Jennifer Aniston, Jay-Z, Warren Buffet, Kevin Hart, Kim Kardashian
Unique Features for the Rolex President
Rolex's President-style bracelet, craft entirely from solid 18-karat gold or 950 platinum.