Sell Used Rolex
Sell used Rolex watches for full market value at the Rolex Exchange – Bob's Watches. At Bobswatches.com, we display both the buy and the sell price for each model Rolex making it a truly open and honest marketplace to buy and sell pre-owned Rolex watches. Just click on the Sell Button below for a quick quote form.
                                                                                                                                                                                                ( Click This Button Below )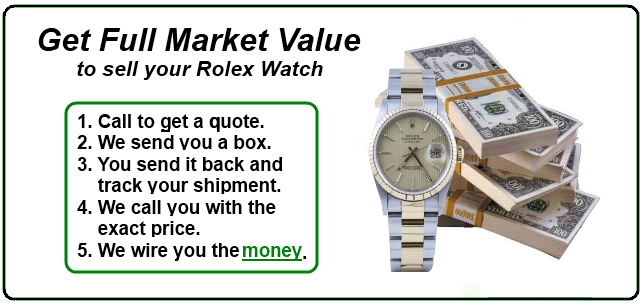 Why Sell Used Rolex Watches to Bob's?
We give you the full market value
We are quick and easy
We are a trusted company in California
We can wire you the money same day!
The secondary market for pre-owned Rolex watches is one of the most interesting in the world. A Rolex watch, if kept in good condition, retains its values or even rises in value depending on market demand for that particular model around the world. When you buy a Rolex you are buying the same watch worn by celebrities and leaders around the world. If you're tired of your watch, just need the money, or want to trade it for a different one, you can sell Used Rolex watches to us at market prices. Selling a Rolex to us is quick, simple, and secure. You have two options to start you can either call our store at 1 (800) 494-3708 and get a free evaluation over the phone or you can click the sell button anywhere on our website and fill out the form with information about your watch. Remember the more information you fill out the more accurate our appraisal can be.
| Used Rolex Buy Sell Watches List | Sell a Watch Price | Buy a Watch Price |
| --- | --- | --- |
| Pre-owned Rolex Submariner Stainless Steel | $3,300 | $3,700 |
| Pre-owned Rolex Daytona Stainless Steel | $8,200 | $8,800 |
| Pre-owned Rolex DateJust Stainless and Gold | $2,800 | $3,150 |
| Pre-owned Rolex Men's President 18k | $9,000 | $9,600 |
| Pre-owned Rolex Ladies President 18k | $4,500 | $5,000 |
| Pre-owned Rolex SeaDweller Stainless Steel | $3,200 | $3,700 |
| Pre-owned Rolex GMT-Master II Stainless | $3,200 | $3,600 |
| Pre-owned Rolex Ladies Yacht-Master 18k | $10,000 | $11,000 |
Bob's Cares for Customers
At Bob's Watches we know when you sell Used Rolex watches it can be like selling an arm or a leg so we handle your watch with extreme care and guarantee 100% security of your watch. If at any time you would like your watch back please notify us by email or phone and we will promptly ship it back to you. Once you fill out the form or call by phone and are given an estimate on the price we will pay we will send you instructions on how to mail the watch to our store and once we assess it and confirm its authenticity we will call you with our assessment and if you still agree with our price we will send you a check for that amount. If you would like your watch back or do not agree with our assessment let us know and we will mail the watch back to you immediately.
Bob's Gives Full Market Value
When you buy a Rolex it is not just a timepiece for you to enjoy, it is also an investment and at Bob's Watches we understand this. We allow you to see both the price we will sell a Rolex to you but also the price we will buy a Rolex from you. With this information you can evaluate your investment more effectively and make smarter decisions regarding if you want to sell Used Rolex watches or keep them for a few more years.

Bob's Loves Rolex Too
At Bob's, we know how valuable your Rolex is to you as we wear and enjoy them as well. We love Rolex watches and know that past the financial value of the watch there can be a deep emotional connection, because of who gave it to you or what it represents. When you want to sell used Rolex watches we want to make the process as easy and simple as possible and provide you with the maximum amount of information up front so you can make an informed decision. We buy and sell used Rolex watches every day from all over the country and the world and our committed to treating our customers right and getting them the best prices.
Bob's Does the Research
At Bob's we put in the research for you pulling from multiple sources to create our prices and to gauge the used Rolex market. We study other dealers' prices, Rolex price lists, and supply and demand to give you the fairest price to sell used Rolex watches to us. We do our homework so we can both buy used Rolex watches from you and sell them to others who would like to have them at good prices. We cut our margins in an attempt to squeeze the market and give the best price on both sides of the market. If you are just tired of your old Rolex we welcome trades for any of the watches in our large inventory. Once we receive your watch and give you a price you can opt to use that money directly towards another watch and we'll give you a coupon code to give you that amount off any watch in our inventory. Many people choose to do this because it is a quick easy way to get rid of an old unwanted watch and get a new one that is exciting and clean. When you buy a Rolex watch you know there is still going to be a lot of value in it even in 10, 20, or even 50 years and to get the most cash out of your watch you should sell used Rolex watches at the Rolex Exchange at Bob's Watches.
So if you Google searched "sell a pre-owned Rolex" or "sell Used Rolex DateJust" you've come to the right place. Please give us a call or fill our or pre-owned Rolex form to sell your Rolex watch to us! If you are looking to buy used Rolex please browse our inventory of pre-owned Rolex watches.
Comments Closed