Paul Altieri
Paul Altieri, founder and CEO of Bob's Watches, is one of the world's foremost authorities on Rolex watches, from vintage to modern. Well-known online through Bob's Watches and Rolex forums, Paul and his team have been providing quality used and new Rolex watches for true fair market value since 1999.
With So Many Knock Offs, How Do I Know My Rolex is Authentic?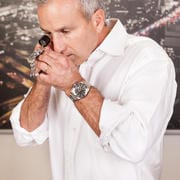 Respected among Rolex Watch experts, Paul and his team put each watch they acquire through rigorous inspection to ensure they are authentic. We understand that Rolex watches are a highly sought after status symbol and prone to being forged and sold as authentic. We ensure that each watch we sell is completely authentic and in great condition. Unlike other dealers who want to maximize their profits, our goal at Bob's Watches is to offer the best in customer service and to ensure that our clients find a trusted, quality and reputable source to buy or sell their Rolex watches.
What Rolex are you currently wearing? 
The Rolex GMT Black & Blue "Batman." This particular model is a favorite of Rolex collectors because of its unique bezel which shades from black to blue giving it the nickname "Batman."
If you had to choose only one Rolex watch to wear, which would it be? 
It is difficult to choose just one. I guess I would have to choose the Paul Newman Daytona with the vintage Submariner 5512 with Gilt dial coming in a close second.
most iconic Rolex models and offers the wearer a classic Rolex look.
How has your Rolex collection changed over time? 
My personal Rolex collection has transitioned to mostly Rolex vintage timepieces.
What is it like to handle some of the rarest watches in the world? 
I find it extremely exciting, especially when you get to meet the original owner and hear their story.
What are your favorite Rolex trends?  
With Rolex watches my favorite trend is timepieces that have faded or changed colors to produce an extremely aesthetic and vintage look. I also love the trend of smart consumers who are eager to buy from the secondary market.
How Can I Contact You About Buying or Selling a Rolex Watch?
Feel free to contact me at Paul.altieri.watches@gmail.com with any questions you may have. You can also reach out to my talented and knowledgeable team online, by phone or by coming into our store. Please visit our contact page for more information.
How Does Bob's Watches Compare to Other Luxury Watch Companies?
When purchasing a Rolex watch you want to make sure the person you are buying it from has the knowledge and experience to ensure your watch is authentic. The team at Bob's Watches are qualified to assess, buy and sell Rolex watches. Along with helping customers in our store and through our website, our team spends time keeping to to date with the latest Rolex trends and news. We are knowledgeable about antique, old and collectible watches as well as modern models. Bob's Watches can help you find the right Rolex for your wrist.