Rolex Submariner
Shop Used Rolex Submariners
The Submariner was first launched in 1953 and is offered in Oystersteel, white & yellow gold, & two-tone with date or no date. Made famous by James Bond films, this sports watch has a 40mm or 41mm case size & dive watch functions. Retail prices start today at $9,100. To view our full list of models available visit our pre-owned Rolex watches for sale page. Popular models:
---
Cash wire prices shown. Prices may be higher if other payment methods are selected.*
About Rolex Submariner Watches
The Rolex Submariner made its debut in 1953 as the first purpose-built diving watch with a water-resistance rating of 100 meters. With its impressive waterproof case, timing bezel, luminous dial, and tough steel construction, the Submariner was an indispensable tool for mid-century aquanauts and its reputation grew as interest in the sport of diving flourished.
Today, the Rolex Submariner is not only recognized as the gold standard of dive watches but also one of the most famous luxury watches ever created. These divers watches are available in an assortment of materials and colors, and from varying production periods, the timepiece is for many, the essential watch to own.
This Page Contains Information About:
---
How Much Is A Rolex Submariner?
In 2021, Rolex offers eight Sub models in its catalog, ranging in price from $9,100 to $42,000. However, thanks to exceedingly high demand for these famous dive watches, prices on the secondary market differ significantly from manufacturing suggested retail prices (MSRP.) Since these watches are sold out at Rolex boutiques worldwide, it is typical to pay well above retail prices for pre-owned models in today's market. Stainless steel options are especially popular, which drives up their value. The latest edition with the highest premium is the ref. 126610LV "Kermit," which is currently valued at more than double its MSRP.
Below is a price table that compares the 2023 official prices of all current-production references with prices in the pre-owned watch market.
Rolex Submariner Prices
Brand
Model Number
Retail Price
Pre-Owned Prices
( Approximate )
Rolex Submariner
124060
$9,100
13,995
126610LN
$10,250
$15,195.00
126610LV
$10,800
$16,295.00
126613LB
$15,600
$18,595.00
126613LN
$15,600
$17,995.00
126618LB
$39,000
$49,995.00
126618LN
$39,000
$40,995.00
126619LB
$42,000
$48,995.00
---
How Much Should You Expect to Pay?
Even discontinued pieces are commanding higher prices than the official prices of their newest counterparts. Below is a sample of how much you can expect to pay in 2023 for an older generation Submariner that is used:
(Manufacturing period: 2008 – 2023)
114060: Starting at $11,295
116610LN: Starting at $13,795
116610LV: Starting at $22,495
116613: Starting at $14,795
116618: Starting at $36,995
116619: Starting at $39,495
(Manufacturing period: 1988 – 2012)
14060 / 14060M: Starting at $10,595
16610LN: Starting at $13,795
16610LV: Starting at $22,495
16613: Starting at $11,595
16618: Starting at $32,495
Prices for vintage (defined as watches that are older than 30 years) vary substantially depending on the specific reference number, material type, age, condition, provenance, and of course, rarity. Generally speaking, vintage pieces can start at around $10,000 but prices can quickly escalate to six-figures for ultra-collectible references.
---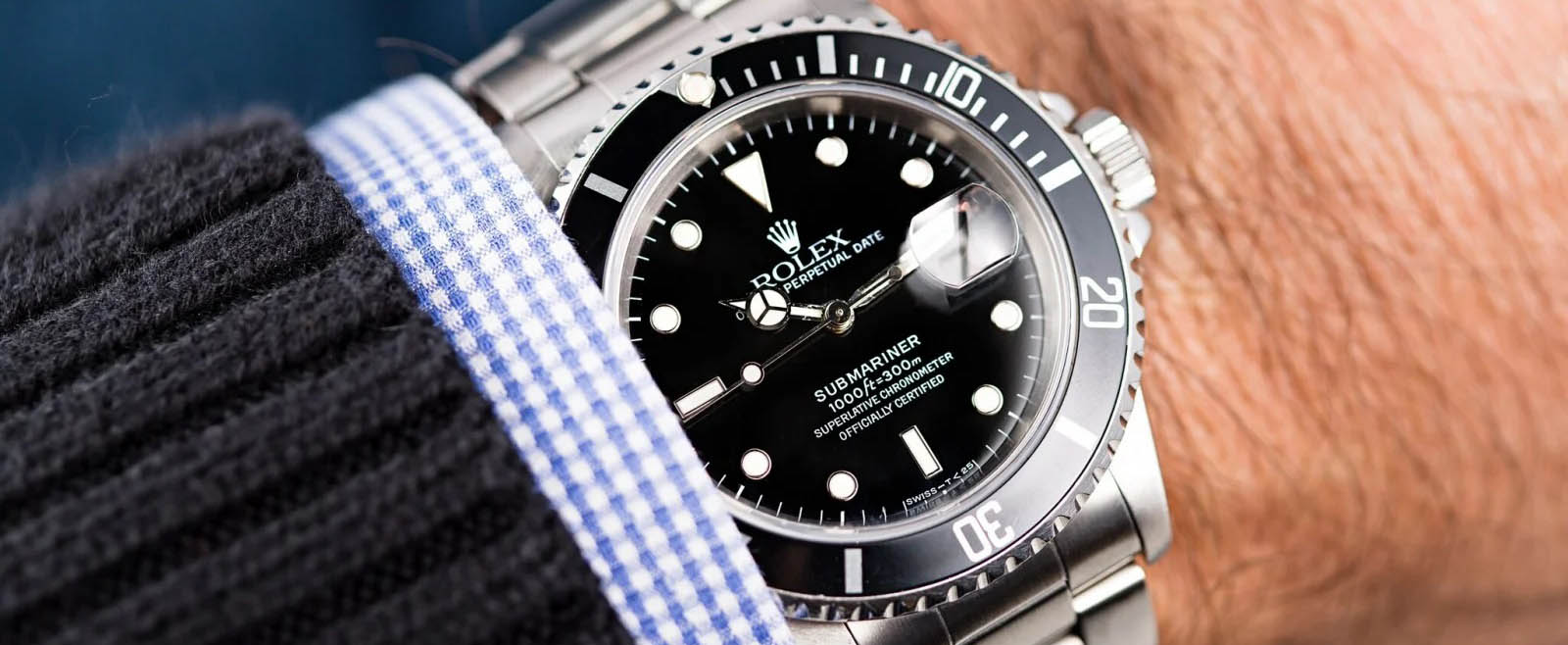 Evolution of Rolex Submariner Models
Like many of its other famed watch models, Rolex has adhered to one particular strategy over the course of the Submariner's evolution: maintain the watch's fundamental design but continuously work on improving the details. As such, you can immediately recognize the design link between the first and latest Submariner - despite the almost seven-decade gap between them. All watches in this collection have rotating timing bezels marked to 60 units, luminous dials, waterproof Oyster cases, three-link Oyster bracelets, and automatic movements. Yet, from materials to mechanics, Rolex has improved every part, which helps to explain why the collection has attained its iconic status.
To understand the evolution we've divided the lineage of watches into distinct generations defined by important design evolutions. Note that there is some overlap between the generations.
Early Models Without Crown Guards (1953 – 1962)
References: 6204, 6205, 6200, 6538, 6536, 6536/1, 5508, 5510
37mm cases with no crown guards
Bidirectional rotating bezels with aluminum inserts
Gilt dials
Radium luminescence
Acrylic crystals
Water-resistance rating of 100 meters or 200 meters
The earliest references are characterized by 37mm stainless steel cases without crown guards. The brand released no less than eight model numbers in the first five years of the model's history, illustrating that the brand was experimenting with the overall design. As a result, depending on the specific reference, these vintage examples can have pencil-style hands or the now-standard Mercedes-style hands. They can have water-resistance ratings of 100 meters or 200 meters. Furthermore, some of these models are referred to as "Big Crown" or "Small Crown" Submariners due to different sized winding crowns.
First Submariner Models With Crown Guards (1959 – 1989)
References: 5512, 5513
40mm cases with crown guards
Bidirectional rotating bezels with aluminum inserts
Gilt then matte dials
Radium then tritium luminescence
Acrylic crystals
Water-resistance rating of 200 meters
The first Rolex Submariner ref. 5512 featured crown guards and a slightly larger 40mm case. The ref. 5513 followed three years later. The crown guards served to protect the winding crown from breaking off the case-and it's a design detail that remains on the Submariner today. However, Rolex did fine-tune the crown guard shape, from square to pointed to the now-standard rounded end shape. The main difference between the 5512 and the 5513 is that the former eventually became COSC-certified while the former never did.
Rolex produced both of these Submariner references for a long time (ref. 5512 until 1980 and ref. 5513 until 1989) and during that period, the watches underwent a few notable design evolutions. For instance, Rolex switched from dangerous radium to safer tritium in the early-1960s. Furthermore, matte black dials with white text replaced glossy black dials with golden text (known as gilt gloss dials) in the late-1960s. Rolex also updated the movements and depending on the era, a Submariner 5512 can house Caliber 1530, 1560, or 1570. Conversely, Submariner 5513 was initially powered by Caliber 1530 followed by 1520.
First Submariner Date Models and First Gold Submariner (1969 – 1979)
References: 1680, 1680/8
40mm cases
Bidirectional rotating bezels with aluminum inserts
Matte dial with date window at 3 o'clock
Tritium luminescence
Acrylic crystal with Cyclops magnification lens
Water-resistance rating of 200 meters
Caliber 1575
After over 15 years of exclusively making time-only steel Submariner models, The brand shifted gears and unveiled the first Submariner Date in 1969 in the form of the ref. 1680 - complete with a Cyclops magnification above the date window at 3 o'clock. Earlier examples of the Submariner Date 1680 featured the "SUBMARINER" name in red on the dial, and these watches are now commonly known as the "Red Sub." In 1977, Rolex replaced these with dials that had the "SUBMARINER" name printed in white.
Along with the steel Submariner ref. 1680, Rolex also offered a yellow gold Submariner 1680/8. This is where we see the Submariner's evolution from a strictly utilitarian tool watch to a luxury sports watch to be enjoyed as much for its striking looks as its functionality. Rolex initially only offered the gold 1680/8 with a black dial and black bezel, however, a few years later, a blue dial/bezel variant became available. Today, Rolex still offers yellow gold Submariner watches in black or blue colorways.
First Submariner Models with Sapphire Crystal (1979 – 1988 Sub Date; 1990 – 1999 Sub No-Date)
References: 16800, 16808, 16803, 14060
40mm cases
Unidirectional rotating bezels with aluminum inserts
Matte dial
Tritium luminescence
Sapphire crystal
Water-resistance rating of 300 meters
Caliber 3035 (date) or 3030 (no-date)
A handful of important updates occurred to the Submariner collection with the debut of the 168xx series. This particular generation was the first to introduce the scratch-resistant sapphire crystal to the Submariner and the first to feature a unidirectional rotating bezel to prevent underestimating immersion times. Additionally, water-resistance was improved to a depth of 300 meters. These three design evolutions remain on today's Submariner models.
Another important update was the 1983 introduction of the first two-tone yellow Rolesor variant - the Submariner 16803. Since then, Rolex has always offered a steel and yellow gold two-tone Sub in its catalog.
The (no-date) Submariner 14060 was the last reference to receive the crystal, bezel, and water-resistance updates when it was launched in 1990.
First Submariner Model with 904L Steel (1988)
Reference: 168000
40mm cases
Unidirectional rotating bezels with aluminum inserts
Matte dial
Tritium luminescence
Sapphire crystal
Water-resistance rating of 300 meters
Caliber 3035
Produced for less than a year, the Submariner ref. 168000 made its mark on Rolex history as the first Submariner to have a case fashioned from 904L steel rather than the industry-standard 316L steel. Today, all steel Submariner watches are made from 904L steel, which Rolex brands as Oystersteel.
First Submariner Models with Updated Caliber 313x (1988 – 2010 Sub Date; 1998 – 2012 Sub No-Date)
References: 16610, 16618, 16613, 14060M
40mm cases
Unidirectional rotating bezels with aluminum inserts
Glossy dials with gold surrounds
Tritium, Luminova, or SuperLuminova luminescence
Sapphire crystal
Water-resistance rating of 300 meters
Caliber 3135 (date) or 3130 (no-date)
Rolex updated the Submariner yet again in the late-1980s when it released the 166xx series. Gone were with matte dials with painted indexes, replaced by glossy dials punctuated with applied hour makers framed in gold and filled with lume. The luminous material used on the dials evolved during the manufacturing run of the 166xx series, from tritium to Luminova to SuperLuminova.
The movement used to power this generation of Submariners also changed to Caliber 3135 for the date versions and 3130 for the no-date edition.
To celebrate the watch's 50th anniversary, Rolex released the first Submariner with a green bezel—the ref. 16610LV, now known as the "Kermit." This paved the way for future green Submariners, which are all now highly collectible Rolex watches.
First Submariner Models with Cerachrom Bezels (2008 – 2020)
References: 116610, 116613, 116618, 116619, 114060
40mm "Super Case"
Unidirectional rotating Cerachrom bezels
"Maxi Dial"
Chromalight luminescence
Sapphire crystal
Addition of Glidelock extension system
Water-resistance rating of 300 meters
Caliber 3135 (date) or 3130 (no-date)
One of the biggest changes to the Submariner style occurred in the late-2000s with the rollout of the 1166xx series, which were the first to be equipped with Cerachrom ceramic bezels. In addition to the high-tech ceramic bezel that offers fantastic resistance to fading and scratching, Rolex also restyled the Submariner case into a broader silhouette with fatter lugs and wider crown guards. This case shape is known as the "Super Case" although it retains the same official 40mm measurement as previous generations. The Oyster bracelets were greatly improved, with solid links to prevent bracelet stretching and a clever Glidelock extension system to lengthen the bracelet.
Rolex also introduced the very first white gold Submariner, the ref. 116619, which thanks to its bright blue bezel and dial, is now known as the "Smurf."
First Submariner Models with 41mm Cases (2020 – Present)
References: 126610, 126613, 126618, 126619, 124060
41mm Cases
Unidirectional rotating Cerachrom bezels
"Maxi Dial"
Chromalight luminescence
Sapphire crystal
Water-resistance rating of 300 meters
Caliber 3235 (date) or 3230 (no-date)
Finally, 2020 saw the release of the latest series of Submariner watches, boasting new dimensions, new colorways, and new movements.
---
New Rolex Submariner Models
In the past, Rolex has been known to incrementally update its collections, first unveiling references in precious metals and then applying the design to the two-tone and stainless steel references. However, Rolex unveiled a whole new collection of Submariner watches in 2020, discontinuing all existing models and rolling out a total of eight new references, all with 41mm cases:
Submariner 124060: Oystersteel, Black Cerachrom Bezel, Black Dial (No-Date), Cal. 3230
Submariner Date 126610LN: Oystersteel, Black Cerachrom Bezel, Black Dial, Cal. 3235
Submariner Date 126610LV: Oystersteel, Green Cerachrom Bezel, Black Dial, Cal. 3235
Submariner Date 126613LN: Yellow Rolesor; Black Ceramic Bezel, Black Dial, Cal. 3235
Submariner Date 126613LB: Yellow Rolesor; Blue Ceramic Bezel, Blue Dial, Cal. 3235
Submariner Date 126618LN: Yellow Gold, Black Cerachrom Bezel, Black Dial, Cal. 3235
Submariner Date 126618LB: Yellow Gold, Blue Cerachrom Bezel, Blue Dial, Cal. 3235
Submariner Date 126619LB: White Gold, Blue Cerachrom Bezel, Black Dial, Cal. 3235
While the change from 40mm to 41mm may seem relatively insignificant, this update is big news for the Rolex collecting community. Since 1959, the model has had a case size of 40mm, so the switch to a 41mm case diameter comes as a serious surprise for a fair number of individuals. Accompanying the larger case size is a slightly wider Oyster bracelet, and Rolex's Caliber 3230 (no-date) and Caliber 3235 (date) movements with improved power-reserves of 70 hours (compared to the previous 48-hour rating)
Just as before, the brand offers the collection in stainless steel, Yellow Rolesor (stainless steel and yellow gold), 18k yellow gold, and 18k white gold. However, instead of the now-discontinued "Hulk" Submariner with its green dial and green Cerachrom bezel, the newest green bezel Submariner features a black dial, similar to the 50th anniversary "Kermit" model. Additionally, replacing the 18k white gold "Smurf" Submariner with its blue dial and bezel is a white gold model that features a black dial paired with its blue ceramic bezel.
---
Model Pricing Explained
How Much Does a New Rolex Submariner Cost?
How much a new Submariner costs depends on where you purchase it. Rolex publishes an official price list that authorized dealers (AD) have to adhere to. In 2023, the prices for new Submariner models sold at an AD can vary between $9,100 and $42,000 depending on the model number and materials.
How Much Does a Used Rolex Submariner Cost?
Given that the secondhand Rolex Submariner market offers dozens of references and hundreds of variations that span seven decades of manufacturing, the prices of a used Rolex Submariner varies wildly from four to six figures.
Used Submariner watches can start as low as $9,795 for a 16610 and increase in price from there.
Vintage Submariner models almost always start at a minimum of $10,000 but can increase into the six-figure range for highly collectible references.
The Most Expensive Rolex Submariner Watches
The most expensive standard-production Submariner in Rolex's current catalog is the 18k white gold Submariner 126619LB with a blue Cerachrom bezel, which retails for $40,650. Rolex also made some special gem-set white gold Submariner (116659 SABR) encrusted with diamonds and blue sapphires that retailed for around $100,000.
In the vintage world, the most expensive Submariner ever sold was a Submariner ref. 6538 with an Explorer-style dial that sold for over $1 million in 2018.
The Most Affordable Rolex Submariner Watches
While it's no secret that the booming demand for Submariner watches is driving up the prices for these Rolex watches, there are still a few relatively affordable options. In 2023, the most affordable Rolex Submariner watches are the no-date Submariner ref. 14060 and Submariner Date ref. 16610, with pre-owned prices starting at around $10,959 and $9,795, respectively.
Rolex Submariner Watches with Green Bezels
Ever since the 50th anniversary of the Submariner in 2003, Rolex has offered the option of a green bezel on a steel Submariner Date. Rolex has made three green Submariners so far:
40mm Submariner 16610LV "Kermit" with a green aluminum bezel
40mm Submariner 116610LV "Hulk" with a green Cerachrom bezel
41mm Submariner 126610LV "Cermit" with a green Cerachrom bezel
Rolex has always priced the green bezel option slightly higher than the black bezel one, but the price differences in the secondary market are even more substantial. Green bezel variants command much higher prices than the same Submariner model with a black bezel.
---
Key Features And Technical Highlights
While the overall design of the collection has changed slightly over the years, there are still vital components that have remained unchanged.
Waterproof Oyster Case
The origins of the Oyster case date back to 1926 and this waterproof watch case still serves as the basis for all Rolex watches that belong under the Oyster Perpetual Submariner banner, including the Submariner. The structure of the Submariner's Oyster case includes a screw-down caseback and a screw-down Triplock winding crown to keep any moisture out. Rolex has continuously worked to improve the depth rating of its famed dive watch and the Submariner has been water-resistant to 300 meters (1,000 feet) since the late-1970s.
The last digit of the Submariner reference number tells you the material of the case:
1 = Steel
3 = Steel and Yellow Gold (Yellow Rolesor)
8 = Yellow Gold
9 = White Gold
Rotating 60-Minute Timing Bezel
When the Submariner reference 6204 made its debut in 1953, it featured a bi-directional rotating bezel. The aluminum bezel insert was marked with 60-minute graduations and a distinct arrow marker at the 12-position, allowing divers to time their expeditions with accuracy.
Eventually, Rolex improved upon their original design and made the bezel unidirectional. This was an extremely important upgrade, as it allowed time to move forward only, never backward. In addition to functionality, Rolex has also improved the bezel material, replacing aluminum inserts with tougher Cerachrom ceramic ones in the late-2000s.
The letter codes in the Submariner's reference number tells you the color of the bezel:
LN (Lunette Noir): Black Bezel
LV (Lunette Verte): Green Bezel
LB (Lunette Bleu): Blue Bezel
Luminous Dial
A vital feature of any dive watch is the ability to read it underwater—and Rolex Submariners are known to have some of the best luminous dials in the market. Like almost all other components of the watch, Rolex has evolved the Submariner's lume over the years to improve legibility.
Radium was originally used, eventually replaced by tritium in the 1960s. Then Luminova and SuperLuminova were the go-to luminous materials of the late 1990s to early 2000s. Finally, Rolex switched to its proprietary Chromalight lume in the late-2000s, which glows blue in the dark.
Oyster Bracelet
Regardless of the specific reference or material, Rolex has always fitted the Submariner with three-link Oyster bracelets. Since the launch of the 11661x series, the Submariner Oyster bracelets have benefitted from a clasp equipped with a Glidelock extension mechanism, which allows the bracelet to lengthen in 2mm increments for a total extension of up to 20mm.
---
Watch 101 - Rolex Submariner History
Rene P. Jeanneret was a Rolex director, keen amateur diver, and the man that instigated the creation of the model He encouraged his company to make a watch that could function as a diving tool, and the timing could not have been more perfect. During the 1950s, interest in the natural world intensified perhaps, in part, to aid the healing process following the wanton human destruction of World War II. More and more research was being conducted in the world's oceans, and the advent of SCUBA diving was in full swing.
When the watch was first released, water-resistant automatic wristwatches were still in their relative infancy. 22 years earlier in 1931, Rolex had released the Oyster Perpetual model – a self-winding ("perpetual") follow-up to the earth-shattering 1926 release of the Oyster case. The first reference, the 6204, was water-resistant down to 100 meters, which was remarkable for the time. Two further references (the 6205 and the slightly thicker 6200) were also announced in the '50s, with all three available for public purchase by 1955.
The Rolex Submariner watch has remained a constant presence since it was first introduced, and it is now one of the most famous and desirable collections in the entire Rolex catalog. Although the original models were crafted entirely from stainless steel and featured no date window or options for dial/bezel colors, the collection has since expanded to include a wide variety of different models that range from utilitarian to flat-out luxurious.
While it was not the very first dive watch ever created, this was the model that set the standard for how a dive watch should function. Rolex refers to the Submariner as the 'archetype of the modern dive watch' and this title certainly holds true. Virtually all dive watches in existence today are in some way influenced by the Rolex Submariner model, and traces of its DNA can be found throughout the entire industry.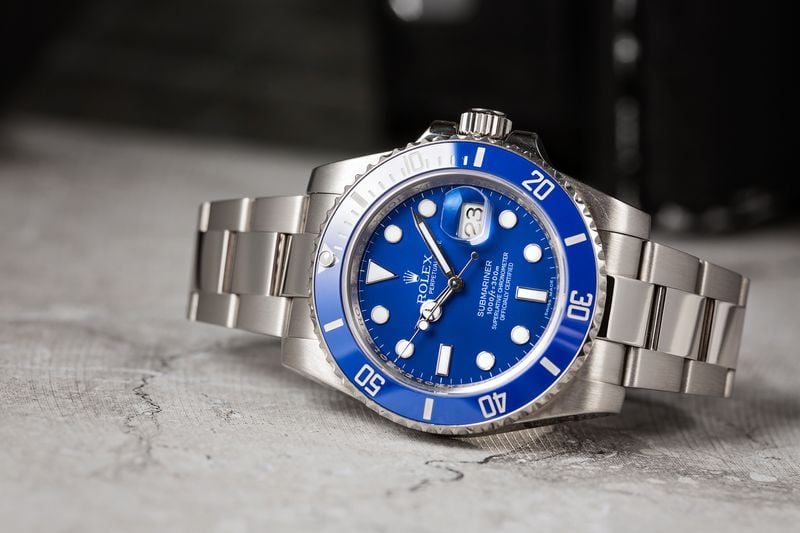 ---
A Popular Collectible for Divers
When you look at the original versions of the collection – those gloriously pared-back references that are the blueprint of dive watch DNA – you can't help but wonder why so many brands thought they could improve on the design. When compared to the decades worth of imitations and derivatives that followed, the timepiece looks close to godly. Yes, there have been hundreds of truly excellent dive watches that followed in the footsteps of this popular model; however, virtually every modern dive watch was (in some way or another) influenced by the brand's pioneering underwater watch.
The model can be relied upon and has a proven track-record of more than half a century. It is a cultural touchstone from which all subsequent dive watches draw their power, and is arguably the watch that took the concept of a luxury tool watch and made it mainstream.
The Sub and its subsequent legacy has also transformed how the industry (and the world beyond) approaches dive watches. Although these mechanical companions were originally conceived as tools, they have long since crossed over into the world of luxury fashion and are now seen as internationally-recognized status symbols. This means that the watch is coveted and worn by many individuals who have never come within ten meters of a wetsuit, let alone countenanced actual submersion beneath the waves.
While this has been known to draw the ire of true divers and marine aficionados (especially because of the effect this widespread adoration has had on the price of vintage references), it has resulted in a very diverse product offering from a variety of brands brands that wish to capitalize on the mainstream fascination with the deep. So let's jump in and find out exactly why this particular watch has been the world's top dive watch since it was first unveiled in the 1950s.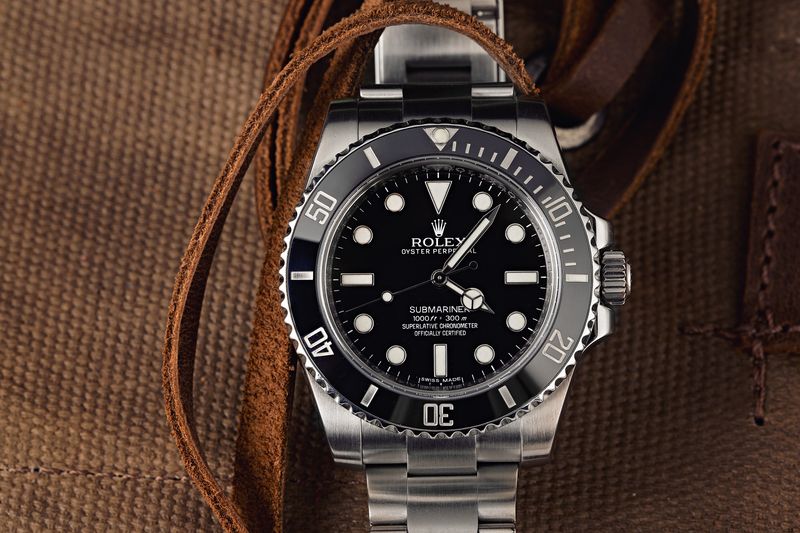 ---
Common Questions
The Submariner is easily the most famous dive watch of all time, and it has consistently been one of the brand's best-selling models for a number of decades. Below are the answers to some of the most frequently asked Rolex Submariner questions.
How To Tell If A Rolex Submariner Is Real?
As one of the most popular luxury watches ever made, the Rolex Submariner is unfortunately also the most counterfeited. While it used to be relatively easy to spot a fake Submariner as they often had poorly made components, misaligned text, and telltale signs like a display caseback or the wrong movement type, with the advent of the so-called "Super Fakes" it's becoming increasingly difficult to differentiate between a real Submariner and a fake one.
Studying what a real one should look like and comparing it with a potential purchase to see if all the details match is one way to go about seeing if a Rolex Submariner is real. However, the best way to protect yourself from inadvertently buying a fake Submariner is to source one from a trusted seller.
Is A Rolex Submariner A Good Investment?
Rolex watches have gained a reputation for retaining their value. Though there's no such thing as a foolproof investment, the Submariner is one of the safest options when buying a Rolex as an investment.
For decades the Submariner has been among Rolex's most popular watch models, and it is widely considered to be one of the best dive watches ever created. Certain vintage models have shown an amazing ability to appreciate in value, but even the least expensive ones can be sold after being worn for 10 years for just as much (or more) than their owners originally paid for them.
Why Are Rolex Submariners So Expensive?
Like all Rolex watches, the Rolex Submariner is a precision luxury timepiece built to the highest possible standards. In addition to using only the very best materials, it is also a professional dive watch capable of surviving 1,000 feet below the surface of the ocean. Not only are Submariner watches beautifully finished luxury items, but they are also incredibly reliable and durable. Therefore, Rolex prices them accordingly.
Moreover, Submariners are often even more expensive in the secondary market. And that is simply down to supply not meeting demand. The appetite for Rolex Submariner watches is what drives the prices up.
How To Wind A Rolex Submariner?
Regardless of the production era, Rolex has always equipped the Submariner with self-winding automatic movements that will continue to run as long as they are in motion. However, they can also be manually wound via the winding crown if need be.
All Sub models have screw-down crowns, which means that before you can wind the watch, you will first need to unscrew it from the case. To wind a Rolex Submariner, first unscrew the crown and then rotate it in the clockwise direction. Since Submariner watches have automatic winding movements, you will not reach a natural stopping point, but after about 30-40 rotations, the mainspring will be fully wound.
Video: Rolex Submariner