Throughout the last 50 years of the Daytona's production, Rolex has fitted a wide variety of different dials to their iconic chronograph collection, with the majority appearing on their various precious metal models.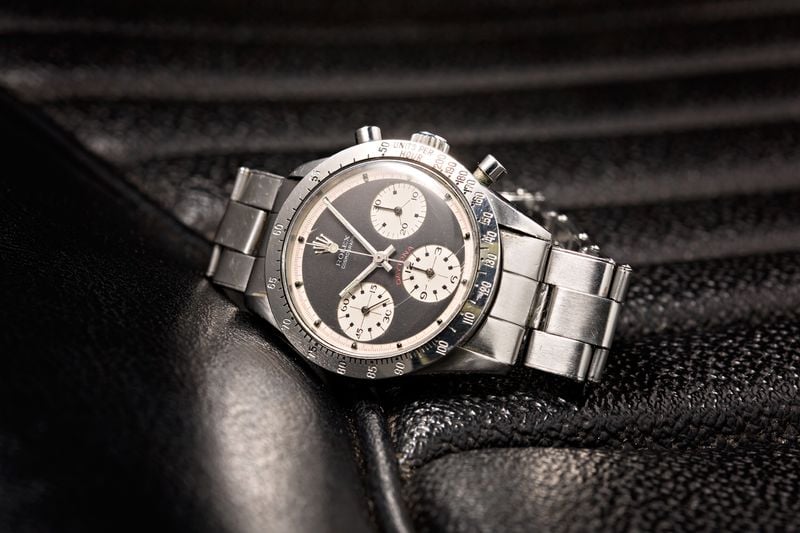 Vintage Daytona Dials
The first generation of this model was most commonly fitted with either white, black, silver, or champagne (gold) colored dials. Most frequently the sub-dials were rendered in a contrasting color - a black dial with white sub-dials, or a silver/white dial with black sub-dials - which has resulted in the "panda dial" and "reverse panda dial" nicknames among modern collectors. However, a small handful of vintage references received all silver dials, earning them the "Albino Daytona" nickname.
Paul Newman Daytona Dials
Additionally, during production of the first generation of watches, a small number were fitted with "Exotic" dials that featured a stepped minute track in a contrasting color, and an Art Deco style font for the numerals in its sub-dials. Famous Hollywood actor, Paul Newman owned one of these exotic dial watches, and after being photographed for a magazine cover wearing one, they started to rise in value and popularity, picking up the nickname the "Paul Newman Dial" among vintage collectors. Although these exotic Paul Newman dials were initially rather unpopular upon their release, they are now one of the most valuable and highly coveted timepieces in the entire luxury watch industry, with Paul Newman's very own "Paul Newman Daytona" selling for $17.8 million dollars at an auction in 2017.
Modern Daytona Dials
Since the arrival of the second generation, stainless steel models have only been available with either black or white dials. Although dial options for stainless steel watches are relatively minimal, there exists near-countless options for dials when it comes to the various precious metal references. Among the dial colors that can be found on two-tone, solid gold, and platinum are silver, champagne, blue, green, chocolate brown, pink, and ice blue - plus all of the various stone/material dials like lapiz, meteorite, and mother of pearl. Additionally, the style of hour markers can vary on some of these more elaborate dials, and in addition to the classic stick indexes, Rolex hour markers can include Arabic numerals, Roman numerals, Hindu-Arabic numerals, diamonds, and even rainbow-colored sapphires.