Rolex Yacht Master
Popular Used Rolex Yacht Master
The Yacht-Master is well suited for boat enthusiasts looking for a practical and stylish timepiece. Released in 1992, the collection pays homage to the world of sailing, with certain models featuring flyback regatta timers with a mechanical memory. Suggested retail prices start at $11,600 and increases depending on the model and metal used. To browse though our entire selection of pre-owned models click on our used Rolex watches page. Popular models:
---
Cash wire prices shown. Prices may be higher if other payment methods are selected.*
About The Rolex Yacht-Master
The Rolex Yacht-Master is a collection of luxury-oriented sports watches inspired by the world of sailing. Rolex offers both a Yacht-Master, Yacht-Master II, and Yacht-Master 40, and while these two models have very similar names, they are actually quite different watches. The original Yacht-Master model is a take on Rolex's classic sports watch, while the Yacht-Master II is a purpose-built regatta time intended for the world of competitive sailing.
The original Yacht-Master took the same general design of Rolex's successful Submariner dive watch, but placed a greater emphasis on refined aesthetics and premium materials, rather than pure functionality. Still water resistant to 100 meters and offering a rotating timing bezel, the original is the ideal luxury sports watch for lounging on a yacht, while the Yacht-Master II is the watch you want on your wrist if you find yourself racing a yacht.
This Page Contains Information About:
---
The History Of The Rolex Yacht-Master
The relationship between Rolex and sailing dates back to 1958, the year the Swiss watchmaker formed a partnership with the prestigious New York Yacht Club. Since Rolex was a pioneer in creating waterproof watches starting with the groundbreaking Rolex Oyster watch in 1926, the alliance was a perfect pairing.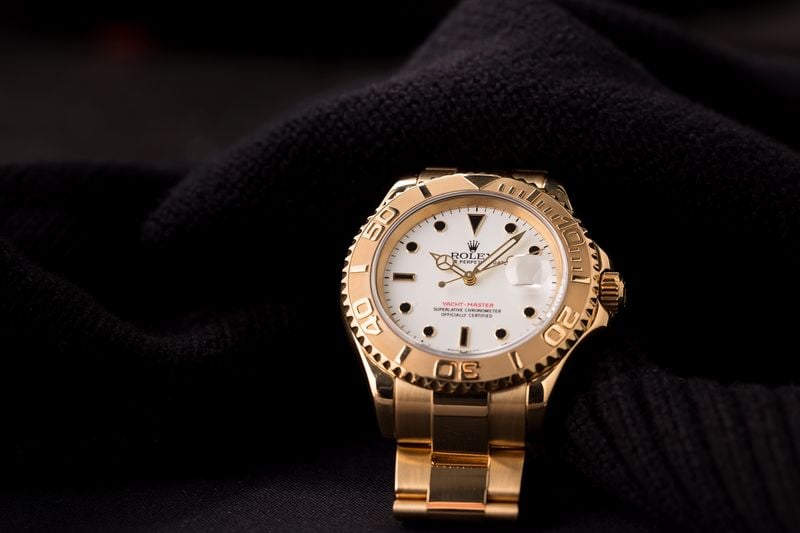 Less than a decade later, Francis Chichester - one of history's most exceptional navigators, became the first and fastest person to sail around the globe single-handedly in his yacht, Gipsy Moth IV. Traveling west to east, the historic voyage took place from August 1966 to May 1967 and covered 29,600 miles over 226 days at sea. Even more impressive is that Francis Chichester only had nautical charts, a sextant, and a Rolex Oyster Perpetual as navigational tools. His Rolex wristwatch chronometer withstood the harsh conditions at sea with ease and came back from the around-the-world adventure intact.
In the 1960s, Rolex created a prototype dial for the Cosmograph chronograph with the name "Yacht Master" on it. Two known examples of the Daytona Yacht Master prototype have been in the hands of Eric Clapton (his model sold for $125,100 at auction in 2003) and renowned Rolex collector John Goldberger. This particular version of the prototype never went into production and it would take more than two decades for the Company to finally launch the official Yacht-Master collection.
The real history of the collection didn't start until decades later when the brand introduced the Rolex Oyster Perpetual Yacht-Master in 1992 as an ultra-luxury sports watch built for the open seas. To emphasize the luxury-oriented nature of the collection, the first model was a solid yellow gold version. The watch sported a gold 40mm Oyster case, a gold bi-directional rotatable bezel marked to 60 minutes for timing, and a gold Oyster bracelet. Over the next two-plus decades, Rolex has added an assortment of materials and sizes to the models nautical watch collection, making it the most varied Professional watch range in Rolex's history.
The Rolex Yacht-Master II
In 2007, Rolex officially introduced the Yacht Master II regatta chronograph intended for competitive yachtsmen. Despite being a part of the greater Yacht-Master collection, the Rolex Yacht-Master II is a significantly different watch from the original model. While the original Yacht-Master was intended to be a luxury-oriented sports watch, the Yacht-Master II was a purpose-built sports watch that was specifically designed for professional regattas.
Identical to any contest of speed, precision is paramount in a regatta. Before the start of a sailing race, the racing committee uses a series of flags and horns to signal the countdown (typically five to 10 minutes) to the start of a race. A skipper uses a regatta timer to determine when the boat is permitted to cross the starting line since crossing it too early results in severe penalties and getting a late start can jeopardize the likelihood of winning. In an event of a recall, the boats have to return behind the line and a new start sequence begins.
To build the ultimate regatta watch for sailors, Rolex furnished the second collection with features such as a programmable countdown timer (to measure with reliability how much time until the start of the race) and on-the-fly synchronization (for flexibility should the race committee have to restart the race sequence). Unlike the original version Rolex has only ever made the second collection with a 44mm Oyster case and fitted with an Oyster bracelet. However, this new version is available in a few different materials.
Today, both the Yacht-Master and the Yacht-Master II remain a part of the brand's catalog, each representing a different type of sailing-inspired watch. Both versions are the perfect embodiment of the ongoing relationship between Rolex and the world of yachting, and like all Rolex watches, both models are crafted to the highest standards on this planet.
---
How Much Is A Rolex Yachmaster?
Current 2023 retail prices for Rolex Yacht-Master watches start at $11,550. Prices then increase from there, depending on materials and specific configuration.
Rolex Yachtmaster Prices
Brand
Model Number
Retail Price
Pre-Owned Prices
( Approximate )
Rolex Yacht-Master
268622
$11,550

$13,495

126622
$12,300
$

15,295

268621
$14,350

$14,995

126621
$15,850
$

16,595

116680
$18,700
$

18,995

268655
$24,700
$

24,295

116681
$25,400
$

22,995

126655
$28,800
$

34,995

226659
$30,500
$

32,495

268655
$41,500
$

24,295

116688
$43,500
$

43,495
---
Rolex Yacht-Master Pricing Information
Due to its varied assortment of sizes and materials, price points can range significantly. The Yacht-Master II is one of Rolex's most expensive sports watch models thanks to its large size and complex movement. Although Rolex does not offer any Yacht-Master II models with diamonds or gemstones, the complexity of the movement guarantees that all models will be in the five-figure range.
What Do Prices For A Yacht-Master 37 Look Like?
Generally speaking, Rolex Yacht-Master 37 watches are less expensive than their larger counterparts. Rolex Yacht-Master 37 prices start at $11,550 and increase from there depending on materials and configuration.
---
Rolex Yacht-Master Models
Although the Yacht-Master and Yacht-Master II models share similar names, they are indeed very different models, each with their own unique histories, functionality, and evolution. The Rolex Yacht-Master II is not so much an evolution of the original model as it is represents the other, contrasting side of what a yachting watch could be.
The original collection has had several different models and sizes in a variety of different materials over the years, including watches with 29mm, 35mm, 37mm, 40mm, and 42mm case sizes. The 29mm and 35mm versions are no longer in production, while the 42mm version debuted as part of the 2019 introduction of Rolex watches in solid 18k white gold and fitted with a black Cerachrom ceramic bezel and Oysterflex bracelet. Additionally, metal options have included everything from solid gold to Rolesium - a exclusive to this model, where stainless steel and platinum components are used on the same watch.
Conversely, the company has only ever made the Rolex Yacht-Master II model in 44mm so far, although the watch is available in a number of different metal options, including stainless steel, yellow gold, Everose Rolesor (stainless steel and rose gold), 18k yellow gold, and 18k white gold with a solid platinum bezel. Regardless of the model, all the original references have Oyster cases with 100 meters of water-resistance.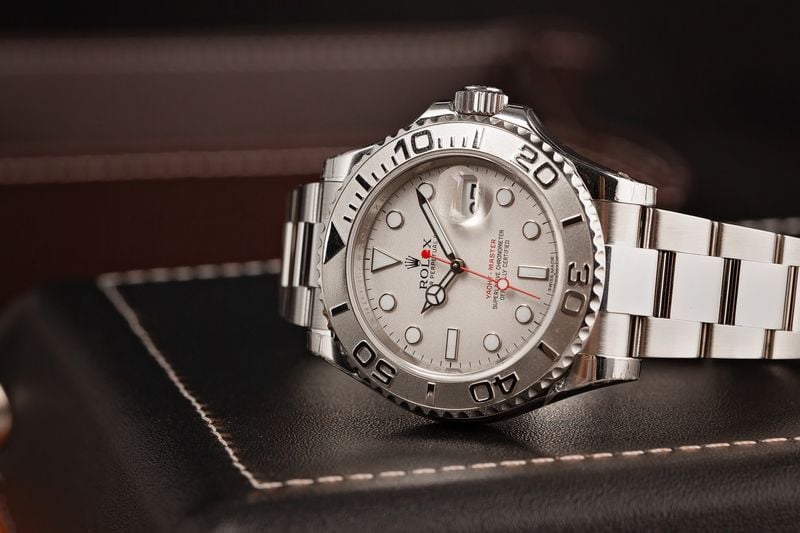 ---
Rolex Yacht-Master References
Yacht-Master 42 ref. 226659 = 42mm, solid 18k white gold with Cerachrom bezel.
16622 = 40mm; Rolesium (stainless steel and platinum).
16628 = 40mm; solid 18k yellow gold.
166233 = 40mm; Rolesor (two-tone steel and yellow gold).
116622 = 40mm; Rolesium (stainless steel and platinum).
116621: 40mm; Rolesor (two-tone steel and Everose gold).
116655 = 40mm; solid 18k Everose gold with Cerachrom bezel.
268621 = 37mm; Rolesor (two-tone steel and Everose gold).
268655: 37mm; solid 18k Everose gold with Cerachrom bezel.
268622: 37mm; Rolesium (stainless steel and platinum).
68623 = 35mm; Rolesor (two-tone steel and yellow gold).
68628 = 35mm; solid 18k yellow gold.
168622 = 35mm; Rolesium (stainless steel and platinum).
168623 = 35mm; Rolesor (two-tone steel and yellow gold).
168628 = 35mm; solid 18k yellow gold.
169623 = 29mm; Rolesor (two-tone steel and yellow gold).
169628 = 29mm; solid 18k yellow gold.
169622 = 29mm; Rolesium (stainless steel and platinum).
69628 = 29mm; solid 18k yellow gold.
69623 = 29mm; Rolesor (two-tone steel and yellow gold).
116680 = 44mm; stainless steel with Cerachrom bezel.
116689 = 44mm; solid 18k white gold with platinum bezel.
116688 = 44mm; solid 18k yellow gold with Cerachrom bezel.
116681 = 44mm; Rolesor (two-tone steel and Everose gold) with Cerachrom bezel.
---
Key Features
Rolex Yacht-Master Sizes
Throughout its production, this timepiece has been manufactured in the following sizes:
29mm (discontinued)
35mm (discontinued)
37mm
40mm
42mm
44mm (Yacht-Master II)
Since 2015, Rolex discontinued the 29mm and 35mm Yacht-Master versions in favor of the one with a 37mm case diameter. The latest size to join the collection was the new 2019 model with a 42mm Oyster case in white gold, black Cerachom bezel, and black Oysterflex bracelet.
Rolex Yacht-Master Materials
Rolex makes both versions in an assortment of materials. It's interesting to note that it is the only collection that offers Rolesium models - which is the combination of 904L stainless steel (now referred to as Oystersteel by Rolex) and 950 platinum on one watch. There are also gold and Rolesor models (the combination of stainless steel and gold on one watch).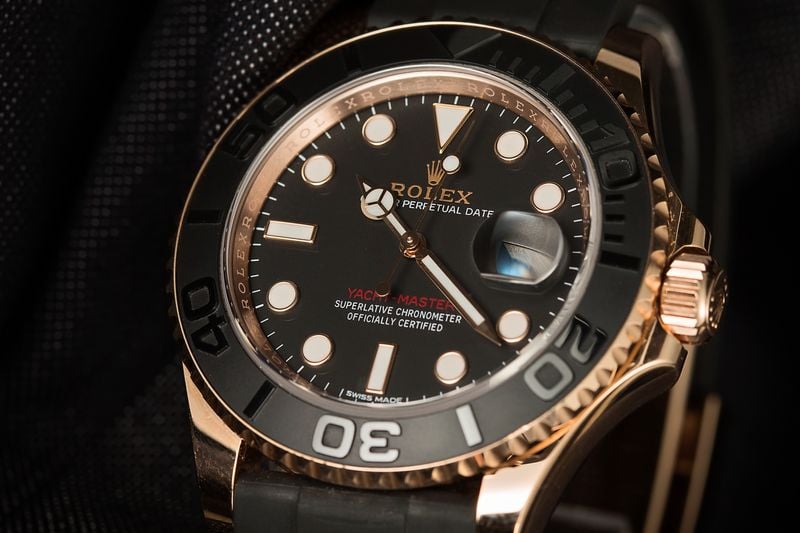 Yacht-Master Materials
Yellow Gold (discontinued)
Two-Tone Yellow Rolesor (discontinued)
Everose Gold
Two-Tone Everose Rolesor
White Gold
Oystersteel and platinum Rolesium
Rolex no longer makes yellow gold versions of the standard model. Instead they now use Everose gold (the company's proprietary rose gold alloy) and 18k white gold. The 42mm version is the only white gold version that Rolex has released.
Yacht-Master II Materials
Yellow Gold
White Gold and Platinum
Two-Tone Everose Rolesor
Oystersteel
Depending on the material of the case, the materials used for the bezels differ as well. There are solid metal bezels with raised polished numerals, matt black ceramic bezels with raised numerals, and blue ceramic bezels (Cerachrom). The 60-minute graduated Cerachrom bezel is a relatively new material to the lineup, joining the collection in 2015. Rolex also presented a very special gem-set reference in 2017 with a rainbow-colored sapphire-set bezel, which goes by the nickname the "gummy bear" among collectors.
A proprietary material manufactured by Rolex, Cerachrom is a high-tech ceramic alloy that is not only scratchproof and corrosion resistant, but its colors are unaffected by ultraviolet rays. An ideal material that provides added robustness to the Yacht-Master lineup, Cerachrom bezel inserts and Ceramic monobloc bezels illustrate Rolex's innovation and high standards.
Although it was exclusively fitted with the robust metal Oyster bracelet for most of its history, in 2015 Rolex introduced the Oysterlex bracelet on the then-new Everose gold Yacht-Master models. While it may look like a standard black rubber strap, the Oysterflex bracelet is actually composed of an inner metal blade, which is then coated in black elastomer. The Oysterflex bracelet secures around the wrist via a matching solid gold Oysterlock safety clasp.
Rolex Yacht-Master Dials
For optimal legibility, the dial layout of the Yacht-Master is typical of most Rolex Professional watch models with Mercedes-style hands, lume-filled hour markers, and a date window at 3 o'clock. Similar to other Rolex watches with date windows, the dial is protected with a scratch-resistant sapphire crystal that has a Cyclops magnification lens for easier reading of the date. There are several dial colors and materials available and platinum and steel models are particularly popular with a matching sandblasted platinum dial.
However, the Yacht-Master II dial layout is vastly different from any other Rolex due to its niche complication. It is home to a countdown display (which can be programmed anywhere from 1 to 10 minutes), which is read via a red arrow-tipped hand. There is also the central flyback/fly-forward chronograph hand, the center hour and minute hands, and the running seconds sub-dial. Furthermore, the Yacht-Master II includes 12 lume-filled hour makers. For the first decade of the watch's history, the dial included straight hour and minute hands, which pointed to square hour markers. However, in 2017, Rolex updated the dials to now include the familiar Mercedes-style hands and added a triangular hour marker at 12 and a rectangular hour marker at 6.
Current-production boast Rolex's Chromalight display, which comprises of a luminescent material that emits a blue long-lasting glow. The luminous broad hands and hour markers provide top-notch legibility in low light conditions.
Rolex Yacht-Master Movements
In terms of complications, the two versions of the Yacht-Master differ significantly: the Yacht-Master is a time and date watch while the Yacht-Master II is a regatta chronograph. As such, the two watches run on different self-winding COSC-certified calibers; however all movements used within the collection are entirely designed and manufactured in-house by Rolex.
Yacht-Master Calibers
29: Caliber 2135; Caliber 2235
35: Caliber 2135; Caliber 2235
37: Caliber 2236
40: Caliber 3135; Caliber 3235
42: Caliber 3235
In 2019, Rolex updated the 40 lineup with the new generation perpetual 3235 movement.
Yacht-Master II Calibers
Ref. 116689: Caliber 4160; Caliber 4161
Ref. 116688: Caliber 4160; Caliber 4161
Ref. 116681: Caliber 4160; Caliber 4161
Ref. 116680: Caliber 4161
The earlier models of the Yacht-Master II ran on Caliber 4160, and Caliber 4161 made its debut in 2013. Rolex has since updated the collection to include the updated Caliber 4161 chronograph movement. One of Rolex's most complicated in-house made movements to date, Caliber 4160/4161 includes a programmable countdown timer with mechanical memory and on-the-fly chronograph synchronization. What's more, the Ring Command bezel of the Yacht-Master II is not merely decorative, but it is a key component of how to use the watch by allowing the wearer to adjust and set the countdown feature. The Yacht-Master II is complex in design, simple in use, and functionally beautiful.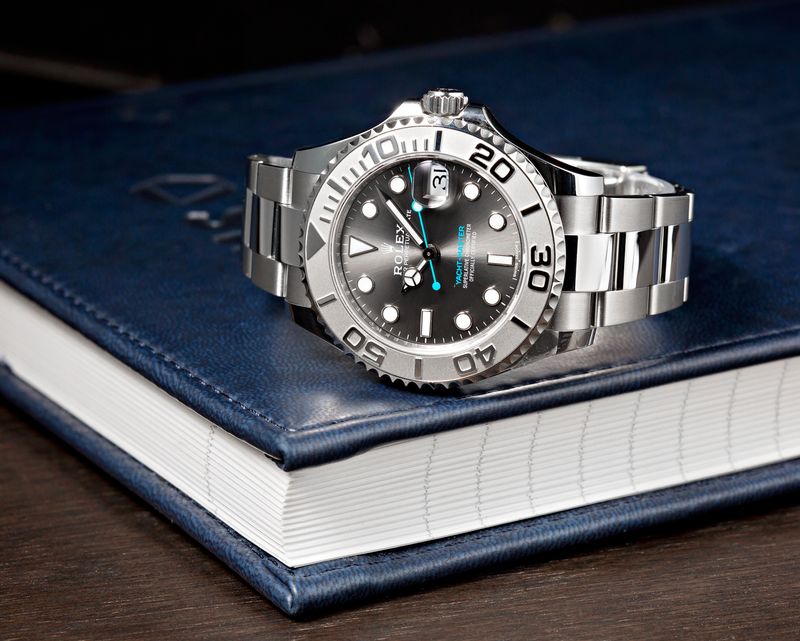 ---
Rolex Yacht-Master Timeline
Although the collection has only been a part of the Rolex collection since the 1990s, early Rolex Oyster watches set the stage for the brand's nautical watches decades before that.
1966 to 1967 - Sir Francis Chichester became the first man to circumnavigate the globe single-handedly and he wore a Rolex Oyster watch
1992 - Rolex introduced the collection
1994 - Rolex introduced the midsize and ladies' models
1996 - Rolex introduced the two-tone midsize and ladies' models
1997 - Rolex released the Rolesium version (also known as platinum)
2007 - Rolex released the Yacht-Master II, the world's first watch equipped with a programmable countdown and mechanical memory
2013 - Rolex updates the movement inside the Yacht-Master II collection from the Cal. 4160 to the Cal. 4161.
---
Celebrities Who Wear Yacht-Master Watches
Similar to other sports watches made by the company, the various models are a favorite among the celebrity set. From actors to athletes, explorers to chefs, here are just a few of the famous names we've spotted wearing these nautically-inspired watches.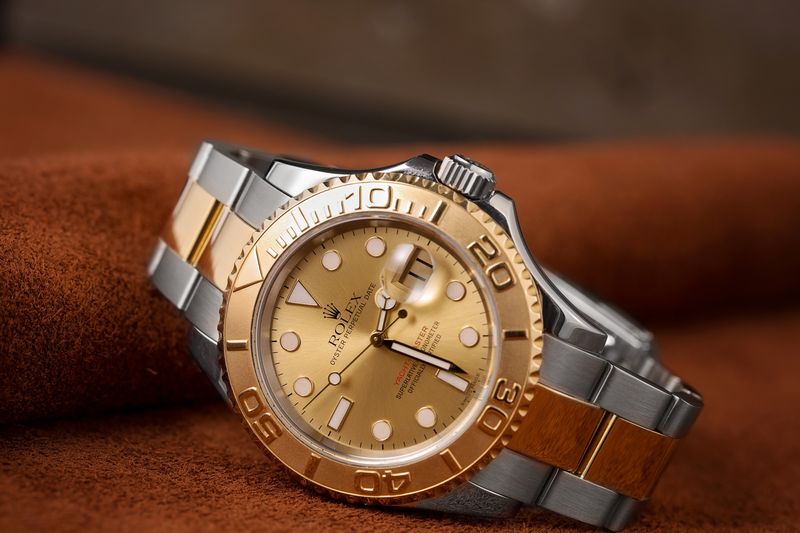 Russell Crowe
Lydia Ko
Sir Robin Knox-Johnston
Mark Wahlberg
Bruce Willis
Connor McGregor
Emeril Lagasse
David Beckham
Guy Fieri
Steven Gerrard
A$AP Rocky
illy Joe Saunders
Flo Rida
Drake
Manny Pacquiao
Ellen DeGeneres
Ed Sheeran
---
Trending Models
The Oysterflex is Rolex's newest bracelet pairing flexible metal blades with high-performance elastomer. The result is a rubber bracelet that is unlike any other on the market today. It's resilient while allowing for a highly flexible hold, and it features a unique design on the bracelet's underside that allows the wrist to breathe and keeps the case centered. The Yacht-Master is one of the few models within the Rolex catalog to offer the Oysterflex bracelet option.
Currently in production on this bracelet type are references 226659 (42mm/white gold), 268655 (37mm/Everose), and 126655 (40mm/Everose). These editions of the usually super luxurious Yacht-Master exude a sportier aesthetic that is perfectly in-line with any seafaring wristwatch. Other references that are always trending on the market are the 40mm Rolesium references 126622, 116622, and 16622.
---
Common Rolex Yacht-Master Question
Is The Rolex Yacht-Master A Good Investment?
The Rolex Yacht-Master is a good investment on two different levels. Like all Rolex sports watches, Yacht-Master models have the amazing ability to retain their value over the years, despite receiving daily wear and use. Additionally, every model except the stainless steel Yacht-Master II features precious metal somewhere in its construction, allowing it to also appreciate in value should the price of gold or platinum shoot up.
What Does The Rolex yacht-Master Do?
The Rolex Yacht-Master was created to be a luxury-oriented sports watch, while the Rolex Yacht-Master II was built as a professional regatta timer. The standard Yacht-Master model can time events up to 60 minutes with its bidirectional rotating bezel, while the Yacht-Master II is a purpose-built regatta watch, featurin an adjustable countdown timer with flyback or fly-forward functionality for use in professional boat races.
How To Spot A Fake Rolex Yacht-Master
When trying to spot a fake, always look at the details. The adjustable countdown timer on the Rolex Yacht-Master II is an incredibly complicated mechanism, and most fake Rolex watches will not be able to replicate this feature. Additionally, all Yacht-Master watches are crafted to the highest standards, so if any of the dial printing or finishing looks less than perfect, chances are that the watch is fake.
How To Use A Rolex Yacht-Master II
After setting the adjustable countdown timer to your desired setting, you will need to start the timer. To use the Rolex Yacht-Master II, press the top button to start the countdown timer. Pressing the top button a second time will stop the timer; however pressing the bottom button while the chronograph is running will adjust the timer forwards or backwards to the nearest minute, to allow for it to be perfectly synchronized to the official race clock.