Rolex Mens
Men's Rolex watches are known for their iconic models such as the Submariner, Datejust, GMT Master, Daytona, Day-Date, and Explorer to name a few. The brand continues to lead the industry with innovations such as the Oyster cases and Perpetual movement. Shop our selection of Men's Rolex Watches below.
Cash wire prices shown. Prices may be higher if other payment methods are selected.*
Men's Rolex Watches Collection
Rolex watches for men have been the symbol of success for over a century. From the original Oyster watch that started it all to contemporary classics like the Daytona and Submariner, Bob's Watches offers an unparalleled selection of the best men's Rolex watches at the most competitive prices. Whether you're looking for your first Rolex or adding to an already impressive collection, we have the perfect men's Rolex watch for you.
As the leading online marketplace for pre-owned Rolex watches, we pride ourselves on offering an extensive collection of the very best Rolex has to offer. From vintage men's Rolex watches like the Rolex Submariner 1680 Red Submariner, to modern classics like the Rolex Daytonas 116500 and 116505 Rose Gold and Everose, we have something for everyone. And with prices well below retail, you can't go wrong. All men's Rolex watches from us are authenticated by third-party watch experts ensuring everything that you purchase is 100% genuine.
We carry a wide selection of Men's pre-owned Rolex watches that can satisfy almost any budget or style. Just click on a model to see availability and pricing. All of our pre-owned Rolex watches have been cleaned and polished to restore them back to like-new condition. If you are looking to buy a Rolex you won't find a more trusted marketplace.
Top Sports Watches for Men
Rolex is not only the world's most popular watch brand for classic pieces but true enough, the brand also caters to many athletes and sports enthusiasts. This range of timepieces is designed to accommodate the need for precision and durability in both professional and amateur sporting events. Back in the '50s and '60s is when Rolex introduced their line of sports watches specifically for people that are engaged in extreme sports such as sports racing, aviation, diving, and other niche sports.
Rolex Submariner — Diving
Characterized by a case waterproof of up to 300 meters, used Rolex Submariner is arguably one, if not the best diving Rolex watch for men. It has a unidirectional bezel with engraved 60-minute graduations that allow divers to properly monitor their dive time, a luminous dial display for easy legibility even in low-light conditions, and an Oyster bracelet. The Rolex Submariner is also available in different dial and bezel colors as well as materials.
Rolex GMT-Master II — Travel
This Rolex watch for men is perfect for globetrotters as it features a dual time zone function. The Rolex GMT-Master II has a 24-hour hand and a rotatable bezel that allows the wearer to keep track of three time zones (home time, local time, and a third time zone of their choice). It is also equipped with an Oyster bracelet and comes in different dial and bezel colors including the classic two-tone combination of red and blue (known as the Pepsi bezel). It was designed to meet the needs of pilots and has been worn by many airline captains and first officers. The Rolex GMT-Master II is truly a functional and stylish watch that is perfect for long-haul flyers.
Rolex Daytona — Racing
This Rolex watch for men is designed for those with a need for speed. The Rolex Cosmograph Daytona has a tachymetric scale on its bezel that allows the wearer to measure average speeds of up to 400 kilometers or miles per hour. It is also equipped with a chronograph function that can measure elapsed time up to 12 hours. Just like other sports watches for men by Rolex, it features water resistance up to 100 meters and is made from different materials including stainless steel, yellow gold, white gold, everose, and more. Bracelet options include the Oyster bracelet and the Leather strap.
Rolex Yacht-Master — Yachting
The Rolex Yacht-Master is the perfect watch for those who love the sea. It has a water resistance of up to 100 meters and is equipped with a regatta timer that allows its wearer to time the start of a yacht race. The bezel of this Rolex watch for men also has a 60-minute bi-directional rotatable bezel that can be used to calculate elapsed time and speed. It is available in different dial and bezel colors as well as bracelet options. It was first introduced in 1992 and followed by the Rolex Yacht-Master II in 2007. Today, Rolex Yacht-Master II bezels are constructed from solid 18k gold and 950 platinum.
Top Classic Watches for Men
Catering to sportsmen, world travelers, and those who appreciate fine craftsmanship, Rolex offers a wide range of classic watches for men. Choose from the ever-popular Rolex Oyster Perpetual line or the more sophisticated Rolex Cellini collection.
Rolex Cellini
Elegance, simplicity, and style — are the hallmarks of the Rolex Cellini collection. This line of Rolex watches for men features elegant timepieces that are perfect for special occasions and everyday wear. These dress watches were first introduced in 1968 and have undergone several design changes over the years. They are only crafted from solid gold or platinum, and can be powered by either quartz or automatic movements.
Rolex Oyster Perpetual
First launched in 1931, the Rolex Oyster Perpetual line is one of the most popular lines of classic watches for men. Its timeless design and functionality have made it a favorite among watch enthusiasts all over the world. Combined features of waterproofing and the signature oyster case make this line of watches one of the most durable and long-lasting. The scratch-resistant sapphire crystal protects the dial while the self-winding mechanism ensures accuracy. This line of watches is available in different colors of dials from gold, white grape, rhodium, and more.
Timeline of Key Men's Rolex Watch Releases
1926 — Oyster Case
1931 — Oyster Perpetual
1945 — Datejust
1953 — Explorer
1953 — Submariner
1955 — GMT-Master
1956 — Day-Date
1956 — Milgauss
1958 - Rolex Air King
1960 — Deep Sea Special
1963 — Daytona
1967 — Sea-Dweller
1971 — Rolex Explorer II
1982 — GMT-Master II
1992 — Yacht-Master
2007 — Yacht-Master II
2008 — Deepsea
2009 — Datejust II
2012 — Sky-Dweller

Top Male Celebrities Who Wear Rolex
We carry a wide selection of Men's used Rolex watches that can satisfy almost any budget or style. Just click on a model to see availability, pricing, and metal types such as the 18k yellow gold, white gold, or stainless steel models. All of our pre-owned Rolex watches have been cleaned and polished to restore them back to like-new condition. Even the hour markers, movement, and dial are inspected. We carry one of the best selections of previously owned Rolex watches like the Men's used Submariner, the Pre-owned Rolex Daytona, and the Rolex Yachtmaster. You can also view our collection of Ladies Rolex watches as well.
Ever since Mercedes Gleitz attempted to swim the English Channel with a Rolex Oyster dangling from her neck, the brand many refer to as "the Crown"has never been far from celebrity endorsement. While other brands refer to these cultural icons as ambassadors, Rolex prefers the term "testimonee"and has put a great deal of effort into building established relationships with these Rolex-wearing luminaries in varying fields. Also, it is not uncommon to see entirely unaffiliated stars sporting very special Rolexes (with two of the most recognizable featuring at the end of this list).
Roger Federer
The eight-time Wimbledon champion and 20-time Grand Slam victor is regarded by many as the greatest tennis player ever to walk the Earth. Records aside, Federer's brilliance has always been defined by his grace on and off the court. While other players (including longtime rivals Novak Djokovic and Rafael Nadal) may catch him in the Grand Slam stakes, they will never be able to hold a candle to his poise and elegance. Federer and Rolex have forever seemed like a perfect match, and it seems a relationship destined to continue long after the Swiss Maestro hangs up his racket for good.
James Cameron
As one of the world's most renowned and celebrated film directors, you could be forgiven for imagining James Cameron would spend his free time basking in the glory of his many masterpieces, awards, and accolades. Instead, however, Cameron prefers adventure. His deep-sea dives are legendary, and his commitment to exploring the Mariana Trench remarkable.
Paul Newman
Perhaps the most famous Rolex testimonee is one of the most unwitting. Unlike many of the brand's "official"supporters, Newman didn't even buy the watch that came to be associated with his name himself. Instead, his wife purchased him a widely unpopular Daytona reference. After the watch was seen on Newman's wrist, its legend began to grow. Decades later, its unusual aesthetic is now regarded as trailblazing.
Adam Levine
The lead singer of American rock band Maroon 5 may not be the first Rolex customer that jumps to mind. Still, Levine made headlines around the world during the halftime show of Super Bowl LIII by rocking the Rainbow Rolex Daytona reference 116595RBOW in Everose gold. That particular reference is seen by many as the very definition of luxury extravagance. On a world-famous rockstar's wrist, it looks right at home.
Commonly Asked Questions about Rolex Watches for Men
How do you spot a fake men's Rolex watch?
There are a few things you can look for when trying to spot a fake Rolex. First, check the weight of the watch. A real Rolex should feel heavy, while a fake will feel light. Another way to tell is by looking at the second-hand. On a real Rolex, the second hand will move smoothly, while on a fake it will jump or tick. To know more about how to spot a fake Rolex, feel free to read our guide. Make sure to purchase your Rolex watch at a trusted retailer like Bob's Watches to ensure its authenticity.
Is it worth it to buy a pre-owned men's Rolex watch?
Yes, it is definitely worth it to buy a pre-owned Rolex. Not only will you be able to save money, but you will also have the opportunity to purchase a vintage Rolex that is no longer in production. Another reason is that Rolex, compared to other watches, retains a lot of its value even after it is pre-owned. It is important to be careful with your purchases as there are many fake Rolex watches on the market. Be sure to purchase your watch from a reputable retailer like Bob's Watches, where all of our watches are guaranteed to be authentic.
How much is the average men's Rolex watch?
The average men's Rolex watch can differ in price depending on the model and year it was made, the design, materials used, and the overall condition. In some cases, pre-owned watches tend to be more expensive. This is because the watch can be either rare or vintage, which is now impossible to find in stores. Demand for rare and vintage timepieces also continues to increase, driving up the prices.
Are Rolex watches a good investment?
While there are some cases where people happen to have Rolex watches from long ago that are worth a fortune today, when bought new and worn regularly, Rolex watches do not offer a good return on investment. We do not recommend purchasing Rolex watches for the sole purpose of investment. Instead, enjoy your watch and if you ever do decide to sell, you may be able to get back a portion of what you originally paid.
Why Are Men's Rolex Watches So Expensive?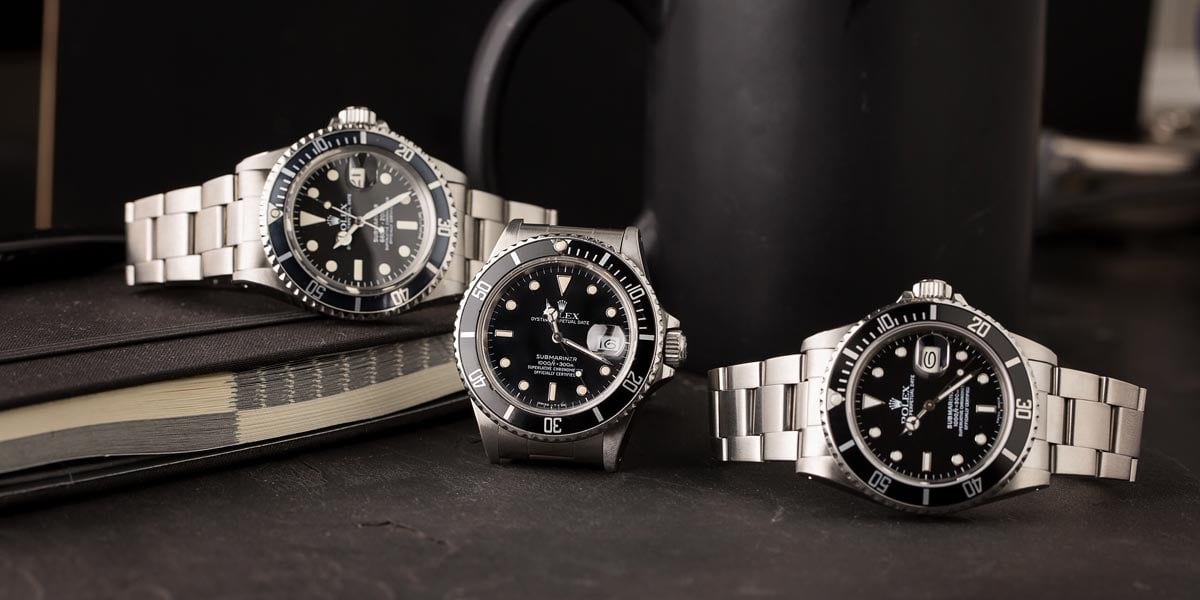 So what is it that makes the Rolex brand so appealing to men? The names of the brand's most famous and enduring watch designs provide a clue. The Submariner conjures thoughts of a brave and bold adventurer working beneath the waves, uncovering the secrets of the deep and battling untold terrors found on the ocean floor. The Explorer recalls pioneering mountaineers and daring men willing to risk everything in the name of discovery. For those that adore air travel and being the master of their own life's path, the GMT Master collections provide a link to that lifestyle. Racecar enthusiasts, petrol heads, speed demons all go after the Daytona, named after a famous race track and made immeasurably famous by the wrist of Paul Newman. For the avid professional that takes his effects as seriously as he does his job, the Datejust. And for the aspiring (or serving) commander in chief, the presidential Day-Date.
Power. Wealth. Heroism. The Rolex brand is built on pillars of traditional masculinity. And while many things in the world have changed since the brand's foundation and will continue to change forevermore, it is hard to imagine a world where romanticized notions cease to be relevant to aspirational men looking to own and wear the very best.
Which Rolex Model Should I Buy?
Truth be told, it is hard to go wrong. The name on the dial says it all. It is wise to get an idea of what size watches you generally prefer wearing and, if possible, try on some new and old Rolexes before pulling the trigger. Really, the choice comes down to aesthetic preference. Many people choose to go after a "birth year"Rolex when making their first purchase from the Crown. This can add a bit of emotional significance to the watch, especially if you are purchasing it to celebrate a milestone birthday.
One piece of advice that you will hear collectors offer freely is to buy the very best you can afford. There is no substitute for the condition. At Bob's Watches, we pride ourselves in sourcing and selling only the very best examples of Rolex's output over the past 115 years. That means you can be sure you'll end up with a fine-looking vintage timepiece on your wrist that will offer years of satisfaction.
Are Rolex Watches for Men an Investment?
Rolex watches are known to hold their value as effectively as (and usually better than) most other watch brands. There is a considerable demand for Rolex-made products and a significant shortage of supply for newer pieces. While this does make vintage or pre-loved pieces more expensive than you would expect second-hand models from other brands to be, it looks likely that those prices will remain high for the foreseeable future. For that to change, Rolex would have to alter its supply strategy and flood the market with new pieces available at retail price.
Currently, however, Rolex enjoys a huge credibility boost by the increasing value of its pre-owned models, which makes any such action contrary to reputational gains.
Buying a Men's Rolex Watches
Rolex is one of the most valuable brands in the world and its watches have been cherished by many for 100 years. If you're looking to buy a used men's Rolex you have made the right decision. A Rolex is considered by a number of people as one of the best made watches you can purchase. It is more than just a timepiece. It stands for luxury, quality, style, style, and grace.
Want to see more watches? Be sure to visit our Men's Rolex page to browse both used and new/unworn selections.