* Prices may be higher if other payment methods are selected.
About Cartier Watches
With a rich and successful history in both jewelry and fine watchmaking, Cartier watches can look back on over 150 years of horological expertise. Their prestigious heritage includes the creation of one of the world's first pilot's watches – the Cartier Santos, along with the distinct rectangular Cartier Tank watch, which can be seen on the wrists of world icons like Calvin Klein, Elton John, and Andy Warhol.
Whether it's the likes of the sports car-inspired Cartier Roadster that attracts your attention or the balloon-shaped Ballon Bleu watch, the brands extensive collection of timepieces are crafted with meticulous attention to detail and are considered some of the finest in the world. With a profound respect for aesthetics and a balance of comfort with intelligent proportions, every watch has a purpose to serve and a story to tell. Engineered for precision and designed to optimize both ergonomics and comfort, each model is developed for the perfect fit against the wrist.
It is difficult to think of a watchmaker who has a history dating back to 1847. When it comes to luxury wristwatches few rival the companies watches and for good reason. These stylish watches have become part of a coveted timepiece collection for a number of men and women. Browse though Bob' Watches selection to find a reliable, quality made timepiece that is right for you.
Something For Everyone
The simple yet diverse styles made by the brand means that there is something for everyone. These watches are available in stainless steel, silver, gold, and with or without diamonds. If you are looking for a high-end timepiece browse our selection of Cartier watches to find a look that fits your unique style.
History of Cartier

When Adolphe Picard, handed ownership of his Parisian jewelry store over to his 28 year old student, Louis-Francois Cartier in 1847, it would spark the establishment of a very successful and pioneering manufacturer within the luxury wristwatch industry. Louis-Francois son, Alfred Cartier joined the company in 1874 who had a vision for expanding their expertise in fine watches, and by 1888 the first diamond-studded women's watches were put on display.
Louis-Francois and Alfred Cartier quickly established themselves, striking up a connection with their customers and honing into their needs at a time when pocket watches were still the preferred method of telling the time. They ordered their first batch of watches from Vacheron Constantin in 1893 and within no time at all, women's fashion changed to accommodate space on the wrist for an accessory that served a practical purpose in addition to being a piece of jewelry. Cartier was proclaimed the "Jeweler of kings, king of jewelers" by King Edward VII, since the Parisian business was also known for its richly decorated gemstone-set tiaras which were often worn by royalty such as the Grand Duchess Maria Pavlovna of Russia, Queen Elisabeth of Belgium, and Queen Victoria Eugenie of Spain.
Within four years of inheriting the business, the company was serving the court of Napoleon III, even selling Empress Eugenie a silver tea service in 1859. As one of the oldest surviving jewelers in the world, Cartier has catered to the whims of a range of clientele, from royalty and movie stars to business men and women. Cartier certainly enjoys a reputation for selling some of the finest quality watches, jewelry and accessories in the world.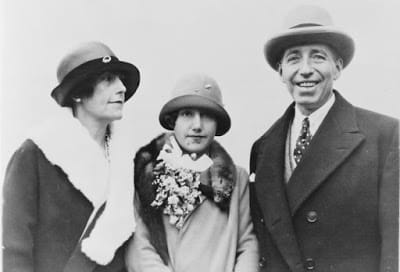 The brand stayed within the family for years.  1899, Louis Cartier joined the family firm and brought a love of mechanical pocket watches. He wanted the company to build an impressive watch brand. A few short years later, he got his chance. In 1904, Louis Cartier met with Brazilian aviator, Alberto Santos-Dumont, who complained of the unreliable pocket watches he had to use during flight. They decided to take on the challenge and designed a flat wristwatch designed a watch to be worn on the wrist with a leather strap. It also featured a distinctive square bezel. This new way to wear a watch quickly became a huge hit with Santos-Dumont and others. This is how the famous "Santos" watch was created. The fact that the company still produces this watch today says much about its initial design.
The company did not stop with simple wrist watch designs. Rather, the most expensive of the brands watches to sell is the Cartier Phoenix Décor Secret Watch. Shaped like a phoenix, this watch is made of white gold and is covered with 3,010 brilliant-cut diamonds. This stunning watch easily hides its hidden watch face among the brilliant diamonds and gold.
The brands collection features extraordinary examples of meticulously crafted pieces. They can be found with movements from Audemars-Piguet, Movado, Vacheron Constantin and Le Coultre. The watch manufacturer became so adept at creating unique jewelry and watches that King Edward VII of England referred to them as "the jeweler of kings and the king of jewelers." He liked the company so much that he ordered 27 tiaras for his coronation in 1902, and issued a royal warrant to Cartier in 1904.
By 1942, the company no longer had strong leadership and began to falter. In 1972, a group of investors installed Alain Perrin as CEO, giving the brand a chance regain its lost ground. During this time, they developed and used the famous "Le Must de Cartier" line. This marketing plan worked wonders for the company, as did its new versions of classic watches like the "Santos." They were able to be re-establish as an innovative and fashionable watch and jewelry maker in the luxury market once more.
How much does a Cartier watch cost?
The price of a Cartier watch all depends on its style, condition, and degree of decoration. The cheapest Cartier watch in stainless steel and with a quartz movement retails for $2,550, and many entry-level models can be purchased for as little as a few thousand dollars on the secondary market. However, the price of a Cartier watch significantly increases from there depending on its movement and use of precious metals and gemstones. Certain models with highly complex mechanical movements that are crafted from solid 18k gold and set with diamonds can sell for well above the six-figure price point, with some even retailing for more than a quarter of a million dollars.
Popular Models
Few watch manufacturers can compete with the companies long-standing reputation for producing some of the most iconic timepieces of all time. The Ronde de Cartier watch is worn for its modern yet understated design - appealing to a younger generation of collectors, while the Drive de Cartier collection has a unique appearance, with a domed sapphire crystal, a gently curved case, making this design the perfect timepiece to pair with business attire. Despite the numerous successful watch collections in companies portfolio, the Tank, Santos, Ballon Bleu, and Calibre de Cartier aretrue  industry icons and will always remain among the brand's most popular models.
The Tank:
Characterized by its rectangular-shaped case with a vintage-inspired design. There is no mistaking the iconic Tank watch. Its shape and design pays homage to Britain's very first use of tanks at the Battle of Flers-Courcelette in 1916. The watch's lines are reminiscent of the tank's tracks, and its unique lugs enable the strap to fit seamlessly onto the case without any space in between. The Cartier Tank is geared towards collectors with a love for military timepieces, as well as Art Deco-inspired wristwatches, since the collection's sub-families like the Tank Americaine has an accentuated oblong shape and a more elegant demeanor.
Other sub-models of the Cartier Tank collection include the Tank Francaise, Tank Solo, Tank MC, and the Tank Cintrée. One unique characteristic of the Tank timepiece is its ability to pair beautifully with a professional suit without looking like a military watch in the slightest. The watch's discreet nods to World War I armored tanks like the FT-17 are tastefully subtle, many of which are characterized by a railroad minute track and two blue hands. Around 250 different versions of the Tank have been developed by the brand since its release in 1917. Models are available with both quartz and mechanical movements, along with different case materials, sizes, and dial designs.
Santos:
In 1906, Brazilian aviator Alberto Santos-Dumont performed the first public engine-powered flight with a very important Cartier watch strapped to his wrist. Santos-Dumont had reached out to the company for a timepiece that could be worn on his wrist so that he could quickly reference the time without having to remove either of his hands from the controls of his plane to fumble with a pocket watch.
The company filled his request, and today the ground-breaking timepiece is considered one of the world's very first pilot's watches. The Cartier Santos watch is a distinct design with a rectangular case that has exposed screws on its bezel. The traditional Roman numeral hour markers are subtly stretched to fill the large proportions of the dial. Updated versions of the Santos collection were launched in 2018, which feature the addition of Cartier's patented QuickSwitch and SmartLink systems and a more rounded, smoother, flowing case design.
Ballon Bleu:
Rounded like the shape of a balloon, the Ballon Bleu collection of watches is tailored towards lovers of sheer elegance and grand complications. The collection first launched in 2007 and appealed equally to both men and women. With a blue cabochon-adorned crown, an unusual bubble-shaped profile, and high-quality finish, the Cartier Ballon Bleu is an inherently elegant watch that does not look like any other model on the market.
The majority of the watches within this unique collection feature Roman numerals and elegant blued steel hands. A unique protective arc that protects the crown marks the point at which the case and dial curve inward. The blue highlights seen in the hands and cabochon crown of the Ballon Blue have become an unmistakable design trait of this beautiful Cartier watch collection. The case diameter of a Ballon Bleu model watch can span from a discreet 28mm to a bold 46mm, ensuring there is a model for every possible wrist size.
Calibre de Cartier:
The Calibre de Cartier watch collection pays tribute to the Parisian company's first ever in-house developed movement. The sporty timepieces reimagine the traditional round watch aesthetic and are popular with those who appreciate the brand's unique designs and superlative craftsmanship, but who want something more modern in design.
The collection was launched in 2010 and includes both dive watches and more traditional timepieces. Despite being from a company that is best known for its elegant dress watches, the Calibre de Cartier dive watches feature 300-meters of water resistance, making them highly capable companions for adventures underwater. The watches from the Calibre de Cartier collection feature three handed dial designs with subsidiary seconds and date displays, and are available in a range of different sizes, materials, and with several different strap/bracelet options.
Information on buying  luxury Cartier watches:
Cartier watches make excellent investments due to their profound reliability, high-quality materials, and elegant designs that is simultaneously both unique and truly timeless. Although some models can be incredibly expensive, especially if they are constructed from precious metals and set with diamonds, most can be purchased pre-owned for a reasonable price point. The secondary market offers excellent savings on both modern and vintage models; however, since they are some of the most desirable and recognizable timepieces on this planet, their watches are frequently a target for counterfeiters. As is the case when purchasing any high-end luxury watch, an authenticity guarantee from a reputable seller is of the greatest importance, and the phrase, "buy the seller" is just as important as ever.
Models
There are a number of different references to choose from when selecting a one of these wristwatches.  Below are a few of the different models.
Roadster
Tank
Tank Fancaise
Ballon Bleu
Pasha
Santos
Tank Americaine
Louis
Must 21
Tortue
Tank Solo
Rotonde
Ronde
Calibre
Panther
Today, the company has five flagship stores in cities like Paris, London, New York and Tokyo, as well as 200 smaller stores in 125 countries. The brand continues to offer best-selling watches like the classic "Tank," the fashionable "Tank Francaise," the "Pasha" watch for ladies, the luxurious "Panther" watch with its 18k gold options, and many distinctive sports watches that echo back to the famous "Santos." Because of their wide range of watches, there is something from everyone, from royalty to your typical business man or woman. When you are looking for an elegant, timeless and expertly crafted watch, you cannot go wrong with a Cartier.