Rolex Day Date
Popular Used Rolex Day Date
Launched in 1956, the Day-Date was the first watch to display the date and day of the week spelled out in full. The collection is crafted from precious metals such as 18k gold or platinum, & available in a variety of options & bracelet styles including the famous President bracelet. Suggested retail prices start at $38,500 and increase depending on size and options. Shop our full section of used Rolex Watches for sale. Popular models:
---
Cash wire prices shown. Prices may be higher if other payment methods are selected.*
About Rolex Day Date Watches
Introduced in 1956, the Rolex Oyster Perpetual Day Date was the first calendar wristwatch to feature both a date window and a day of the week window (where the complete name of the day was written out) on the dial. The model also debuted a brand new bracelet style dubbed the President bracelet. The watch featured a 36mm Oyster case, an automatic movement, and similar to the Datejust, a Cyclops magnification lens on the crystal above the date window.
This Page Contains Information About:
---
The Ultimate Status Symbol Watch
Throughout the history of the collection, Rolex has only ever produced it in precious metals, thereby establishing the timepiece as the status watch to own. For that reason they have been a favorite luxury watch among the world's most accomplished people including heads-of-state, celebrities, professional athletes, and captains of industry. Thanks to the name of the bracelet and the watch being worn by several US Presidents, the watch is more commonly known as the President or Presidential.
Although this model has undergone many enhancements and changes over the last six decades, the watch has retained its signature design traits, such as the duo of calendar windows on the dial, the round Oyster case, and its precious metal construction. As such it is one of the brand's most recognizable models and a universal signal of personal success.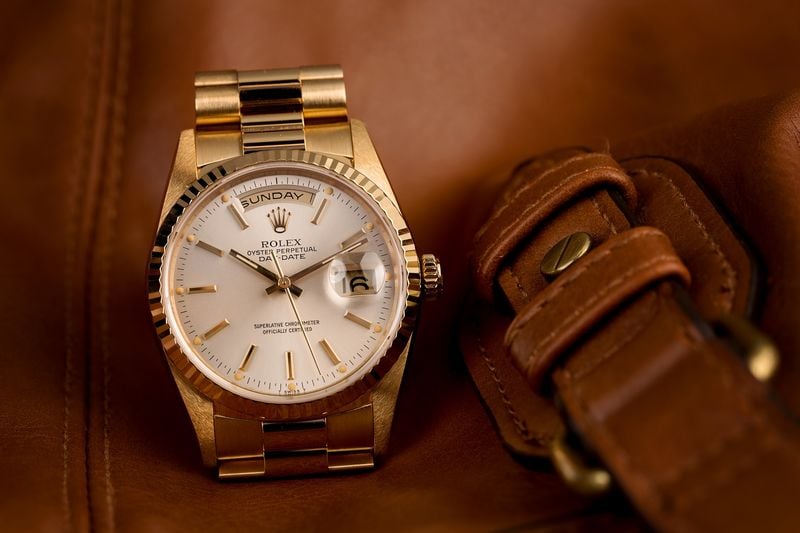 ---
Rolex Day-Date History
When the Datejust was first released in 1945, it was positioned as Rolex's flagship watch collection and forever set the standard for how a date complication on a wristwatch should function. By 1956, the brand was ready to take the next step in calendar wristwatches, and launched the Rolex Day-Date collection as a new flagship line of timepieces.
While the Datejust displayed the numerical date of the month through a window in the dial located at the 3 o'clock location, the Rolex Day-Date added the increased functionality of a day complication, which spelled out in full the day of the week (in the customer's selection of a number of different languages) and displayed in through an arc-shaped window at the 12 o'clock position.
Exclusively offered in precious metals (with the exception of a small handful of vintage and prototype models in stainless steel), the Rolex Day-Date became a popular choice for many of the world's most prominent and powerful individuals. The watch was notably worn by World War II General and 34the President of the United States, Dwight D. Eisenhower. Since then, the ultimate luxury watch, El Presidente – which is a Day-Date Rolex that features the exclusive President bracelet – has been found on the wrists of luminaries and dignitaries worldwide, including Eisenhower's successors, JFK and LBJ.
A Larger Rolex Day-Date
Since its birth, the Rolex Day-Date had always had a case diameter of 36mm. As modern trends started to favor larger watches, many felt that the classic Day-Date 36 - a highly versatile case size that works well on the vast majority of wrists - seemed rather small in comparison to many of the other watches available at the time. In 2008, Rolex responded by releasing the Day-Date II, which offered the same iconic functionality as the classic Rolex Day-Date, a larger 41mm case to better cater to modern tastes.
Although the Rolex Day-Date II satisfied the public's demand for a larger watch, the 41mm case did abandon some of the proportions that had defined the model for over a half century, and the watch now had a bulkier, slightly more sporty apperance. By 2015, Rolex had replaced the Day-Date II with the Day-Date 40, which featured a slightly smaller 40mm case, but retained the classic, beloved proportions of the original 36mm model, creating a more refined overall package.
---
How Much Is A Rolex Day-Date?
Currently in 2023, when purchased brand-new, the least expensive Rolex Day-Date costs $38,500 at retail. Prices increase from there, with both case size and materials. The larger 40mm and now-discontinued 41mm models cost more than the classic 36mm versions, and white gold and Everose pink gold both cost more than traditional 18k yellow gold. However on the pre-owned market, the price of used Day-Date watches starts at around $10,000 for older models and increases from there depending on age, materials, configuration, and overall condition.
Rolex Day Date Prices
Brand
Model Number
Retail Price
Pre-Owned Prices
( Approximate )
Rolex Day Date
228238
$38,500

$41,495

228239
$41,500
$

44,495

228235
$41,500
$

50,995

228348RBR
$57,100

$58,995

228349RBR
$59,900
$

88,995
---
Additional Rolex Day-Date Pricing Information
Given its precious metal construction and double calendar functionality, the Rolex Day-Date is considered to be the brand's flagship collection of watches. Consequently, the Day-Date lineup has always boasted some of the most expensive models in Rolex's entire catalog.
How Much Is A Rolex Day-Date 40?
The larger 40mm versions of the Day-Date cost more than the classic 36mm versions. Prices for Rolex Day-Date 40 watches start out at $38,500 for the traditional yellow gold model and increase from there with the use of white or Everose gold and diamonds.
Interestingly, Rolex Everose gold and white gold models are more expensive than their yellow gold counterparts and generally cost a few thousand dollars more when purchased at retail. Naturally, the platinum watches are the most expensive; however the secondary market offers a significant savings on most Rolex Day-Date watches, regardless of metal type or specific configuration.
Unlike certain Rolex watch collection, modern Day-Date models typically sell for more than vintage references. While this is not true for all references and configurations, contemporary Rolex Day-Date watches do actually contain more gold than their vintage counterparts. When looking at prices for used Rolex Day-Date watches, prices can start at just below $10,000 for older models and can quickly increase from there, depending on factors such as the case size, reference, dial style, bezel style, bracelet, and overall condition.
---
Rolex Day-Date Features
As Rolex's flagship watch collection, the Day-Date is available with a number of different options. In total, there have been three different sizes of Rolex Day-Date watches, and each generation has been available with a variety of different materials, dials, and bracelet styles.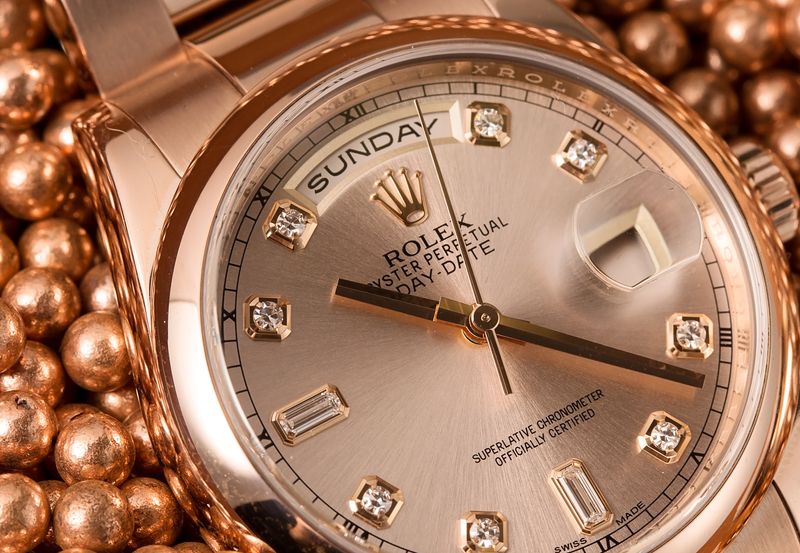 Rolex Day-Date Materials
As previously mentioned, Rolex has only ever opted to craft the model in precious metals. This includes 18k yellow gold, 18k white gold, 18k rose gold, and 950 platinum. Of course, there are plenty of different editions available with diamonds and other precious stones too. Stainless steel models do not exist.
As of 2005, the rose gold models were replaced with Everose gold - the brand's proprietary 18k pink gold alloy that mixes gold, copper, and platinum and promises to never fade or discolor. There have also been some Tridor versions throughout the watch's history, characterized by the combination of yellow, white, and pink gold on one watch.
The most common types of bezels found on the gold models are the fluted bezels while the platinum models typically have smooth bezels. In fact, although white gold and platinum versions are similar-looking silver-toned models, an easy way to differentiate between these two white metals is that the white gold version usually has a fluted bezel while the platinum one sports a smooth bezel. Gem-set bezels with brilliant-cut diamonds or baguette-cut diamonds are available on select gold and platinum Day-Date models.
Rolex Day-Date Sizes
There have been a total of four sizes available within the collection: 36mm, 39mm, 40mm, and 41mm.
Day-Date 36 and Oysterquartz: 36mm Oyster Case
Masterpiece: 39mm Oyster Case
Day-Date 40: 40mm Oyster Case
Day-Date II: 41mm Oyster Case
Regardless of the size, the waterproof Oyster cases feature the Twinlock double waterproofness system. This system includes a screw-down Twinlock winding crown with two sealed zones and the hermetically screwed caseback, which together provide optimal protection against moisture and dust.
---
Rolex day-date Dials
The Day-Date collection is one of the most varied in terms of dial styles. Along with a variety of different color options, there are also more exotic materials such as mother-of-pearl, meteorite, malachite, lapis lazuli, coral, onyx, burl wood, and so on to choose from.
In the 1970s, Rolex introduced some vibrant lacquer dial design options to the Day-Date collection, which eventually picked up the nickname Rolex "Stella" dials. There are also plenty of diamond-paved dials and diamond-set dials found within the Rolex President collection, not to mention all the different "textured" dials such as linen-style, pyramid-style, and Morellis finish. In 2015, Rolex announced new dials for the Day-Date 40 models, using a novel laser etching technique to create striking textures (crisscross, striped, and quadrant) that can look different depending on the light.
In 2019, Rolex unveiled new Day-Date 36 models where two feature dials with a striking concentric gradient pattern. These green ombre dial and brown ombre dial options are embellished with diamond indexes, which include baguette-cut diamonds at six and nine that sit alongside brilliant-cut diamonds for the remaining hour markers. Rolex also introduced some new decorative stone dials fashioned from turquoise or pink opal, where the Roman numerals VI and IX are set with diamonds.
In true Rolex fashion, the Day-Date dials offer a range of index styles too. There are diamond hour markers, Arabic and Roman numeral hour markers, and traditional stick indexes. Additionally, certain Rolex Day-Date dials have no hour markers at all, particularly the stone dials, like those crafted from opal or onyx.
It's important to note that the date wheel displayed via the arch-shaped window on the Day-Date is available in 26 different languages, allowing owners to have a bespoke day display and emphasizing the Rolex President's global appeal.
---
Rolex Day-Date Bracelets
The bracelet style that is most associated with the Rolex Day-Date is (of course) the President bracelet, characterized by a three-link configuration where the links are semicircular in shape. Except for a few precious metal Lady-Datejust models, the President bracelet is exclusively available within the Day-Date collection. The President bracelet has become so connected to the Day-Date collection, that although not all Rolex President watches are considered Day-Date models, the Day-Date collection as a whole is known throughout the world simply as the Rolex President.
However, Rolex has also fitted the Day-Date watch with a few other bracelet styles over the years including leather straps, Oyster bracelets, and Pearlmaster bracelets. Additionally, certain other Day-Date watches like those that are heavily gem-set or the various Day-Date models from the Oysterquartz series can be found with other bracelet styles, but the vast majority of the time you will find a Rolex Day-Date fitted with the collection's signature President bracelet.
---
Rolex Day-Date Timeline
The ultimate symbol of prestige, exclusivity, and refinement, the Day Date has been an integral part of the brand's collection for over 60 years.
1956 – Rolex launched the Day-Date watch and the new President bracelet
1960s – Lyndon B. Johnson became the first U.S. president to wear the Day-Date and Rolex launches an advertising campaign calling it the "President's Watch"
1977 – Rolex introduced the single quickset mechanical Day-Date and the quartz-powered Oysterquartz Day-Date models. Rolex furnishes both models with scratchproof sapphire crystal (replacing acrylic crystal)
1988 – Rolex introduced double quickset Day-Date models
2008 – Rolex introduced new Day-Date II collection with 41mm Oyster cases
2015 – Rolex introduced new Day-Date 40 collection to replace Day-Date II, complete with new 40mm case and new-generation Caliber 3255
2016 – To mark the 60th anniversary of the President, the brand introduced the Rolex Day-Date Green dial edition in Everose or white gold
2019 – Rolex introduced new Day-Date 36 collection, now powered by Caliber 3255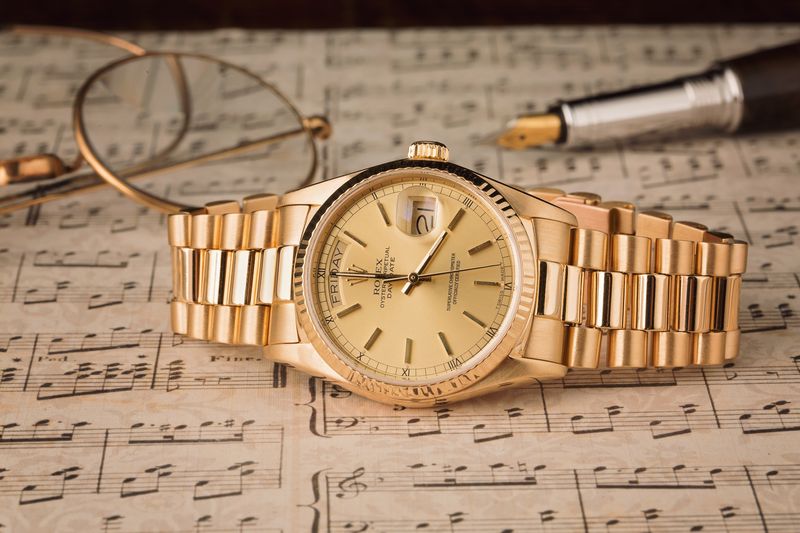 ---
Rolex Day-Date Movements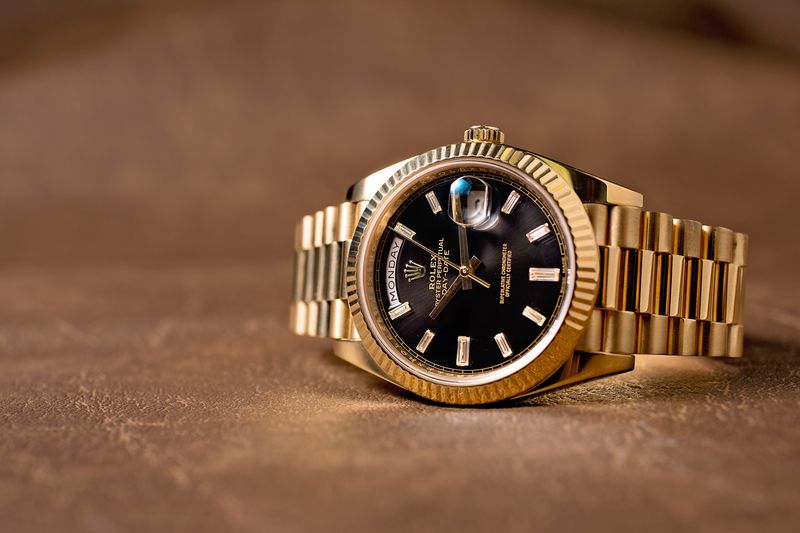 Aside from the quartz-powered Oysterquartz watches, all Day-Date watches run on self-winding chronometer movements. Like all Rolex watch collections, the Day-Date has benefited from movement upgrades over the decades. These upgrades can be generally classified into three categories: non-quickset, single quickset, and double quickset.
The term "quickset" refers to how the calendar windows are set. With non-quickset watches, setting the day and date required the wearer to continuously turn the hour and minute hands until the correct information appeared in the two windows. With single quickset watches, introduced in 1977, the date is set independently from the timekeeping hands but the day window is still coupled to the hands. Finally, the double quickset Day-Date watches, introduced in 1988, offer optimal convenience since both the day and the date windows are set independently from the center hands.
Rolex CAL. 3255
In 2015, Rolex announced a new generation day-date caliber in the form of the perpetual Caliber 3255 movement. With 14 patents to its name, the COSC-Certified Caliber 3255 is entirely manufactured by Rolex and features technical improvements in reliability, precision, and durability. Furthermore, thanks to the new barrel architecture and new Chronergy escapement, Rolex has optimized the efficiency of the high-precision movement whereby the power reserve has now increased to 70 hours (compared to the previous 48-hour power reserve).
Another notable Rolex innovation found in Caliber 3255 is the shock-resistant and anti-magnetic blue Parachrom hairspring, made from a paramagnetic alloy of niobium and zirconium. While this modern calendar movement debuted in the Day-Date 40, among the new 2019 Rolex watch models presented at Baselworld were a batch of new Day-Date 36 references fitted with Caliber 3255.
Rolex Day-date Calibers
Day Date 36 ref. 651x: Caliber 1055
Day Date 36 ref. 66xx: Caliber 1055 (COSC-certified version)
Day Date 36 ref. 180x: Caliber 1555, Caliber 1556 (with "hacking")
Day Date 36 ref. 180xx, 181xx: Caliber 3055 (single quickset)
Day Date Oysterquartz ref. 190xx, 191xx Caliber 5055 (quartz)
Day Date 36 ref. 182xx, 183xx, 189xx, and 118xxx: Caliber 3155 (double quickset)
Day Date II ref. 21823x: Caliber 3156
Day Date 40 ref. 2282xx, 2283xx: Caliber 3255 (70 hours power reserve)
Day Date 36 ref. 1282xx, 1283xx: Caliber 3255
---
Celebrities Who Wear Rolex Day-Date Watches
Living up to its famous nickname, the Day-Date has been worn by more presidents, leaders, and visionaries than any other watch. Some notable names that have worn these watches include:
Justin Timberlake
Nicolas Cage
Kylie Jenner
Jennifer Anniston
Justin Theroux
Jack Nicklaus
President JFK (gifted by Marilyn Monroe)
President Lyndon B. Johnson
Warren Buffet
Jay Z
Tony Soprano (played by James Gandolfini)
---
Trending Models
The Day-Date is an evergreen Rolex watch that will likely never go out of style. Crafted from precious metal and adorned with dual calendar apertures on the dial, we imagine collectors will continue to drool over the President's watch forever. Hot on the market right now is the white gold edition, which is offered under the current 36mm ref. 128239 and 40mm ref. 228239, as well as discontinued references 118239, 18239, and the 41mm Day-Date II ref. 218239. This watch will appeal to anyone who seeks the prestige that is often associated with the Day-Date series but prefers a wristwatch that isn't yellow gold.
Vintage Rolex watches are always on-trend, with gold editions such as the 1803 and 18038 topping the must-have lists of many avid Rolex collectors. Both options offer the luxe style of the Day-Date without the top-tier price. Also trending on the secondary market are the newer generation references 228238 (40mm, yellow gold), 228206 (40mm, platinum), 128239 (36mm, white gold), and 128238 (36mm, yellow gold).
---
Common Rolex Day-Date Questions
Since it was first introduced in 1956, the Rolex Day-Date has been the brand's flagship watch collection. Better known by its 'President' or 'Presidential' nicknames, the Rolex Day-Date is an internationally recognized symbol of success and is considered by many to be the ultimate status symbol watch. Even those that are not watch collectors or enthusiasts have certainly encountered a Rolex Day-Date before, and this iconic luxury watch can be spotted on the wrists of countless celebrities and world leaders.
Why is the Day-Date So Expensive?
The Day-Date is Rolex's flagship watch collection, and it is exclusively crafted from either solid 18k gold or 950 platinum. In addition to its more complicated movement that displays both the date and the day of the week - spelled out in full, the Rolex Day-Date is expensive due to the premium nature of it materials. With the exception of a few extremely rare vintage models, the Rolex Day-Date has never been offered in either stainless steel or two-tone configurations.
What Is A Rolex Day-Date?
The Rolex Day-Date is the brand's flagship collection of classically styled timepieces crafted from precious metals. Rolex Day-Date watches are characterized by the two apertures in their dials. The first, located at the 3 o'clock location displays the numerical date of the month, while the arc-shaped cutout at 12 o'clock displays the day of the week, spelled out in full and available in a variety of different languages.
How To Spot a Fake Rolex Oyster Perpetual Day-Date
With the exception of a tiny number of vintage models, Rolex Day-Date watches are all made from either solid gold or platinum, which are both relatively heavy metals. If a Rolex Day-Date appears to be made of gold, but is not actually made of gold, then it is likely a fake watch. Additionally, as one of Rolex's most premium offerings, everything about the Day-Date from its dial printing to surface finishing will be perfectly executed. If anything looks sloppy or poorly done, there is a good chance that the watch is fake.
Is a Rolex Day-Date a Good Investment?
Just like other Rolex watches, the Day-Date makes a great investment piece. All Rolex watches have an amazing ability to retain value; however being crafted from precious metals helps make the Rolex Day-Date a good investment on two different levels. In addition to its value as a Rolex watch, the raw materials used in the Day-Date have their own intrinsic value, and as the price of gold or platinum goes up, the value of a Rolex Day-Date can increase too.
Is a Rolex Day-Date Waterproof?
Although the collection not specifically intended to aquatic use or SCUBA diving, all modern Rolex Day-Date watches are water-resistant to a depth of 100 meters (330 feet). Like other watches with Rolex Oyster cases, Day-Date models are equipped with screw-down crowns and case-backs, which protect their internal movements from any moisture that you are likely to encounter on a daily basis.