With over 30 years combined experience, you can rest assured that you will get the most up to the market appraisal of your Rolex.  Click here to read our sell form terms and conditions.
And unlike other watch buyers, Bob's only deals, or specializes, in Rolex watches, which makes our buyers much more in tune with the ever changing market where prices as they rise and fall. 
So if you are searching "sell my Rolex" or alternatively, "sell a Rolex" hoping to find the value of your secondhand Rolex, Call Bob's. Click here to find a list of all the Rolex models.
We serve the following cities for those looking or searching to sell Rolex watches for the best prices:
New York
Los Angeles
Glenview
Houston
Chicago
Miami
San Francisco
Dallas
Washington
San Diego
Atlanta
Philadelphia
San Antonio
Las Vegas
Boston
Denver
Austin
Phoenix
Seattle
Hialeah
 Update for 2016:  Used, pre-owned and vintage Rolex values have increased more than 16% in the past year.  We expect this trend to continue as all hard assets including gold, real estate, classic cars, estate jewelry and watches continue to be a safe place to park cash. 
Rolex raised prices on new models almost 12% last year despite a sagging global economy.   
Why Choose Bob's To Sell a Rolex?
We Pay On the Spot By Cash Or Wire
We Are Rated "A" with The Better Business Bureau
 We buy all makes and models of Rolex watches including but not limited to the following:
Sell a Rolex Submariner
Sell a Rolex President
Sell a Rolex Datejust
Sell Your Rolex Daytona
Sell Your Rolex Watch
Sell Your Rolex Sea Dweller
Sell a Ladies Rolex watch
We will take a look at all Rolex watches in any condition, working or not!
Want to trade a watch? We can help you with that as well. Simply call us at 1-800-494-3708.
How To Find the Rolex Model or Serial Number
Popular Selling Topics
To sell a Rolex Call (800) 494-3708 for a free phone appraisal on your used Rolex watch, or fill out the form to the left to receive an estimate.
Sell My Rolex Watch for Full Value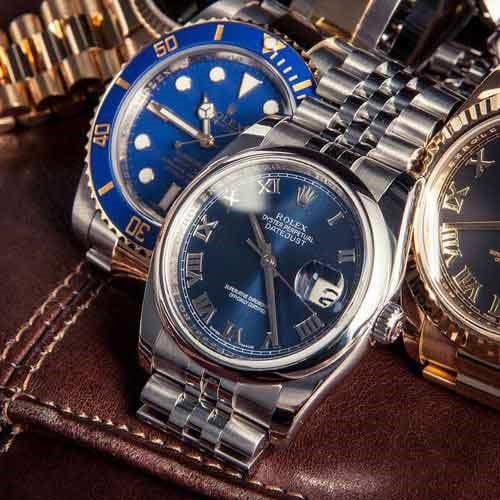 Rolex sells over $4 billion dollars each year in new watches making it by far the largest luxury watch seller in the world. That said, it should come as no surprise that the pre-owned Rolex watch ( or used Rolex watch ) market is exponentially larger.  Some industry analysts claim the market is over $100 billion dollars and growing.  This helps explain why "sell my Rolex" is one of the most popular searched terms in Google and other search engines.  
Additionally, Rolex is always developing and launching new fashionable watch models each year like the new Rolex Datejust II and the new Rolex Submariner with a Ceramic Bezel.  This new found demand leaves existing Rolex customers asking where can I sell my Rolex (they love our Rolex serial numbers database lookup by the way), or trade it in so I can purchase this new one. 
Bob's makes it simple and safe for sellers with its new mail in watch selling program. So if you are inquiring about selling a Rolex watch and want the best price possible, choose Bob's Watches.  We make it easy and efficient to sell your Rolex for the highest market value in a totally transparent environment. Find the value of a Rolex watch by simply submitting the form above.
Sell Rolex GMT Master II
Sell Rolex Submariner
Sell Rolex Daytona
Sell Rolex Datejust
Sell Rolex Sea Dweller
Sell Rolex President
Whether you are a knowledgeable Rolex collector or new to the industry, you have arrived at the best place to sell Rolex watches. The Pre-Owned Rolex Exchange at www.BobsWatches.com allows you to buy, sell, and trade at published market prices. Check out our "buy" and "sell" prices right here online.
As one of the Nation's leading online retailer of pre-owned Rolex watches, we get many calls each day from people who are looking to "sell a Rolex", "sell my Rolex", "selling a Rolex watch", or even "how to sell my Rolex watch".  Selling  a pre-owned Rolex watch can seem like there is no easy solution.  Where do you sell, what is it worth, and who can I trust are just some of the questions that sellers seem to wrestle with.
Often times, because of our hectic, fast paced lifestyles, it's often easier to just leave it in the top dresser draw or the safety deposit box. Most Rolex watch owners, Rolex Submariner owners in particular, are higher net worth folks whose time is valuable.  So here at Bob's, we have kept that in mind when we developed a sell Rolex program for owners who want to either sell or trade for a different model.  Here are a few of the main choices for people looking to sell Rolex watch models:
list it on ebay
list it on Craigslist
find a local jeweler who may or may not know the real market value
send it to Bob's Watches
Listing an item like a Rolex watch on ebay is not an easy solution. First off, you need an established ebay account and PayPal that most private sellers do not have. More importantly, most private sellers are not experienced on how to list the item, how to price it, and then hassle with collecting the money from potentially unethical buyers.
Craigslist: Even if you did know the correct price to sell the watch, do you really want buyers coming to your home to buy your watch?
Local Jewelers: While this is sometimes a fair option for sellers, most regular jewelers will not know the up to date current market value of the watch and will not have the efficient sell marketplace to resell the item.  For these reasons, it is unlikely you will receive the best price for your pre-owned Rolex with this option.
Bob's Watches: One of the primary reasons we founded Bob's Watches was to establish an efficient marketplace with a trusted buyer and seller. Since there was such a void in the markeplace for this service, we have enjoyed remarkable success by providing better value for the seller and for the buyer as well.  Most people looking to sell Rolex watches just want to know what is it worth and what is a fair price I can get for it.
That is precisely why at Bob's, we show you the price we are buying it for and selling it for right there in black and white. So if you too are asking yourself, where can i sell my Rolex watch for the best price, then call Bob's Watches toll free at 800-494-3708. We make selling Rolex timepieces easy and convenient while still paying you the full market value for your wristwatch.
Simple. You will get full fair market value at prices you can see:
Trust:               A  Rating from the Better Business Bureau, money is wired same day.
Integrity:         Bob's is the only dealer to publish their "BUY" and "SELL" prices.

Value:

            The Rolex Exchange works to facilitate an efficient marketplace for buyers and sellers

Testimonials:

  Read up on what our customers are saying about us
Unlike other watch dealers that sell multiple brands of watches, Bob's only buys and sells Rolex, so you can rest assured that you will be buying and or selling at up to the market valuations.Our inventory offers customers deep and diverse collections that changes daily.
So whether you are searching to sell a Men's Rolex submariner, or to sell a Ladies Yachtmaster, we are confident you will find our prices and assortment among the best in the business.  Be sure to check back daily as new inventory is added constantly.
The more information you enter the more accurate our appraisal of your Rolex watch will be. It would be very much appreciated if you also included a picture of the watch.
Once you submit your form we will appraise your watch and call you back or email you within 24 hours with an estimate. If you agree with your estimate we give you instructions on how to ship your watch to us and once we receive it we will promptly send you your money. If at any time you would like your watch back call or email us and we promptly send it back to you.
Please call us at 1 (800) 494-3708 if you have any questions we would be glad to help! Or if you have a Rolex to sell, please complete the Sell Rolex form above asks just a few basic questions about the Rolex you want to sell.  We will then call you back shortly thereafter and or send you and email with the market estimate of your watch.
Rolex sells thousands of new watches every year, and here at Bob's Watches we understand that many of these owners either do not like their watch anymore, or could use the money that their Rolex watch is worth. Our goal is to make the process of selling easy, quick, and safe.
We buy watches every day from all over the country through the mail, but also are open to walk-ins to our Huntington Beach store to sell your Rolex or buy at unbeatable prices. Whatever your reason is to sell, Bob's Watches is the place for you if you are looking for great prices and great convenience. 
We buy every type or Rolex from Submariner to Rolex DateJust to Rolex Yacht-Master, Bob's buys them all. Our watch experts will evaluate your watch for what it is really worth factoring market demand and availability as well as the condition of the watch and any repairs that need to be made. In this way we will give the fairest price possible to sell Rolex horology. 
At Bob's we truly love the Rolex brand and have for over 30 years. We have an extreme appreciation for the artistry and masterful engineering that goes into each and every used Rolex watch that Rolex sends to its Authorized Dealers. With this understanding we can give you some of these most competitive prices to sell Rolex sporting watches.
Our goal is to be the middleman between buyers and sellers of Rolex luxury watches; people who no longer need their watch and people who want a new watch. We buy watches from the public, mark them up minimally and sell them back to the public. We basically recycle by selling and buying from the public.
Whether you want to buy or sell Rolex timepieces you can come to the same place Bob's Watches, the Rolex Exchange and in this way we make the whole process as simple as possible. So if you are searching to sell your Rolex, deal direct with Bob's Watches for the best value whether you are buying or selling.
The most common question we get at Bob's Watches is, "How do I sell you my Rolex Watch?" or "How hard is the process of selling my Rolex to you?". We know it is easy, but to show you how simple it all really is we made a one minute, full-proof 5 step video that shows you how to sell your Rolex to Bob.
Step 1: Call Bob, and Bob will give you a quote over the phone.
Step 2: Bob sends you an empty box for you to ship the Rolex back to Bob.
Step 3: Securely pack your Rolex in the box and send it back to Bob.
Step 4: Bob receives your Rolex, and gives you a free over the phone appraisal.
Step 5: Bob gives you the cash!
So Easy! Our goal is to make this whole process as pain free as possible. For more information about how to buy or sell with us, visit our How it Works page, or call 800-494-3708.
Sell or Buy Used Rolex Watches?
Unlike used cars or used computers, used Rolex watches have no set expiration period. Rolex models are built to last and can last you a lot more than 200,000 miles that is why the used market is extremely large. These watches can last for decades and are made with the finest Swiss craftsmanship.
Buying a Rolex brand new can be a very expensive endeavor, and this is why pre-owned models are so popular. They offer the same quality and sustainability of a Rolex watch without as big of a price tag (in most cases).
In addition to this, Rolex has the amazing ability to retain value. This offers our customers a unique opportunity. That is the opportunity to buy a watch from us, the Rolex Exchange, and wear it for a couple years keeping it in good condition, and then sell it back to us for a few hundred dollars less than they bought it. In this our customers are able to get all of the enjoyment out of wearing a Rolex Daytona or Rolex Submariner, and only end up spending a couple hundred dollars.
A Rolex watch is more than just a timepiece it is a statement. It can tell everyone in the room that you are someone of importance, someone who is a leader, an innovator, an adventurer. The brand Rolex is the purest form of high fashion and wearing one is an indescribable experience. All of this used to be reserved only for the extremely rich or powerful, but now with the help of Bob's Watches you can buy these amazing watches for a lot less than you think.
Rolex produces of 2000 watches a day and is one of the top hundred most valuable brands in all of the world, why don't you make one of the beautiful watches yours today? Rolex was founded in 1905 and has grown to be the biggest luxury watch brand in the entire world, celebrities, businessmen, and world leaders alike all wear Rolex and you could entire the league with this people today.
So if you found us by searching "how to buy or sell watches" please browse through our expanding inventory and find a watch you like or give us a call at 1 (800) 494-3708. We would be happy to help you with any questions you have regarding buying or selling with us. If you can't find the watch you are looking for give us a call or send us an email and we'll keep an eye out for the watch you're looking for and hopefully get you a great deal on it!
Sell Your Pre-owned Rolex Watch
Sell at Market Value
Rolex watches are a truly amazing product. While they are very expensive they last pretty much forever if you take care of them and are therefore a pretty good investment. Rolex sells thousands of new watches through their Authorized Dealers all over the world and the fact that Rolex do last such a long time allows for a huge secondary market. 
When you buy a Rolex, it is not a one owner watch, whether you pass it down to your children and grandchildren or sell it to another person, they usually last through multiple generations. This also allows the values to be very high and if you need money or, just don't really want or use it you can sell Rolex brand watches to us at Bob's Watches for great prices.
Bob's Buying Goals
Our goal at Bob's Watches is to essentially "pinch" the market. What this means is that we make the margin between how much we buy a watch for and how much we sell it for a lot lower and we even publicly display these two prices on the website. This allows us to buy watches for more than our competitors and sell them for less.
Often people come to us and ask to sell their watch and upon receiving the price are astounded because many other online retailers sell Rolex for around a thousand dollars more than what we offered. Why this happens is these retailers run on huge margins of thousands of dollars between how much they buy and sell a watch for and so how much they sell the watch for is really a bloated view of how much it is really worth. When you sell Rolexes to Bob's Watches you get the true value.
Why Bob's is Different
We have found this to be an unfair and underhanded practice and so we have tried to make our business transparent by allowing our users to see how much we buy a watch for and how much we sell it for right on the site. With this information they can know that the prices we give to sell Rolex watches to us are fair.
Bob's Will Buy Anything and Everything
At Bob's Watches you can sell Rolex watches of any kind. From Milgauss to Submariner, from brand new in box to 30 years old, from pre-owned/used to unworn we buy everything and we understand that they each have their own specific value that fluctuates with the pre-owned Rolex market.
Bob's will give you the full market value of your watch if you decide to sell Rolex models to us. We have an extensive price list that offers baseline prices for all the watches and we work from there factoring in current market conditions and inventory spikes and slopes as well as any special features your watch may have like a diamond dial or bezel. We know the added value these features add to your watch whether they are aftermarket or factory.
Bob's is in Surf City, USA
We are located in southern California (Huntington Beach better known as Surf City, USA to be exact), but we buy watches from all over the world. How we do this is actually quite simple and allows for reassurance on your end in addition to getting you your money as quickly as possible. This all starts out with you receiving a estimate of your watches value from us. You can do this by giving us a call at 1 (800) 494-3708 or submitting a sell Rolex form on our website.
Once you receive the estimate and agree with it we will send you a mailer box with tracking info for you to track the box as it is delivered to us. Within an hour of our receipt of the box we will give you our exact price on your watch, which, if you described the watch accurately to us should be around the estimate we gave you.
At this point you have two options, you can agree with the price and we will overnight you a check or wire you the money, or if you no longer agree or just decided not to sell your watch we will overnight your watch back to you and you will have it the next day. You can have confidence knowing your watch is safe with insurance from the USPS.
So if you found us by Google searching "sell Rolex for cash" or "sell Rolex fast" please fill out the simple for to your left or give us a call for a free quote. We'd be more than happy to help you out no matter your situation or question.