Rolex Certified Preowned
Bob's Watches and WatchCSA-Much More Than Just a Preowned Rolex
Many luxury watch retailers offer 'certified preowned' timepieces. But a Certified Preowned guarantee from Bob's Watches and WatchCSA means the model has been officially verified by the industry's leading independent authority. Our exclusive Certified Authentic Report enhances the value of your preowned Rolex, removing any doubt over whether your watch is the genuine article. A Certified Authentic Rolex from Bob's Watches is the best Preowned Rolex you can buy.

What is a Certified Preowned Watch?
As you search for your first, or next, Rolex, you will see the term 'certified preowned' used a lot. However, not all these endorsements are created equal. In most cases, the certifications are being issued by the seller themselves. Before any watch can legally be described as Certified Preowned, it must go through a full examination by either the original manufacturer OR a third party specialist and be given documentation that attests to the quality and authenticity of the specific watch. So the next time you start your journey looking for Rolex watches for sale online, be sure to look for the trusted authority badge from WatchCSA.
Buy with confidence. Get the best and most secure pre-owned watch buying experience with Bob's Watches.
What Makes A Certified Preowned Watch From Bob's Watches Different?
Every timepiece we sell at Bob's Watches is given our own lifetime authenticity guarantee. Our experts evaluate each one before it is sent out, verifying that multiple elements such as the crown, bezel, dial, hands and serial number are all genuine. But, for complete confidence in your purchase, we have teamed up with WatchCSA-an entirely independent watch certification authority - to give our customers the ultimate protection.
We are the only online preowned luxury watch retailer to offer a third-party authenticity assurance.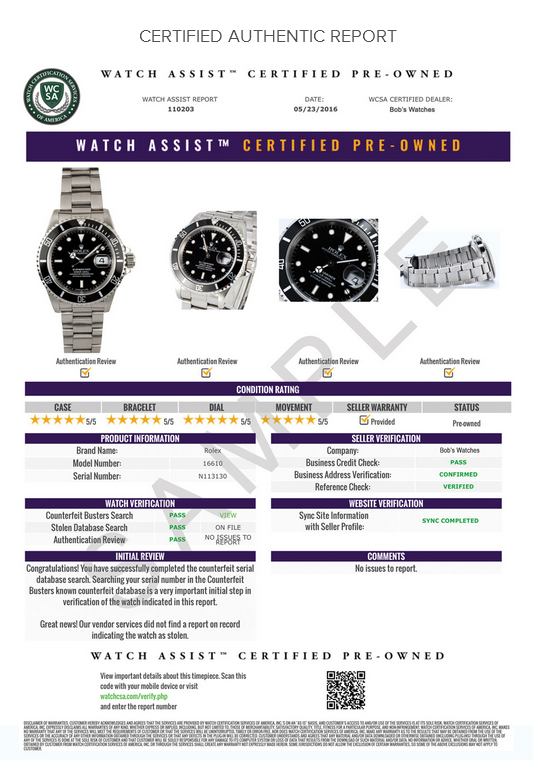 How Does it Work?
It's simple. You have the option to click on the 'WatchCSA' button at checkout on our online store. We then send the model to WatchCSA's state-of-the-art facility on your behalf, where it undergoes a rigorous inspection of every component inside and out, checking for both condition and authenticity. What's more, every watch has its serial number checked against the counterfeit and stolen watch database, guaranteeing the integrity of each timepiece. Only those watches which pass these exacting tests are given our Certified Authentic Report.
Buy 100% Authentic Watches with Complete Confidence
Our Certified Pre-Owned watches allow you to buy a Rolex with complete confidence, since the specific watch - and the seller from which you are buying it, have both been verified by an entirely independent, third-party entity.
As a buyer, it is important for you to be able to know - beyond a doubt - that the watch you are about to purchase meets the remarkably high standards for which Rolex is known. When we offer "certified pre-owned" watches, an unbiased and fully-independent entity is performing the evaluation, so you are not just taking our word that the watch you are buying is 100% authentic, the world's leading authority on watch certification is also standing behind your purchase.
FAQs
How Much Does The Bob's Watches Certified Authentic Report Cost?
At the moment we charge a nominal fee of $50, payable at checkout. That covers not only the price of the test itself, but also secure shipping from us to WatchCSA and the additional shipping from them to you.
How Long Does The Test Take?
We ask that you allow an additional 1-2 business days for the test to be carried out and for the watch to be delivered
Who Are WatchCSA?
WatchCSA was established in 2009 and has become the world's leading Swiss watch authentication service. Their highly effective platform gives buyers and dealers alike true peace of mind in proving the validity of preowned watches. So far they have performed more than 100,000 certification tests.
What Checks Are Undertaken by WatchCSA?
WatchCSA's team of highly trained technicians perform dozens of checks on each individual watch.
Firstly, they confirm that the watch and its accessories are consistent with the listing description and images.
They will then undertake a physical inspection, examining the approximately 32 key identifying points around the watch, covering 5 main segments: case, dial, bracelet, case back and movement.
Finally, a theft check is implemented before a Certified Authentic Report is issued; the watch is then securely packaged and sent directly to you
Does WatchCSA Verify The Accuracy Of The Watch?
No. The Certified Authentic Report only confirms if the watch is genuine or not, it does not verify the timekeeping precision.
Can Vintage Watches Be Sent For a WatchCSA Inspection?
Yes, vintage watches are eligible for Certified Authentic Reports
What happens if my watch fails its inspection?
In the highly unlikely event that your watch fails its authenticity inspection, it will be returned to us and you will receive a full refund.