Why Choose Bob's?
We pay the most
We are trustworthy: Rated A+ with the Better Business Bureau
We pay promptly – payment is made by wire on immediate approval
We are a member of the Westminster, California Chamber of Commerce
We are a member of the International Watch & Jewelry Guild
To sell a Rolex Call (800) 494-3708 for a free phone appraisal on your used Rolex watch, or fill out the form to the left to receive an estimate.
Rolex Buyers
Looking to sell your genuine Rolex watch? You've come to the right place! Bob's Watches is one of the most trust Rolex buyers in the United States. We pay the top market price for your Rolex watch.  Our Rolex Buyers are experts at determining the most current up to market valuations.  Whether you're selling the popular Rolex Submariner or Daytona or the iconic Rolex DateJust you can be sure that you will receive the highest Rolex prices.  We also have a wholesale Rolex buyers department that can handle purchases from used Rolex dealers.  We offer free over the phone appraisal with just a few pieces of information. Just call us over the phone with your Rolex watches model number, condition, and any special features and we'll give you an estimate on the spot. With Bob's Watches it is easy to know you aren't being cheated because we post both the price we buy and sell a watch for on our website in plain view. This gives you an idea of how much your watch is really worth.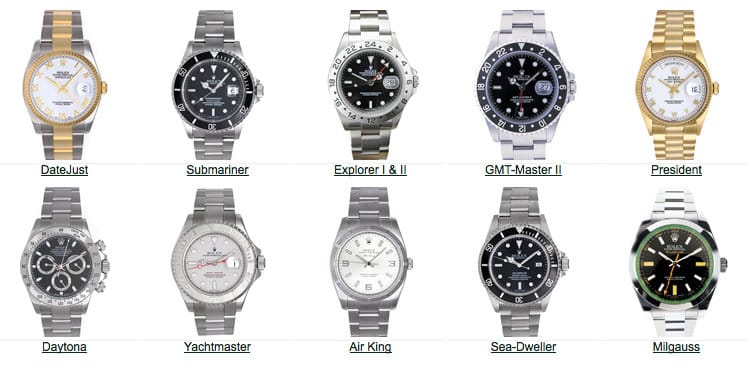 Selling a watch with Bob's Watches has never been easier. You have a couple options when you wish to sell a watch. You can either give us a call with the information about your watch and we'll give you an estimate or you can fill out our simple "Sell Rolex" Form. If you give us a call we will give you an estimate based on the information you give us. If you fill out the form online we will research your watch and call or email you with an estimate or a request for more info about your Rolex. Once you get your watch appraised if you live in southern California you can bring it in to our buying center in Huntington Beach. If you live at more of a distance we can send you a prepaid and insured mailing box and send us your watch. You can track your watch as it is shipped to us and when we receive it we will give you a call right away with our exact appraisal. If you still agree with the price we will overnight you a check for that amount, if you don't agree with our appraisal we will immediately send your watch back no questions asked.
Our goal at Bob's Watches is to make our customers happy. We understand there are some fears involved in sending a very valuable object in to someone you've never met. If you have any questions or are hesitant at all about sending a watch to us please give us a call and we'll do anything we can to give you peace of mind. We have an A+ Better Business Bureau rating with no complaints and our testimonials speak for themselves. If you found this page by searching "the best rolex buyers" or "rolex buyers"  or even "rolex buy rolex" if you have any questions please give us a call and we'd be glad to help.