The 2021 edition of Watches & Wonders is now but a memory in the minds of watch enthusiasts and journalists from all over the globe who gathered virtually in front of their computers to catch a glimpse of new releases. In years prior, the event (formerly known as Salon International de la Haute Horlogerie – or, SIHH) spoiled watch journalists by supplying us with never-ending glasses of Champagne, decadent Swiss chocolates, first-class meals, and five-star accommodations. The closest I got to any of those things during the 2021 virtual event was a can of warm Perrier (with lime!) to wash down the KitKat bar I ate at 4:15 a.m. during the Hermès brand announcement. Upside to Swiss-held virtual events: trading three-piece suits for three-day-old sweats. Downside: those sweats and the person wearing them have to get themselves up well before the sun, because, you know… "Swiss Time" and all.
But when all was said and done, the week-long event succeeded in what it set out to do, and with very few hiccups (a whole lot fewer hiccups than when a bunch of tipsy watch journalists hit the Hotel President Wilson bar at 11:00 p.m.… you can believe that!) In fact, with double the number of brands that would normally be introducing their new novelties at this event, Watches & Wonders provided a bit of something for everyone this year. Do you like knowing your watch case was made using fair-mined gold? Chopard's got your back. Want a watch with a green dial? You have no idea how much luck you're in, kiddo! And for those of you who have a soft spot for gem-set timepieces (often referred to as "jewelery watches"), the big names came out swinging, offering elaborately decorated watches specifically made for those women watch enthusiasts who are as interested in colorful gems and diamonds as they are high horology.
Below are four fantastically crafted timepieces introduced at the 2021 edition of Watches and Wonders by four of the most highly respected watch brands in the world.
The Egérie Self-Winding in Pink Gold by Vacheron Constantin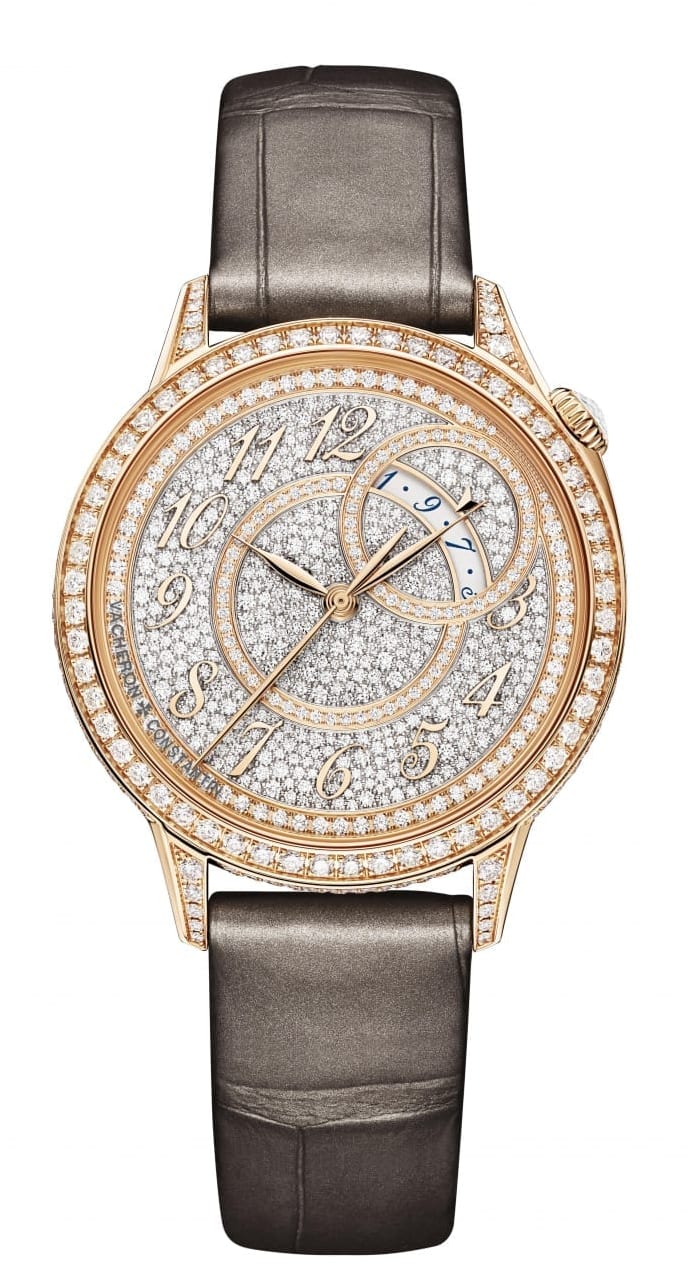 The French word, "egérie" in English translates to, "muse" and for those of you who've never tried to woo a lover, write a poem, or delve into literature by Johann Wolfgang von Goethe, you may not be familiar with what exactly a muse is. (If this is the case, I'm sad for you, and hope you'll open your cold black heart to the world of desire and passion one day.)
"Muse," as defined by the Oxford dictionary, is "a person or personified force who is the source of inspiration for a creative artist." And if anyone knows anything about the design team over at VC, they know that its filled with creative artists.
The new Egérie Self-Winding in Pink Gold has an 18K pink gold case measuring 35mm in diameter and has an 18K white gold dial pave set with natural white round brilliant cut diamonds. The self-winding timepiece has a 40-hour power reserve, is accompanied by a dark brown alligator or warm gray satin strap, and its indications consist of hours, minutes, a calendar aperture, second in center, as well as stop-seconds device.
The Allegra Cocktail watch in White Gold by Bulgari
If there was anything the pandemic did right, it was introducing the watch world to more colorful timepieces, and in the case of the Allegra Cocktail watch by Bulgari, those colors had less to do with the dials (like many other timepiece releases) and more to do with the cases, themselves.
Creative Director of Bulgari's jewelry division, Lucia Silvestri, aided in selecting the multi-colored and varying sizes of faceted and cabochon gemstones used in making the case for the Allegra Cocktail. The pieces were standouts at this year's Watches & Wonders, largely due to their unique design.
The Reverso One Precious Flowers by Jaeger-LeCoultre
If you haven't been living under a rock for the last three weeks, you likely know that Jaeger-LeCoultre hit it out of the park at Watches & Wonders this year, largely because of the introduction of the unbelievable Hybris Mechanica Calibre 185. (If you don't know, you betta ask somebody.) BUTA, that wasn't the only impressive novelty released by the brand. In fact, it wasn't even the only impressive Reverso.
The Reverso One "Precious Flowers" is a spectacularly designed jewelry watch inspired by the "Roaring 20s" (only without Gatsby or Daisy, but we hopeless romantics can always dream). Pictured here is the fully diamond set version featuring purple arums (on pink gold) symbolizing charm and passion, according to the brand.
The Libre Baignoire (Turtle) by Cartier
C'mon, has Cartier ever not impressed us in some way, shape, or form, year after year? Let me help you answer that question: It's, "nope." And this year was no exception.
Only Cartier could come up with a nickname like, "turtle" and have it still be accepted as a high jewelry watch in the industry.
This year's edition was a fantastically artistic timepiece that used geometric shapes, randomly "snow-set" round brilliant cut diamonds, anthracite and black lines, and sapphires inside the dial and on the corners of three of the watch's front-facing hexagons.
They never let us down, and with their initiative to be more environmentally friendly, I doubt they will in the near future.