It is impossible to have a conversation about dive watches without mentioning Rolex. The iconic Swiss watch manufacturer created one of the world's very first dive watches way back in the 1950s and for the better part of a century, the brand has been a pioneer in the genre of underwater timepieces. Decades ago, Rolex created a special prototype dive watch that was specially designed to travel to the deepest known point on Earth – the bottom of the Mariana Trench. Known as the Rolex Deep Sea Special, only a handful of examples were ever produced (35 to be exact) and it was never offered for sale to the general public.
However, one of those watches will be hitting the auction block this fall…
Click here for our Ultimate Buying Guide on Rolex watches.

What is the Rolex Deep Sea Special?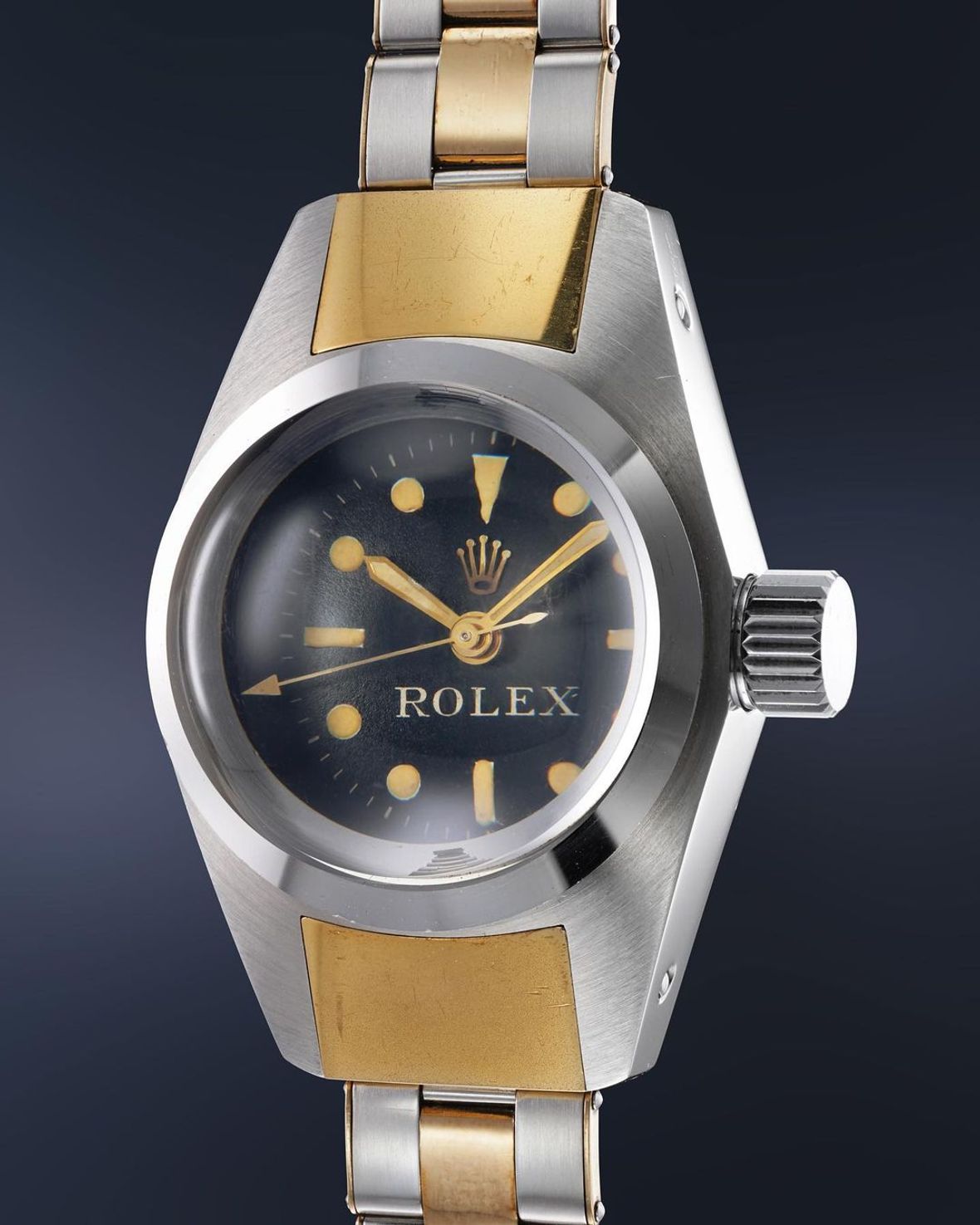 About The Rolex Deep Sea Special
Not to be confused with the Rolex Deepsea Sea-Dweller (a modern Rolex dive watch), the Rolex Deep Sea Special (DSS) is a prototype model from the 1950s that was specifically created to test what was possible with Rolex's waterproof Oyster Case. Rolex worked in collaboration with Jacques Piccard and Don Walsh to test its watches during their diving experiments and in 1953, Rolex created the first prototype Deep Sea Special, strapping it onto the outside of the Bathyscaphe Trieste Submersible. Using this research dive as a reference point for testing, Rolex created another prototype for a second mission in 1960, which saw the watch travel down over 10,000 meters below sea level to the deepest known point on Earth.
Following the successful deep dive in 1960, Rolex produced a commemorative series of 35 examples of the Deep Sea Special. Each one was numbered out of 35, and they were only offered to the most distinguished science, technology, and watch museums, along with a select handful of the brand's most trusted retailers, high profile partners, and executives who contributed to its development. Featuring a radically domed crystal and a unique case that was specifically designed for the project, the Rolex Deep Sea Special truly looks unlike any other Rolex watch, either vintage or modern, and it is often regarded as one of the "Holy Grails" of vintage Rolex collecting.
Why the Rolex Deep Sea Special Is Important
Rolex is a brand that is synonymous with dive watches and it has arguably done more to advance the industry of water-resistant timepieces than any other manufacturer. Over the years, Rolex has created a number of different dive watch prototypes, including the ref. 5513 watches that were retrofitted with helium escape valves, but the Rolex Deep Sea Special is important because it represents the absolute pinnacle of water resistance during an era where the mechanical dive watch was still the gold-standard in underwater timekeeping.
Any prototype Rolex is rare, but the fact that the Deep Sea Special is so well documented makes it even more special. Additionally, it was the Deep Sea Special that pioneered much of the technology that has served as the basis for all modern Rolex dive watches, and it truly holds a special place in Rolex's history. According to Alexandre Ghotbi, Phillips' Head of Watches, Continental Europe and Middle East, "The DSS is the watch that defined what Rolex is today. It is the philosophy behind its creation that led Rolex to focus on tool watches in general and dive watches in particular. Without the Deep Sea Special there would be no Submariner or Sea Dweller as we know it."
A Total of 35 Examples
As a brand, Rolex is notoriously tight-lipped when it comes to production numbers or certain aspects of its history, which makes it all the more unusual that we know exactly how many Deep Sea Special watches were produced. A total of 35 examples were created, and only five have ever been sold to the public thus far (the last one to appear was sold by Christie's in 2009).
Rolex Deep Sea Special #3 (the watch actually strapped to the Bathyscaphe Trieste) is on display in the Smithsonian Institute in Washington D.C., while some of other known pieces can be found at the Beyer Museum, the London Science Museum, and the Piccard Museum in Nyon, Switzerland. This particular example that Phillips will auction in November is the last of 35 commemorative versions the watchmaker made in 1965. The watch's numbered caseback features the date of the record-setting dive (January 23, 1960), along with its incredible water-resistance rating of 10,908 meters (35,789 feet).
How Much Will the Rolex Deep Sea Special Cost?
One of the most interesting things about the sale of prototype vintage Rolex watches is that there really is no established market price for them. With so few examples in existence and many years between examples surfacing, the previous sale price of one watch is hardly a reliable indicator of what another example might fetch many years down the line.
Case in point is the Rolex Deep Sea Special. The last one that publicly sold was auctioned off more than a decade ago, yet it still fetched close to half a million dollars when Christie's sold Deep Sea Special #31 back in 2009. So, what is the pre-sale estimate for Rolex Deep Sea Special #35 – the very last example of the 35 unit run from the 1960s?
Well, the Rolex Deep Sea Special #35 will be offered for sale as part of Phillips 'The Geneva Watch Auction: XIV' – which is set to take place on November 5-7. It currently has a pre-sale estimate of CHF 1.2m – 2.4m (approximately $1.3m – $2.6m USD), and there is significant speculation that it may even exceed that already impressive value.
* All images courtesy of Phillips.