We're always talking about women wearing men's watches. There are a number of men's timepieces with highly versatile designs and case sizes that can easily be incorporated into a woman's wardrobe. But with many women's watches now evolving to be something more unisex (like less diamond-encrusted and with larger cases), there are actually now a bunch of Rolex watches for women that we think guys would like to wear too, so today we are taking a closer look at a few of our top choices.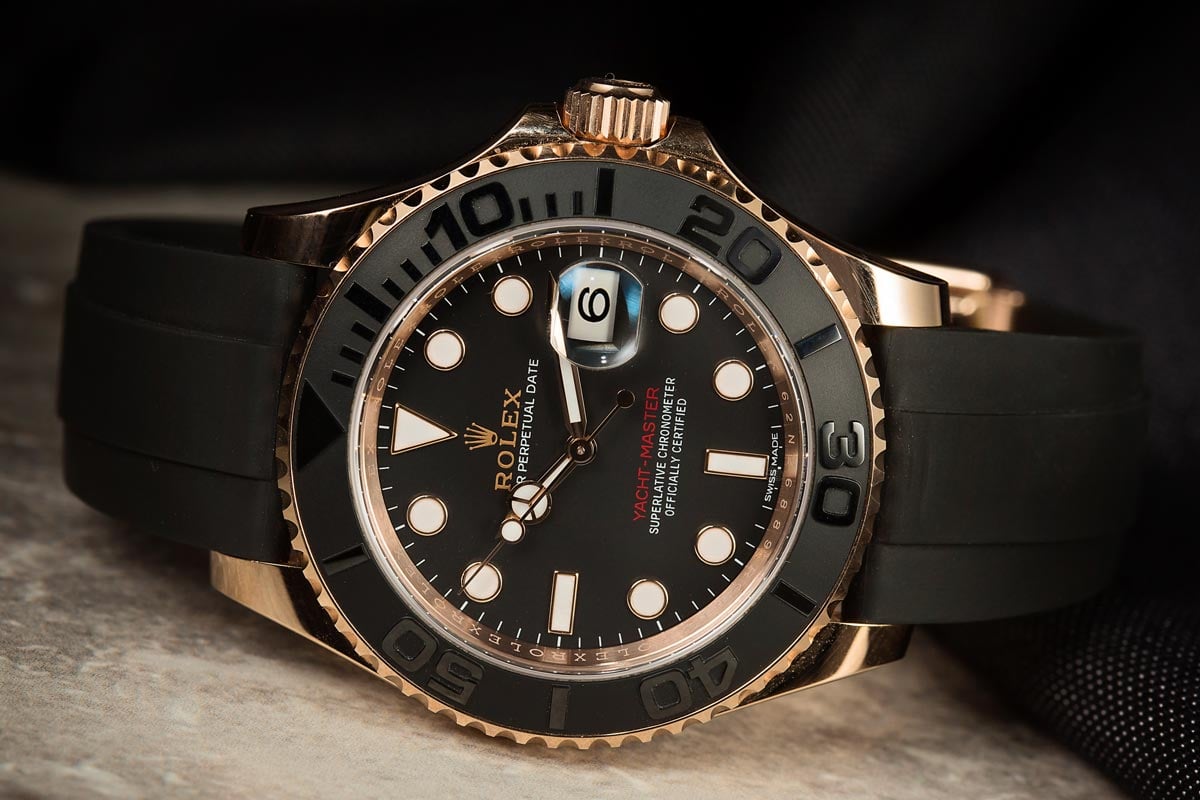 Rolex Yacht-Master 116655 Everose
Guys, this rose-hued alloy isn't just for the ladies. In fact, if you had any doubt, this color has long been associated with vintage men's timepieces. So, to see it in such a striking color on a contemporary sports watch is actually quite the modern twist.
Now that we've gotten the issue of it being 'pink' out of the way, the unique look and feel of this watch is something that any watch collector would love to strap on his or her wrist. The juxtaposition of that luxurious Everose gold against the sporty black matte, Cerachrom bezel and matching black rubber (titanium lined) Oysterflex strap is proving to be iconic and completely unisex. Although it is technically classified as a men's model rather than one of the many Rolex watches for women, the 40mm sizing of the case means that this Everose Yacht-Master is going to look at-home on wrists of any size and gender.
Rolex Yacht-Master 116622 Rolesium
Like the Everose gold Yacht-Master on our list, this is actually a men's watch. However, this Rolesium Yacht-Master has gotten particular attention from the ladies for its stylish pairing of sturdy stainless steel with luxurious platinum. While the case and bracelet are outfitted in 904L steel, the bezel and dial of this watch are actually made of vibrant 950 platinum, giving this timepiece a uniquely sporty and elegant appearance.
The Rolesium Yacht-Master exists in a couple of different sizes, and while the smaller models are possibly better options as far as Rolex watches for women, the 40mm variant offers maximum versatility and can be comfortably worn by both male and female collectors. This is the perfect luxury sports watch for everyday wear – providing amazing durability while boasting beautiful and luxurious details that make it fancy enough to dress up for more formal occasions. Wear this at the office, on the weekend, date night – whenever; the Rolesium Yacht-Master 116622 is the perfect timekeeping companion.
Rolex Daytona 116505 Everose
The Everose gold Daytona ref. 116505 is one of the most striking Daytona models ever produced – the entire case, dial, bezel, and bracelet dripping in Rolex proprietary rose-hued alloy. To contrast it, Rolex has used black indices on the dial and bezel, as well as outfitted the sub-dials in black. It is a masculine juxtaposition that's also quite cool and contemporary, and it's going to look great on your wrist.
Now, the Daytona 116505 isn't a reference that is formally categorized among the various Rolex watches for women, but since there is only one case size available for the Daytona, certain models are better suited than others as watches that can be worn by both genders. Additionally, the Rolex Daytona 116505 is not for the faint of heart or the unstylish. You could sport this as an everyday watch, but you can also bet that whenever you wear this thing out, you're going to steal a lot of glances. So many in fact, that you might want to prepare your partner.