To most casual watch observers, almost all Panerai watches look basically the same. After all, the brand adheres to a strict design language across all of its models, derived from vintage models that date back to the mid-20th Century. These design traits include generously sized cushion-shaped cases, minimalist dials with a mix of Arabic numerals and stick hour markers, plenty of lume, and prominent winding crowns. However, there are some important, albeit subtle variances, between the various Panerai watches. So, if you're at all unsure about which Panerai model you have, read on for some easy ways to spot the telltale signs.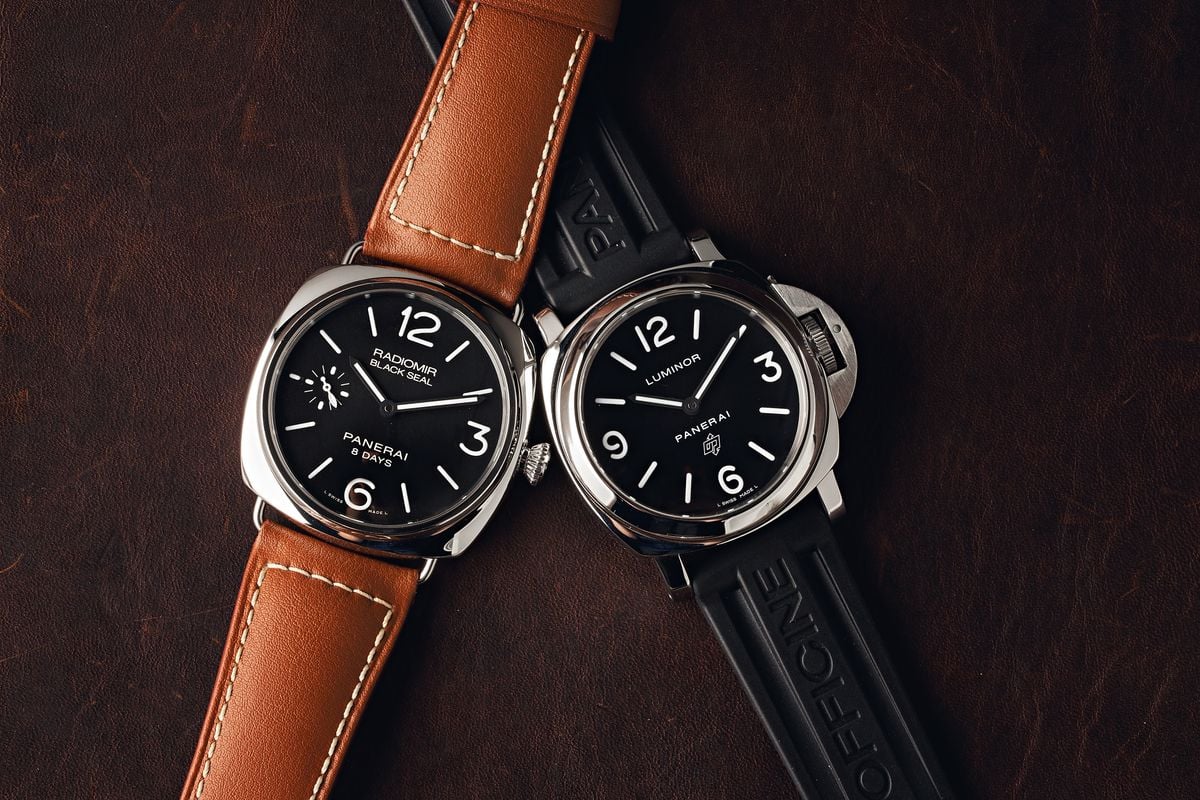 Panerai Watches – Dial Markings
Today, Panerai makes three main case shapes: Luminor, Radiomir, and Submersible. Yet, there are also several variations of these cases like the Luminor 1950 and the Radiomir 1940, which we will get to below. Panerai will often (but not always) include the name of the main model on the dial of the watch. So your first step in finding out what Panerai model you have is to check if there's a name on the dial.
It's important to note that the Submersible was once part of the Luminor collection, which explains why you'll sometimes see "Luminor Submersible" on the dial. Panerai officially established the Submersible as a separate collection in 2019, so all Panerai Submersible watches produced before then will have both the Luminor and Submersible names on the dial.
Panerai Watches – Case Shapes
If the name of the model is not on the dial, then the quickest way to distinguish the specific Panerai model you have is by looking at the case and winding crown.
Panerai Radiomir watches do not have any crown guards around the winding crown. The standard Radiomirs include a conical winding crown and thin wire lugs while the Radiomir 1940 models have a cylindrical winding crown and thicker lugs.
On the other hand, Panerai Luminor watches have an oversized semi-circular crown guard bridge protecting the winding crown. Standard Luminors have no markings on their crown guards while Luminor 1950 models have "REG T.M." engraved on their semi-circular crown guard bridge. The newest type of Luminor to join Panerai's collection is the Luminor Due, which made its debut in 2016. Like the Luminor 1950 watches, the crown guards of the Luminor Due are also marked with "REG T.M." engravings; however, the cases of the Luminor Due are notably slimmer than those of the other Luminor models.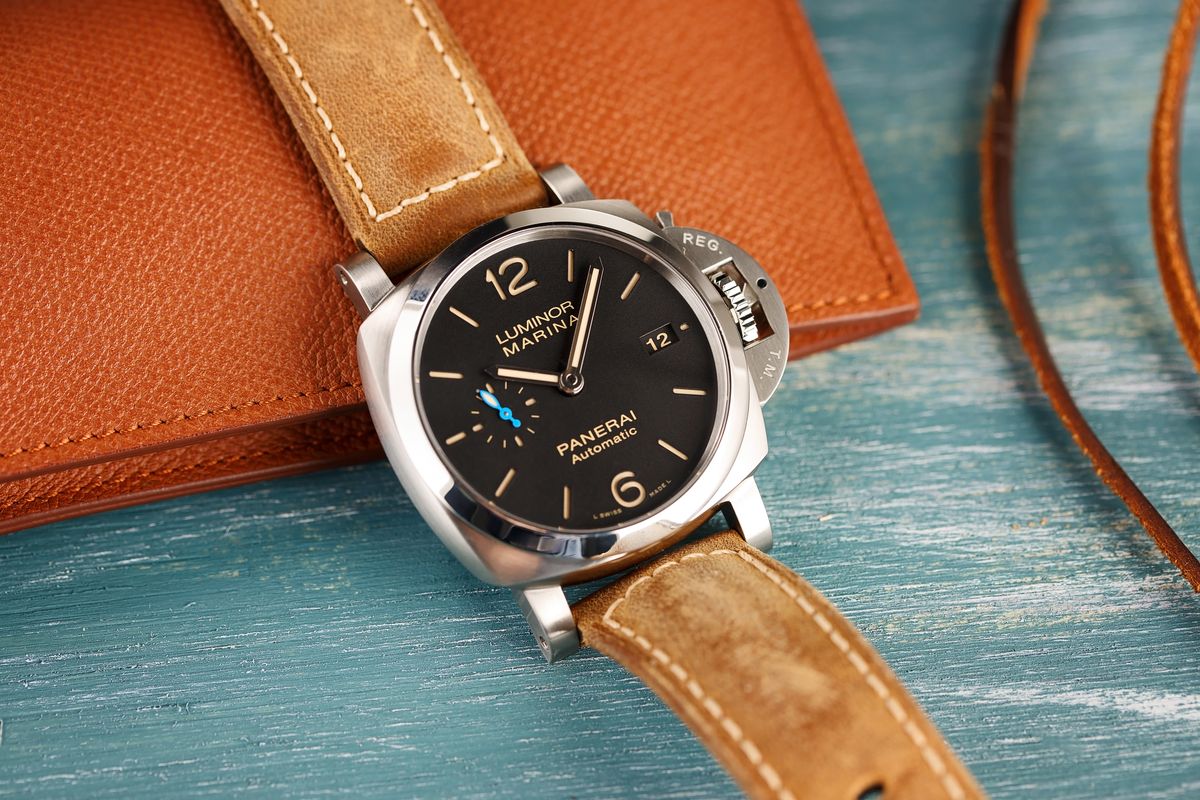 You'll sometimes hear the name Panerai Luminor Marina. This is not the name of a particular model style, but rather, the label given to Panerai Luminor watches that include a running seconds indicator at 9 o'clock. For instance, a Panerai Luminor Base will only have an hour hand and a minute hand while a Panerai Luminor Marina will have the hour, minute, and seconds hands.
As modern diving watches, all Panerai Submersible models have rotating bezels, marked to 60 minutes to keep track of immersion times. So if your Panerai is equipped with a rotating dive bezel, then you know it's a Submersible (or a Luminor Submersible if manufactured prior to 2019).
Although no longer part of the current collection, another Panerai model worth knowing is the Mare Nostrum, which draws its design inspiration from a vintage two-counter chronograph made in the 1940s for deck officers. Unlike the cushion-shaped cases of the Radiomir, Luminor, and Submersible, Panerai Mare Nostrum watches have round cases that are fitted with a pair of chronograph pushers framing the winding crown.
In summary, the quickest way to tell what Panerai model you have is to remember that Radiomir watches have no crown guards, Luminor watches have large semi-circular crown guards, Submersible watches have rotating dive bezels, and Mare Nostrum watches have round cases with chronograph pushers. So, do you have a favorite Panerai model?