How It Works
Unlike used cars, electronics, and furniture, pre-owned Rolex often hold their value, and even appreciate over time. In fact, many of the worlds most expensive and highly coveted Rolex watches are actually older, vintage references that are now considered quite rare and collectable.
For this reason, there is a huge market for used Rolex; however it can sometimes be difficult to figure out how exactly to go about selling yours or finding the best place to sell a Rolex. One of the most common questions we receive is, "How do I sell you my Rolex watch?" or "What exactly is involved in selling my Rolex to you?" At Bob's Watches, we aim to make the process as quick and simple as possible for you to get the most cash for your pre-owned Rolex.
Get the Value of Your Rolex Watch
Step 1: Get a Quote
You can either fill out the "Free Instant Quote Request Form" on our website, or give us a call us at (800) 494-3708, and one of our friendly and knowledgeable representatives will be happy to quote you a price over the phone.
Step 2: Get a Pre-Paid and Insured Shipping Label
After accepting our quote, Bob's Watches will send you a pre-paid and insured shipping label. Our shipping process is safe and secure, and your Rolex will be insured for the full amount that you were quoted, should anything happen to it while in transit.
Step 3: Securely Package Your Rolex and Send It to Us
Although Rolex are some of the most durable and reliable watches on the planet, you still want to protect them during the shipping process. All you need to do is follow our guidelines on how to safely package up your Rolex, and then drop it off at your local FedEx store – all the shipping and insurance information has already been filled out and paid for by us!
Step 4: We Receive Your Rolex and Confirm the Quote
Once your package arrives, it is opened and evaluated on camera by one of our in-house, Rolex experts. The entire process is recorded on video – from the moment your package arrives, throughout the entire evaluation – to ensure that your watch is assessed in the exact same condition in which we received it.
Step 5: Get Paid!
Once we confirm that your watch matches the description, one of our representatives will call you to confirm the agreed upon purchase amount. At this point in time you can select how you would like us to send you your money. We can either mail you a check, or wire you the total amount of the purchase price, so that you can have your cash the very same day!
At Bob's Watches, we want the process of selling your Rolex to be as easy and straightforward as possible. If you have any questions, or would like to speak with us further, just give us a call at (800) 494-3708, and one of our friendly and knowledgeable representatives will be happy to help you.
Get the Value of Your Rolex Watch
---
5 Things to Keep in Mind When Selling A Rolex
How much is my Rolex worth?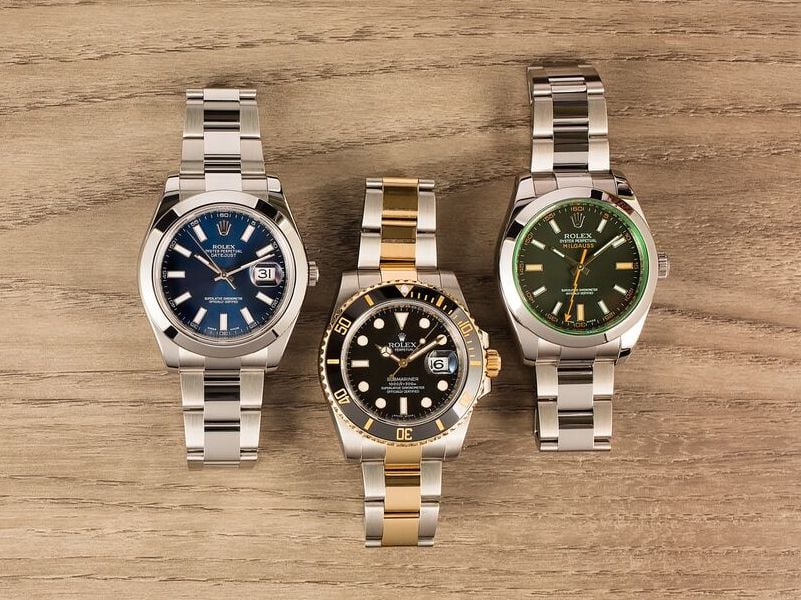 Rolex Datejust, Submariner, and Milgauss
If you're in the market to sell a Rolex watch, then there are a few points to keep in mind to determine its value. While Rolexes are famous for retaining their worth over the years, factors like model number, condition, demand, and accompanying items all affect the true market value of a Rolex. Although at Bob's Watches we make it easy to determine the value of your used Rolex with our innovative Rolex Exchange concept-where we list both the buy and sell price of a specific model for your convenience-for further information, read about these five elements that will influence the final value of your watch.
1. Reference Number
Rolex model number engraved in between the lugs at 12 o'clock
The first thing to uncover when determining the value of your Rolex is the reference or model number. The reference is a 4-6 digit number engraved into the side of the case, located in-between the lugs at 12 o'clock. Because of its position, removing the watch bracelet or strap is the only way see the reference number. But, if you have the correct paperwork for the Rolex, then you can also find the reference (a.k.a style) number within the corresponding papers. The reference/model/style number of a Rolex watch will unveil the most information about your timepiece: collection (Submariner, Daytona, GMT-Master, Datejust, etc.), material (stainless steel, gold, platinum, two-tone, etc.), movement, production date, and so on. A quick online search using your model number will bring back an abundance of information. Furthermore, if you enter the model number on the Bob's Watches search bar, you will see what the sell value of your specific model number is thanks to our Rolex Exchange.
2. Serial Number
Rolex serial number engraved in between the lugs at 6 o'clock
Depending on the year of your Rolex watch, the serial number is in either one of two locations. With pre-2005 models, the engraved serial number is located on the case in between the lugs at the 12 o'clock. When selling a Rolex, the bracelet or strap will also have to be removed to see the serial. In 2005, Rolex accompanied the case engraving with a serial number on the inner flange a.k.a rehaut, and as of 2008, the serial number was only included on the rehaut. Aside from the watch, the serial number can also be found on the corresponding paperwork of the Rolex. The serial number identifies a specific watch and can indicate approximately the watch's production date. Over the years, Rolex has changed the serial numbers to also include letters, rather than just numbers. For more information on your particular Rolex serial number, you can use the Bob's Watches Serial Number Look Up tool.
3. Market Value
Rolex ref. 1680 "Red Submariner"
Once you've found the Rolex model and serial numbers, you can research the watch's market value. Sometimes, owners of luxury watches place more value on their timepiece than it is actually worth. It's important to remember that the true market value of a Rolex is dependent on how much a buyer is actually willing to pay for it-regardless of how much you initially purchased it for and how much sentimental value is attached to it. Naturally, rare pieces will command higher selling prices than more common ones. In addition to looking up what your Rolex model has recently sold for at auctions, the Bob's Watches' Rolex Exchange concept can help you clarify the current market value of your watch.
4. Condition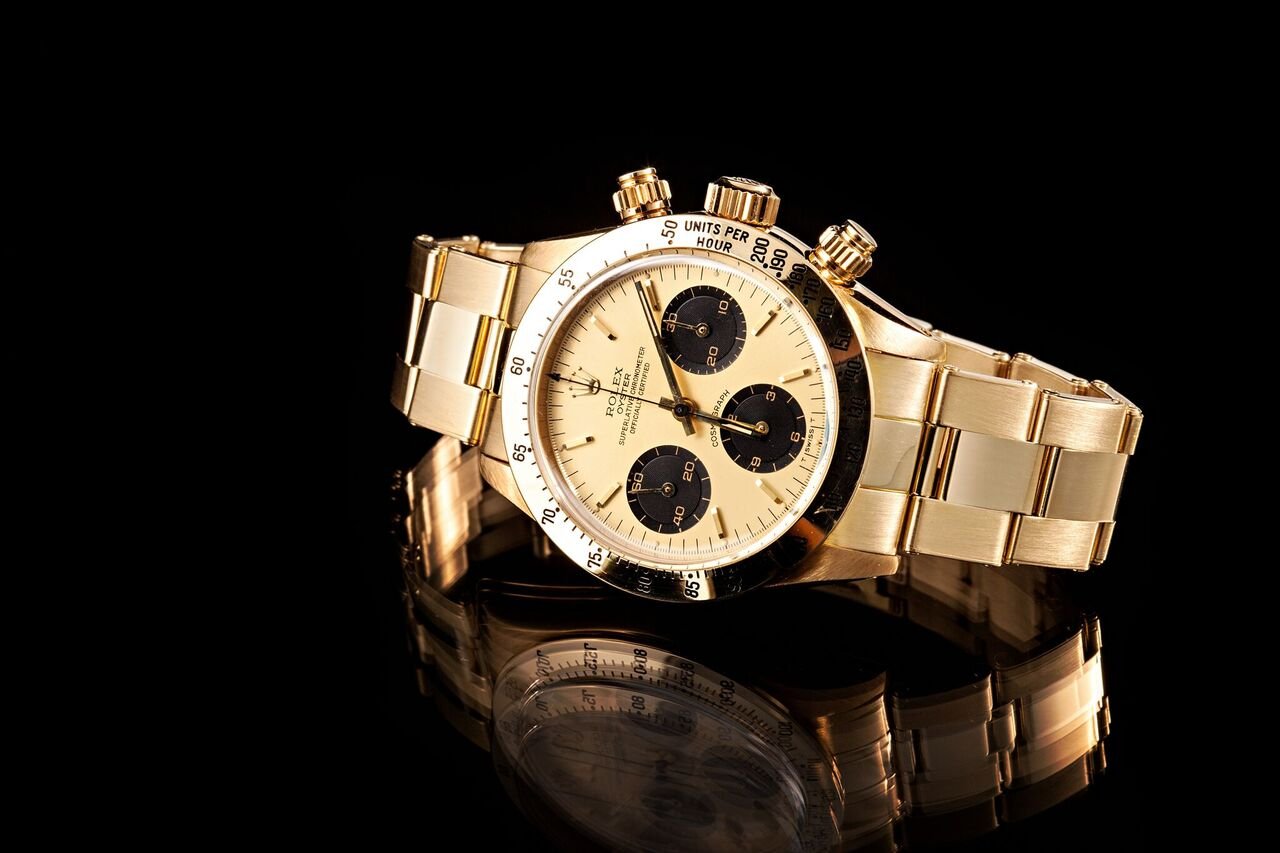 Selling A Rolex Vintage Rolex Daytona ref. 6265 can be a very lucrative endeavor
The condition of a particular Rolex will have a significant impact on value, so if you're considering selling a Rolex be sure to take note of its wear and tear. NOS (new old stock) watches refer to pre-owned watches that have not actually been worn, but rather, hidden away safely for many years. These types of Rolexes are worth a lot since they are essentially new watches in pristine condition. However, when it comes to vintage Rolex watches, its condition is a tricky thing when looking to sell your Rolex. Certain signs of aging, such as tropical dials (when the dials turn a different shade over time due to a production defect) and patina (color change of the hands and hour markers) are actually sought after by collectors. Also, vintage Rolex watches should not be polished when serviced as this actually devalues a watch. The more original components a Rolex has, for instance, the original bracelet, dial, and bezel, the more valuable it'll be.
5. Box & Papers
Complete Rolex box and papers
Accompanying boxes and papers will increase the value when you are selling a Rolex. These are items that watch buyers look for when purchasing a pre-owned Rolex watch. Not only do the original box and papers confirm the authenticity of a particular Rolex, but also, if the watch was stored in its box when not used rather than just placed loosely in a drawer, chances are that the watch is in better condition. When you're ready to sell your Rolex, take advantage of our useful tools at Bob's watches. The Rolex Exchange, in addition to our Serial Lookup database, will help you understand the value of your Rolex watch.
To the uninitiated, it can seem like a complicated and daunting task to sell Rolex watches for the best value. The pre-owned Rolex industry is ripe with counterfeit watches and less-than-honorable business owners. All too often, the appraisals you receive differ by hundreds – even thousands of dollars, making it very difficult to ascertain how much your watch is actually worth. [caption id="attachment_9247" align="aligncenter" width="665"]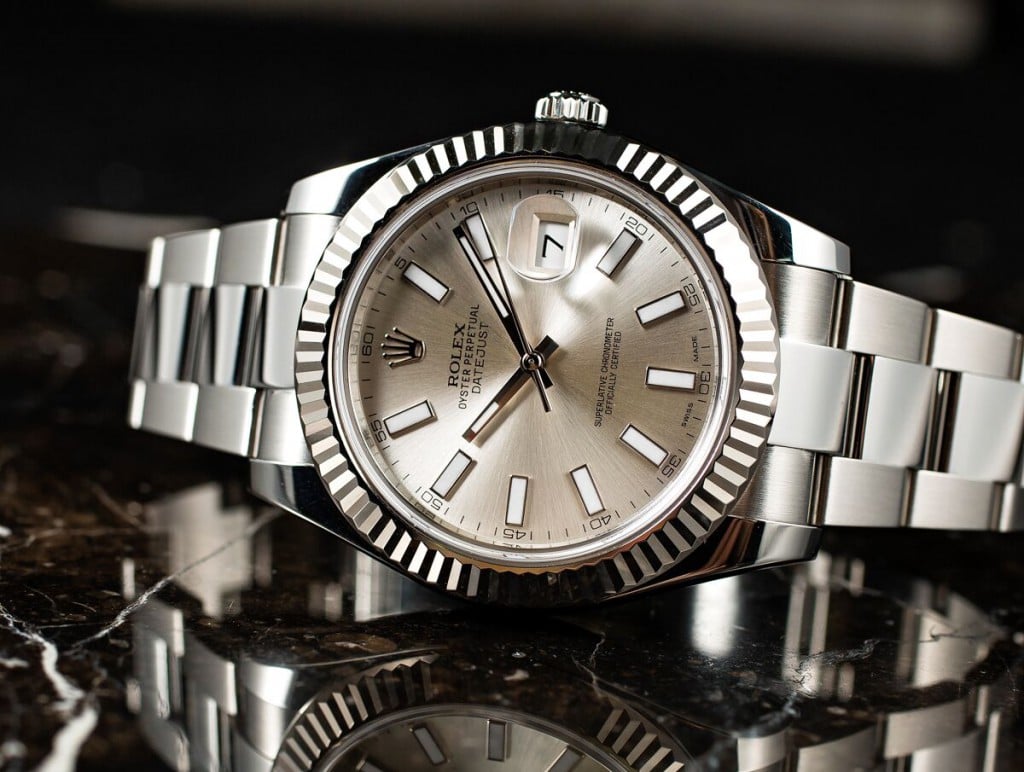 Rolex stainless steel Datejust II with white gold fluted bezel[/caption] However, selling a Rolex does not need to be complicated or intimidating. With a little organization and directed research, you can simplify the selling process, and ensure that you receive the most for your watch. As you set out to sell your Rolex, refer to this simple step-by-step guide to help you along the way. And if you're here to sell your Rolex, simply click the button below.
Additional Considerations
Step 1: Identify a Reputable Dealer
Although it may seem simple and straightforward, choosing a dealer is often the most critical decision you make during the entire selling process. The high prices and desirability of Rolex watches have made them a popular commodity; however not all dealers are honest, and even fewer are completely transparent and straightforward about their business practices. Before you decide on a particular dealer, you should first do a bit of research and look into the following aspects about their business.
Reputation – Ideally, the dealer you choose should specialize in pre-owned Rolex watches. This is important because you will need to rely on their expertise throughout the selling process. If a dealer has been around for years and has a loyal customer base, you can expect them to be fair and professional when you approach them to sell your watch.
Honesty and Integrity – Qualities to look for in a viable dealer's reputation will be their integrity, honesty, and business ethics. Even if you know the exact value of your Rolex, you will still be placing a great deal of trust in your chosen dealer any time you approach them with intentions of selling a watch.
A Viable C to B to C Platform – Since the majority of Rolex purchases take place on the secondary market, it is imperative for a dealer to have a viable and efficient platform for buying and selling pre-owned watches. Your dealer should have a brick and mortar location, and they should have been in business for at least five years. Google does a great job of vetting out the most relevant results for a given search, such as "sell Rolex"; however it is also prudent to verify that your chosen dealer has a good rating with the Better Business Bureau.
What to Avoid
eBay - Listing an item like a Rolex on eBay is not as easy and straightforward as it initially might appear. Unless you have a well-established eBay seller account with hundreds of positive feedback ratings, many buyers will choose to purchase their Rolex from a more trusted seller. You will also need a PayPal account (or some other means to collect payment), as well as a FedEx or UPS account, so that you can have an efficient and cost-effective way to ship and insure your package. eBay is a sea of counterfeit watches, with prices differing by thousands of dollars for near-identical timepieces. These inconsistencies make it very difficult to properly list your Rolex, and there are also often hidden fees and commissions that can further cut into your profits.
Craigslist – While eBay is far less safe than working through a reputable dealer, Craigslist lacks the security features that eBay uses to protect its buyers and sellers. There are no requirements for seller ratings/feedback, and the vast majority of transactions are conducted in person, and with cash. Even if you know the exact value and specifications of your Rolex, you will still need to meet up with a complete stranger when they pick up your watch.
Local Jewelers - While this option sometimes provides a decent avenue for sellers, most regular jewelers will not know the current market value of your Rolex, and even fewer will have an efficient marketplace in which to resell it. Additionally, since most local jewelers are not Rolex experts, the prices that they will offer you will be very conservative. Even when a local jeweler is completely honest and trustworthy, it is highly unlikely that they will be able to give you the best possible price for your watch.
Step 2: Gather the Necessary Materials and Information
Once you have found a reputable dealer, the next step in selling your Rolex will be to gather all the materials and information that pertain to your watch. The more information you have about your Rolex, the more likely you will be to receive a fair price for it. While it certainly is possible to sell your Rolex without its box or accompanying paperwork, having these items will make the process of selling your watch easier – and allow you to get a higher price for it too. Although they may seem insignificant, every service receipt and original Rolex factory part will increase the value of your watch, and make it more attractive to potential buyers. Below is a checklist that you can use to help you navigate the process of collecting all the necessary information, documentation, and original parts for your Rolex.
Locate your watch's model number using your watch's paperwork or by watching this video.
Locate the Rolex serial number of your watch by using our tool.
Round up any sales receipts and service/warranty papers – these are important to buyers because they serve as a record for the watch. They provide insight into any repairs, cleanings, or part replacements that the watch has undergone during its lifetime. Additionally, this paperwork can also serve as proof of the watch's authenticity.
If possible, gather the original Rolex box and documentation. These items have a value of their own; however they can also have a substantial impact on the final price you receive for your watch.
Gather the spare links for your Rolex's bracelet – as well as any original parts that may have been replaced. Even if the parts appear old or damaged, they may still be valuable. Many Rolex collectors care more about having a watch made from all-original parts, rather than one that is cosmetically pristine.
Step 3: Get a Quote
Receiving an accurate quote can be somewhat difficult for a variety of reasons. Many unscrupulous dealers will lie or omit details in order to take advantage of individuals that have not properly researched their watches. Even in instances when dealers are completely honest and have no intention of trying to deceive customers, their lack of experience or an incomplete knowledgebase can inadvertently result in highly inaccurate valuations. Most local dealers charge between $100 and $275 dollars for a proper Rolex appraisal; however, this can quickly get expensive – especially if you are not committed to selling your watch. Some dealers will provide customers with a free, online valuation of their watch. These appraisals are excellent reference tools, especially if you are just testing the waters. If you are curious about the value of your Rolex, click on the following link to submit details about your watch. Within 24 hours, we will send you an estimate for the amount that you should expect to receive. Since dealers will not be able to physically examine your Rolex during an online appraisal, the more information you enter about it, the more accurate your valuation will be. Additionally, including multiple pictures with different angles of your watch is a great way to help the dealer determine its fair, market value.
Step 4: Send Your Watch
Should you decide to sell your watch to an online dealer, it's important that your watch remain safe throughout the entire transaction. Try to find a dealer who pays to have your watch shipped and insured for the full "up-to price" through FedEx. It is important to verify that your chosen dealer follows these practices so that you are not taking on additional risk while your Rolex is in transit. Insurance is crucial because it guarantees your watch's safety throughout the entire shipping process. Should something happen to your Rolex while in transit, you will be covered for its maximum value. For a more comprehensive overview of FedEx insurance and shipping, visit their website. It is also important to verify that your chosen dealer adheres to industry best practices while in possession of your Rolex. After your package arrives, you should be immediately notified of its delivery. Additionally, each and every step of the intake and rating process should be videotaped to create an uninterrupted video record of events.
Step 5: Identify What Makes up a Final Offer
A final offer is the amount of money that the dealer is willing to give you in exchange for your Rolex. This will be less than the price for which they intend to sell your watch, because the dealer needs to cover their overhead costs, as well as any expenses associated with selling your Rolex. One of the many reasons it's imperative to choose an ethical and reputable dealer, is because you will be relying on them to give you a fair price for your watch. It is not uncommon for some dealers to sell Rolex watches for several times what they paid for them, because they were able to take advantage of inexperienced sellers and underpay for their watches. A quality to look for when choosing a dealer is a transparent price structure. When a dealer's prices are transparent, you can see the price that the dealer is willing to pay for your watch, as well as the price that they intend to charge for it. This level of transparency allows you to verify that you are getting the best possible price for your Rolex. The following outline is similar to the system that technicians use to rate a watch's condition and determine an accurate valuation for it. Before you approach a dealer, use this outline and thoroughly go over your watch. This will give you the opportunity to look at the exact same things that the technician will be scrutinizing when he or she examines your watch during an appraisal.
Pricing a Watch
1. Model/Serial Number - Determines the year, material, size, color, movement, etc. - Market value/demand for different models/references 2. Condition - Original or replacement parts? - Fading and wear - Function of the internal movement - Scratches, dents, chips, etc. - Function of external features (bezel & crown) 3. Bracelet - Material - Style - Number of links (if extra links are included too). 4. Box & Papers - Are they included? - Do numbers match watch? - Sales and/or service receipts
Step 6: Get Paid
While this may seem like an obvious and straightforward step, it is easily the most important part of the entire selling process. You are selling your Rolex so that you can receive money for it; it's crucial that you receive the money you are promised. For example, should you agree to a valuation at Bob's Watches and decide to sell your watch to us, we will either overnight you a check for full payment, or set up a direct wire transfer so that you can have your money as soon as possible. One last thing to confirm is that you are actually selling your Rolex to the dealer, and not agreeing to some form of consignment deal with them.