Military Watches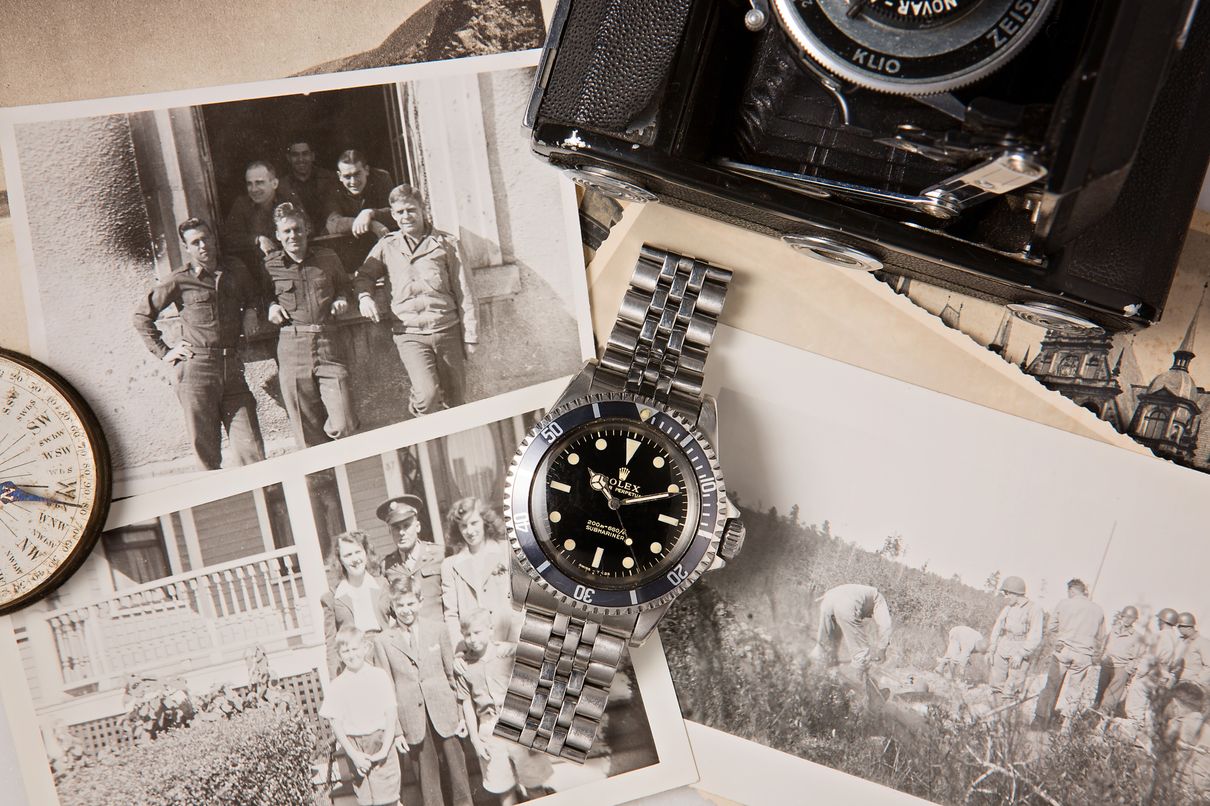 Popular for their practical appeal and with designs that harken back to yesteryear, military watches played an integral role in shaping the entire timepiece industry, bringing the watch from the pocket and placing it on the wrist. More importantly, military watches helped bridge the transition between wristwatches that were only ever really considered a lady's companion, to bonafide timekeeping tools with a purpose. Military watches old and new are still being collected throughout the world and appeal to all generations, whether ex-military personnel or a young entrepreneur looking for a wristwatch that oozes character.
History of Military Watches
It was not until the First World War that the public's perception of the wristwatch started to change. No longer associated with aristocratic ladies, battle-hardened soldiers who had been through the worst of the war's bloody aftermath were recovering from their experiences with a reliable watch on the wrist - timepiece that had assisted them through life-threatening situations. These early military watches soon became a piece of history. Men who had served in the armed forces were wearing their wristwatch with a sense of pride as opposed to a practical addition to their uniform, that said - military watches were incredibly practical too.
Becoming legends in the civilian world, manufacturers began tuning to the needs of soldiers by creating timepieces with a true purpose. Military watches were equipped with features that delivered on performance, legibility, and accuracy, and they would never again be looked at as mere pieces of jewelry for wealthy ladies. Hence came the question that many manufacturers were asking themselves: what would a uniformed warrior, engaged in continuous combat in a foreign country want in a wristwatch?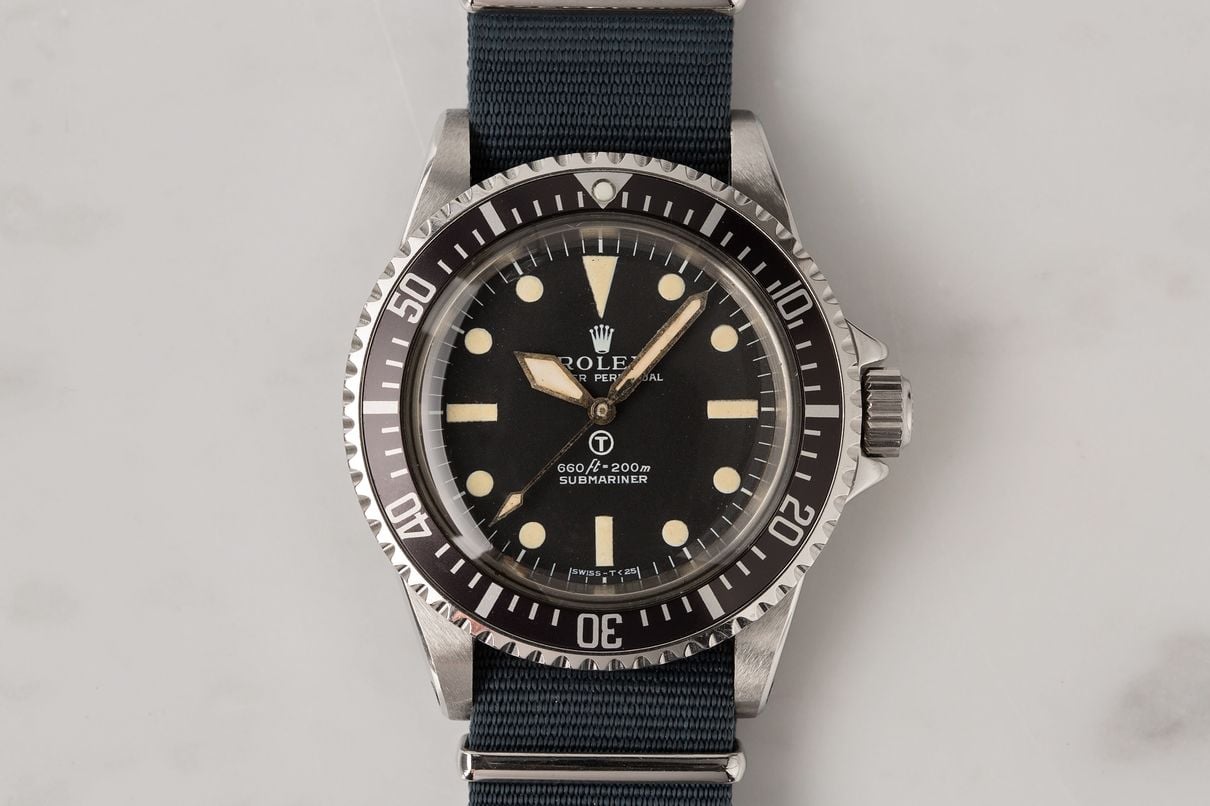 Military Watch Characteristics 
There are a number of features that, when combined with a clear and focused design, make for the best military watches.
A subdued dial:
While many watch collectors may want their watch embellished with precious metals and sparkling diamonds, a military watch must offer the opposite. A timepiece that is smart but certainly dressed in subdued colors makes for the best military watch, since it allows the soldier to go unnoticed during some of the most challenging life-or-death situations.
A simple design:
One of the main reasons that military watches are such a popular and versatile style is thanks to their simple design, which makes them a great choice for everyday watches. Military watches completely go without the addition of overly-fussy details and they keep complications to the bare minimum. These timepieces are built to serve a purpose and to stand the test of time. The dial design of a good military watch will have simplified markers that stand out against a plain dark backdrop. Other additional features are kept simple, yet are balanced by quality materials and finishes that culminate a smart and refined feel, perfect for wearing every day of the week, as well as on the battlefield.
Wide case diameter:
Military watches need to be big and bold for the wearer, yet discreet enough to allow the soldier to go unnoticed when in hideout. A large case shape is probably one of the most distinct features of a military watch. While some span a modest 36-40mm, others are far larger, allowing for time to be referenced quickly and efficiently when in need.
Large numerals:
Digital military watches are available on the market, but the most popular type of military watch is one that strips back to basics without straying too far away from a classic design. The numerals on a military watch dial are always loud and clear. Large indexes around the dial ensure that time can be read quickly at a glance and in many cases, all of the numerals are displayed along with a 24-hour ring that is commonly integrated into the dial.
Reliability:
Whether powered by a quartz or mechanical movement, all military watches must provide accurate time. Reliability and accuracy are the two crucial features of a military watch, enabling a soldier to coordinate battlefield actions down to the very second.
Luminosity:
The purpose of luminosity on a watch dial has its origins with military watches, whose owners required a timepiece that could clearly deliver the time in low-light conditions and during the night. Now luminosity on the hands and indexes of a luxury wristwatch is a common feature seen in many timepieces.
Special features:
Although they may retain a simplified look on the dial, some modern military watches are equipped with additional features, developed to assist while on the front line. These special attributes include the likes of an altimeter, compass, GPS, and thermometer.
Durability:
Ready to face any challenge ahead, a military watch must be made from a selection of the hardest most robust materials. The case of the wristwatch must sustain bumps when hit by rocks, must be resistant to scratches when dragged along rough terrain, and must promise impressive water resistance allowing for the watch to be fully submerged when swimming through water. With the addition of an anti-glare crystal, time can be read in direct sunlight as well as in the darkest of situations.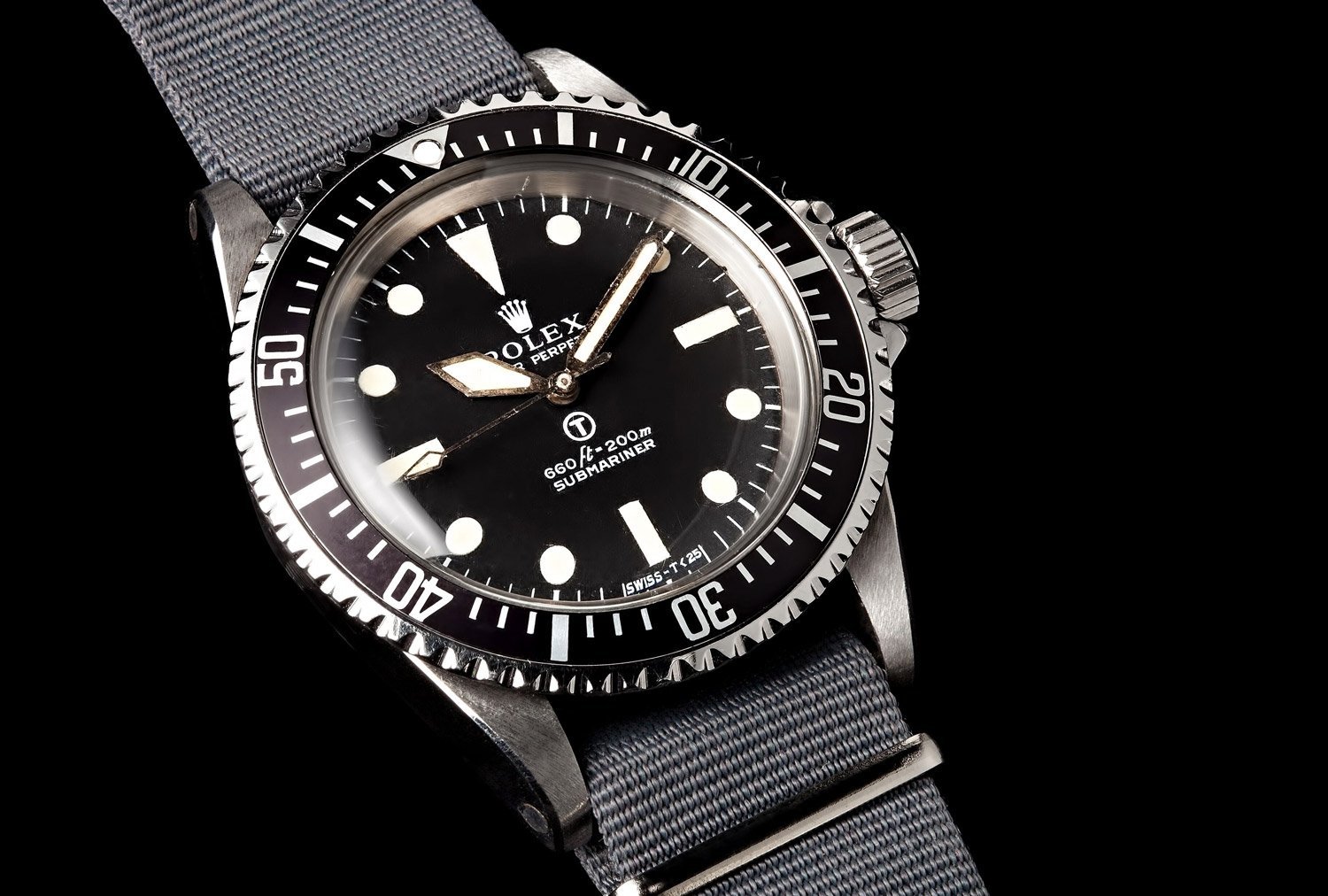 Rolex Military Watches
The Rolex Submariner 5517 watch is considered a highly collectible vintage dive watch. However, its tritium-filled hands and indexes, along with its legible sword-shaped hands and minute markers, also make this timepiece a sought-after vintage Rolex military watch. This Rolex Submariner was produced specifically for the Navy and features fixed metal bars instead of springbars and can only be worn on a NATO-style strap. Also known as the Rolex Milsub, the watch is testament to the relationship between Rolex and the military, and represents Rolex rich history of providing watches to various branches of the armed forces. The original design of the Rolex Submariner underwent some changes after its initial launch, which resulted in it having a larger and more serrated bezel that overhung the case, making it easier to grip with gloves while underwater.
Before they released the Submariner, Rolex created the Explorer, which instantly set benchmarks in excellence for its incredible durability. Both the Oyster Perpetual Explorer and the Oyster Perpetual Explorer II are tested by some of the world's most daring of explorers and scientists. Rolex's deep involvement with exploration is closely linked to the intrepid and daring missions faced by those serving in the armed forces. Specific features of these original Rolex Military watches include a simple black dial with luminous hands and hour markers. This excellent low-light legibility, combined with a 24-hour hand on the Explorer II, made it the perfect watch for those operating in total darkness for extended periods of time.
Resisting the extremes is what a true military watch is all about. Made from Oystersteel belonging to the 904L steel family, Rolex Submariner and Rolex Explorer watches are extremely resistant and technologically advanced types of military watches that are perfect for almost any type of watch collector, whether they are new or experienced.