Racing Watches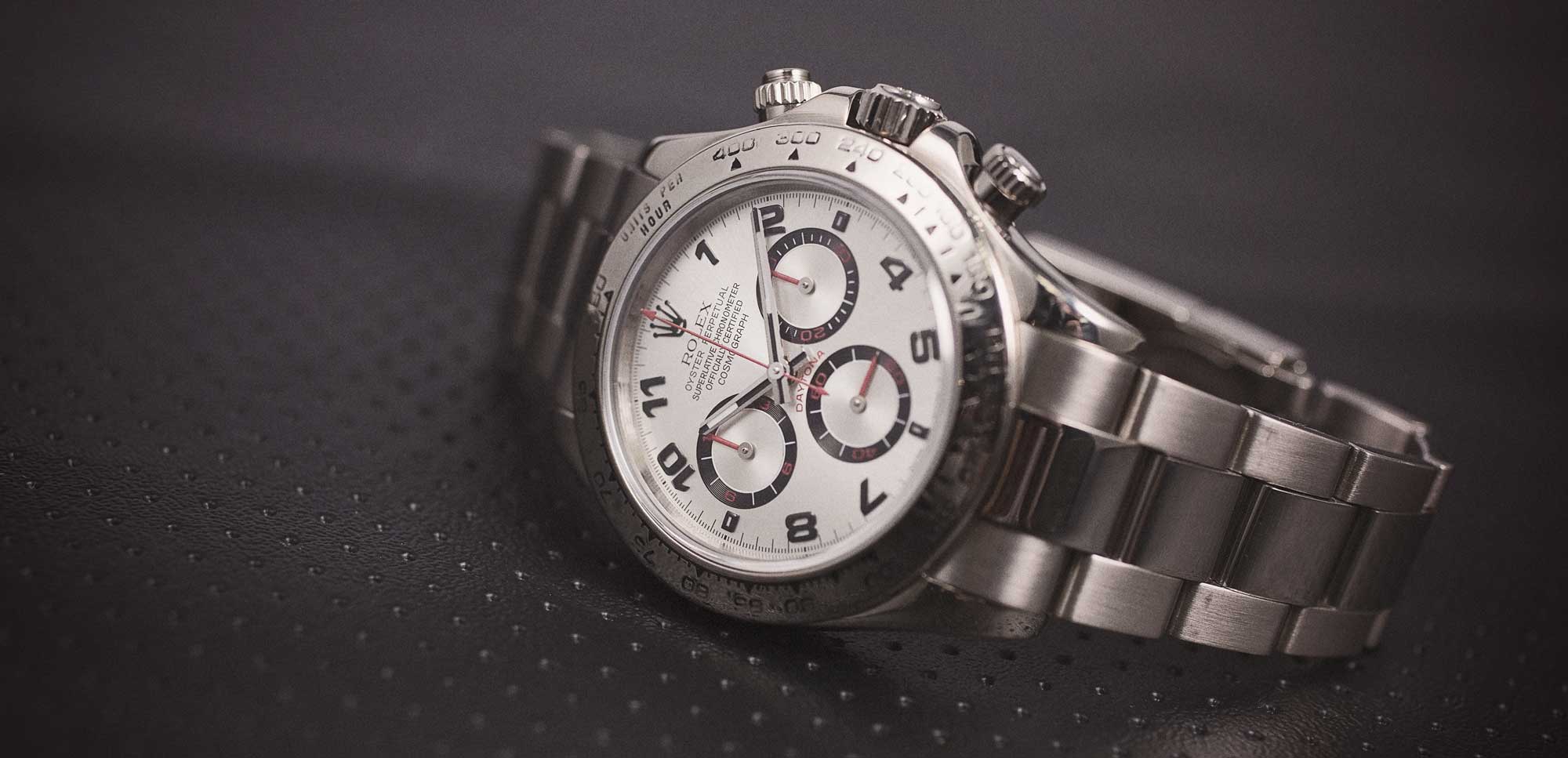 Striving for the absolute pinnacle, racing and Rolex watches are intrinsically linked. Both the machines on four wheels and those that power the hands on a Rolex watch are of the very highest quality, delivering a seamless and premium performance that can be bettered by nothing else of their kind. The ingredients in the making of a Formula 1 car are similar to those involved in the meticulous craftsmanship of a Rolex racing watch. Intricate parts must work together synergistically and in harmony with one another. Aesthetics must be balanced by performance and above all – stamina and power must proceed against all odds. In early 2013, Rolex became a Global Partner and Official Timepiece of Formula 1, welcoming a number of champions into their family along the way. Nico Roseberg, 23 Grands Prix™ winner (and son of 1982 Formula One World Champion™ Keke Rosberg), along with Australian racing driver Mark Webber – winner of FIA World Endurance Championship and runner up of the Le Mans race in 2015, are just two examples of those who wear a Rolex racing watch upon the wrist with confidence.
History of the Racing Watch
Harking back to as early as the 1930's, Rolex has been linked with the racing car industry, sharing a passion for the racetrack as well as a commitment to precision. Although racing drivers may no longer rely on a watch to keep track of their own lap time, Rolex racing watches have played an integral part in assisting the racing driver in the past. Facilitating easy recording of lap times and other measurements through their refined chronographs, Rolex racing watches have helped shape the history of the car racing industry and of course, Swiss timekeeping. It was not until the mid 1930's that racing watches became so widely used. In 1935, Rolex and the King Of Speed, Sir Malcolm Campbell, were united in their passion for precision and their quest for speed when a world record was broken behind the wheel of the Bluebird at Bonneville Salts Flats in Utah. Campbell reached a record-breaking speed of 300mph with the Rolex Oyster watch strapped securely to the wrist to which he described the watch has having been worn under "… somewhat strenuous conditions."
The classic Rolex Oyster watch remains, by far, one of the best Rolex racing watches to own since it is endowed with a number of features that assist with reaching high speeds and delivering time accurately and clearly at a quick glance of the dial. Racing watches like the Rolex Oyster watch embody timeless form and function. The Rolex Oyster Perpetual is a direct descendant from the original Rolex Oyster watch created in 1926, with an astounding 100 meter water resistance and a set of robust materials that will ensure time is accurately kept regardless of any challenges faced.
When the 1894 "Competition for Horseless Carriages" took place from Paris to Rouen, it was plagued with mis-timing issues, resulting in a number of different finishing times through lack of any reliable equipment to assist with accurate recordings. But 1902 the first of the Daytona races occurred – an event that would later see Sir Malcolm Campbell break the land speed a total of four times whilst wearing the iconic Rolex Oyster. It changed the racing industry forever. Rolex would also honor their connections to this prestigious event, creating a watch named after the races called the Rolex Daytona.
The Rolex Daytona watch was born to race. Specifically designed to assist with the needs of the professional and amateur racing driver, the timepiece fused functionality with high performance. Sealing its name tightly within the racing car industry, it's clear to see how Rolex paved the way forward for race cars and watches, and the future of successful, accurate timekeeping on the tracks. Even 50 years after its creation, the Rolex Daytona racing watch remains in a class of its own, transcending time and setting benchmarks in the field of sports chronograph watches. Along with three sub-dials and two polished pushers to assist with recording driver endurance, the Rolex Daytona racing watch features a tachymetric scale on its bezel, making timepieces like the Rolex Cosmograph Daytona one of the best tools for delivering performance in the entire history of racing watches. The precision of the chronograph pushers and the smooth running of the seconds hand on a Rolex Oyster Perpetual Cosmograph Daytona watch brings significant advantages to those wearing it for recording personal bests. Courtesy of Rolex's unique development of a high-performance movement sitting behind its monobloc 18k gold or Cerachrom bezel, it allows drivers to perfectly measure average speeds up to 400 kilometers or miles per hour.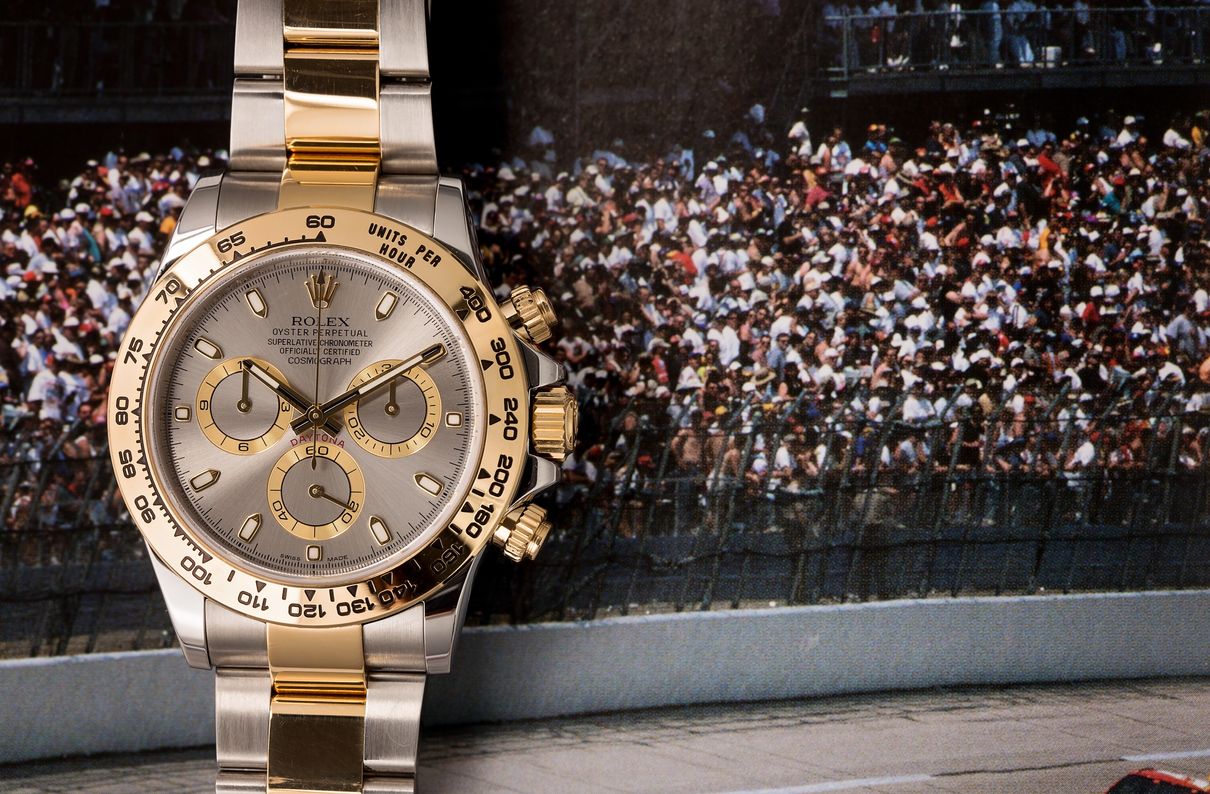 RACING WATCH CHARACTERISTICS AND FEATURES
Luxury racing watches today are defined not only by their technical ability, but also by their dashingly good looks and their handsome, chiselled physique, which embodies the expertise involved in the production of a race car and mirrors a speed-hungry aesthetic. This style of wristwatch is not bound by restraint or uniformity, moreover their exotic colors and adrenaline-infused designs allow the wearer the flexibility to express character on the wrist. Attributes of a racing watch include, but are not confined to the following characteristics:
1) Chronograph:
Most frequently found with two or three counters on the dial - often in contrasting colors to enhance visibility - the chronograph feature on a racing watch includes a stop/start pusher to operate the sweeping seconds hand, some of which feature a flyback function for resetting and starting a new timing with one simple push of a button.
2) Tachymeter scale:
Allowing the wearer to measure either distance or speed based on the time traveled over a fixed distance, the tachymeter scale is an indispensable tool for the design of a racing watch. Not only does it enhance the sporty look, but it makes basic conversion on the race track incredibly easy.
3) High-contrast dial:
Easy to read at high speeds and with just a quick glance, racing watches often boast a high-contrast dial which enhances the visibility of features like the sweeping seconds hand and the chronograph counters.
4) Rally style straps:
No vintage racing watch looks complete without the addition of a rally-inspired strap crafted from a durable material like rubber or leather. Perforated holes on the surface of the strap were a key feature during the 1950's and onward, allowing for airflow under the watch while wearing racing gear. Today, many racing watches are now presented on metal bracelets crafted from stainless steel or lightweight titanium for long-lasting wear on the wrist.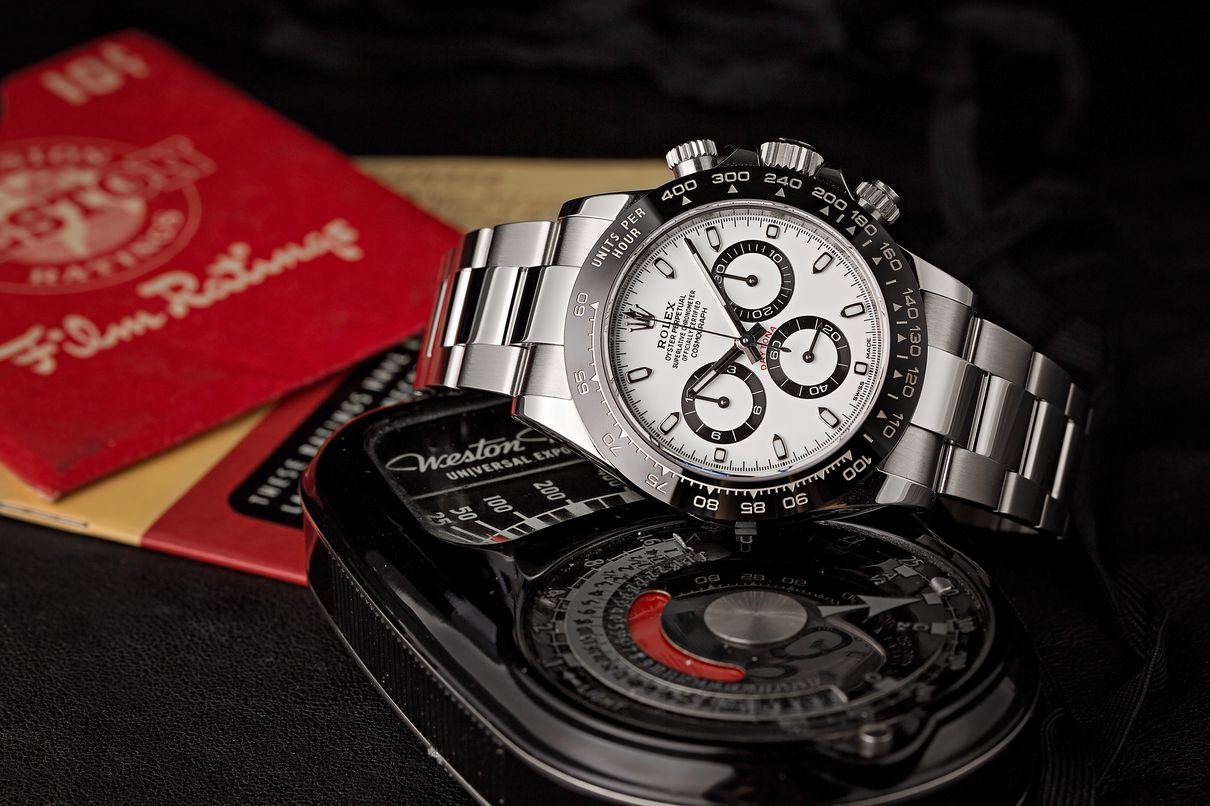 Watches and Motorsports
One of the reasons why watches and the motor-sport industry are so inseparable is due to the needs of high accuracy timekeeping at the track. Manufacturers like Rolex and Omega continue to maintain their longstanding commitment to providing the racing world with reliable precision watches for recording lap times and other important race track data. Watch connoisseurs who collect racing watches are still looking for a timepiece that delivers the same performance whether worn for driving purposes or not. After motoring enthusiast and actor, Paul Newman sported the Rolex Cosmograph Daytona upon his wrist, it gained an almost cult-like status, spawning a dedicated fan base of motor-sport enthusiasts, businessmen, and style-conscious individuals alike.
The history of the racing watch also includes the pivotal role Omega played with the launch of their famous Speedmaster. Before the Omega Speedmaster became the first watch worn on the surface of the moon, forever cementing its role in the space and aviation industries, it was a racing chronograph developed for professional race car drivers to use at the track. Adding leverage to the company's position as official timekeeper for the Olympic Games, the first Speedmaster was created in 1957 as a racing and sports chronograph with a visually impressive and easy to read dial. The original Omega Speedmaster, the CK2915 was designed by Claude Baillod and featured a triple-register chronograph layout with high-contrast index markers. Additionally it made the pioneering decision to have its tachymeter scale moved to its bezel rather than printed on its dial for increased legibility.
Today the Speedmaster racing watch is loved by many and is still utilized for its practical and technical capability as an everyday watch, as well as a timepiece that harkens back to Omega's heritage in the sports industry. Racing watches that belong to the Speedmaster collection today are integrated with features like indexes filled with Super-LumiNova and high-contrast tachymeter bezels for enhanced readability. As far as Omega racing watches go, the Speedmaster was and always will be their flagship chronograph and a top contender in the world of luxury racing watches.
Despite choices ranging from conservative to extremely bold, along with a vast array of racing watch straps now available, all luxury racing watches are bound by the same core values that inextricably connect them to precision driving and technical excellence.