Stainless Steel and Gold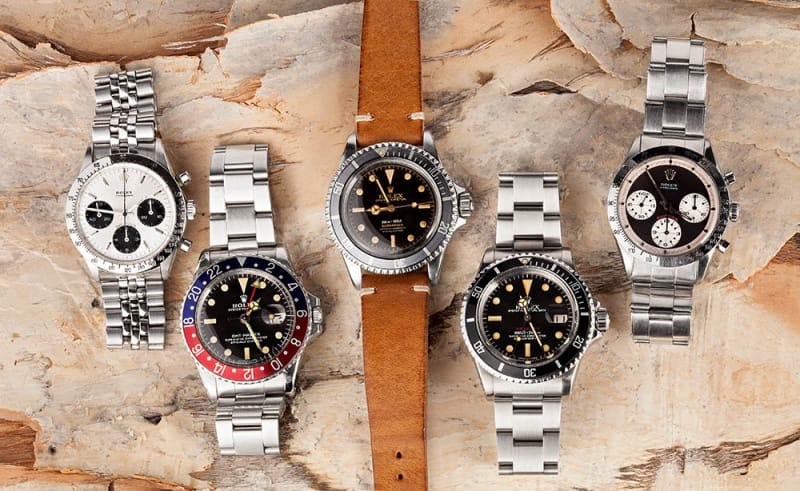 While their innovative and technologically advanced designs certainly set Rolex apart from other watchmakers, their selection of the highest quality materials also contributes to their reputation of excellence. Each individual component of the watch, including the movement, case, and bracelet are made of materials that have been meticulously selected and constantly re-evaluated to guarantee the highest level of performance and impeccable aesthetics. The range of materials used by Rolex varies widely, and includes precious metals, stainless steel, ceramic, mother-of-pearl, and precious stones. No matter the material, Rolex is rigorously selective.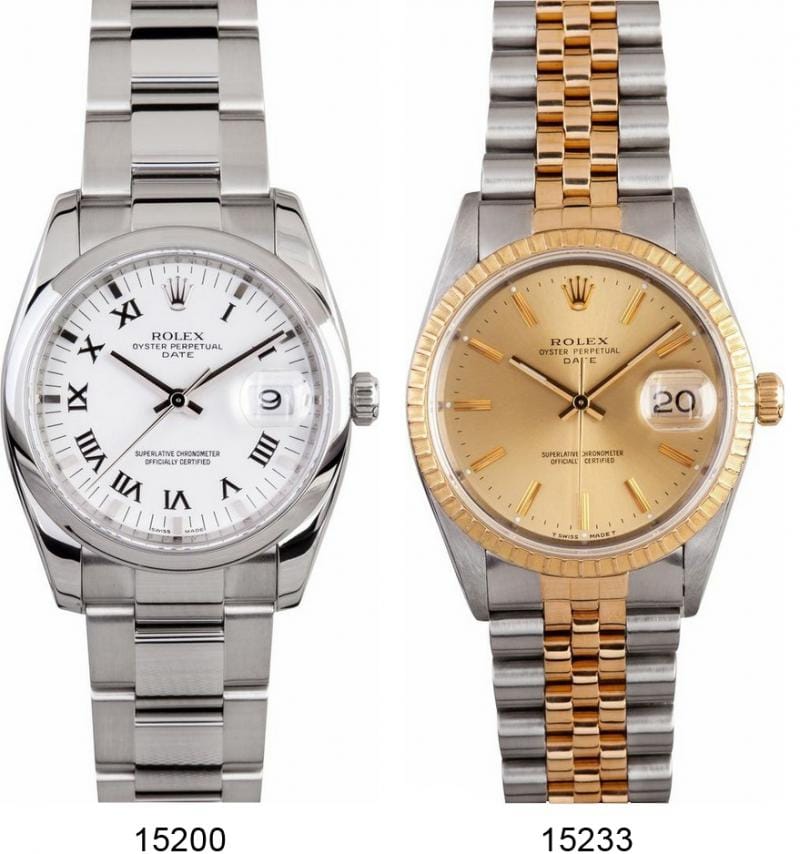 As a rule, a Rolex watch must remain functional and maintain its aesthetical appearance, even in the harshest environments. The rigorous selection of materials contributes greatly to this mission. One such material is 904L stainless steel. 904L stainless steel was originally developed and used in high-technology, aerospace, and chemical industries. In 1985, Rolex began using 904L steel, which is a highly corrosion-resistant super alloy due to its high chrome content. The 904L steel used on Rolex watches is also manufactured in-house by Rolex masters, who ensure it is of the highest quality.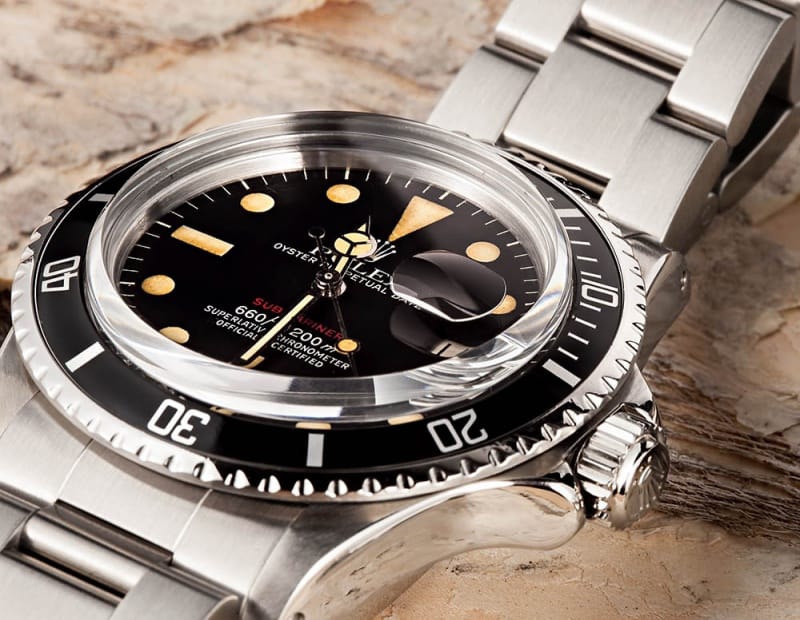 904L steel is a great alternative to precious metals. Its excellent anti-corrosion properties are comparable to those of precious metals, thus one does not lose any strength or visual appeal when choosing this finish. Not only is 904L steel strong, it also has great visual appearance, offering an exceptional sheen when polished. While it is not as valuable, nor does it give the same appearance as precious metals such as gold, Rolex's stainless steel is its most popular and common watch finish.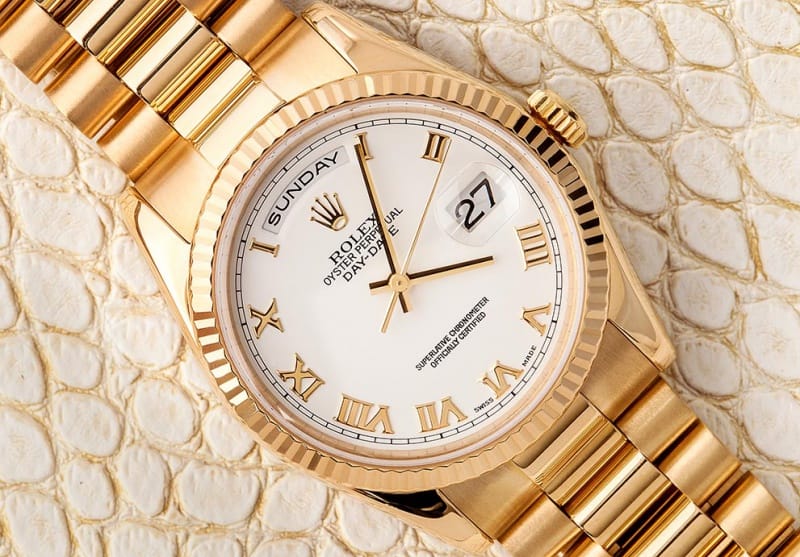 Gold is probably the most popular precious metal Rolex uses on its watches. Gold has always been of high value, and its use is usually expected in the luxury market. As with its 904L steel, Rolex controls the entire manufacturing process, guaranteeing a uniform and enduring luster on its watchcases and bracelets by forging its metals in-house.
Rolex exclusively uses 18 ct gold, an alloy composed of 750% (thousandths) of pure gold and a mixture of elements including silver, copper, platinum and palladium. Rolex manufactures several types of 18 ct gold, including the popular yellow gold, Everose (pink) gold, and white gold.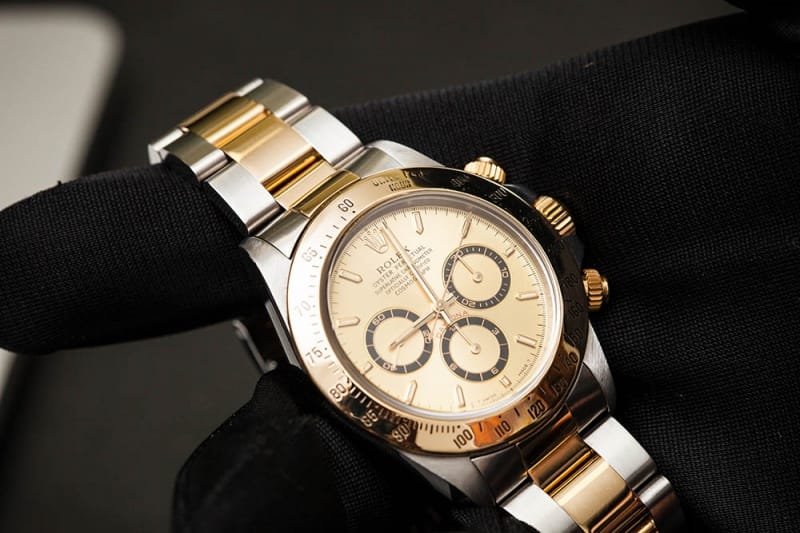 Many of Rolex's watches are created in 904L stainless steel, though gold versions are often later released. This is for a variety of reasons, including cost and appeal. Many of Rolex's sport watches, like the Submariner, need to be made of highly durable and scratch resistant metals like 904L stainless steel. This particular finish works better in the highly demanding environment the watch was intended for. The demand for stainless steel is also on the rise, as it is cheaper and easier to clean and maintain than gold. While gold is generally a preferred material for luxury watches, it is not always the best choice.