Two of the coolest Rolex watches we've ever seen are slated to cross the auction block at Christie's Rare Watches sale, which is slated to take place at the Four Seasons des Bergues in Geneva on May 13. One is an ultra-rare pink gold Rolex reference 6062 'Stelline' triple calendar with moonphase and sought-after "star" dial, which is expected to bring in up to $2 million – making it a possible record contender, as Rolex watch auction prices at this level can easily blast past their estimates.
A Pink Gold Rolex 'Stelline' and Andy Warhol's Ref. 3525
Of the 50 ref. 6062s produced by the iconic Swiss watch brand in pink gold, only 10 were ever fitted with the 'Stelline' star dial, and the 6062 (originally introduced at the precursor to Baselworld in 1950), is one of only two Rolex models from the period to feature a calendar complication with moonphase, Christie's notes.
Much less expensive, but some would argue even more interesting thanks to its former owner, Pop Art icon Andy Warhol, is a rarely-seen Rolex reference 3525 steel and gold chronograph. An important model for Rolex collectors, the reference marked the first time Rolex paired a chronograph movement with an Oyster case, and it was only made from 1939 to 1945.
This early chrono has an extremely interesting dial marked ANTI-MAGNÉTIQUE and it could be said to carry the DNA of what would eventually become Rolex's legendary Daytona. While the steel and gold execution is not our favorite for this reference, the celebrity provenance, while not on the level of Paul Newman or Steve McQueen, certainly makes for an extremely important watch.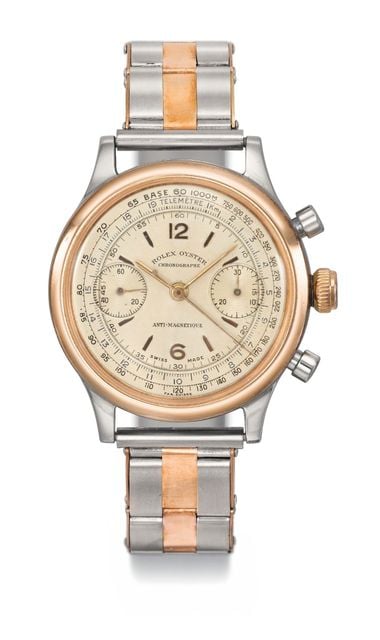 Christie's has a number of other highly-covetable Rolex offerings in this landmark sale as well, including a yellow gold "Padellone" reference 8171, consigned by the family of the original owner and estimated at up to $450,000; a stainless steel "Paul Newman" Daytona reference 6263 with the Mark II dial, consigned by descendants of the original owner and estimated at up to $550,000; and a "fresh to the market" reference 6239 with a three-colour dial dating from circa 1969 and estimated at up to $230,000.
Finally there's one of the most unique contemporary Rolexes, a world-first skeleton dial Daytona custom-crafted by Artisans de Geneve in collaboration with racing legend Juan Pablo Montoya, and estimated at up to $100,000. Good luck bidders!