Urwerk, the Swiss watchmaker known for producing some of the most avant-garde designs on the planet, came up with something suitably astonishing to debut during Art Basel Miami Beach. This luxury watch brand is known for its blend of design and complexity and they have really outdone themselves this time. The AMC is the unassuming name for a $2.7 million atomic master clock that mechanically winds, sets and regulates a paired Urwerk watch, which rests in a cradle in the clock's high-tech case when not being worn. The brand says this is the first time in horological history that a mechanical watch and an atomic clock have been created to "perform these three operations, via mechanical linkages, on a purely mechanical watch."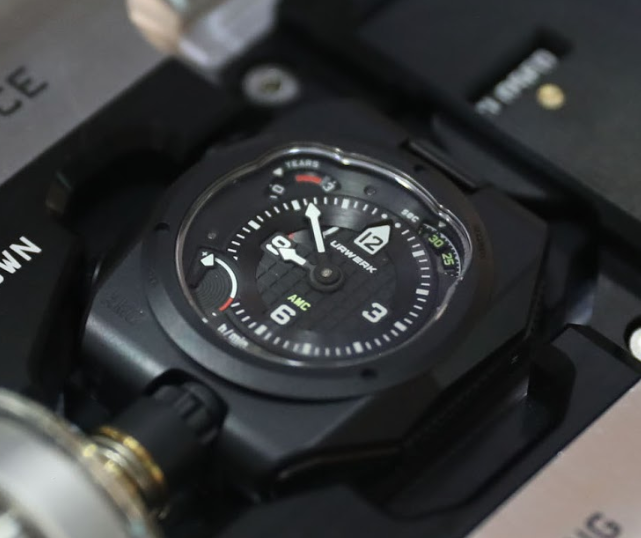 The atomic master clock housed in its solid aluminum case weighing 35 lbs. looks like something straight out of a Bond movie – the kind where the villain is about to blow up the world unless the United Nations coughs up $50 billion. The clock is the dual oscillator type, using ions of YIG (yttrium iron garnet) and rubidium. It keeps time based on the wavelength of energy emitted by certain types of atoms as they transition between energy states and is known as the most accurate in the world, not varying by a single second over huge spans of time. The paired watch features a power reserve indicator and two stacked barrels allowing for a power reserve of four days, as well as Urwerks's signature oil change indicator.
The master clock interacts with the watch in three ways. The first involves regulating the rate of the watch to an atomic time standard. This involved the incredible feat of designing a mechanism allowing the atomic clock to sense the time in the watch, compare it to atomic time, and adjust the rate either faster or slower as necessary. The second operation is the exact synchronization of the minutes and seconds display of the watch with that of the atomic clock. And finally a shaft extending from the clock acts on the crown to wind the watch when it is placed on its cradle. As Urwerk notes, this is "not just a fascinating combination of electronic, atomic, and mechanical systems; it is a union of all three that celebrates the fascination of time itself."
Kudos to Urwerk for making horology history at Art Basel Miami Beach.