Ladies wristwatches have been a fixture of the Rolex catalog for decades – and given that we are just one week away from Mother's Day, we feel that it is time to talk a little bit about women's watches. In fact, some of the brand's most iconic models, such as the Oyster Perpetual and Datejust, also include a lady's edition. While there is a common misconception that all Rolex watches are incredibly expensive, there are actually countless options currently available that almost any collector can afford. This guide will break down some of the most popular Rolex watches for women that don't command a top-tier price tag.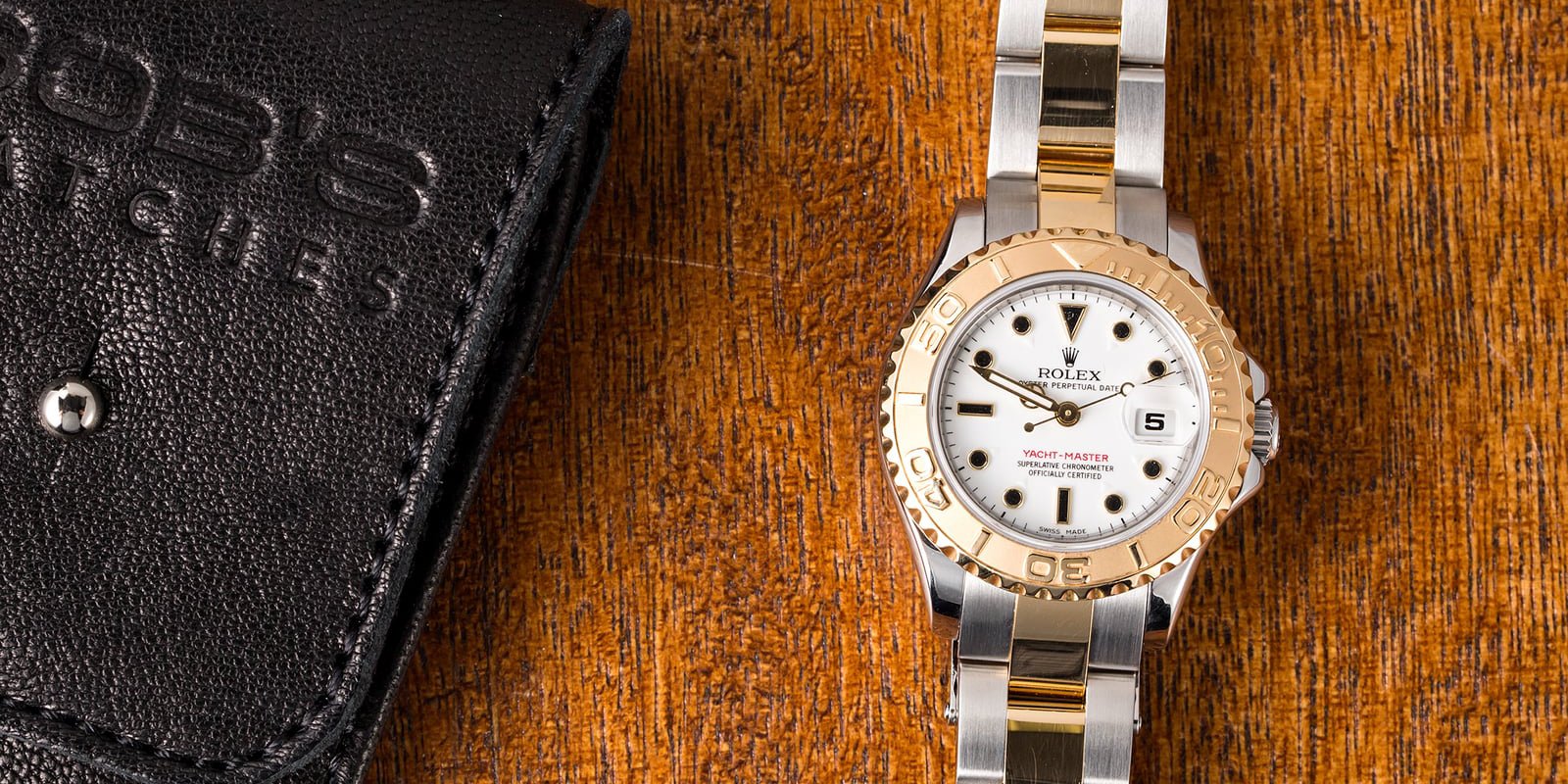 Rolex Watches for Women that Won't Break the Bank
Rolex Lady-Datejust
Our list begins with one of the most iconic timepieces produced by Rolex, the Oyster Perpetual Datejust. The original reference debuted in 1945, with the ladies' edition coming to market shortly after in the 1950s. For decades, the Lady-Datejust featured a 26mm Oyster case, which was recently discontinued in favor of the current 28mm variation. Additionally, although it is technically classified as a mid-size model, Rolex also offers a 31mm version of the Datejust which works great on most female wrists.
In addition to a different sizes, Lady-Datejust watches can also be found in a variety of different metal options, bezel styles, dial colors, and bracelets. While the different metal options are accompanied by significant differences in price at retail, on the pre-owned market their prices become significantly more tightly grouped. Prices for older Lady-Datejust watches in plain stainless steel start out at around $2k, and ample options exist – both in stainless steel and two-tone steel and gold at below the $3k price point.
Nearly all Rolex Lady-Datejust watches fall on the more affordable side of the spectrum, and once you get above $5k, solid-gold models start to become an option too. Prices are typically higher for newer watches; however there is a Lady-Datejust to suit every possible budget. The sheer number of options make it nearly impossible to recommend just one specific reference; however all Lady-Datejust watches represent exceptional value when it comes to pre-owned Rolex watches.
Rolex Datejust 36
Although the 36mm version of the Rolex Datejust has historically been the men's size, an increasing number of women are now wearing men's watches, and many female collectors prefer the larger size and weight of the men's Datejust 36 over the classic lady's edition. Rolex acknowledges this trend and in more recent years, has started offering versions of the Datejust 36 that are specifically intended to appeal to women.
A prime example of this is the reference 116200, which is the classic stainless steel Datejust 36 fitted with a smooth bezel. While this reference was produced with more traditional dial options on the men's side of the catalog, it also received some rather feminine dial options too, including this one featuring a flower motif. For under $6k, you get a modern edition of the Datejust 36, featuring a solid-link Oyster bracelet an an unusual floral dial.
Rolex Oyster Perpetual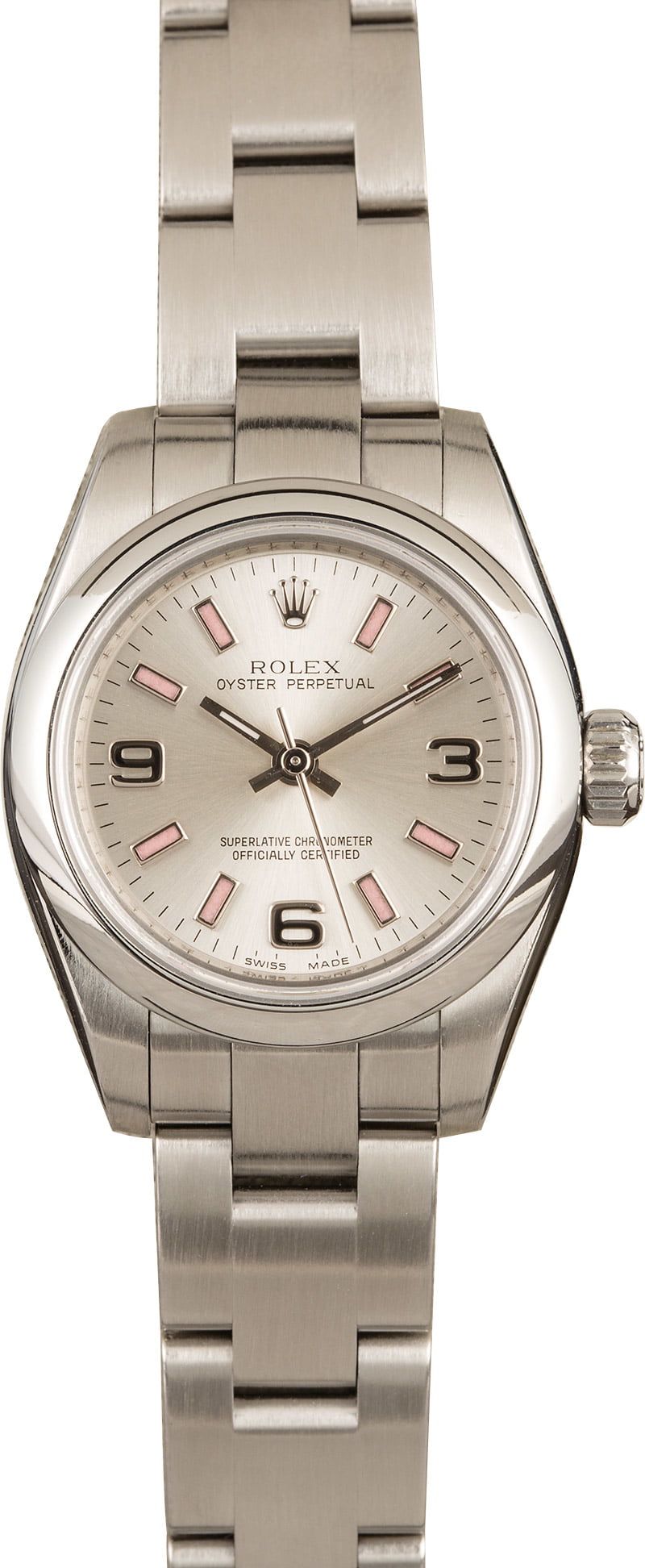 The Oyster Perpetual is another popular option among the various Rolex watches for women, and one that will appeal to almost any budget. Like with the Datejust, the Rolex Oyster Perpetual is offered in a number of different case sizes and with a variety of dial colors. While different metal options were previously offered and are still available on the pre-owned market, at the present time, all models are exclusively crafted from stainless steel.
Like the Lady-Datejust, prices for Rolex Oyster Perpetual watches start out at around $2k; however the top end of the spectrum doesn't reach nearly as high as the Datejust. The vast majority of examples, regardless of age, metal type, or configuration can be found for less than $5k on the pre-owned market, guaranteeing that regardless of the specific model you choose, it won't break the bank.
Rolex Yacht-Master
The Yacht-Master is celebrated for its sophisticated design that includes a mesmerizing sand-blasted bezel in either precious metal or ceramic. Rolex's Professional series models are typically only produced in men's sizes; however the Yacht-Master lineup has seen both ladies and mid-size options over the years, making it the only Professional series collection that also offer Rolex watches for women.
For collectors who love the aesthetic of a classic Rolex sports watch but prefer a smaller case size, the ladies Yacht-Master is one of the best options on the market. Although now replaced by a 37mm mid-size version, the Lady-Yacht-Master collection can be found in several metal options, including Rolesium (stainless steel and platinum), Rolesor (stainless steel and gold), and solid 18k yellow gold. While the point of entry isn't as low as some of Rolex's other collections, a budget of around $5k opens the doors to all but the full-gold models.
Women's Rolex prices vary greatly, depending on the individual watch. Study the market closely, and you can add a truly exceptional Rolex wristwatch to your collection that is within your budget.