The 1950s and 1960s were milestone decades for Rolex as this was the era that the company released a slew of sport and tool watches. The term "tool watch" is used to describe timepieces that serve specific purposes beyond telling the time, which these mid-century Rolex watches certainly did. There was the Explorer for adventurers, the Submariner for divers, the GMT-Master for pilots, and the Daytona for racers (among others). These days, we typically refer to these timepiece types as sports watches since they're no longer worn primarily for their original functionality but more so for their sporty style, solid quality, and renowned luxury.
Remarkably, all the Rolex tool watches introduced in the fifties and sixties have not only remained in the brand's catalog but are also some of the most sought-after models on the market. Whether or not you scale mountains, dive deep into the ocean, or fly planes, here are some of the best Rolex sports watches for everyday use. While we're definitely not against wearing vintage watches on the regular, we've selected modern references (defined as those with six-digit reference numbers) to ensure that they can withstand daily wear and tear.
Rolex Explorer
Explorer Key Features:
– Case Size: 36mm or 39mm
– Materials: Stainless steel or steel and yellow gold
– Bezel: Smooth metal bezel
– Dial: Black time-only dial with numerals at 3, 6, and 9
– Bracelet: Oyster bracelet
– Water Resistance: 100 meters
– Modern References: 114270, 214270, 124270, 124273
Click here to learn more about the evolution of the Rolex Explorer.

Launched in 1953 to commemorate the scaling of Mount Everest, the Explorer may be Rolex's simplest sports watch but its enduring style has become an absolute favorite among watch fans all around the globe. In fact, the Explorer's minimalist and straightforward design is what makes it a great watch to wear every day; it's easy to dress up or down and can seamlessly go from work to play and day to night.
The Rolex Explorer's defining design traits include a black dial with oversized Arabic numerals at 3, 6, and 9 o'clock, a smooth metal bezel without any markings, and a three-link Oyster bracelet. Depending on the reference, the Rolex Explorer is available with either a 36mm or a 39mm case. Furthermore, while the Explorer was initially exclusively a stainless steel Rolex sports watch, in 2021, a two-tone version joined the lineup in an appealing combination of stainless steel and 18k yellow gold.
Rolex Submariner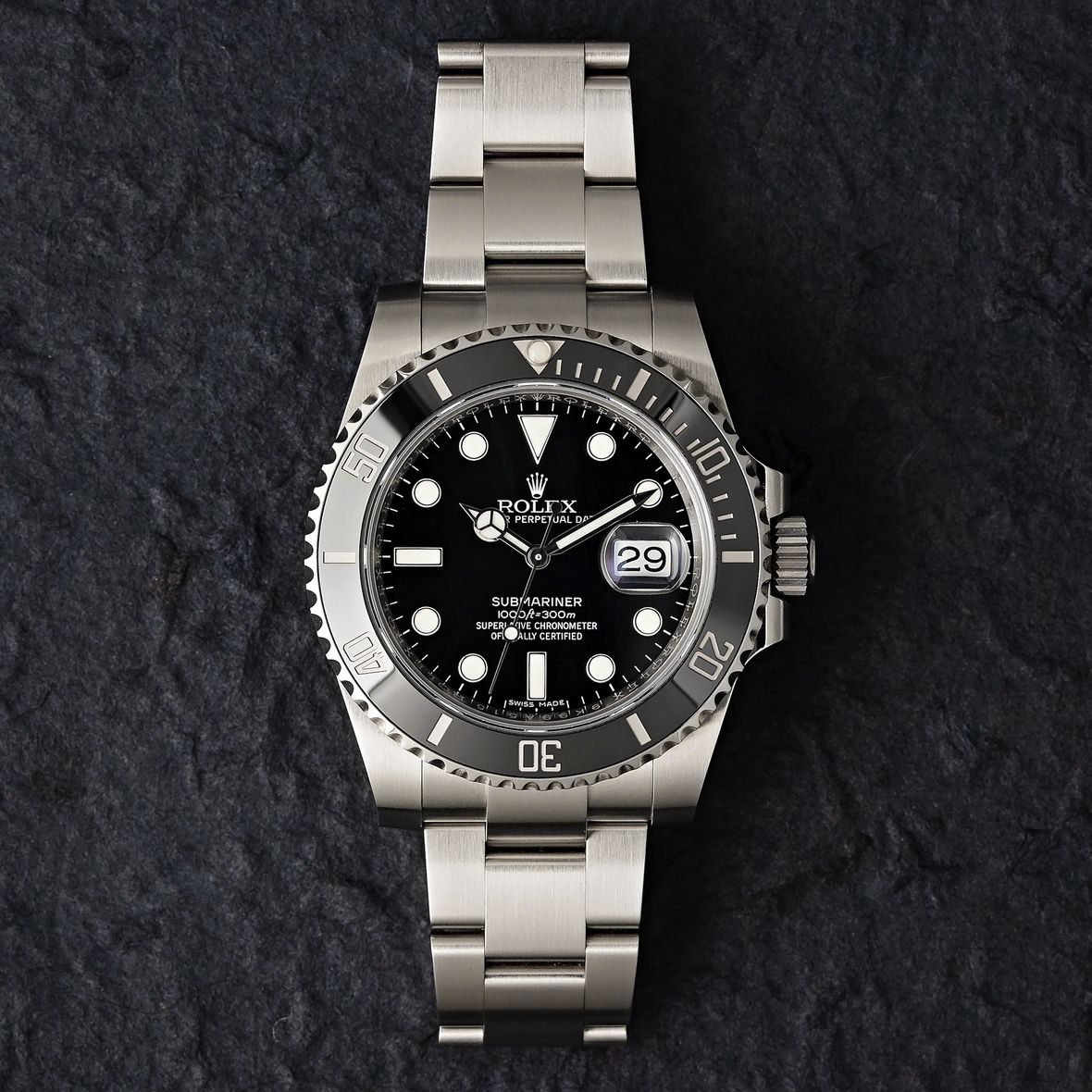 Submariner Key Features:
– Case Size: 40mm or 41mm
– Materials: Stainless steel, steel and yellow gold, yellow gold, or white gold
– Bezel: Unidirectional Cerachrom bezel, 0-60 minutes
– Dial: Time-only or time and date dial
– Bracelet: Oyster bracelet
– Water Resistance: 300 meters
– Modern References: 114060, 116610, 116613, 116618, 116619, 124060, 126610, 126613, 126618, 126619
Click here for our Ultimate Buying Guide on the Rolex Submariner.

In 1953, Rolex introduced what would become its most famous sports watch of all time – the Submariner. Even if you aren't very familiar with Rolex watches, you have probably laid your eyes upon the Submariner at some point. The Rolex Submariner's roots as a diving watch make it perfect for daily wear as the Triplock waterproof crown creates a seal that is more than water-resistant to stand up to any aquatic activities you might find yourself doing. Plus, the Cerachrom (Rolex's proprietary ceramic alloy) bezel is both scratch and fade resistant.
The collection is also incredibly versatile, which makes it easy to find a Submariner to suit your everyday life. The famous dive watch is not only available in an assortment of materials – ranging from all steel to all gold to part steel/part gold – but offered with various dial and bezel colors too. There's classic black, vibrant green, and rich blue. Plus, there's the choice between a time-only Submariner and a Submariner Date, not to mention the option between the now-discontinued 40mm variants and the current 41mm models.
Rolex GMT-Master II
GMT-Master II Key Features:
– Case Size: 40mm
– Materials: Stainless steel, steel and yellow gold, steel and Everose gold, yellow gold, white gold, or Everose gold
– Bezel: Bidirectional Cerachrom bezel, 24 hours
– Dial: Local time, reference time, date
– Bracelet: Oyster or Jubilee bracelet
– Water Resistance: 100 meters
– Modern References: 116710, 116713, 116718, 116719, 126710, 126711, 126715, 126719
Click here for our Ultimate Buying Guide on the Rolex GMT-Master II.

This iconic Rolex pilot's watch made its debut in 1955, specifically for the Pan Am Airlines crew, and has since evolved to offer an independent GMT hand on the dial. This update came in the 1980s – when the watch became known as the GMT-Master II – and the change allowed the wearer to read up to three time zones. This feature alone makes the Rolex GMT-Master II a suitable, everyday companion for any globe-trotting collector.
The GMT-Master II lineup also includes a variety of feature sets that range from modest stainless steel and trendy two-tone to all-gold options for occasions that call for a dressier wristwatch. Additionally, the variety of the Cerachrom bezel colorways, which includes the classic blue and red "Pepsi," the sleek blue and black "Batman," the retro revival "Root Beer," and the monochromatic black (now discontinued), is enough to match just about any style. Finally, some references even offer the choice between the sporty 3-link Oyster bracelet and dressy 5-link Jubilee.
Rolex Milgauss
Milgauss Key Features:
– Case Size: 40mm
– Materials: Stainless steel
– Bezel: Smooth steel bezel
– Dial: Time only
– Crystal: Colorless sapphire or green-tinted sapphire
– Bracelet: Oyster bracelet
– Water Resistance: 100 meters
– Modern Reference: 116400
Click here for our Ultimate Buying Guide on the Rolex Milgauss.

For an everyday Rolex sports watch with plenty of character, there's the Milgauss antimagnetic watch. Released in 1956 and designed for the scientific community, the Rolex Milgauss promised to maintain its timekeeping accuracy in magnetic fields up to 1,000 gauss – a feature that's especially relevant today given the prevalence of high-tech products that can magnetize our watches.
While the watch underwent several design updates during its history and was even dropped from the catalog in the late-1980s, the modern Rolex Milgauss watches have found their stride. Rolex only makes the Milgauss in stainless steel, from the 40mm case to the three-link Oyster bracelet, and furnishes each piece with a quirky lightning-bolt seconds hand in bright orange that alludes to the watch's substantial antimagnetic capabilities. Another unexpected feature of the Milgauss is the green-tinted sapphire crystal that sits above the dial. While Rolex used to offer modern Milgauss watches without the green sapphire crystal, all current-production references are now made to include it and it has become one of the modern collection's signature features.
Rolex Daytona
Daytona Key Features:
– Case Size: 40mm
– Materials: Stainless steel, steel and yellow gold, yellow gold, white gold, platinum
– Bezel: Metal or Cerachrom, tachymeter scale
– Dial: Time, center chronograph hand, three subsidiary dials
– Bracelet: Oyster bracelet, leather strap, or Oysterflex bracelet
– Water Resistance: 100 meters
– Modern References: 116520, 116523, 116528, 116518, 116519, 116515, 116500, 116503, 116508, 116509, 116505, 116506
Click here for our Ultimate Buying Guide on the Rolex Daytona.

In addition to being one of Rolex's most popular sports watches, the Daytona is also the world's most famous chronograph model. The collection made its debut in the 1960s and while it had a slow start, the Rolex Daytona is now recognized as an icon. Unlike the manual-winding vintage Daytona watches, modern versions are automatic, powered by in-house Rolex-made movements.
The assortment of modern Rolex Daytona chronographs is generous, ranging from steel to gold to half steel and half gold. There are even solid platinum variants, as well as bejeweled iterations. Yet, regardless of the metal type, dial color, or bezel material, what ties all Daytona watches together is their classic silhouette consisting of two chronograph pushers framing the winding crown, a tachymeter bezel inspired by racing, and a face with three subsidiary dials. Of all the Rolex sports watches to choose from, the Daytona is the sportiest and most coveted of them all – and one that most Rolex enthusiasts would be proud to wear every day.
From Tool Watches to Luxury Icons
From the earliest days of the company, Rolex always strived to make durable and water-resistant watches that could withstand all sorts of environments. Rolex's goal was to manufacture watches that would satisfy the world's biggest overachievers, whether it was for those that climbed the highest peaks, plunged down to the deepest depths, or flew the farthest distances.
While many of us don't encounter those extreme environments on a daily basis, we can certainly enjoy and appreciate the tough yet luxurious modern sports watches that the Rolex ethos has produced.