In terms of tool watch popularity, the pilot's watch genre is arguably second only to the dive watch. In fact, you could make the case for the first "tool watch" ever made being a pilot's model, when Louis Cartier produced the Santos for his great friend, pioneering aviator, Alberto Santos-Dumont in 1904. However, unlike with divers, there are no strict ISO-like rules for what a timepiece must have in order be called a pilot's watch. The earliest examples, for instance, were judged to be suitable for the job simply by the fact they were large and legible enough to be read in the cramped and often dark confines of an aircraft cockpit.
Now though, the range of different styles and complications that exist across the category is massively diverse and practically every brand in existence produces aviation watches of one kind or another. Arguably more than any other brand, Breitling tends to lean into its aviation heritage, and there are now Breitling watches that span a wide variety of different pilot models. Some are genuine wrist-worn instruments destined for the flight deck, while others are vintage-inspired throwbacks heavy on the nostalgia.
Breitling Watches
Current Breitling Watch Collections:
– Professional
– Chronomat
– Navitimer
– Superocean Heritage
– Avenger
–  Superocean
– Premier 
– Aviator 8

Breitling and Aviation
Perhaps the most recognizable name in the field is Breitling, a manufacturer that can trace its flying roots back to the 1930s. After years spent making highly accurate pocket watches and groundbreaking innovations to the chronograph, the 1930s saw Breitling supply cockpit instruments for both civilian and military outfits, including the British RAF. When WWII broke out the following decade, the Spitfire and the Lancaster were just two of the legendary aircraft to use the brand's equipment, and Breitling would go on to become the official supplier to several commercial airlines after the war, including Boeing, Douglas, and Lockheed.
In 1962, a Breitling timepiece achieved the ultimate goal for a pilot's watch when it reached outer space. Lt. Commander Scott Carpenter, one of the original Mercury 7 astronauts, orbited the Earth three times wearing the Breitling Navitimer Cosmonaute.
Today, under the directorship of Georges Kern (former head of IWC – another manufacturer with inexorable links to the skies) Breitling produces a streamlined range of watches that can be divided into three classifications; land, sea, and air. The 'air' collection covers everything from faithful recreations of past glories harking back to the brand's airborne heritage, through to some truly cutting-edge models, designed to survive just about anything. Below, we take a look at Breitling's class-leading pilot's watches.
Breitling Aviator 8 Collection
When Georges Kern arrived at Breitling in 2017, it didn't take long for him to show his hand and demonstrate exactly where he was going to lead the company. His first all-new release was initially christened the Navitimer 8, the name perhaps the most well-known in the whole of the pilot's watch sphere. However, these new additions were very clearly an updated reissue of some of the earliest Breitling pilot watches, and they were without the iconic slide rule bezel that makes the Navitimer collection so distinctive.
Although they were fine watches in themselves, the title was a cause of confusion, so much so that they were renamed the Aviator 8 not long after. With that sorted out, the range was free to branch out and expand, and now takes in everything from simple time-only models, through day-dates, chronographs, and even a Worldtimer. Below are a few standout models.
Breitling Aviator 8 AVI Ref. 765 1953 Re-Edition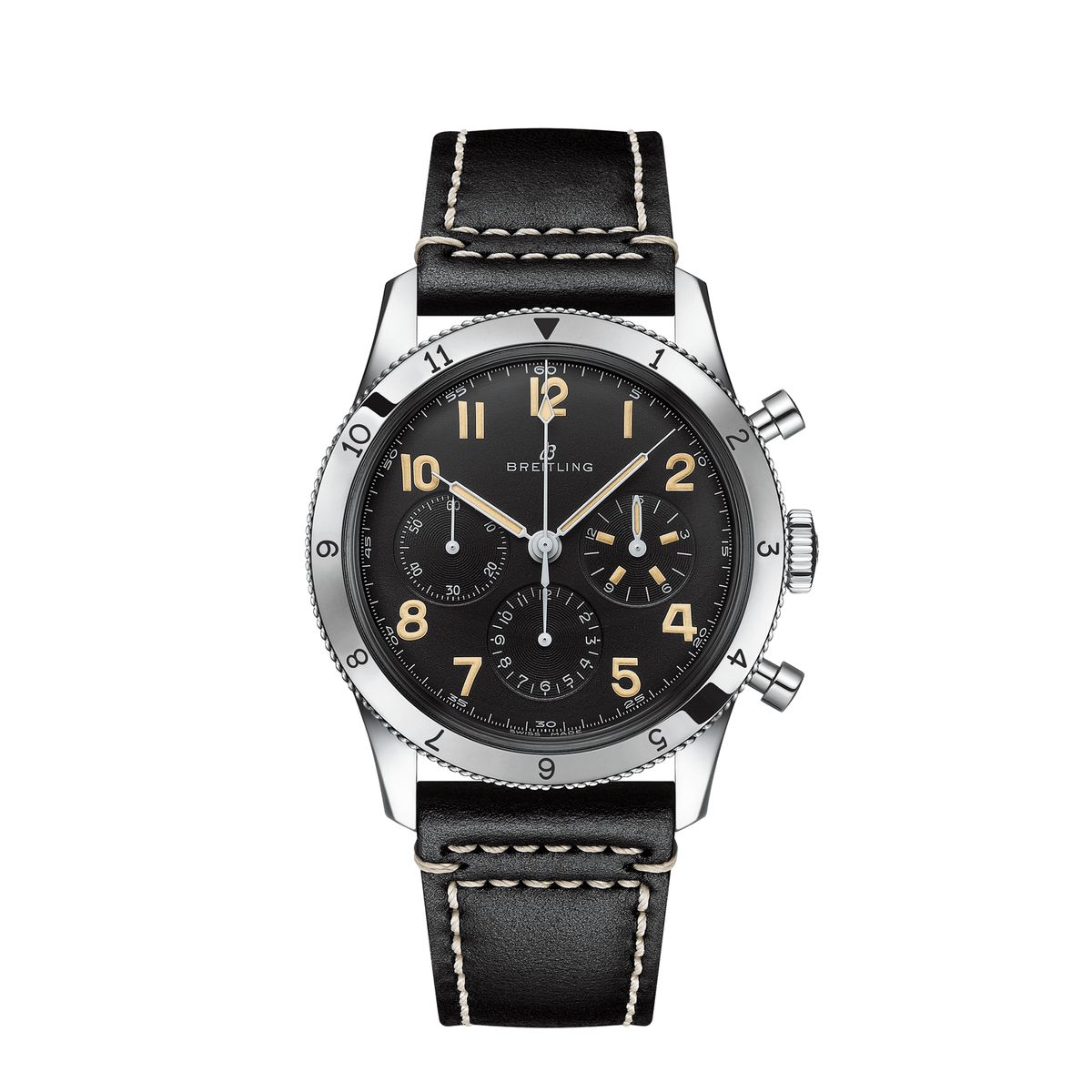 Key Features:
Case Diameter: 41mm
Materials: Stainless Steel, Red Gold, Platinum
Caliber: Breitling B09 (manually-wound)
Functions: Time, Running Seconds, 15-minute and 12-hour Chronograph Counters
Bezel: Fixed. 12-hour Scale
Dial: Black (Steel & Red Gold Models) Blue (Platinum Model)
Bracelet: Leather Strap (Black or Brown)
Water Resistance: 30 Meters
Retail Price: $8,600 – $39,900
We are currently living through a massive trend for all things vintage in horology. Many of the high-end brands are bringing out modern reinterpretations of classics from the archives, with varying levels of success. This latest effort from Breitling, released in 2020, is one that nails it completely. The blueprint (called the Co-Pilot ref. 765 AVI) stems from 1953, released alongside the first Navitimer reference. It stands as one of the more collectible vintage Breitling watches, a beautifully designed and highly capable watch with superb legibility. That makes it the perfect candidate for a renewal, and the Aviator 8 AVI Ref. 765 1953 Re-Edition is, at least visually, almost identical to the original.
The size is correct at 41mm, as is the 12-hour engraved bezel, secured with three screws in exactly the same positions as its ancestor. The large Arabic numeral indexes are spot-on too and have been filled with a beige Super-LumiNova to give the impression of an aged patina (one of those details it is very easy to overdo, but not so here). The 15-minute chronograph counter has the same trademark lume strips every three minutes, for all the world as if you are looking head-on at a five-bladed propeller. Inside, the 1953 Re-Edition is powered by Breitling's own B09, a COSC-rated, manually-winding movement with a 70-hour reserve and vertical clutch. Released in either steel, rose gold, or platinum, the only downside with the watch is that it is a limited edition – at 1,953, 253, and 153 units, respectively.
Breitling Aviator 8 B35 Automatic Unitime 43
Key Features:
Case Diameter: 43mm
Materials: Stainless Steel
Caliber: Breitling B35
Functions: Time, Date, Worldtimer
Bezel: Steel. Rotating
Dial: Black or Silver
Bracelet: Leather Strap or Steel Bracelet
Water Resistance: 100 Meters
Retail Price: $8,140
One of those watches that may be of more use to luxury globetrotters rather than the pilots who fly them, the Breitling Aviator 8 B35 Automatic Unitime 43 resurrects another name from the past. Breitling created a series of worldtimer watches from the 1950s onwards, as the dawning of the jet age opened up international travel and watch brands from Rolex to Patek Philippe developed pieces that allowed wearers to keep tabs on several time zones at once.
Launched in 2018, the Unitime 43 displays 24 major world cities around the dial's perimeter and an inner ring featuring a 24-hour scale. For a helpful reference, the scale is colored half blue and half black, so a quick glance can distinguish between night and day. The watch's hour hand can be adjusted independently or linked to the city disc, so if wearers travel between time zones and change their local time, the world time indication rotates and adjusts accordingly.
Driving it is the Breitling B35, a heavily reworked ETA 2892 which ups the power reserve of that unit from 42 to 70-hours and adds another 20 jewels. The 43mm piece is available with either a matte black or sunray silver dial, each with large Arabic numerals as befits a pilot's watch. But the indexes are in white on both versions, leaving the black dialed model the more readable of the two. Fitted with either a steel bracelet or leather strap, it is another handsome inclusion to the range, with a genuinely useful complication.
Probably the image which most readily springs to mind when you hear the phrase pilot's watch, and one of the most identifiable forms in all horology, the Breitling Navitimer first arrived in 1953. Famed for its intricate slide rule bezel, it followed on from Breitling's own Chronomat which included the same feature but aimed at scientists and engineers rather than pilots.
The Navitimer, however, was developed in conjunction with the AOPA (Aircraft Owners and Pilots Association), with the circular 'navigation computer' able to handle all the calculations necessary for a safe flight; airspeed, flight time, distance, fuel consumption, climb and descent rate, etc. It was immediately adopted by the association as its official timepiece and soon became a favorite of professional pilots all over the world.
A fixture of the industry ever since (bar a couple of quartz crisis-related years off at the start of the 1980s), the watch has gently evolved through the generations. A date function was added on some models, others were given self-winding calibers and there were even LED and LCD versions. Today the Navitimer collection is more than 40 models strong, ranging in size from 35mm up to 46mm, both chronograph and non-chronograph models, and in a variety of different metals. Below are some top favorites from the current collection.
Breitling Navitimer Ref. 806 1959 Re-Edition
Key Features:
Case Diameter: 41mm
Materials: Stainless Steel
Caliber: Breitling B09 (manually-wound)
Functions: Time, Chronograph, Navigation Computer Slide Rule Bezel
Bezel: Steel. Rotating
Dial: Black
Bracelet: Leather Strap
Water Resistance: 30 Meters
Retail Price: $8,600
There's attention to detail and then there's attention to detail. When Breitling wanted to introduce a contemporary audience to perhaps its greatest historical achievement, the brand decided to go all out. The Navitimer Ref. 806 1959 Re-Edition is just about as precise a reproduction of the original watch as you could ask for. Everything is just about exactly as it was 60-years ago, even down to the number of beads in the emblematic bezel (a total of 94).
That dial, stuffed with an astonishing amount of information, is basically an exact duplicate as well, as is the domed Plexiglass covering on top. Like the Aviator 8 Re-Edition, only the lume has changed, now Super-LumiNova rather than the period-correct radium (thankfully) and nicely aged. The beautiful winged logo, and the text 'BREITLING' and 'NAVITIMER' in all caps are just as they should be.
The initial ref. 806 from 1959 was made long before Breitling finished in a three-way tie to create the first automatic chronograph caliber, so the Re-Edition gets the brand's manually-wound manufacture B09, developed specifically for its series of reissues and based on the B01. COSC-rated and with a 70-hour reserve, Breitling has even refrained from fitting a display case-back to let you watch it at work, just like the original. Another limited edition, this time restricted to 1,959 pieces, the Ref. 806 is an absolute triumph for Breitling – sure to be a favorite among professional pilots and weekend warriors alike. Additionally, for the particularly well-heeled flier, the brand has also introduced a solid platinum version with a blue dial and strap. Production of the platinum variation is limited to only 59 units worldwide, and the watch is accompanied by an official retail price of $39,900.
Breitling Navitimer GMT 46
Key Features:
Case Diameter: 46mm
Materials: Stainless Steel
Caliber: Breitling B24
Functions: Time, Date, Chronograph, Navigation Computer Slide Rule Bezel, Dual Time Zone
Bezel: Steel. Rotating
Dial: Black/Blue
Bracelet: Leather Strap/Steel Bracelet
Water Resistance: 30 Meters
Retail Price: $6,910 – $7,480
On the off-chance you felt the standard Breitling Navitimer wasn't able to display enough information, the Navitimer GMT 46 offers a dual time zone function as well. The larger 46mm case gives a lot more dial real estate to play with, so the 24-hour scale slips in unobtrusively under all the other scales around the outside, and an additional red arrow-tipped hour hand points out the destination time. A handy engraving on the case-back shows the various time zones for the world's major cities too.
Elsewhere, all is classic Navitimer, with either a black or blue dial with tone-on-tone sub-dials. The second generation of the GMT switched the chronograph counters' positions, from the traditional 3/6/9 layout to a 6/9/12 configuration. It has left the date display plus all the text and winged Breitling logo bunched over at the three o'clock location. It could have left an already very hard-working dial looking even busier, but the layout, as well as the sheer size, means everything is still perfectly readable. Available with either a color-coded leather strap or the Navitimer's own seven staggered-link steel bracelet, it is the complete pilot's watch.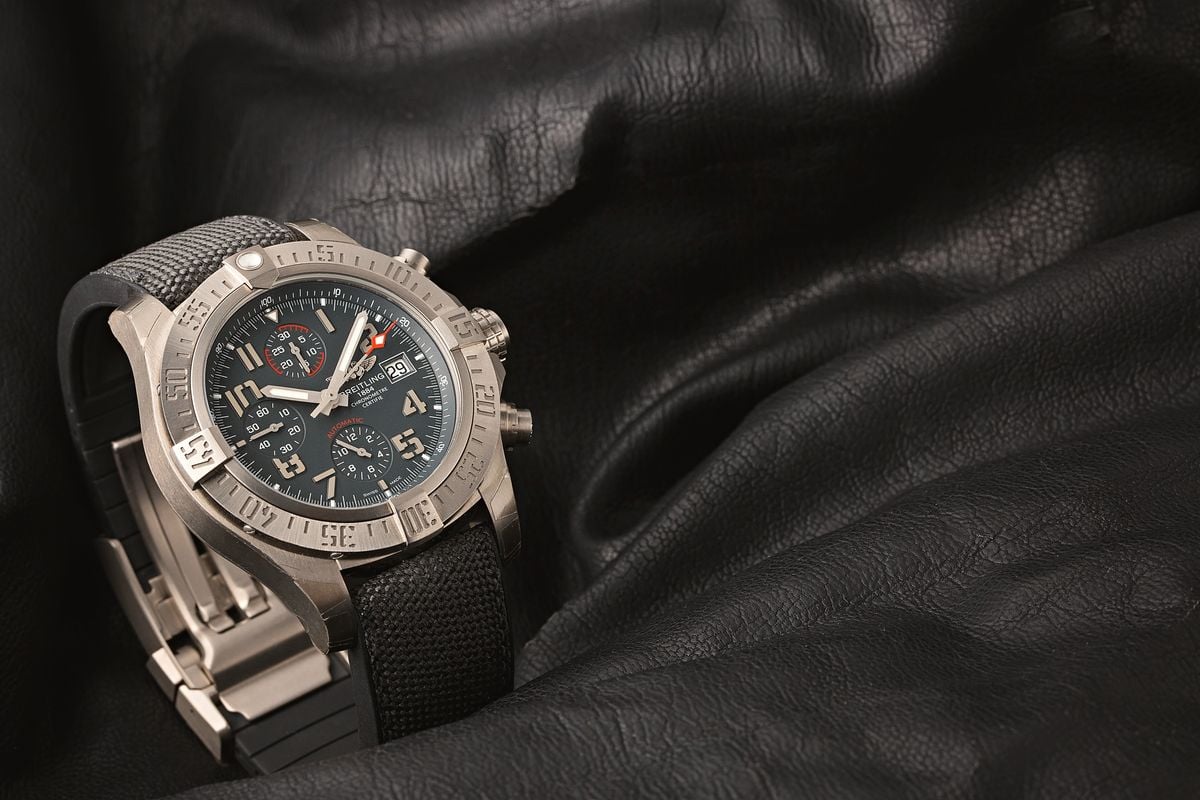 Breitling Avenger Collection
First introduced in 2001, the Breitling Avenger range is one which had remained underdeveloped for a few years as Kern got to grips restructuring other collections. However, that all changed in 2019 with a raft of new, ultra-masculine models emerging, as some of the biggest and most robust watches in Breitling's (or anyone's) portfolio. When a brand includes a model called the Seawolf Night Mission, you know it's going to be macho.
Design-wise, Breitling Avenger watches take many of their cues from the now-discontinued Colt line, once the entry point into Breitling ownership. Big, chunky, and as subtle as a grenade, there are three sizes to choose from (43mm, 45mm, and 48mm), along with a variety of complications – simple time-and-date, a selection of chronographs, and a couple of GMTs. Mostly in steel, there are also a small number of models crafted from the metal du jour, titanium. Definitely distinctive and with plenty of wrist presence, below are a few highlights from the Breitling Avenger collection.
Breitling Avenger Automatic 45 Seawolf Night Mission
Key Features:
Case Diameter: 45mm
Materials: DLC-Coated Titanium
Caliber: Breitling B17
Functions: Time, Date
Bezel: Rotating. 60-Minute Scale
Dial: Black
Bracelet: Calfskin Leather Strap
Water Resistance: 3000 Meters
Retail Price: $4,795
While the entire Breitling Avenger range is made to fit in next to the Aviator 8 and Navitimer collections as out-and-out pilot's watches, even the smallest examples could easily serve double duty as dive models as well. The minimum water-resistance rating in the series is 300M, and the Avenger Automatic 45 Seawolf Night Mission is actually certified down to an incredible 3,000M, or 10,000ft. On top of that, it is also possibly the most striking of them all too, a jet black, bombproof-looking creation which wouldn't seem out of place on a Navy SEAL raid.
The 45mm case is crafted from lightweight titanium with a DLC (Diamond-like Carbon) coating, an extremely hard and biologically compatible material. A watch designed to be operated while wearing gloves, the bezel has Breitling's trademark rider tabs at the cardinal points and the crown is given a special knurled pattern, both included to aid grip.
The Seawolf's few dabs of color are restricted to a red-tipped seconds hand and khaki, stencil patterned Arabic hour markers, meant to 'recall the numbers used on the decks of aircraft carriers. Driven by the Breitling Caliber B17, a modified ETA 2824-2, the widely used workhorse powers the three hands and the date function at the three o'clock, and has a 38-hour reserve. A simple, extremely resilient, and downright cool model, the Seawolf Night Mission is Breitling doing what it does best.
Breitling Super Avenger Chronograph 48
Key Features:
Case Diameter: 48mm
Materials: Stainless Steel
Caliber: Breitling B13
Functions: Time, Date, Chronograph
Bezel: Rotating. 60-Minute Scale
Dial: Black/White
Bracelet: Leather Strap/Steel Bracelet
Water Resistance: 300 Meters
Retail Price: $5,405 – $5,835
A great hulking slab of a watch, the Breitling Super Avenger Chronograph 48 makes an extremely bold statement. 48mm of solid steel means you won't forget you are wearing it, and it's unlikely anyone else who sees it on your wrist will either. Another virtually monochromatic model, the only pop comes from some bright red detailing on the 30-minute sub-dial at the 12 o'clock and the tip of the central chronogrph hand. The rest is all business, white on black.
As with the rest of the Avenger collection, the ratcheted unidirectional bezel has the handy grab handles, and even the chronograph pushers have been given a crosscut pattern for grip. The Caliber B13 runs the show, based on the Valjoux/ETA 7750. A tried and tested highly reliable engine, it has driven countless Breitlings and is as no-nonsense as the watch itself. A real declaration of intent, the Super Avenger Chronograph 48 is not for the fainthearted. The Breitling Super Avenger Chronograph 48 is also available is a Night Mission version, where the use of titanium will make for a noticeably lighter presence, despite the watch's bold dimensions.
The Breitling name is inseparable from the idea of the pilot's watch, and the two have a long and proud history. Today's collections continue this tradition with some of the finest examples in the industry, backed up by highly precise movements and impressive engineering. Whether you choose the full-bodied resilience of the Avenger series, the nostalgia-drenched Aviator 8 range, or the iconic Navitimer, Breitling's hard-won legacy assures you of an unbeatable timepiece.
*Additional images courtesy of Breitling.