Whether you're a fan of Breitling watches or not, there's a certain personality and charm to the classic Navitimer that's just hard to ignore. When compiling a list of iconic watch models (and know that we are well-aware of the over-use of the word 'icon' within the watch industry), once you get past the Daytona, Submariner, Royal Oak, Nautilus, and Speedmaster, you're probably only a few steps at most from naming the Navitimer.
This instantly-recognizable collection of Breitling watches dates back to 1952, and was designed as a pilot's tool first and foremost. Its bezel features a slide rule, a once practical tool for flight prior to the development of modern navigational equipment. Breitling has kept the model as a pillar of its catalog pretty much the whole way through, and though there are layouts that are more classic than others, there are plenty of choices available for those wanting to add another icon to their growing watch collections.
Below we are taking a closer look at just a few of our favorite Breitling Navitimer models that have come through the doors of Bob's Watches over the years.
Choosing Breitling Watches from the Navitimer Collection
BREITLING NAVITIMER 01 REF AB012721/BD09
To kick this list off we had to opt for one of the classics – a reference that's about as true to the original as they come (mostly). The Navitimer 01 is a modern recreation of the original in a much more contemporary case size. Big for a standard watch, but not all that big for the usually oversized pilot's watch category, the 01's steel case measures 46mm across.
Like a number of other Breitling watches, the Navitimer 01 powered by the in-house manufacture caliber B01, a self-winding column wheel chronograph with a power reserve of 70 hours. Though the first Navitimer from 1952 used a black dial with black sub-dials, you'll see quite a few variants like this one in a white on black 'reverse panda' dial configuration.
BREITLING NAVITIMER A35340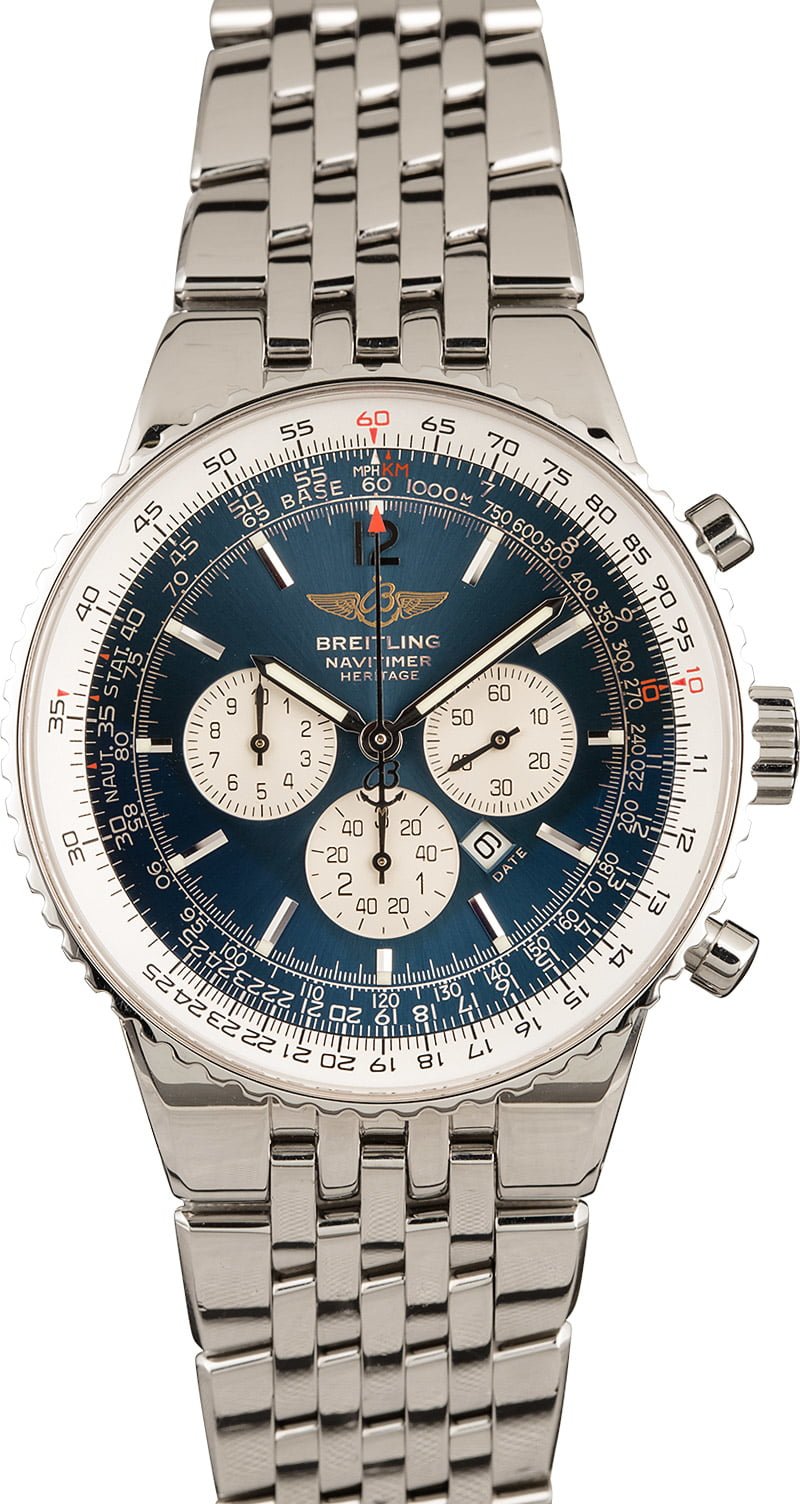 If 46mm is simply too overbearing for your wrist size of wrist – we can't blame you, there are many of us that are in the same boat – then this reference of Navitimer should be more your speed. This blue dial reference is not only a treat on account of its beautiful sunburst dial and more compact 42mm steel case, but it's also one of the rare references that was offered by Breitling on an integrated bracelet.
Due to its high-polished finish, Breitling Navitimer bracelets are an acquired taste that draw a rather polarized 'love-it-or-hate-it' response. Many collectors are not always keen on the all-polished look, but given the asymmetrical design of the bracelet links and the matching finish on the case, it just looks right on the Navitimer.
BREITLING NAVITIMER WORLD A2432212
With a chronograph and slide rule bezel already on board, there was really only one more complication to add to the pile to make the Navitimer more practical for the pilots of the world – a GMT function. Dubbed the 'Navitimer World' in the case of this specific reference, the added complication almost goes unnoticed if not for the red GMT hand and 24-hour scale running around the inner perimeter of its dial.
This is simplified complexity at its finest; so many watches have a knack for seeming cluttered or overloaded as complications are stacked on a design. Perhaps it's the already busy nature of the Navitimer dial that allows the incorporation of a GMT in such an unfussy manner? We aren't certain, but we know that we definitely like how it turned out.
BREITLING NAVITIMER 8 B01 CHRONOGRAPH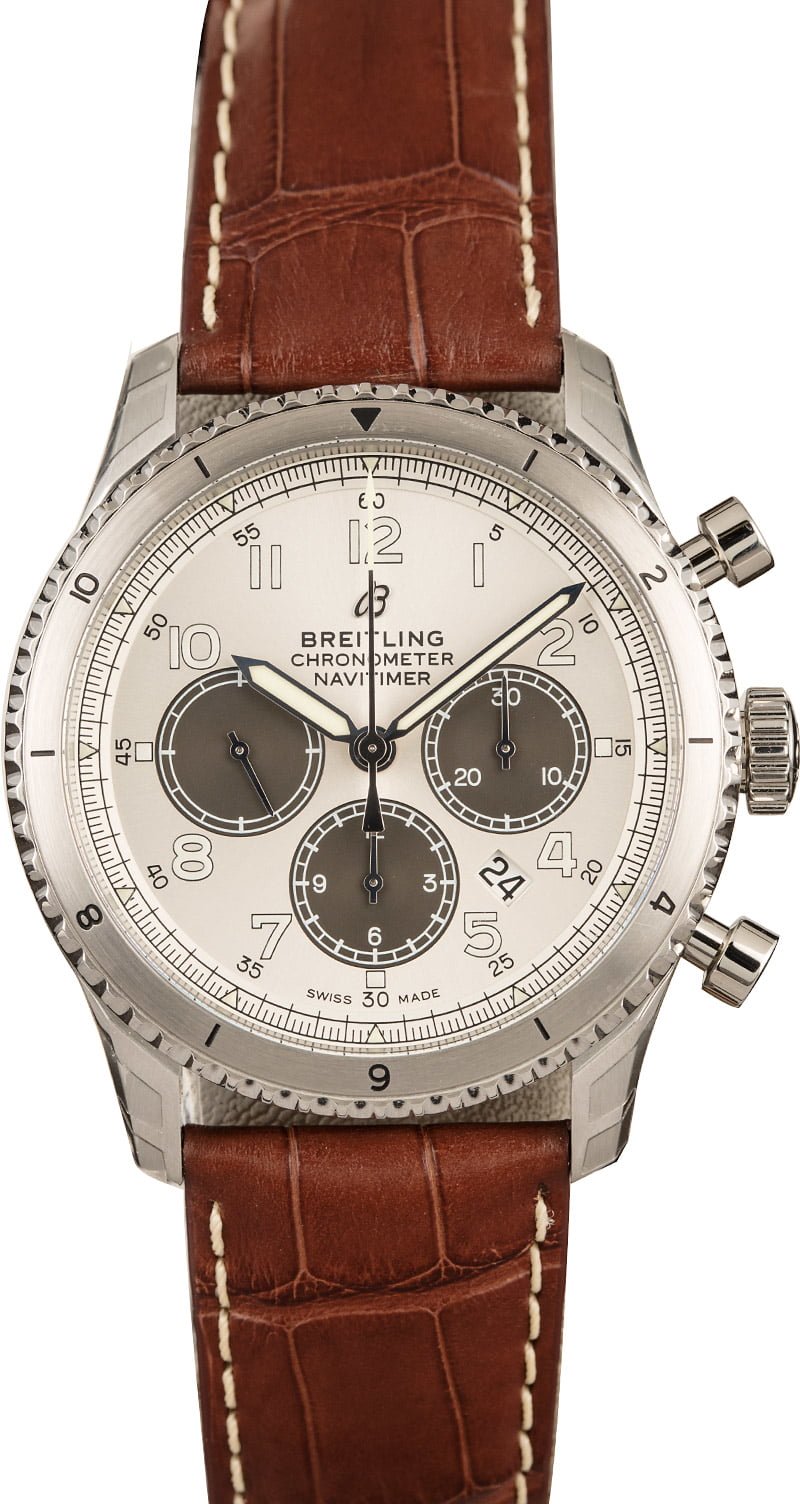 Now, if you didn't see or hear the news about this early 2018 launch from Breitling, you're probably looking at this watch and shouting 'that's not a Navitimer!' but allow us a moment to explain. You see, the brand set out to launch a new series, and without realizing the uproar it would create, an entire series was launched under the name of 'Navitimer 8' – which was later promptly and appropriately changed to 'Aviator 8' within their catalog.
Nomenclature aside, it's a supremely handsome watch, powered by the same B01 manufacture automatic chronograph movement as the first watch we mentioned on this list. Aside from its generally pleasing design, one of the reasons we've added it to the list is that one day (likely at least several decades away), this will be the rare and scarce reference known as Breitling's mistake. Will it be more desirable to collectors at that time? At this point only time will tell.