Luxury Swiss watchmaker Breitling has pulled off the neat trick recently of expanding its portfolio to appeal to a far wider audience, while simultaneously managing to retain the signature styling cues that have made the brand famous in the first place. Breitling, once best known for its ultra-masculine models beloved by military forces all over the world, has become more all-inclusive in the last few years.
Still highly distinctive and certainly noticeable, there has been a subtle toning down across the board. While the enormous, macho behemoths still have their place in the current collection, they now share the space with a catalog of watches that have turned inward, drawing inspiration from some of Breitling's most iconic vintage pieces from the mid-20th century. It is a move that has reawakened and reinvigorated both the company itself and its public perception – and it really all stems from the appointment of Georges Kern as CEO in 2017.
Breitling SA
Today, Breitling is seen as one of the most dynamic and innovative of Switzerland's litany of high-end marques. Its range covers men's and women's models and offers everything from the toughest tool watches all the way through to sophisticated dress pieces. Equally as important, ever since 2009, Breitling has created its own series of in-house movements, a vital step in increasing any brand's value proposition in the eyes of prospective watch buyers and one that transforms the brand into a true manufacturer.
A genuine contender among those who would normally turn to Omega, TAG Heuer, Tudor, and the like, Breitling is on a definite high at the moment. If you were considering one of its models as your next (or first) purchase, we have put together this comprehensive guide covering everything you need to know in order to make a great choice. We will look at the company history, as well as a complete rundown of everything currently available from Breitling.
Breitling Watches
Current Breitling Watch Collections:
– Navitimer
– Chronomat
– Superocean
– Superocean Heritage
– Avenger
– Premier
– Aviator 8
– Professional
Click here for a closer look at some of the most popular Breitling watches.

The History of Breitling
Like many horology brands, Breitling can trace its roots back to humble beginnings. The company was founded by Léon Breitling in 1884, setting up shop in the town of Saint-Imier in the Bernese Jura, the French-speaking area of the Swiss canton of Bern. A German immigrant, fresh from completing his watchmaking apprenticeship, Breitling was only 24-years old when he established his workshop. Yet despite his tender age, the young founder had eyes very much on the future.
The Industrial Revolution had brought sweeping and massive technological changes to all sectors of society, including everything from commerce and engineering to sport and travel. As a result, the clamor for more accurate timing methods was immense, and so Breitling set himself to creating precision chronograph pocket watches and scientific chronometric instruments. With considerable early success, the company changed its location in 1892 to a new factory located in La Chaux-de-Fonds.
L. Breitling, Montbrillant Watch Manufacturing
At the time of his death in 1914, the company, which was renamed Léon G. Breitling Montbrilliant SA Watch Factory, had 60 employees and a reputation as the maker of some of the most reliable and exacting chronographs available. The business was taken over by Léon's son, Gaston who took the early work of his father and improved upon it with a series of ground-breaking innovations.
In Gaston's first year at the helm, Breitling released the world's first chronograph wristwatch with an independent push-piece. By separating the stopwatch controls, which had been activated via the crown up until that point, it greatly simplified the operation of the watch and began to attract one particular group of niche admirers.
The release of this improved chronograph mechanism coincided with the real birth of aviation, and the early pioneers flocked to the new Breitling brand. Desperately in need of an accurate and (crucially) easy-to-use flight timer, the brand's revolutionary chronograph allowed pilots more freedom in their aircraft, away from the cumbersome nature of the pocket watch.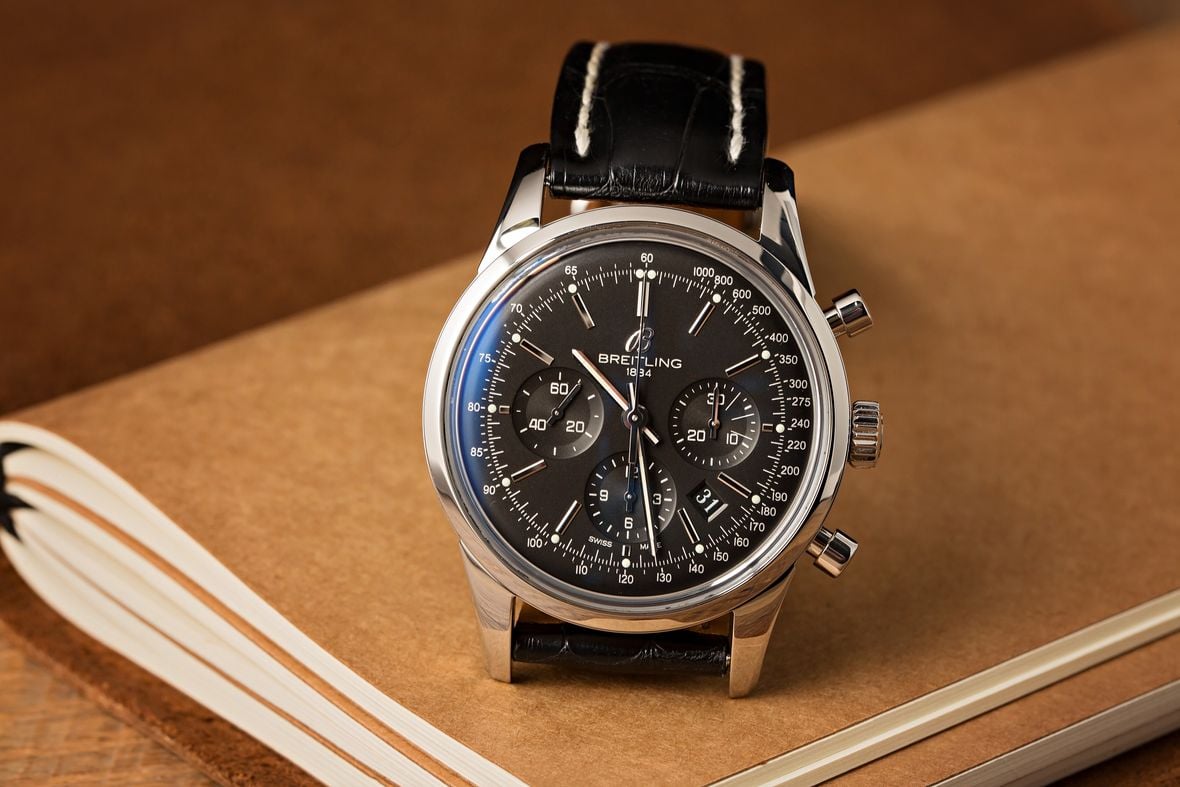 Chronograph Advancements
By 1923, the brand's revolutionary design had been honed still further when Breitling patented the first model (a pocket watch) with the stop/start function of the chronograph independent of the reset button. One of the most important landmarks in the history of the mechanical chronograph, it significantly improved the overall usability of the chronograph and allowed users to stop and then resume the timing of an event without having to reset the measurement of elapsed time back to zero.
These key advancements established Breitling as the leader in chronograph watches by 1930, and the company's status brought it a considerable amount of commercial success among military personnel and civilians alike.
Gaston Breitling passed away unexpectedly in 1927 and by 1932, Gaston's son Willy had taken charge and continued moving the company forward with developments of his own. Two years into his tenure, the first chronograph wristwatch with two push-pieces emerged, expanding upon the design of the revolutionary pocket watch from 1923 with an upper button for the start/stop and a lower button for the reset. Other manufacturers of the era quickly adopted this layout and it has become the basic blueprint for the modern chronograph.
Breitling and Aviation
As Breitling progressed, so did aviation. By 1936, Willy was supplying cockpit instruments to dozens of airlines in addition to becoming the official partner of the U.K.'s Royal Air Force, and the brand's work served with distinction during the darkest days of WWII. Post-war, many anticipated the death of the chronograph and Breitling by extension. However, the brand cannily moved with the times, switching its main focus to producing elegant dress watches for both men and women.
Yet, just as there had been an explosion in the popularity of recreational scuba diving following the technological advances made during wartime, one that had created the market for the dive watch, so it was with flying. An increasing number of people, including both professional aviators and hobbyists alike, were taking to the skies and for them, Breitling created perhaps the most famous pilot's watch of them all: the Navitimer.
In an age before sophisticated navigational equipment, the Navitimer's chronograph complication and slide rule bezel stuffed with logarithmic scales (a feature borrowed from the original Chronomat watch from the 1940s) make the watch an essential item for pilots and a legend within the horology industry. Released in 1952, it became the official watch of AOPA (The Aircraft Owner And Pilots Association) and it is still Breitling's most famous creation today and one that enjoys a huge following.
Breitling Mid-Century
Breitling scored perhaps its ultimate accolade to date in 1962, when NASA astronaut Scott Carpenter helped design and wore a modified Navitimer (called the Cosmonaute) on the first manned American space flight in history, Project Mercury. However, back on the ground, there was another challenge that needed to be addressed. Self-winding watches were becoming increasingly sought after, but no one had managed to create an automatic chronograph movement as of yet, and it was to become the decade's great race.
Breitling teamed up with Heuer, Buren, and Dubois-Depraz to build the first automatic chronograph movement, calling the conglomerate the Chronomatic Group and going into battle against two others; the Swiss pairing of Zenith and Movado, and Seiko based in Japan. In 1969, all three brought a different self-winding chronograph to market and the debate over who really won lives on to this day. Nevertheless, the new self-winding chronographs were all based upon Breitling's two-button layout, and the brand is widely considered to be one of the godfathers of the modern chronograph wristwatch.
This was to be the last major success for Breitling for quite some time. The 1970s brought the quartz crisis and with it, the decimation of around two-thirds of the traditional Swiss watch brands. Worse still, Willy Breitling's ill health forced him to shut down production completely and sell off his trademarks in 1979. The company would not start up again until 1984, under the leadership of Ernest Schneider – an electronics engineer and amateur pilot.
Breitling In The Modern Era
Despite his background, Schneider resumed the production of mechanical watches and in particular, automatic chronographs. It was during his stewardship that Breitling reintroduced the Chronomat, a watch originally designed for scientists and mathematicians, and the Breitling model that first featured the slide rule bezel that would later become the defining feature of the Navitimer pilot's watch.
This new version copied the original Chronomat in name only, but it did bring us the signature rider tabs on the bezel – now a trademark detail widespread across the current collection. The lifesaving Emergency model, complete with its built-in locator beacon, debuted under Ernest Schneider's son Théodore, who took over in the 1990s. From here, Breitling continued to forge partnerships with other high profile collaborators, designing the onboard instruments for Bentley cars from the early 2000s, before going on to create the now-famous 'Breitling for Bentley' line of watches.
In 2017, Schneider sold Breitling to CVC Capital Partners, Europe's largest private equity firm for around €800 Million, for what was then considered a record sum. By appointing Georges Kern to the top job and pumping in massive investment, the group has continued to take the Breitling brand to new heights, bringing out a slew of hugely popular models and carrying on in the same pioneering spirit that has defined the historic Swiss watch manufacturer from the very beginning.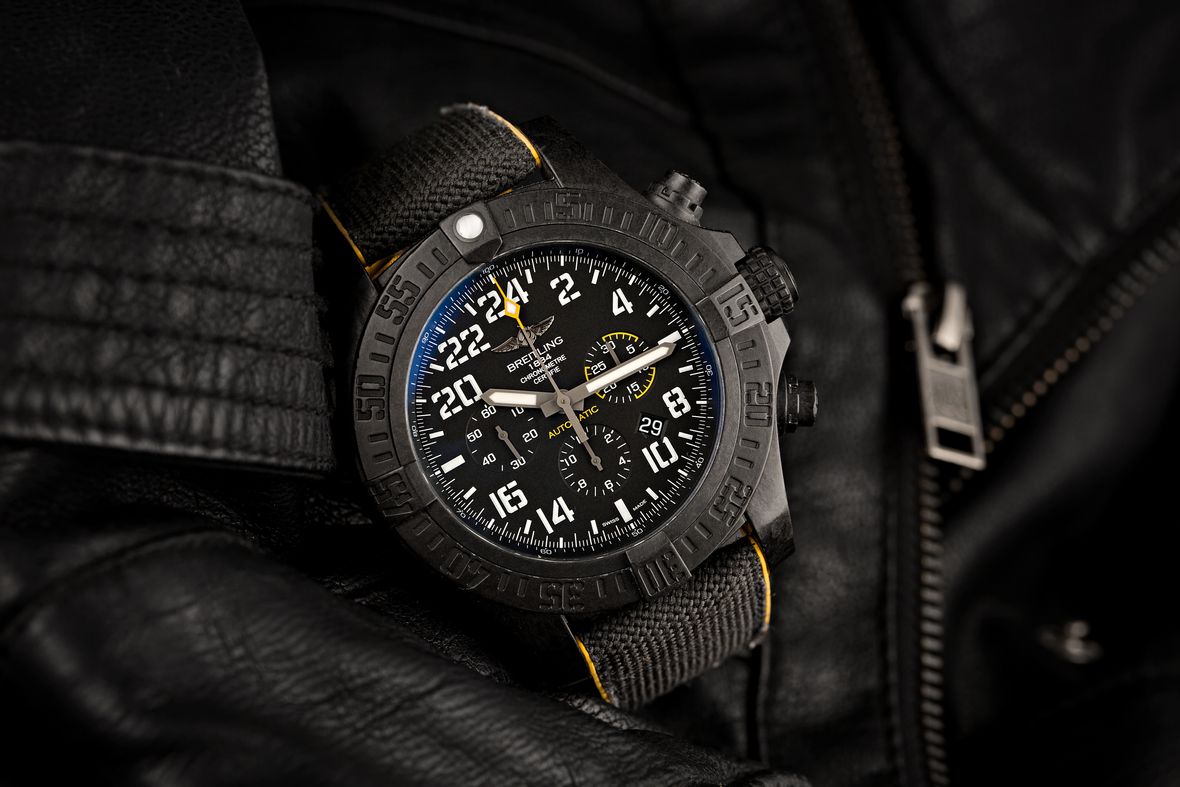 Breitling's Current Collection
Overall, Breitling's current output can be loosely split into diving, aviation, sports, and formal categories spread across eight separate collections. Within those are everything from vintage-inspired retro throwbacks to the very latest in modern designs and technology that are available to the public but aimed at professionals and members of the military.
Due to Breitling's rich history and the crucial role it played in the development of the modern chronograph, the vast majority of its collections contain models fitted with chronograph complications. This is not a modern trend but rather one that has remained largely consistent throughout most of the brand's history, and you will find vintage Breitling chronographs in the form of dive watches, pilot's watches, dress watches, and everything in between.
Additionally, it is also worth noting that just like any brand, Breitling has added and discontinued a number of different models and collections over the years, and certain iconic lines like the Colt are presently not part of the brand's current catalog. However, Breitling has no problem referencing its past and in recent years, the brand has successfully dug into its archives numerous times to revive previously discontinued collections and reissue important models that helped shape its rich history.
Breitling Chronomat
Chronomat Key Features:
– Case Size: 32mm; 36mm; 42mm
– Materials: Stainless Steel; Two-Tone Steel & Red Gold; 18k Red Gold
– Functions: Time & Date, 12-Hour Chronograph
– Dial: Green; Blue; White; Black; Copper; Silver; Anthracite
– Bezel: Fixed or Unidirectional, Stainless Steel; Red Gold; Gem Set
– Crystal: Sapphire
– Water Resistance: 100m; 200m
– Movement: SuperQuartz™ Breitling 77; Breitling 10 (Automatic); Breitling 01 (In-House Automatic)
– Strap/Bracelet: Metal Bracelet; Leather Strap; Rubber Strap

In 1984, Breitling celebrated its centenary by re-releasing the Chronomat, an all-purpose collection of automatic chronographs for men. Although the Chronomat name first appeared during the 1940s, the debut model from the new collection was launched the year before as a special edition for the Italian Air Force's aerobatic demonstration team, the Frecce Tricolori. However, its design (and in particular its chunky and durable case) struck a particular chord with civilian watch buyers in addition to professional pilots.
Since then, the Breitling Chronomat range has been expanded, redesigned, lost the largest 44mm size (replaced by one with a 42mm), and generally gone a more vintage-looking route. Additionally, the introduction of a series of smaller, time-and-date 32mm quartz and 36mm automatic models has given Breitling's best-selling offering a truly unisex appeal and expanded its signature aesthetic to a much wider range of buyers.
All told, the Breitling Chronomat family currently consists of 27 models, each with the model's signature bezel featuring its emblematic tabs at the cardinal points – regardless of whether they rotate (on the chronographs) or not (all the time and date models). Just as notable, the latest generation of the Chronograph pairs every model on the beautiful Rouleaux bracelet, an intricate throwback to the original Frecce Tricolori example from the 1980s.
Breitling Superocean
Superocean Key Features:
– Case Size: 36mm; 42mm; 44mm; 46mm; 48mm
– Materials: Stainless Steel; Two-Tone Steel & Red Gold; Titanium
– Functions: Time Only, Time & Date
– Dial: Green; Blue; White; Black; Yellow; Orange
– Bezel: Unidirectional w/ Blue, Black, or White Ceramic Insert (Bidirectional on 48mm Model)
– Crystal: Sapphire
– Water Resistance: 200m; 300m; 500m; 1000m; 2000m
– Movement: Breitling 17 Automatic
– Strap/Bracelet: Metal Bracelet; Rubber Strap; NATO Strap

The brand's history with aviation may extend back further, but Breitling also has a storied legacy with the underwater world. The Superocean name first appeared in 1957, during the golden age for the dive watch and one that also brought us the likes of the Blancpain Fifty-Fathoms, the Omega Seamaster 300, and (of course) the Rolex Submariner.
Today, there are two dive watch collections within Breitling's catalog that go by the "Superocean" name. There is the studiedly retro-inspired Superocean Heritage (which we will cover below) and also the standard, thoroughly modern range that now acts as the entry-level product following the retirement of the Colt series. However, that 'entry level' label is not really an accurate description. Breitling Superocean watches are some of the most capable and distinctive divers on the market at any price.
The 18 different models vary in size from 36mm (promoted as a woman's watch) up to enormous 48mm pieces (some proper old school Breitling posturing) and these models have a variety of different depth ratings that range between a very respectable 200 meters all the way down to an incredible 2,000 meters.
Additionally, Breitling has injected a bit of fun into the series with some larger-than-life dial details and blindingly bright color combinations. For the most part, the models stick to hardy stainless steel, some with a DLC coating, and the top-of-the-range model adds a dash of red gold to the bezel. However, despite their sometimes lighthearted looks, these Breitling Superocean watches are serious performers, with helium escape valves fitted to many models, and dials and hands swamped in plenty of lume for low-light visibility.
Breitling Navitimer
Navitimer Key Features:
– Case Size: 35mm; 38mm; 41mm; 45mm; 46mm
– Materials: Stainless Steel; Two-Tone Steel & Red Gold; 18k Red Gold; Platinum
– Functions: Time Only, Time & Date, Chronograph, Rattrapante Chronograph, GMT
– Dial: Silver; Black; Blue; Anthracite; White; Copper; Mother-of-Pearl
– Bezel: Bidirectional, Slide Rule Scale
– Crystal: Sapphire
– Water Resistance: 30m
– Movement: Breitling B01 (In-House Automatic); Breitling B03 (In-House Automatic); Breitling B09 (In-House Automatic); Breitling 13 (Automatic); Breitling 17 (Automatic); Breitling 24 (Automatic Dual Time Zone)
– Bracelet: Metal Bracelet or Leather Strap

Breitling's most famous creation – and one of horology's all-time icons, the Navitimer is the granddaddy of aviation watches. Launched in 1952, it borrowed heavily from the brand's original Chronomat model created for scientists and engineers during the 1940s but incorporated the E6B circular slide rule used by pilots onto its bezel. With it, all the most essential flight calculations could be computed quickly and easily – climb and descent speed, fuel consumption, and airborne time (among many others).
A hit from the get-go, the Breitling Navitimer was developed in conjunction with -and became the official watch of – the AOPA and even experienced the vacuum of space on the wrist of NASA astronaut Scott Carpenter. With the exception of a couple of years at the start of the 1980s as Breitling regrouped following the quartz crisis, the Navitimer has been in constant production for nearly 70-years. There has been some progress and evolution over the course of all that time – date functions have been added, as have automatic movements, and there have even been a handful of digital versions – but the models available today (even the non-chronographs) all share strong roots with the pioneering original.
You can now take your pick from five different sizes, ranging from an unusual 35mm all the way up to 46mm, as well as the option to go time only, time and date, regular or rattrapante chronograph, or even a chronograph model paired with GMT functionality. One of the undisputed greats of watchmaking, the Breitling Navitimer makes a classy addition to the collection.
Breitling Superocean Heritage
Superocean Heritage Key Features:
– Case Size: 42mm; 44mm; 46mm
– Materials: Stainless Steel; Two-Tone Steel & Red Gold; 18k Red Gold
– Functions: Time Only, Time & Date, Chronograph, Chrono Day-Date
– Dial: Green; Blue; Silver; Black
– Bezel: Unidirectional, Blue or Black Ceramic Insert w/ 60-Minute Scale
– Crystal: Sapphire
– Water Resistance: 100m; 200m
– Movement: Breitling B01 (In-House Automatic); Breitling 10 (Automatic); Breitling 13 (Automatic); Breitling B20 (In-House Automatic)
– Water Resistance: 100m; 200m
– Bracelet: Metal Bracelet; Rubber Strap; NATO Strap; Leather Strap

One of the most successful expressions of the vintage-inspired revival craze – from any brand in recent years, Breitling's Superocean Heritage series has been a massive hit with the watch buying public. First released in 2007 on the 50th anniversary of the original Superocean model and then updated in 2017, this collection of dive watches covers three sizes, three metal combinations, and comes with a choice of four different complications.
Within that are the standard run pieces, ranging from 42mm to 46mm, each of which pays a respectful homage to the debut Superocean watches; the time-only ref. 807 and the chronograph ref. 1004 from 1957. However, they have most definitely been modernized, with a longer and less squat appearance than the 1950s models. The bezels now all have ceramic inserts with just the five-minute hash marks as they should be, and the indexes and handsets are similar but not exact duplicates. In all, they are nostalgic without overdoing the vintage-inspired sentiment.
However, there are also a number of limited and special edition watches that are virtual recreations of those initial models, recreating everything right down to the last detail apart from the size (42mm over the original's 39mm) along with improved materials. The movements across the collection are a mix of in-house engines, modified ETA calibers, and the Cal. B20 – a reworked MT5612 from Tudor for the time-and-date models. Overall, these Superocean Heritage watches are a trip down memory lane and offer the aesthetics of yesteryear with today's modern materials and manufacturing techniques.
Breitling Aviator 8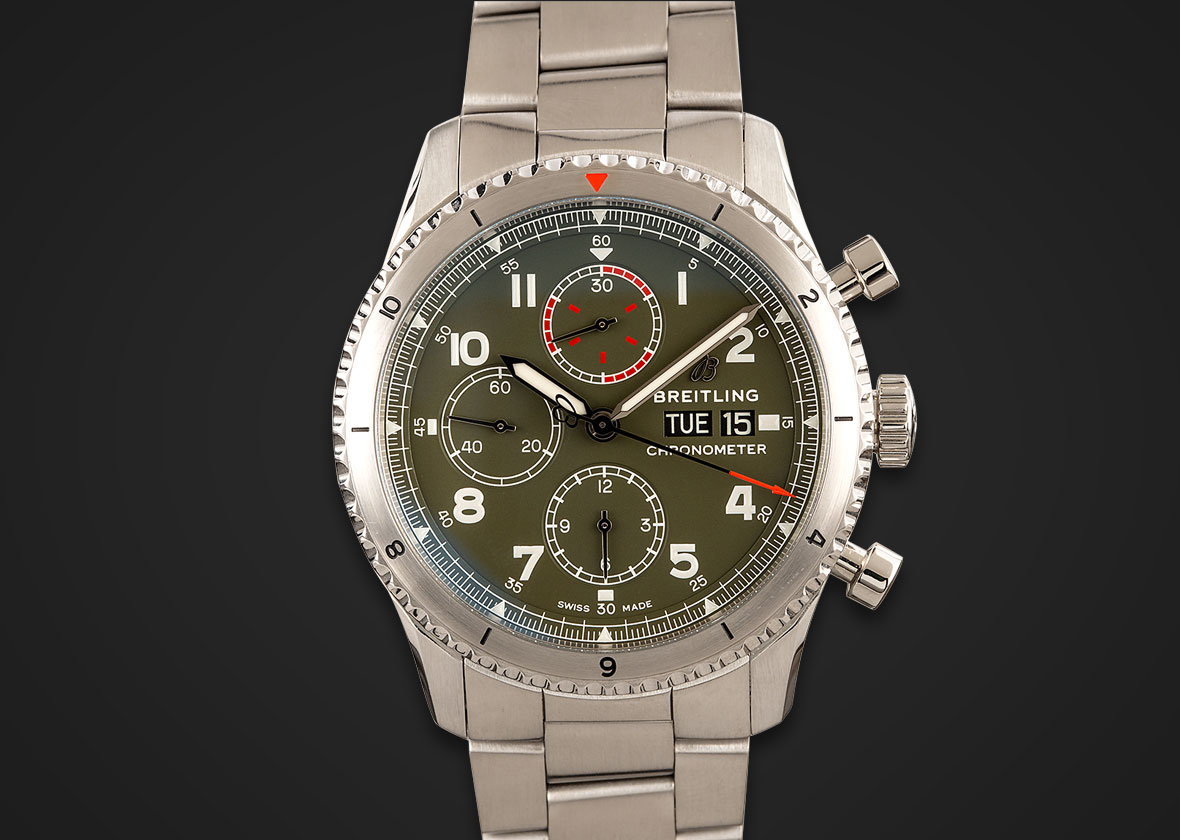 Aviator 8 Key Features:
– Case Size: 41mm; 43mm; 46mm
– Materials: Stainless Steel; 18k Red Gold; Titanium
– Functions: Time Only; Time & Date; Day-Date; Chronograph; World Time
– Dial: Green; Blue; Silver; Black; Bronze; Anthracite
– Bezel: Bidirectional, Stainless Steel or Red Gold
– Crystal: Sapphire
– Water Resistance: 30m; 100m
– Movement: Breitling B01 (In-House Automatic); Breitling B09 (In-House Automatic); Breitling 13 (Automatic); Breitling 17 (Automatic); Breitling B20 (In-House Automatic); Breitling B35 (In-House Automatic); Breitling 45 (Automatic)
– Strap/Bracelet: Metal Bracelet; NATO Strap; Leather Strap
The first collection released under Georges Kern's governance started out as a bit of a head-scratcher. It was originally called the Navitimer 8, borrowing the name from the brand's most famous (and distinctive) pilot's watch collection. However, while still chronographs, the aesthetics of this new range were clearly inspired by Breitling's WWII models, which preceded the 'real' Navitimer by around 10-years and lacked the models' trademark slide rule bezel. Even renaming the model the Navitimer 1 didn't quell the confusion, and so in 2019, the Navitimer 8 had its title changed to the Aviator 8.
All that aside, Kern's debut series in charge illustrated exactly where his ambitions lay regarding the return to Breitling's roots. The Aviator 8 watches have a real 1930s/1940s feel to them but are thoroughly modern timepieces when it comes to capabilities and proportions. They are a collection of big, robust-looking offerings that, unlike much of the rest of the catalog, seem to be aimed at a largely male audience rather than a predominantly unisex one.
The 20 pieces available now range from simple three-handed watches to day-dates, chronographs, and even two intriguing world timers (or as Breitling has christened them, the Unitime – the name borrowed from a vintage model from the 1960s). The Breitling Aviator 8 was a taste of things to come from the brand, and the collection has remained a popular and highly regarded one, representing an ideal blend of contemporary and retro.
Breitling Avenger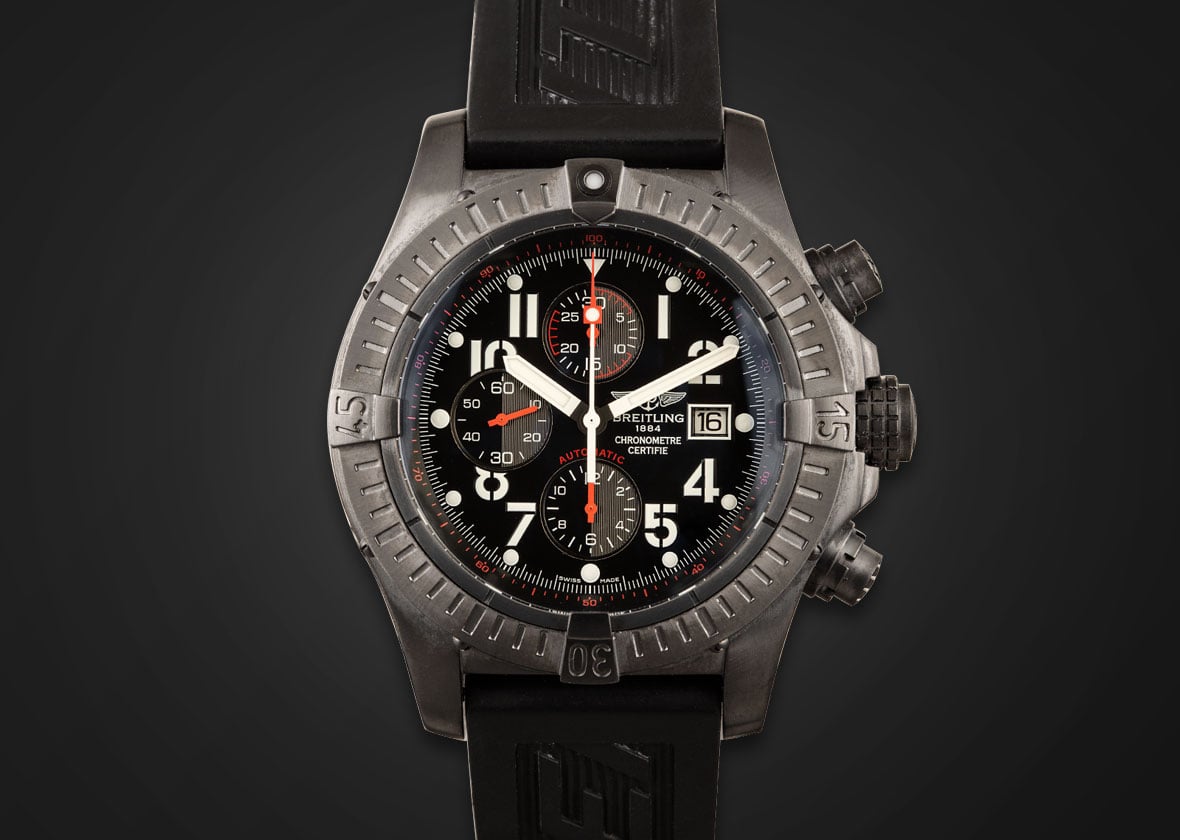 Avenger Key Features:
– Case Size: 43mm; 45mm; 48mm
– Materials: Stainless Steel; DLC-Coated Titanium
– Functions: Time Only; Time-and-Date; Chronograph; GMT
– Dial: Green; Blue; White; Yellow; Black
– Bezel: Unidirectional, Stainless Steel or Titanium
– Crystal: Sapphire
– Water Resistance: 300m; 3000m
– Movement: Breitling 13 (Automatic); Breitling 17 (Automatic); Breitling B32 (Automatic)
– Strap/Bracelet: Metal Bracelet; Leather Strap

Subtle, understated, and reserved – none of these words describe the Breitling Avenger collection. Add to that the fact that the smallest model available is 43mm (and that the series as a whole is called the "Avenger") and you get some idea of just how bold and in-your-face most of the watches are that make up this collection. Here we have Breitling watches from the old approach to design. As a whole, the Avenger series consists of great hulking pieces built for maximum durability and designed for rigorous professional use.
Debuting in 2001, the Breitling Avenger was one of the last models in the catalog to be revamped following the brand's takeover by CVC, with the range finally getting an update in 2019. Styling-wise, the new models have picked up where the now-discontinued Colt line left off. Everything, from the crown to the pushers, to the bezel with its rider tabs, is big, chunky, and made to be easily operated even when wearing gloves.
Theoretically, these are pilot's watches, but with a 300 meters water resistance across the board (and the Seawolf Night Mission rated to an insane 3,000 meters) they easily double up as divers as well. The collection comes in three sizes, 43mm, 45mm, and 48mm and it includes time-and-date, chronograph, and GMT models, crafted from either stainless steel or DLC-coated titanium. A great option for those who want their watch noticed, the Breitling Avenger offers some of the most imposing wrist presence in the business
Breitling Premier
Premier Key Features:
– Case Size: 40mm; 42mm
– Materials: Stainless Steel; 18k Red Gold
– Functions: Time Only; Day-Date; Chronograph
– Dial: Green; Blue; Brown; Black; Anthracite; Silver
– Bezel: Fixed, Stainless Steel or Red Gold
– Crystal: Sapphire
– Water Resistance: 100m
– Movement: Breitling 01 (In-House Automatic); Breitling B13 (Automatic); Breitling 17 (Automatic); Breitling B23 (Automatic); Breitling B37 (Automatic); Breitling B45 (Automatic)
– Strap/Bracelet: Metal Bracelet; Leather Strap

The antithesis of the Avenger series, the Premier range is Breitling's dress watch collection. Originally stemming from the 1940s and designed by Willy Breitling himself, the Premier was the first offering from the brand dedicated simply to style and elegance, rather than to serve below the sea or in the air.
The modern reinterpretation can be found with 40mm or 42mm case sizes, which is still not tiny by dress watch standards, and it is available in a variety of configurations from time-only, to day-date models and chronographs. Within that are a number of spectacular limited editions, collaborations with some of the top names in motoring such as fabled British motorcycle manufacturer Norton, Australian custom bike specialist Deus Ex Machina, and (of course) long time cohort Bentley, for whom Breitling has been supplying dashboard instruments since 2002.
Breitling may be best known for its ultra-rugged sport and tool watches, but the Premier showcases an entirely different side of the brand and offers the perfect alternative to its famous purpose-built tool models. A beautiful family of watches that manages to balance a host of modern and retro details, the Premier is Breitling at its most refined and formal.
Breitling Professional
Professional Key Features:
– Case Size: 43mm; 44mm; 51mm
– Materials: Breitlight; Titanium
– Functions: Chronograph; Professional Pilot & Personal Survival Functions
– Dial: Blue; Black
– Bezel: Unidirectional or Bidirectional, Breitlight or Titanium
– Crystal: Sapphire
– Water Resistance: 50m; 100m
– Movement: Breitling 76 (SuperQuartz™); Breitling 79 (SuperQuartz™); Breitling 82 (SuperQuartz™)
– Strap/Bracelet: Metal Bracelet; Rubber Strap
There are tool watches, and then there are watches that can genuinely save your life. Although the majority of the Breitling headlines of late have concentrated on their highly successful reworked classics, not everything the brand produces has called for a dip into the archives. Paradoxically, Breitling also stands at the forefront of some of the most advanced wearable tech out there, and the Professional Collection is where it all lives.
The three-model, 10-piece family is entirely quartz-powered and contains everything from sports watches for the everyday athlete to indispensable emergency equipment that is designed for professional use. At the more tame end is the Endurance Pro that features cases made from the brand's proprietary Breitlight material (an advanced polymer more than three times lighter than titanium and nearly six times lighter than steel). It features a bidirectional rotating compass bezel and is powered by an incredibly precise, thermo-compensated SuperQuartz™ movement, accurate to just 15-seconds a year. The five models come in a range of bold colors making them perfect for active lifestyles.
The Breitling Aerospace Evo is where things start to get really exciting. This full-on professional pilot's wrist instrument, marrying analog and digital displays inside its 43mm titanium case and is really more of a multifunctional computer than a traditional wristwatch. Containing everything from additional time zones, alarms, timers, and perpetual calendar functions, it manages to pack it all into a wearable package that retains Breitling's key design cues.
Lastly, there is the Breitling Emergency. This astonishing achievement is something of an Evo on steroids and does everything the Aerospace does and more, Most notably, it features a built-in, dual-frequency PLB (Personal Locator Beacon). When deployed, it emits a distress signal that alerts rescue authorities that you are in danger and need to be rescued. A watch for the real adventurers, the Breitling Emergency is the timepiece to have when venturing into the great unknown.