Oris has been manufacturing some of the most high-quality and exquisitely designed watches for over a century. Since this brand has been thriving in the market since time immemorial, it also adapted to changes in time and created novel yet vintage designs for its users. Swiss Watch brand Oris is well-known in the luxury watch to may exceed expectations in terms of watchmaking.
Some of its most popular designs include the Oris Artelier and Oris Aquis. These timepieces range from casual and classic, to athletic watches designed for various functions. One of their most coveted designs to date is the bronze Oris watch. Long-term watch connoisseurs have been seeking the best bronze watch, which can only be found at Oris.
If you want to learn more about how Oris bronze watches dominated the watch industry, read this buying guide. You can also browse our Oris collections for purchasing ideas.
The Origin of Oris Watches
Before delving into the makings of a bronze Oris watch, it's good to know how and when the watchmaker came to be.
Oris' founding date can be traced back to 1904, when Swiss watch companies heavily depended on hydropower to run their operations. They have been relying on this energy source since the 1800s. Oris' main energy source came from the Oris river, which streamed behind the factory, thus becoming the company's namesake.
Oris watches essentially emanate an industrial feel, given its inclination to produce timepieces for outdoor use. Oris also supports various conservationist groups that reflect its care for the environment. This is how Oris gained support from all over the world aside from creating some of the best watches out there.
Oris further gained more prominence by releasing crowd favorites, the Divers 65 and Calibre 400, on top of their smash-hit bronze Oris watches that people love. These models gained more popularity through their impressive features such as a five-day power reserve, buck in-house movements, a 10-year warranty, and antimagnetic properties.
Also one of the factors that made Oris a popular choice among watch enthusiasts is their deep-seated connection with their patrons. They operate independently, and you can see them greeting customers at local watch meet-ups or even mall trade shows. They want their customers to feel special and strengthen the rapport between them.
The Oris catalog is divided into four categories, which include aviation watches, dive watches, classic watches, and non-sports watches. People still tend to break these further into various categories, but it is basically how the different Oris watches are sorted.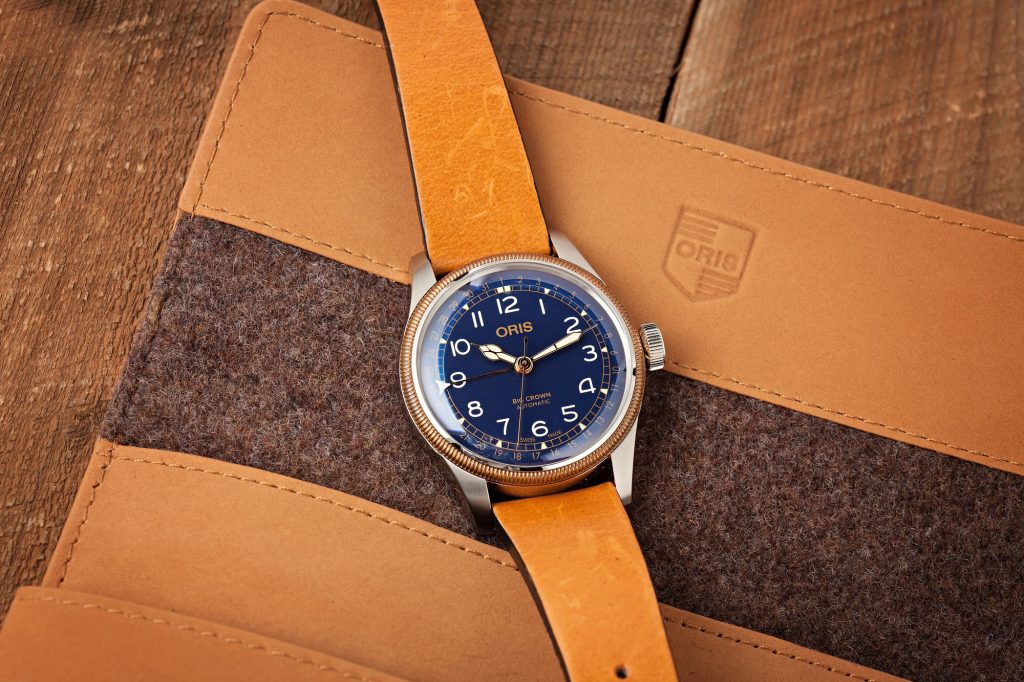 Reasons People Love Bronze Oris Watches
Aside from the stunning aesthetics that bronze Oris watches provide, they are also known for their functionality and quality. Their visually appealing features may urge you to purchase one, but did you know that bronze watches have even more to offer? Oris bronze watches are sought after for various reasons.
Great as Diving Watches
Bronze Oris watches are widely used for diving, and it's because of their non-corroding properties. Saltwater is one of the biggest culprits of metal corrosion. However, Oris bronze watches can withstand it with the long-term, developing layer, which is stable and oxidized. This layer, in the long run, works as a protection for the case.
The oxidation process is no cause for concern since it helps protect the outer layer of your watch from deterioration. Aside from the sturdy nature of Oris bronze watches, they are also highly affordable for luxury products.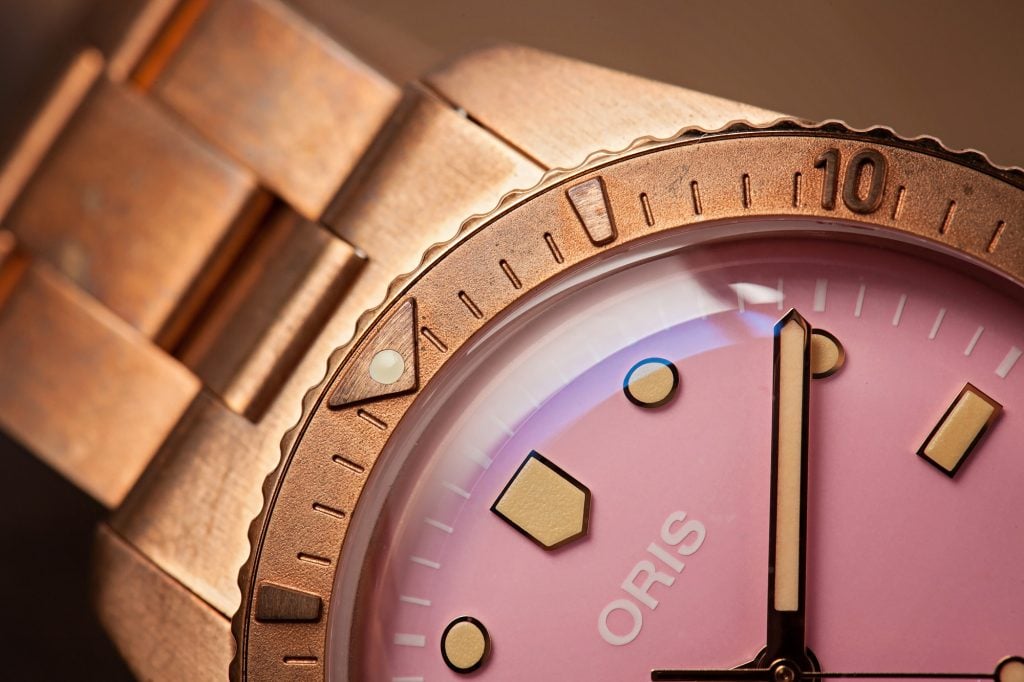 The Patina
Bronze watches are well-loved for the inherent vintage look that develops over time. Because of the copper, Oris bronze watches will change in surface color and appearance over time. They will transform into a dark green or gray color, or perhaps a bright, gold, yellowish turn, which is called the patina.
Moreover, the patina serves as a repository of a person's memories and experiences, since the oxidation process likewise depends on the environment it is subject to. Most watch connoisseurs believe that this gives the bronze Oris watch its very own personality, stained by time and crafted through experiences.
While others prefer the precious patina, some tend to shy away from it. This is where the cleaning process comes in.
Low-Maintenance
If you're not a big fan of the vintage-looking patina, you can always restore your Oris bronze watches with substances you can find in your kitchen cabinet or cupboard. Some of these include soda, lemon, or ketchup. These acids will not be as hard on your watch as other cleaning agents.
All you have to do is simply rub your bronze Oris watch or bronze Oris big crown with any of these substances gently. You can also rub it against a lemon if preferred. Leave the substance for about 10 to 30 minutes, then rinse the watch thoroughly and wipe it off with a dry cloth. For stubborn stains, you can use a soft toothbrush while rinsing. Through this simple and practical process, you can bring the original luster of the watch without the patina.
Categories of Bronze Oris Watches
To help you select the best bronze Oris watch for you, here are the kinds of Oris watches you should look out for in our collection.
Aviation Watches
Oris's aviation watch models consist of modern-styled and vintage-inspired models. They are all called Big Crowns, such as the Oris bronze Big Crown. This is because pilot watches are often equipped with big crowns for easy operation while wearing gloves. The vintage-inspired ones are designed with pointer dates, while the modern-styled models evolved to a more diverse range of functionalities.
One of the most popular Oris aviation watches is the Oris Big Crown Pointer Date. You can see how its design has an old-school pilot vibe but is equipped with modern watch technology. The pointer-date screams vintage, and these models come in limited editions such as the one with 403 movements and a weekday pointer.
Dive Watches
Some of the most popular bronze Oris watches are dive watches. These are again categorized into modern and vintage-inspired watches. The modern-styled watches are typically equipped with complex parts, and the vintage ones are close remakes of the back-catalog classics. One of the most renowned dive watches is the Divers Sixty-Five.Oris dive watches often consist of chronograph models, various limited editions, a variation of sizes, and two-toned, bronze-and-steel bracelets. Some even come in nylon, leather, rubber, canvas, or metal.
You've probably heard of the Aquis since they are very famous on the market. You can sport this model from the office to the depths of the sea. Its sleek appearance makes it a versatile timepiece for all occasions and for all diving seasons. The Aquis can withstand depths up to 300 meters.
You can find the Aquis collection in different designs, such as its bronze Oris contemporaries. Bronze dive watches are preferred to withstand saltwater and stay long-lasting despite changing weather conditions.
Classic Watches
For Oris, nothing still beats the classic. All of their non-sporty collections fall into a single collection called the Atelier. These watches lean towards a dressy and versatile vibe you can wear daily. There are also artistic styles that fit artists, musicians, and those who prefer stylish over laidback designs.
The Atelier collection includes mid-century-styled and minimalist models that exude elegance. Some of their designs are the most artistic finds you'll ever have, such as those that are equipped with moon phase displays, asymmetrical complications, a 10-day power reserve model, a pointer week-dater, and a three-register annual calendar.
Choose the Best Bronze Oris Watch For You
You will never run out of options with bronze Oris watches since they come in numerous categories, sizes, functionalities, and purposes. If you're more on the sporty side, you can check their diving and aviation watches. Meanwhile, if you're more on the laid back and casual side, feel free to browse through their classic designs.
Regardless of your preference, know that Oris is tested-and-proven with time, and you can never go wrong with buying one. For authentic bronze watches, you can always check our shop and see luxury brands at an affordable price. Go for Oris watches if you want something that will stand the test of time.