Grand Seiko is a manufacturer of fine luxury watches and the premium sibling company of the famous Japanese watchmaker Seiko. While normal Seiko watches are beloved for their low prices, tough construction, and dependable movements, Grand Seiko watches are in an entirely different league of their own. Make no mistake, Grand Seiko watches are fine luxury timepieces crafted to the highest standards that rival many of the most famous and prestigious Swiss watches on the market.
To understand and appreciate Grand Seiko is to understand the spirit of Takumi – the Japanese word for artisan. Each artisan that has a hand in making a Grand Seiko watch is a master of his or her craft, and that dedication to beauty and extraordinary attention to detail is evident in the pieces that bear the GS name. However, a Grand Seiko watch goes far beyond beauty – the engineering and tech that powers them are as impressive as illustrated by the movements found inside each case.
Whether you're relatively new to Grand Seiko or are simply looking to learn more about these fascinating high-end timepieces from Japan, read our ultimate guide to Grand Seiko watches.
Grand Seiko Timeline
Grand Seiko Timeline & Important Events
1960: First Grand Seiko watch.
1964: First Grand Seiko Self-Dater.
1967: Grand Seiko 44GS, which establishes the design codes of the line.
1967: First automatic Grand Seiko.
1968: First Hi-beat automatic Grand Seiko.
1968: First Hi-beat hand-wound Grand Seiko.
1968: First Hi-beat women's Grand Seiko.
1969: First super high precision Grand Seiko watches.
1970: Slim automatic Grand Seiko.
1988: First quartz Grand Seiko, which offered an accuracy rate of ±10 seconds per year.
1989: First quartz Grand Seiko water-resistant to 100 meters.
1998: Grand Seiko 9S5 automatic series.
1999: Seiko releases the groundbreaking Spring Drive hybrid movement.
2002: First Grand Seiko GMT.
2004: First Grand Seiko Spring Drive.
2007: First Grand Seiko Spring Drive Chronograph.
2010: Grand Seiko launches in the international market.
2014: First Grand Seiko Hi-Beat GMT.
2016: First ceramic case Grand Seiko.
2016: Grand Seiko Spring Drive 8-Day Power Reserve.
2017: Grand Seiko is announced as an entirely separate brand from Seiko.
2018: Grand Seiko of America is founded.
Click here for a comparison between Rolex and Grand Seiko watches.

A Brief History of Grand Seiko
Grand Seiko made its debut in 1960 with the stated goal to "be the ideal watch" in the form of a beautiful and durable handcrafted timepiece with a chronometer-certified movement. The inaugural Grand Seiko was the first watch in Japan to be granted the standard of excellence by the Swiss Bureaux Officiels de Contrôle de la Marche des Montres (a precursor to today's COSC institution).
That milestone set the stage for Grand Seiko's pursuit of excellence. However, in the mid-1970s, Seiko had to discontinue Grand Seiko as the market favored quartz watches over mechanical ones. Ironically, Seiko was the one that pioneered quartz timekeeping technology and laid the groundwork for the Quartz Crisis.
Thankfully, Grand Seiko returned in the late-1980s, offering quartz and mechanical models, and a decade later, a hybrid of the two thanks to Seiko's innovative Spring Drive movement. With that in mind, Grand Seiko was once exclusive to the Japanese market and it was only officially released to international markets in 2010.
In 2017, it was announced that Grand Seiko would be an "entirely separate brand" from Seiko. One design change that came about with the announcement was that the Grand Seiko logo is now alone on the dial, positioned under 12 o'clock. Previously, the Seiko logo was placed under 12 and the GS logo at 6 o'clock. The following year, Grand Seiko affirmed its commitment to the U.S. market by not only creating the Grand Seiko of America company but also launching a series of models exclusive to the American market.
Grand Seiko Signature Design Traits
Although the Grand Seiko 44GS was the third generation of Seiko's premier watch line, it is recognized as one of the most important because it codified the design language of the line. This outlined what is often referred to as the "Grammar of Design" and which later became known as the "Grand Seiko Design Style."
Though the entire Grand Seiko collection from the 1960s until today is varied in terms of material, color, size, complication, and movement choices, there are nine design elements found across the vast majority of Grand Seiko watches since the 1967 launch of the ref. 44GS:
Multi-faceted rectangular indexes
Double index at 12 o'clock
Multi-faceted hands
Highly polished bezel
Multiple highly polished surfaces on the case
Half recessed winding crown
Flat dial
Curved case sides
Reverse slanted bezel wall and case side
Grand Seiko watches may look relatively simple upon first glance, but speak to anyone who has held one in hand and they'll immediately tell you that the finishing and proportions are impeccable. Light and shadows are constantly playing off each other, and every angle, surface, and detail plays a part in the harmony of the whole design.
What is Zaratsu Polishing?
Grand Seiko cases benefit from Zaratsu polishing to achieve perfectly flat and smooth surfaces that's characteristic of the brand. Zaratsu polishing is a technique that takes many years to master and results in a mirror-like finish that is free from distortions. Furthermore, it creates the sharp ridges where two planes meet, which is essential to the Grand Seiko Design Style.
Grand Seiko Dials
One of the most enchanting components of Grand Seiko watches is the dial – many of which draw inspiration from nature and changing seasons. Grand Seiko dials are exquisitely finished, and many of them are as famous as the watches that house them. They often include intricate patterns, textures, or rich colors, meticulously handcrafted by artisans.
Some standout Grand Seiko dials include:
Snowflake dials
Mosaic dials
Mt. Iwate dials
Silken Sunray dials
Spring dials
Autumn dials
Whirlpool dials
Kirazuri dials
Sōkō Shadow dials
White Birch dials
Minamo dials
Arguably the most popular Grand Seiko dial is the Snowflake dial, inspired by the delicate patterns found in fresh windswept snowfall. These dials are not painted white but are instead created via a special silver-plating process that results in the subtle ripple textured pattern.
Grand Seiko Movements
Grand Seiko has two main manufacturing facilities: the Grand Seiko Studio Shizukuishi for mechanical timepieces and the Shinshu Watch Studio for Spring Drive and quartz models.
Today, Grand Seiko manufactures three main movement families:
Caliber 9F quartz movements
Caliber 9S mechanical movements (including both automatic and manual winding)
Caliber 9R Spring Drive movements
Additionally, each of these caliber families is further available in an assortment of different complications and configurations.
The Spring Drive is a unique movement that marries the high precision system of an electronic watch with the high torque of a mechanical one. Therefore, the Seiko Spring Drive movement is powered by a mainspring (like a mechanical watch) but transmits a precise signal through a quartz crystal oscillator to an integrated circuit (like a quartz watch), instead of using a traditional hairspring to govern timekeeping.
Grand Seiko References Explained
Modern Grand Seiko watches, defined as those released in 1988 onwards, follow a specific reference numbering system that can tell you a lot about the watch. Grand Seiko references have seven characters – four letters followed by three digits.
The letters in Grand Seiko reference numbers indicate the type of movement that powers the watch. The three digits in the reference numbers identify a model within the series and define the material that the bezel is made of. Although there are exceptions, generally speaking, even numbers are assigned to rose or yellow gold bezels while odd numbers are assigned to steel, titanium, and white gold bezels. Additionally, ST watches are classified as women's watches.
Here is a detailed list of Grand Seiko letter codes, what they signify, and when they were introduced:
| | | | | |
| --- | --- | --- | --- | --- |
| Series | Intro Year | Movement Type | Caliber | Features other than Time |
| SBGS | 1988 | Quartz | 9581, 9587 | [Date 9587] |
| SBGG | 1990 | Quartz | 8N65 | Date |
| STGS | 1992 | Quartz | 3F81 | – |
| SBGT | 1993 | Quartz | 9F83 | Day, Date |
| SBGF | 1995 | Quartz | 8J55, 8J56 | [Date 8J56] |
| SBGV | 1995 | Quartz | 9F82 | Date |
| STGF | 1996 | Quartz | 4J51, 4J52 | [Date 4J52] |
| SBGX | 1997 | Quartz | 9F61, 9F62 | [Date 9F62] |
| SBGR | 1998 | Mechanical Automatic | 9S51, 9S55, 9S61, 9S65, 9S68 | [Date 9S55, 9S65] |
| SBGW | 2001 | Mechanical Manual | 9S54, 9S64 | – |
| SBGM | 2002 | Mechanical Automatic | 9S56, 9S66 | Date, GMT |
| SBGA | 2004 | Spring Drive Automatic | 9R15, 9R65 | Date, Power Reserve |
| SBGE | 2006 | Spring Drive Automatic | 9R16, 9R66 | Date, Power Reserve, GMT |
| SBGL | 2006 | Mechanical Automatic | 9S67 | Date, Power Reserve |
| SBGC | 2007 | Spring Drive Automatic | 9R86, 9R96 | Date, Power Reserve, Chronograph, GMT |
| SBGH | 2009 | Hi-Beat Automatic | 9S85 | Date |
| SBGB | 2013 | Spring Drive Automatic | 9R84 | Date, Power Reserve, Chronograph |
| SBGJ | 2014 | Hi-Beat Automatic | 9S86 | Date, GMT |
| STGR | 2015 | Mechanical Automatic | 9S61 | – |
| SBGD | 2016 | Spring Drive Manual | 9R01 | Rear Power Reserve |
| SBGN | 2018 | Quartz | 9F86 | Date, GMT |
| STGK | 2018 | Mechanical Automatic | 9S25, 9S27 | Date |
| SBGK | 2019 | Mechanical Manual | 9S63 | Sub-Seconds, Power Reserve |
| SBGY | 2019 | Spring Drive Manual | 9R31 | Rear Power Reserve |
| SBGZ | 2019 | Spring Drive Manual | 9R02 | Rear Power Reserve |
| SBGP | 2020 | Quartz | 9F85 | Date |
| SLGA | 2020 | Spring Drive Automatic | 9RA5 | Date, Power Reserve |
| SLGH | 2020 | Hi-Beat Automatic | 9SA5 | Date, Dual Pulse Escapement |
Grand Seiko Watch Collections
The current Grand Seiko collection is divided into four sub-collections: Masterpiece, Elegance, Heritage, and Sport.
Grand Seiko Masterpiece: home to special and limited edition pieces with precious metal cases and intricate dials.
Grand Seiko Elegance: home to the core line of classic watches.
Grand Seiko Heritage: home to pieces that honor vintage GS watches and aesthetics but equipped with modern movements.
Grand Seiko Sport: home to the sports models, including divers, chronographs, and GMT watches.
The Grand Seiko collection has watches for both men and women. Case materials include steel, titanium, ceramic, gold, and platinum, and some models also have diamond settings.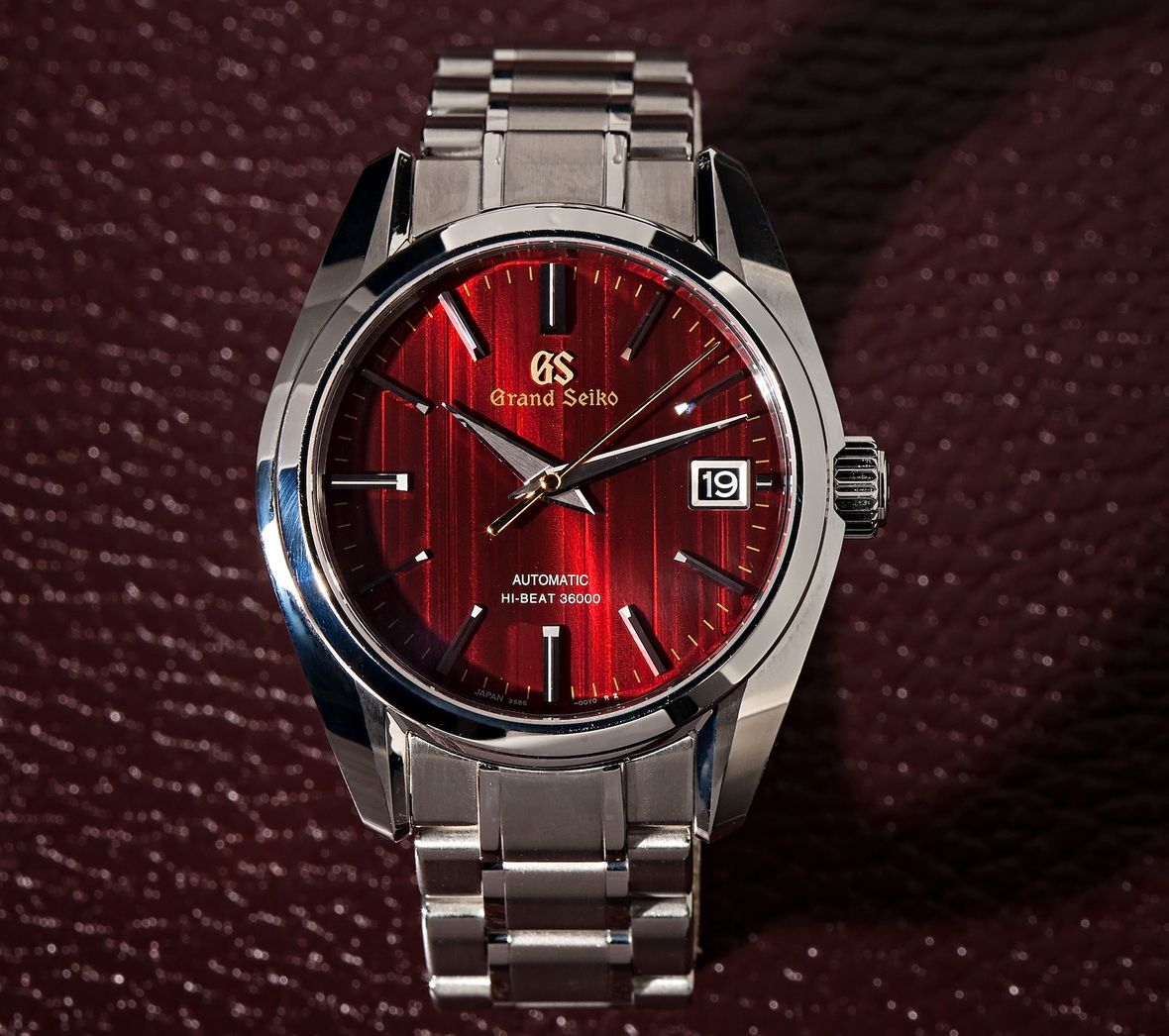 Grand Seiko Watch Prices
Those who have limited knowledge about Grand Seiko watches are often surprised at the cost of these watches – especially if they're familiar with how affordable regular Seiko watches can be. However, Grand Seiko watches are luxury watches, priced in accordance with the impeccable quality that they offer.
When Grand Seiko established its American subsidiary, it announced that the company's goal is to become one of the top five luxury brands in the U.S. in the $5,000 to $10,000 men's watch segment. However, there are Grand Seiko watches priced well above that $10,000 mark – some with six-figure price tags.
Grand Seiko Masterpiece price range: $42,000 – $185,000
Grand Seiko Elegance price range: $3,300 – $97,000
Grand Seiko Heritage price range: $2,200 – $59,000
Grand Seiko Sport price range: $3,000 – $44,800
The Growing Demand for Grand Seiko Watches
While Grand Seiko has always been popular in certain collecting circles, more watch enthusiasts are now paying attention to this top-tier brand. The last few years have seen a steady rise in demand for Grand Seiko in the American market, and there now also exists a healthy secondary market for Grand Seiko watches, with many limited edition models selling for premiums above their original brand-new retail prices.
For those looking for exquisitely handcrafted timepieces equipped with fantastically engineered and finished in-house-made movements, Grand Seiko has plenty to offer. Subtle rather than showy, it's all about the small details that make a GS sing on the wrist.
From incredible finishing to technologically advanced movements that you will not find in watches from any other manufacturer, there is a reason why Grand Seiko is becoming such a cult-favorite among passionate watch enthusiasts. It is often said that a Grand Seiko watch is something that can be best enjoyed through a loupe, as the level of finishing is truly equal to what you will find from some of the oldest and most prestigious names in the Swiss watch industry.