The Omega Speedmaster is one of the undisputed icons of horology and a watch that truly needs no introduction. Holding claim to a number of illustrious titles such as the official flight-certified watch of NASA and the first watch worn on the moon, the credentials of the Speedmaster are beyond reproach and it is often said that every serious watch collector should own an Omega Speedmaster – even if it ultimately does not become a part of their permanent collections.
For well over half a century, the Omega Speedmaster has inspired the imaginations of both watch collectors and space enthusiasts alike. The model has been a fixture of manned space exploration since the 1960s and it is easily the most famous and collectible Omega watch in existence today and one that is studied and pursued by a dedicated following of highly passionate enthusiasts. Prices for vintage Omega Speedmaster models continue to rise year after year, but a more recent development is the significant appreciation that can be observed among a number of fairly-modern references. So, what are the best Omega Speedmaster watches to buy as investments?
Omega Speedmaster Moonwatch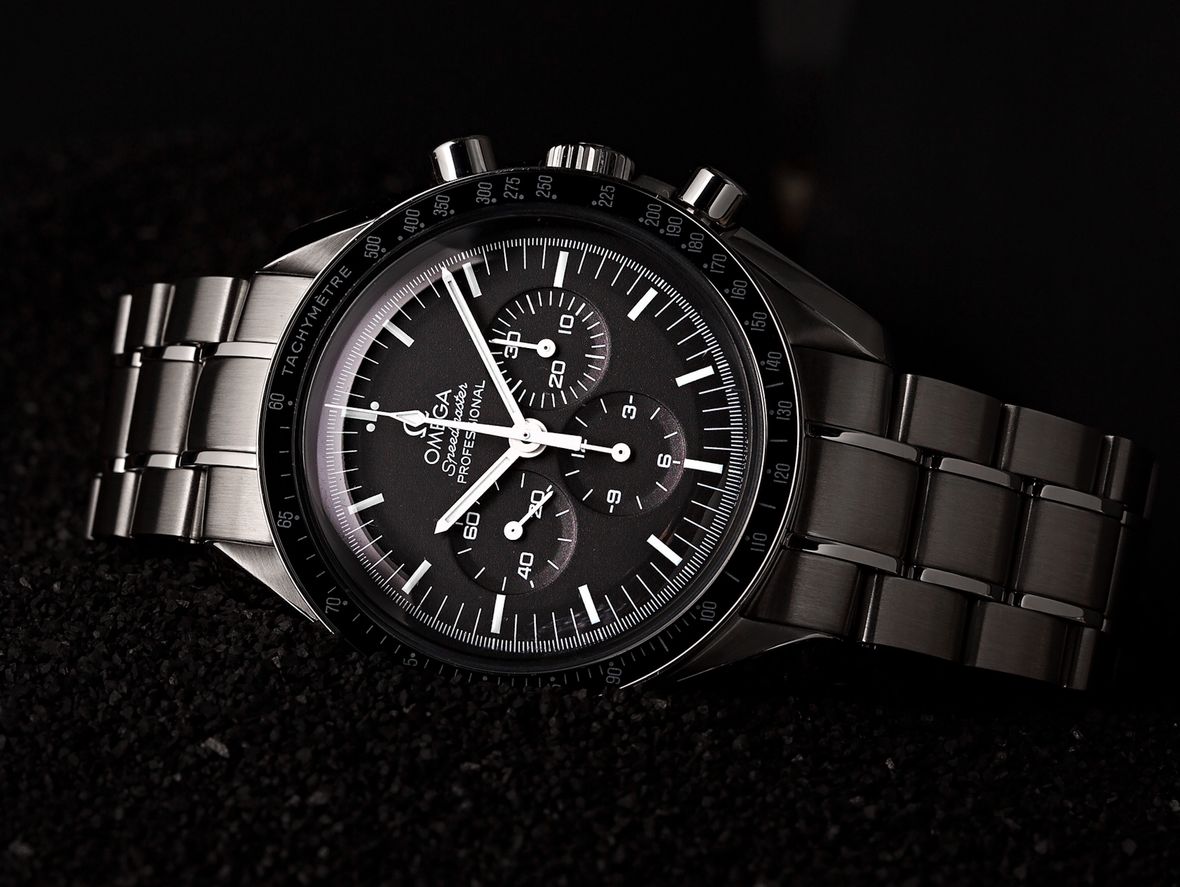 Omega Speedmaster Fact Facts:
– First introduced in 1957.
– Originally created for the automobile racing market.
– Mechanical 12-hour chronograph (manual-wind).
– The first watch to feature an external tachymeter bezel.
– Officially flight-qualified by NASA for all manned space missions.
– The first watch worn on the moon.
– The only watch officially certified by NASA for EVA (spacewalks).
– Previously issued to members of the Peruvian Air Force.
– Still in-use today aboard the International Space Station (ISS).
Click here for our Ultimate Buying Guide on the Omega Speedmaster.

Omega Speedmaster Caliber 321 Movement
It is no secret that vintage Omega Speedmaster watches with Caliber 321 movements are consistently among the most expensive Moonwatch references available today. Even the most plentiful examples are more expensive than a brand-new Speedmaster, and extremely rare iterations have been known to sell at auction for more than six-figures. However, since reviving the historic Cal. 321 in 2019, Omega now produces a stainless steel Speedmaster model that features the movement, and just like its vintage predecessors, this new Caliber 321 model now ranks among some of the best investment Speedmaster watches.
The true vintage Speedmaster references from the 1950s and 1960s that are powered by the original Cal. 321 movements will likely always reign supreme when it comes to value and collectibility. With that in mind, despite being back in production, Omega's total output of the revived Caliber 321 is extremely limited since the assembly of each individual movement is carried out by a single watchmaker. Consequently, global supply for the stainless steel iteration of the Moonwatch 321 (ref. 311.30.40.30.01.001) is not able to keep up with demand at a retail level, and examples frequently trade hands on the open market for values significantly above their original retail prices.
'Speedy Tuesday' Limited Edition Models
The Omega Speedmaster collection has been home to countless limited-edition models over the years, almost to the point of drawing criticism from certain collectors who would rather see the brand's iconic chronograph watch stick close to its original roots. Not all limited edition Omega Speedmaster watches are destined to become future collectibles, but the "Speedy Tuesday" models are fiercely pursued by collectors, selling out in minutes and then trading hands for well-above their original retail prices on the secondary market.
Created by Fratello Watches founder Robert-Jan Broer in 2012, the #SpeedyTuesday hashtag has become a weekly event on Instagram and the "Speedy Tuesday" watches celebrate the passionate enthusiast community that surrounds this iconic timepiece. At the time of writing, there have only been two Speedy Tuesday Speedmaster watches: the original "Reverse Panda" model and the Ultraman" – and both of these models are extremely popular among today's collectors. A minimum investment of five-figures is now required to obtain either model, and these two Speedy Tuesday watches are a perfect example of the rapid appreciation that can occur with highly popular limited-edition references.
Previous Omega Moonwatch Generations
One of the main reasons why the Omega Speedmaster occupies such a special place in the hearts of collectors is because its core design (both inside and out) has hardly changed in the last half-century. For most of the Speedmaster's history, you have been able to purchase a watch that is nearly identical to the models first worn on the moon; however, the all-new generation of Speedmaster watches with the Caliber 3861 movement represents the biggest update to the collection to occur within the last fifty years.
At the present time, the recently discontinued Moonwatch models that are powered by the Caliber 1861 and Caliber 1863 movements are among the least expensive standard Speedmaster references available. Additionally, they now represent the last Moonwatches to feature movements without Co-Axial escapements, and this makes them an obvious choice for collectors looking for a Speedmaster that more closely adheres to the history of the model. Prices for Omega Speedmaster watches continue to increase from one year to the next, and now that the long-running Cal. 1861 generation is discontinued, it is likely that this trend will only continue, both for it and its Cal. 861 predecessors.
Silver Snoopy Speedmaster Limited Edition Watches
As previously mentioned, not all limited edition Omega Speedmaster watches become future collectibles, but there are certain models that could be considered some of the most fiercely pursued Omega watches in existence. Among those that are extremely hot targets for collectors are the various Silver Snoopy Speedmaster watches that pay tribute to Omega winning NASA's Silver Snoopy Award for the crucial role that the Speedmaster played in the safe return of the Apollo 13 mission.
At the time of writing, there have been a total of three different Omega Speedmaster Silver Snoopy models and all of them sell for significantly more than their original retail prices on the open market. The most affordable Silver Snoopy Speedmaster watches cost in excess of $20k and prices can exceed $50,000 for examples from the highly-coveted second generation. Despite not being vintage Omega watches, these Silver Snoopy models all offer significant returns for any collectors that are lucky enough to pick them up for their original retail prices, and they easily rank among the best investment Speedmaster watches available today.
First Omega in Space (Speedmaster FOiS)
The Omega Speedmaster FOiS was first released in 2012 as a thoroughly vintage-inspired rendition of Omega's iconic chronograph watch. Drawing its design cues from the very first Omega watch to ever reach outer space in 1962 (astronaut Wally Shirra's personal Speedmaster), the FOiS immediately became a favorite among vintage enthusiasts and it represents the perfect option for those that love the aesthetic of vintage Speedmaster watches but who still want the care-free ownership experience of a modern timepiece.
While it was not limited to a specific number of units, the Omega Speedmaster FOiS is a numbered edition and one that is now officially discontinued. At the present time, the FOiS still remains active on Omega's website, although it has been reported that retailers are no longer able to order the model and its availability is likely to be formally updated soon. It is also worth noting that the FOiS is now the very last Speedmaster model to be powered by the long-running Caliber 1861 movement and many collectors anticipate that secondary market prices for the Speedmaster FOiS will increase once it is no longer available at a retail level.
Discontinued "Hesalite Sandwich" References
Since the early 2000s, Omega Speedmaster buyers have been forced to choose between either having a Hesalite crystal or a display case-back. Many collectors want their Speedmaster watches to have the classic Hesalite crystal since this was the style fitted to the original models worn on the moon. However, the only Speedmaster watches that feature Hesalite crystals also feature solid case-backs that do not allow users to view the intricacies of their manually-wound chronograph movements. If you want to be able to see your Moonwatch's movement, your only option is one of the "Sapphire Sandwich" models that feature a sapphire crystal on both the front and back of the watch.
However, for a relatively short period of time between approximately 1987 and 2003, Omega offered versions of the classic Moonwatch that featured Hesalite crystals over the dial and sapphire display case-backs that allowed for an unobstructed view of their movements. Known as "Hesalite Sandwich" watches among collectors, both the ref. 3592.50 and ref. 3572.50 feature this unusual configuration that offers users the best of both worlds. Additionally, since their movements sit on full display, these watches actually feature different calibers with more elaborate finishing compared to their solid case-back siblings. At the present time, prices for these Hesalite Sandwich models are only slightly above their more-traditional counterparts, and many collectors expect this to change as an increasing number of people become aware of these discontinued Speedmaster models.
Omega Speedmaster Reduced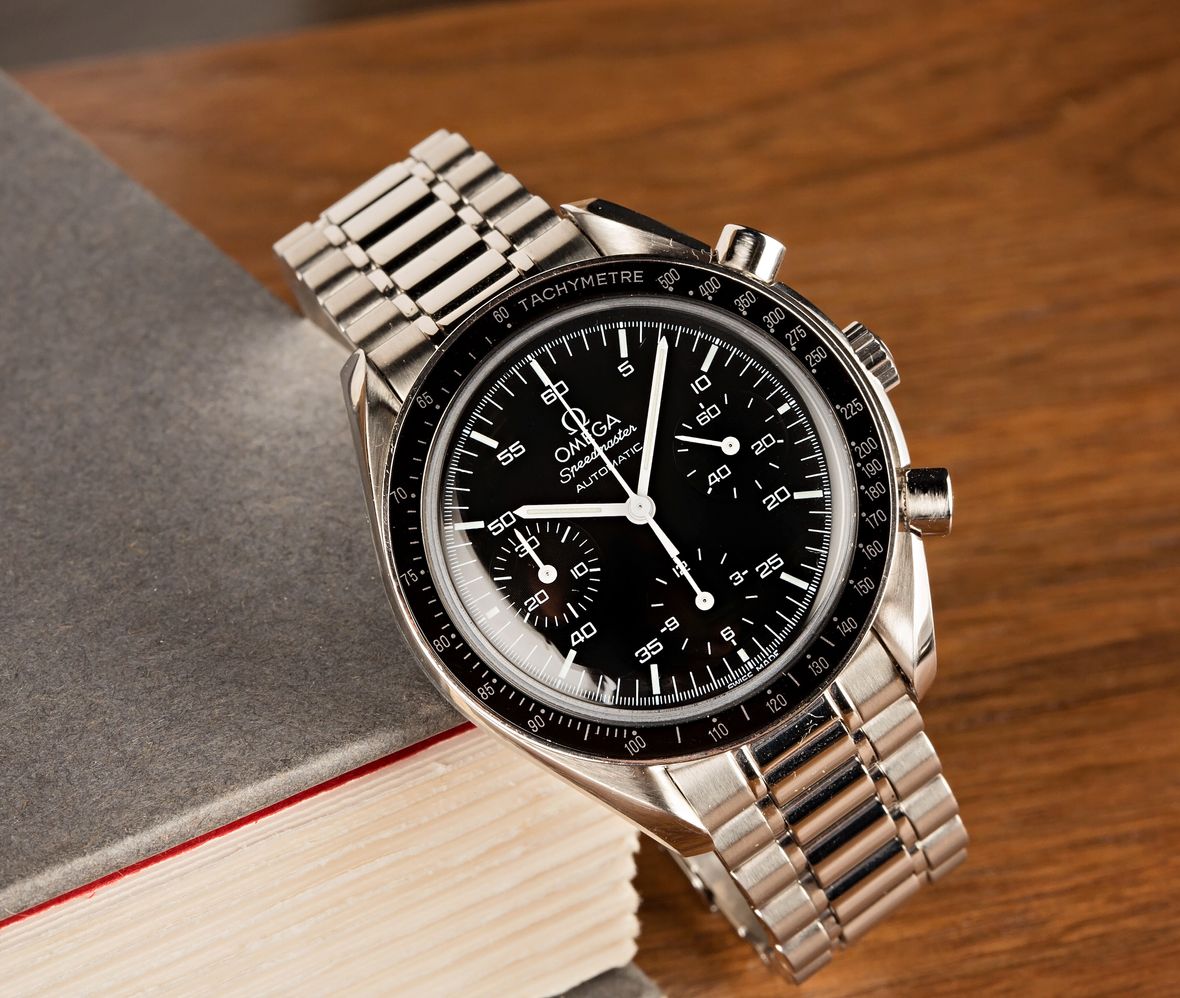 While many of the best Omega Speedmaster watches to buy as investments are those that fall into the classic Moonwatch category, there are still other models outside of this sub-collection of the Speedmaster range that have experienced significant appreciation in value within the last several years. Among these are the discontinued automatic Speedmaster models that are frequently referred to as Omega Speedmaster Reduced watches in collecting circles.
Despite the widespread and enduring success of the classic Moonwatch, Omega does not really offer their iconic chronograph watch in a smaller size. However, between approximately 1988 and 2009, the brand did offer a reduced version that featured much of the same purpose-built styling but with a smaller case diameter and an automatic winding movement. To this day, these Speedmaster Reduced models remain the closest thing to a smaller Speedmaster that is available, and although prices are still quite affordable (at least for now), they have roughly doubled within the last several years. While prices will likely never reach the same sky-high values that can be seen among other collectible Speedmaster references, they will likely continue to stay strong as long as these models remain the closest thing to a classic Moonwatch with a smaller case.