One of the reasons why we love vintage watches is because each one has its own unique history and no two are exactly alike. We buy all of our watches directly from the public, which means that sometimes we get rare vintage models directly from their original owners, and sometimes these watches come with truly incredible backstories.
We recently received a very special Rolex 5513 that previously belonged to a former commercial diver that used to work for COMEX. For those of you familiar with vintage Submariner watches, you already know that something like this does not come along all that often. And whenever one of these rare Rolex COMEX dive watches does manage to surface, you can almost guarantee that it will have an amazing story behind it.
Rolex Submariner 5513 Key Features:
Production Years: 1962 – 1989
Case Diameter: 40mm
Materials: Stainless Steel
Functions: Time w/ Running Seconds
Dial: Black w/ Luminous Hour Markers (Gilt, Matte, or Gloss w/ Applied Markers)
Bezel: Bidirectional, Black Aluminum Insert w/ 60-Minute Scale
Movement: Caliber
Crystal: Acrylic (Domed)
Water Resistance: 200 Meters / 660 Feet
Bracelet: Oyster Bracelet
Click here for our ultimate buying guide on the Rolex Submariner.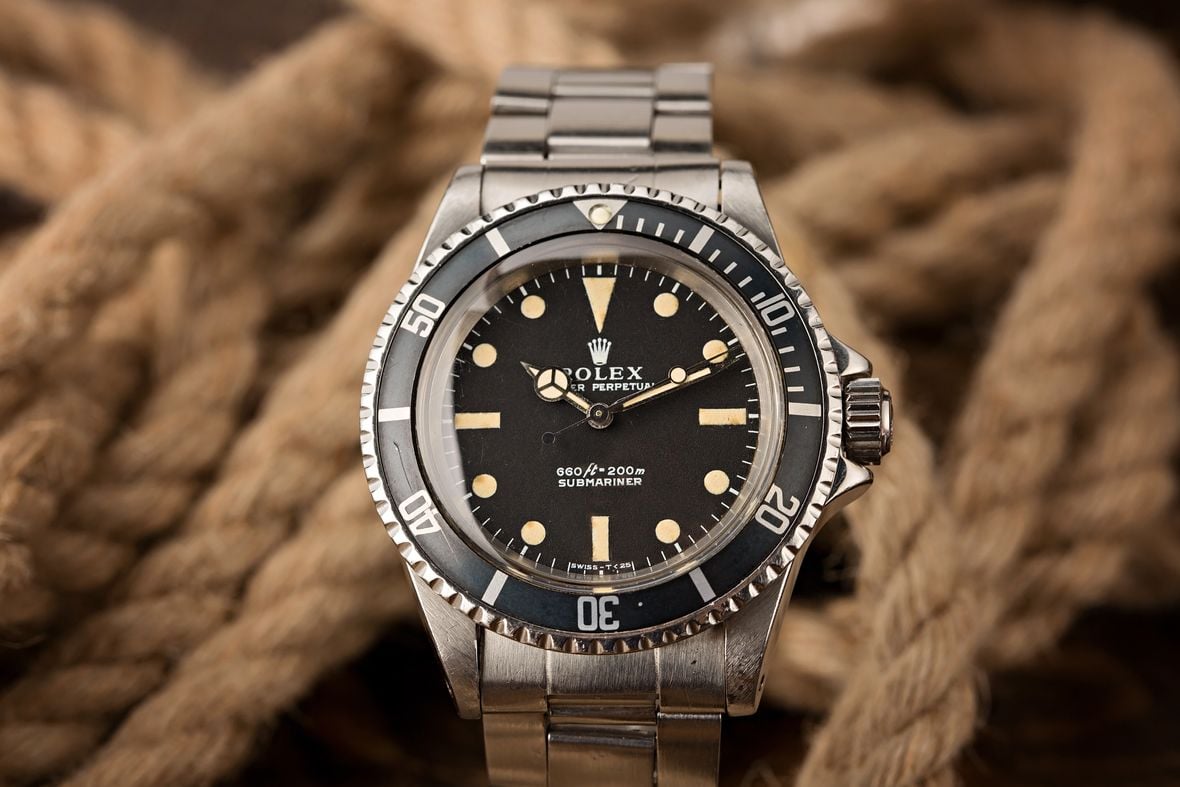 What Is COMEX?
Best known for its pioneering technologies regarding underwater exploration at great depths, Compagnie Maritime d'Expertises – better known as COMEX – is a French deep-sea diving company founded by Henri Germain Delauze in 1961. The brand first emerged right around the time that scuba diving was really starting to take hold and establish itself in the world, and COMEX is responsible for pioneering work in the field of saturation diving.
Instead of catering to the growing recreational scuba diving crowd, COMEX primarily focused on commercial diving and deep-sea exploration. An industry leader in underwater operations, COMEX is credited for numerous advancements regarding hyperbaric testing facilities and the use of different gas mixtures, all in the pursuit of allowing humans to dive deeper and stay down longer.
With that in mind, COMEX also works closely with the European Space Agency (ESA) and its astronaut training program. Along with developing advanced space habitat life support systems for the ESA's various missions and operations, COMEX also designs hyperbaric oxygen therapy facilities and even develops robotic systems both for use in outer space and deep below the surface of the ocean.
About Saturation Diving
By the mid-1960s, the practical applications of saturation diving were becoming apparent, and Rolex had even gone so far as to create the Sea-Dweller in 1967 as an updated version of the Submariner that was able to contend with the complex conditions of saturation diving. In addition to offering a greater depth rating than the Submariner, the key feature that defines the Rolex Sea-Dweller is its helium gas escape valve – just like the one featured on this prototype Rolex 5513 Submariner.
With that in mind, the helium escape valve is one of the most misunderstood concepts in the watch industry. While it exclusively pertains to deep-sea diving, it actually has nothing to do with water resistance. When diving at extremely deep depths or for long amounts of time, the nitrogen in the regular air we breathe becomes toxic to humans, and so it is necessary to replace the nitrogen with a different gas – one that is entirely inert in this unique scenario, and helium makes an excellent substitute.
During saturation diving operations, divers breathe special gas mixtures and live in dry pressurized chambers that get lowered down to great depths below the surface of the ocean. This allows the divers to not only work at depths otherwise unreachable by regular scuba diving, but also to stay at depth and not need to go through an incredibly lengthy decompression stage after each individual dive.
When saturation diving, the divers only need to go through decompression once – at the very end of their assignment before resurfacing (assuming they work at relatively the same depth the entire time). This decompression process can sometimes take multiple days and with this method, the divers are able to decompress in the dry chamber once all of their underwater work has been completed.
The Purpose of a Helium Escape Valve
Now, here is where the helium escape valve comes into play. Because helium molecules are incredibly small, the high pressures present inside the dive bell force the tiny helium molecules past the gaskets of a watch and they get trapped inside the case. Additionally, in the event that the watch needs to be wound or adjusted, manipulating the crown will also result in helium molecules entering the case.
None of this is a problem as long as the watch remains under pressure. Consequently, a diver's watch will work properly the entire time (provided that it has enough water resistance in the first place). However, during the decompression stage, when the pressure inside the diving bell slowly decreases, the trapped helium models inside the watch expand (according to Boyle's law), and this creates positive pressure inside the case, which can force the crystal to pop off of the case of the watch.
To contend with this unique obstacle, Rolex patented a one-way valve that automatically actuates once the pressure inside the watch reaches a certain level. This allows the trapped helium molecules to safely be purged from the case before the level of internal pressure reaches the point where it will cause structural failure. It is important to remember that this only occurs during the decompression stage and that takes place inside the dry dive bell. Therefore, the helium escape valve really has more to do with the watch's ability to adjust to decreases in pressure rather than anything to do with its ability to withstand external pressures.
The Rolex and COMEX Partnership
As the company that invented one of the world's very first dive watches, Rolex shared a common goal with COMEX, as both brands were interested in reaching greater depths and progressing mankind's ability to explore the underwater world. Although Rolex's first watch equipped with a helium escape valve first appeared in 1967, it was still a very new technology at the time. To refine and improve upon this new technology, Rolex partnered with COMEX in 1970 as a way to get additional real-world testing data on their various dive watch designs.
As part of the strategic partnership, Rolex provided COMEX with Submariner and Sea-Dweller watches at zero cost and in exchange, COMEX would provide Rolex with detailed notes and analysis on the timepieces' performance. These Rolex watches destined for COMEX saw rigorous professional use in extreme conditions that only a small handful of individuals will ever experience, and many of these watches were damaged or destroyed over the years.
One of the most interesting things about the Submariner watches that Rolex issued to COMEX is that despite the fact that the Sea-Dweller had been created just a few years earlier, many of the Submariner watches sent to COMEX also had helium escape valves fitted to them. Later into the partnership, Rolex began fitting the COMEX Submariner and Sea-Dweller watches with dials that featured the COMEX logo, and the brand even created the reference 5514, which is a model that is specific to COMEX, and which is essentially a no-date Submariner fitted with a helium escape valve – just like this one.
However, this Submariner is not a reference 5514. Instead, it is a standard reference 5513 that has been modified by Rolex with what could be considered a prototype helium escape valve that was used for development and testing purposes.

A Prototype Rolex Submariner
This particular watch is a vintage Rolex Submariner reference 5513 with a 'feet first' matte dial and a fat-font bezel insert. It's fitted with a folded-link Oyster bracelet that has a decent amount of stretch and appears to likely be original to the watch. There's a beautiful matching patina on the tritium dial and hands, but the real party-piece of this ref. 5513 is the helium escape valve on the side of its case and the COMEX engraving on its case-back.
The watch has a 2.8-million serial number engraving, which gives it an estimated production date of 1971. This makes it an early example of the various COMEX-issued Submariner watches, and this is further supported by the fact that it is a Rolex 5513 reference rather than a reference 5514 or a later-era Submariner model fitted with a COMEX-branded dial.
It's also worth noting that this particular watch isn't what collectors call a "Pre-COMEX" Submariner either. The dials that received the COMEX branding on them have slight variations in regards to their printing that separate them from the other non-COMEX Submariner dials of the era. Consequently, the dials that possess these traits but don't have the COMEX logo on them are often called Pre-COMEX Submariner watches, but the dial on this particular reference 5513 is not one of those.
The fact that this watch is more-or-less a standard matte dial reference 5513 Submariner that Rolex retrofitted with a prototype helium escape valve suggests that it was one of the early Submariner watches issued to COMEX. Additionally, the watch's 1971 production date helps confirm this, as this would have been just one year after the partnership between Rolex and COMEX had started.
While this vintage Rolex Submariner 5513 all by itself is both incredibly rare and special, the fact that it came to us directly from the original owner means that we get to hear the story behind it first-hand and share it with you today.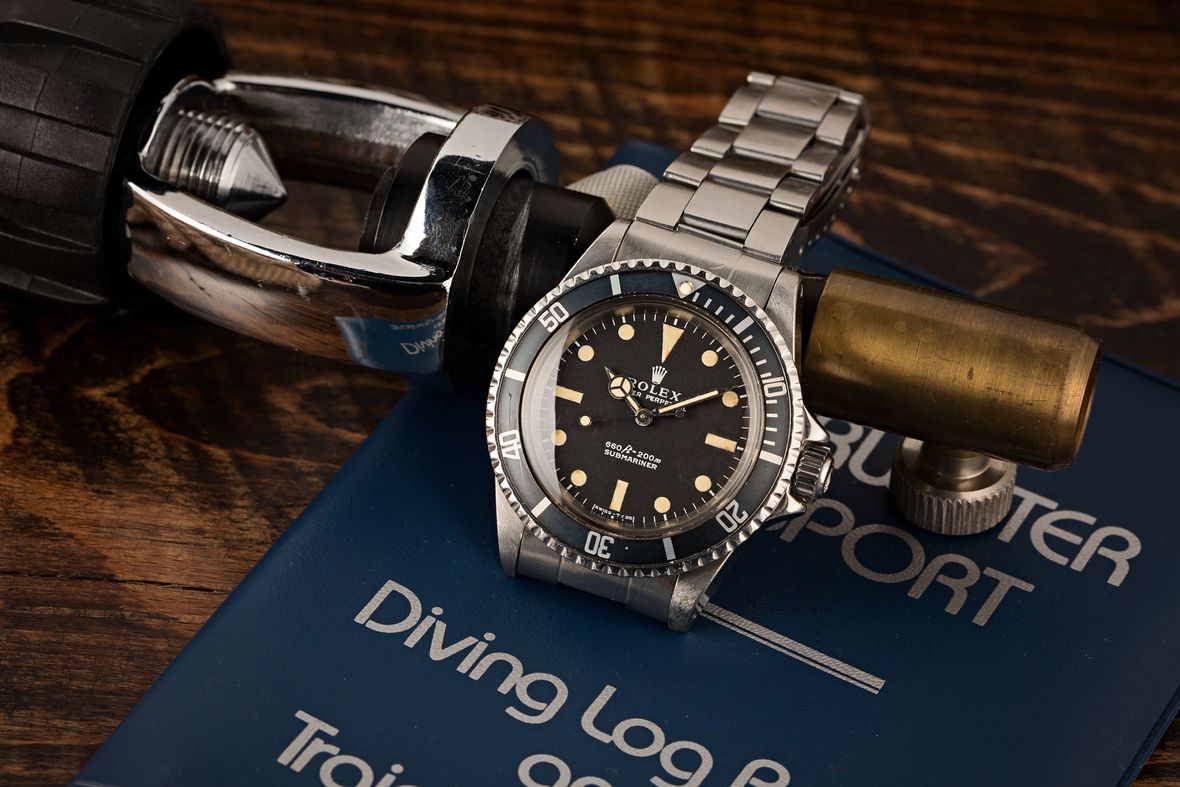 A Letter From The Original Owner Owner
Included with the watch are both photos of the original owner from his days working with COMEX, along with a letter of provenance that details his experiences as a commercial diver and how this unusual Rolex Submariner came into his life. An excerpt of the letter is included below:
My Diving Days
I joined the British Royal Navy in 1962 at the ripe old age of 15, leaving in 1973, having traveled the world and many countries, loving the sea and its creatures. 
I wanted to become a commercial diver and joined COMEX Diving from France and was trained in many aspects of diving using diving bells and mixed gas. My watch was given to me by COMEX and reported on it to Rolex and sent back to them for updates and cleaning, etc.
My watch has been with me all these years, it has seen 600-pound groupers, hammerhead sharks, sea snakes, and to look at it gave me great assurances we have traveled to places no one will ever see and traveled to many depths and situations. 
I hope this little narrative gives you some idea of where she has been. I have lots of stories and as I said earlier this is bringing back memories of lost friends. We are known as "Pioneer Divers" throughout the world. 
Sincerely, 
Stuart L.
A Piece of Rolex Dive Watch History
What makes this watch so special is that the reference 5513 Submariner was never supposed to have a helium escape valve, and this configuration was never made available to the public. This Submariner is essentially a prototype that Rolex produced for testing and research purposes, and since the vast majority of these watches were used for serious professional diving applications, many were lost, damaged, or destroyed over the years, and only a
A relative handful of these COMEX Submariner watches were originally produced and only a fraction of that original number have managed to survive to this day – let alone still with their original tritium dials and hands. Not only is this prototype reference 5513 an incredibly rare and important watch that is emblematic of a defining time in Rolex's history, but it also has a great backstory to go with it. And now we, along with this watch's next owner, get to become part of this Submariner's remarkable story.