In October 2020, the Federation of the Swiss Watch Industry (FH) reported that Switzerland had seen a 25.8% decline in its watch exports – "the sharpest decline ever recorded over the last 80 years." While this is sobering news for the watch industry, given the global pandemic, the cancellations of watch fairs around the world, and the near-cessation of international travel, it isn't that surprising.
Yet, at the other end of the spectrum, the pre-owned and vintage watch market is thriving with strong sales and record-breaking auction results. Vintage Rolex prices remain as strong as ever, but prices for watches from many other brands have also been on the rise for a number of years now. So what exactly is happening in the vintage watch world during these unprecedented times and what are collectors, enthusiasts, and buyers most interested in?
Click here for a closer look at some of the best vintage Rolex watches for starting out a collection.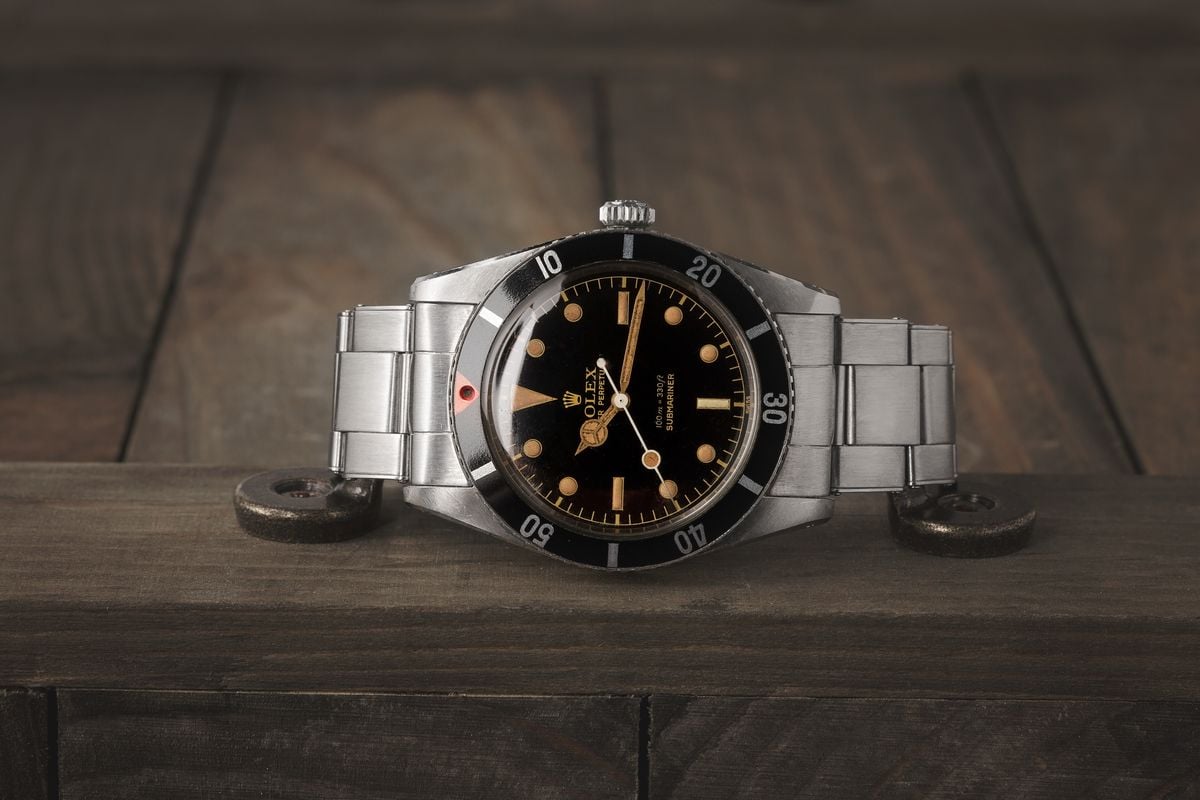 Why is the Vintage Watch Market Thriving Right Now?
Seen As a Safer Investment Than Modern Watches
Except for a handful of modern watches, such as the latest Rolex sports watches, collectors typically look at vintage watches as a safer investment than brand new ones. Since they're already out of production (and have been for at least a few decades), vintage watches are by nature limited and therefore, more attractive in the eyes of collectors.
Furthermore, with each passing year, it becomes more challenging to find popular vintage watch models in good (and near-original) condition, which again, increases rarity, and thus appeal. Plus, it doesn't hurt that collectible vintage watches have proven their longevity with decades worth of pricing data – unlike brand new watches that have just hit the market.
Some Have More Money To Spend
Despite the global economic turmoil, there are many individuals fortunate enough to have retained a stable income, whether working from home or otherwise. At the same time, with restrictions on travel, dining, and entertainment, there are fewer opportunities to spend disposable cash.
So for watch enthusiasts, that can mean more money to spend on cherished timepieces and building out a collection. However, as mentioned above, there's a current tendency to spend smarter, and vintage watches offer that exact opportunity.
More Time for Timepieces
Along with having more cash to spend, the lack of tourism and entertainment (not to mention the absence of business travel and commuting) also gives some folks the gift of more free time. That's good news for watch hobbyists, who can now indulge the time needed to research, study, and locate vintage watches. Knowledge is an indispensable part of the watch-collecting culture, and more time spent reading up on vintage watches (or gawking at them on Instagram) can lead to more items on one's wish list!
The Thrill of the Hunt Remains
There's something compelling and unique about a vintage timepiece over a brand-spankin' new one. Price can be a part of it, but there's quite a lot more. These days, any watch from a given Rolex reference is going to look like any other and is likely to do so for years, if not decades to come. Quality control has gotten better, as has, say, the dial printing process. There will be no more tropical dials (which are likely due to chemistry issues with dial paint rather than simply exposure to sunlight), and far fewer font variations, so no more "open 6" vs. "closed 6," "meters first," "underline," etc.
Beyond actual dial color permutations and evolutionary upgrades, we won't ever see that type of variation from a brand like Rolex ever again. Those kinds of variations are a big part of what has always driven the vintage and pre-owned market – and they certainly are the driving factors behind the collector market.
Watch Collectors vs. Watch Investors
It's worth pointing out the fundamental difference between a watch collector and a watch investor. While someone can absolutely be both, (generally-speaking) a watch collector will look for timepieces that he or she likes, regardless of their possible future value. A particular brand, watch type, production era, aesthetic, or even movement can motivate a watch collector to buy – and wear – a vintage watch.
Conversely, a watch investor someone that is looking for watches that will likely go up in value to sell for a profit in the future. As the vintage watch market flourishes, an increasing number of people are looking at high-end timepieces as a way to invest cash – not unlike fine wines, classic cars, real estate, and art.
The motivation here is quite different from the hobbyist collector that enjoys wearing his or her acquisitions. It's more likely that the watches purchased by watch investors will not be worn on a daily basis (if ever) and will instead be securely tucked away in a safe until the time is right to resell them for a profit.
Popular Trends In Vintage Watch Collecting
Now that we've examined why the vintage watch market is booming, let's have a look at some specific trends that are gaining traction within this space.
The Dependable Icons
During times of volatility and uncertainty, it's only natural for collectors to stick to the classics – the watch icons that have illustrated their enduring appeal throughout the decades. Examples of these include the Rolex Daytona, Rolex Submariner, Rolex GMT-Master, Omega Speedmaster, Patek Philippe Nautilus, and Audemars Piguet Royal Oak. Not only are the modern iterations of these must-have watches still a major part of their respective manufacturers' catalogs, but customers are also willing to put their names on multi-year waiting lists to get their hands on them.
That type of popularity for new editions within the retail market translates to an even greater demand for the older vintage versions on the pre-owned market. They're often the safest options when betting on what watches will hold or increase in value over the long term – plus, they're simply awesome looking watches with great pedigrees. Few watch enthusiasts can resist the allure of vintage tool watches like an aged Submariner dive watch, an old-school "Pepsi" GMT-Master pilot's watch, or a manual-wind Daytona racing chronograph. The Speedy went to the Moon and the Royal Oak and the Nautilus created and defined the ultra-popular watch category now known as the luxury sports watch.
The Gold Rush
It's no secret that stainless steel has been the darling metal in the watch world for the last few decades. Some high-end stainless steel sports watches (particularly those made by Rolex) have proven to be so popular that they sell well above retail prices on the secondary market – sometimes reaching and even surpassing the prices of their precious metal counterparts.
Nevertheless, gold watches, especially yellow gold ones, are now making a comeback. From professional athletes and A-list actors to famous musicians and pop culture personalities, gold watches are popping up on celebrities' wrists everywhere, which whether we like to admit it or not, drives consumer trends.
It takes some very deep pockets to buy a brand new solid gold watch. However, the good news is that vintage gold watches, like a Rolex Day-Date President (for example), can be purchased for much less on the pre-owned market. And since the look for the Rolex President has remained largely the same since its inception in the 1950s, buying a pre-owned Day-Date is a great way to score a good deal on Rolex's most prestigious timepiece. However, as the demand for vintage Rolex President watches goes up, prices are likely to increase too.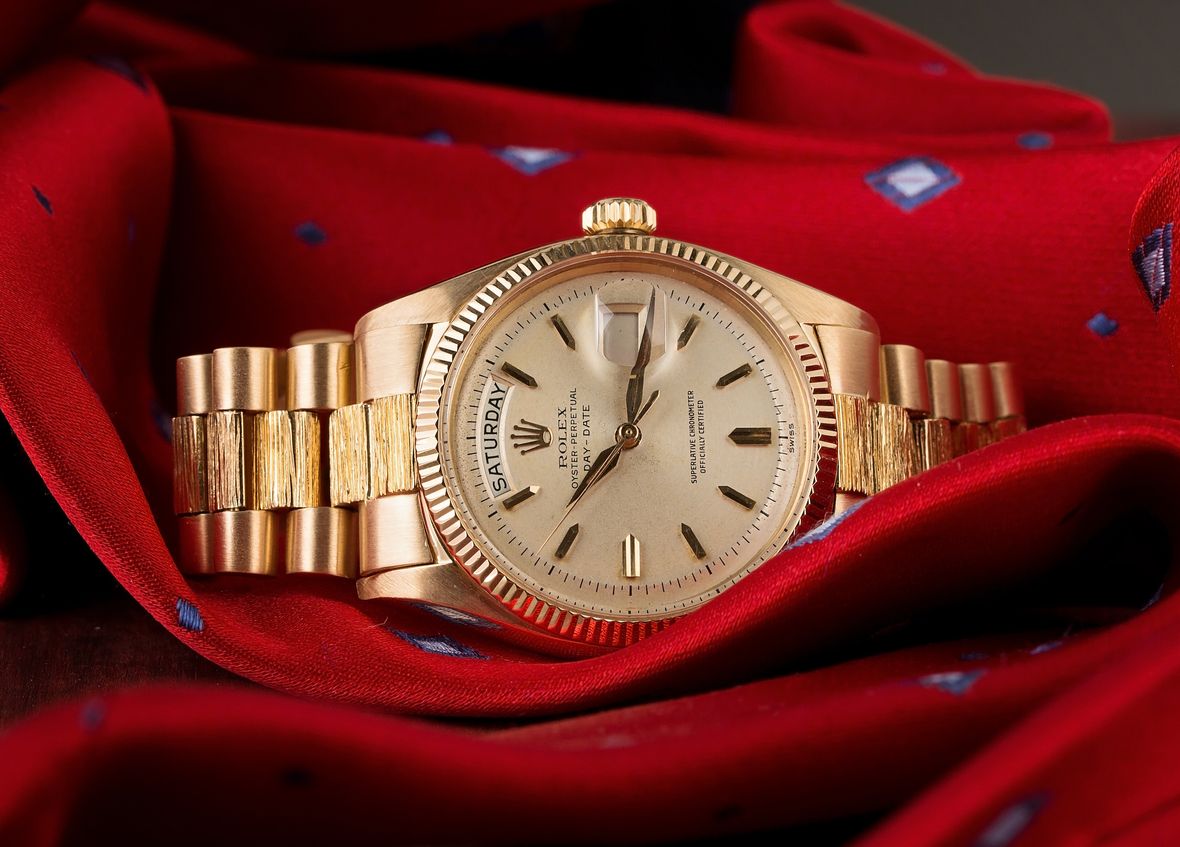 The Colorful Dial
Rolex captured the attention of the watch world when it released a new collection of Oyster Perpetual watches in 2020 with brightly colored dials. With choices like red, green, yellow, turquoise, blue, pink, and more, the Rolex Oyster Perpetual lineup now offers more color options than a bag of Skittles. However, this lively design detail is not without precedent.
In the 1960s, Rolex began fashioning dials from hard stones like lapis lazuli, opal, jasper, bloodstone, tiger's eye, and coral, resulting in intriguing textures and colors. In the 1970s, Rolex introduced hard enamel dials in a wide range of vibrant hues to the Day-Date collection. Known as Stella dials, these glossy lacquered Day-Date dials were available in colors similar to the ones found on the new Oyster Perpetual models. Rolex continued to make these striking Stella variants well into the 1980s and they can be found on both Day-Date and Datejust watches.
Although collectors have always coveted vintage Day-Date Stella models, the new colorful Oyster Perpetuals have sparked renewed interest in these vibrant Rolex vintage watches. Likewise, colorful Rolex watches like vintage gold Datejust watches with lapis lazuli, coral, and malachite dials are trending too.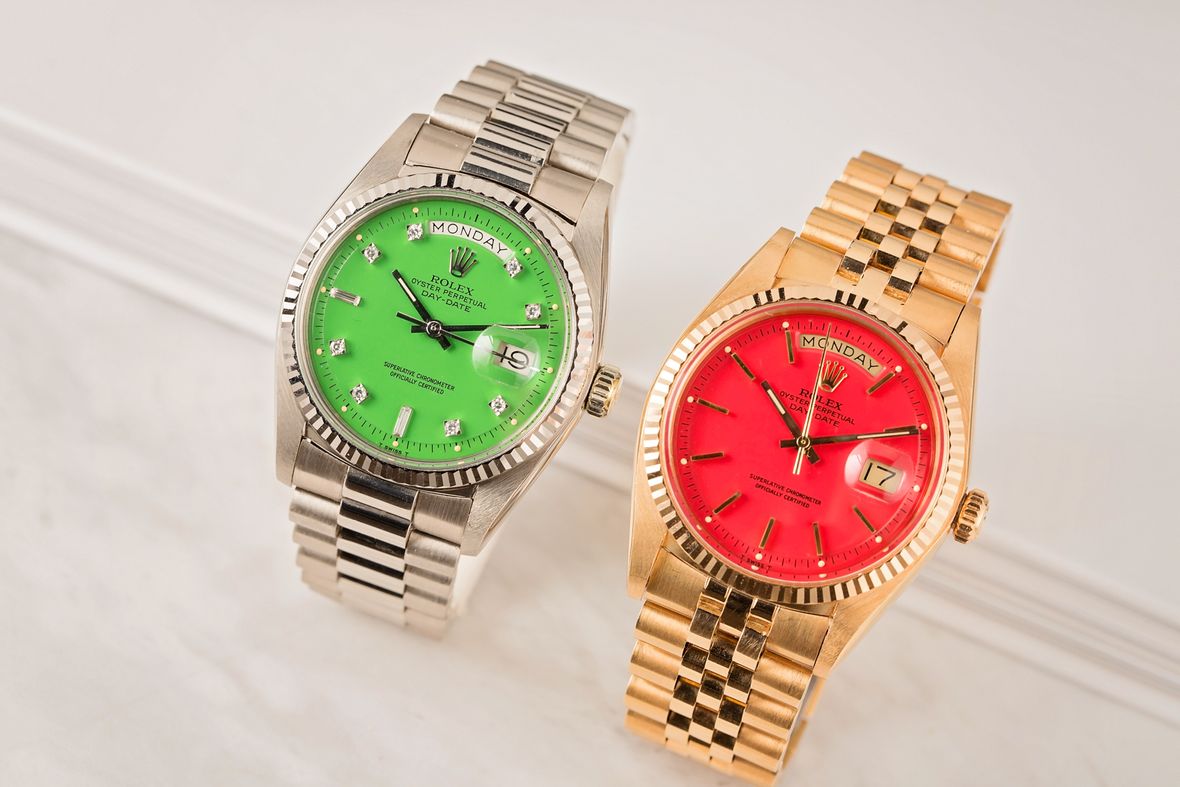 The Tiffany Effect
Hublot, TAG Heuer, Zenith, and Bulgari make up the watchmaking division of LVMH. So with LVMH's $15.8 billion acquisition of Tiffany & Co. now finalized, it remains to be seen if Tiffany will continue to retail Patek Philippe watches. The history of Patek Philippe and Tiffany & Co. dates back to 1851 when the renowned jeweler became the first store in the U.S. to sell timepieces from the storied Swiss watchmaker. Tiffany & Co. is the only American retailer permitted to stamp its logo on Patek Philippe watches and as a result, Tiffany-signed Pateks are highly collectible, complete with market values higher than the standard dial versions.
Another brand that's famous for once having Tiffany dials is Rolex. These double stamped watches were produced from the 1950s until the early 1990s during the years that Tiffany & Co. was an official retailer of Rolex watches. Today, Rolex models with Tiffany-branded dials are some of the most prized vintage watches in the collector's game.
With all this chatter about the uncertain future of Tiffany dials on Patek Philippe watches and the possibility of them appearing on Hublot, TAG Heuer, Zenith, and Bulgari watches, it's not surprising that discontinued Rolex watches with Tiffany dials are benefiting from extra attention within the vintage watch world.
Whether perceived as a solid way to park some cash or a fascinating hobby to dive into, there's plenty to love about the vintage timepiece space. Aside from the fantastic assortment of watches available, what makes the vintage watch world so enchanting are the stories that accompany them and the communities that form around them.