Within the world of vintage Rolex collecting, it is the tiny, seemingly insignificant details that inspire interest among enthusiasts and account for thousands (or even millions) of dollars in resale value at auction. While provenance will always be the x-factor that defies all conventional rules of collecting wisdom and logic; in most cases, it is the dial – the singular component that is most responsible for the overall appearance of the watch – that separates the unremarkable from the extraordinary. Today we are taking a look at an incredibly unique Rolex Oyster ref. 3359 with an Art Deco-style Serpico y Laino dial.
Click here for our Vintage Watches Buying Guide.

Serpico y Laino
Some of the most well-known and highly sought-after vintage Rolex watches are those with dials that are stamped with the Tiffany & Co. signature. Emblematic of a time that has long since passed, where Rolex would allow prominent retailers to add their name to the dial of the watches that they sold, these co-branded dials are now incredibly rare, valuable, and historically important. It is the Rolex dials with Tiffany & Co. signatures (most frequently referred to as "Tiffany Dials" by collectors) that receive the most attention in the press; however, there are a number of other co-branded Rolex dials that exist, including some from Cartier, Hermes, and even Joyeria Riviera. While Tiffany Dials are easily the most famous, the other co-branded dials were produced in significantly fewer numbers, and as a result, are more valuable today than those with Tiffany & Co. signatures. Among these lesser-known and incredibly rare, co-branded Rolex dials is the Serpico y Laino Dial.
Founded in 1925, Serpico y Laino was the leading luxury watch retailer in Venezuela for roughly 40 years until their closure in 1966. Created by Vicente Laino and Leopoldo Serpico, two Italian businessmen and jewelry makers, the Caracas-based company specialized in watches, and quickly grew to prominence in the region. While Serpico y Laino retailed watches from a number of different brands, most significantly, they held exclusive distribution rights in Venezuela for Rolex, Patek Philippe, Ebel, and Luxor.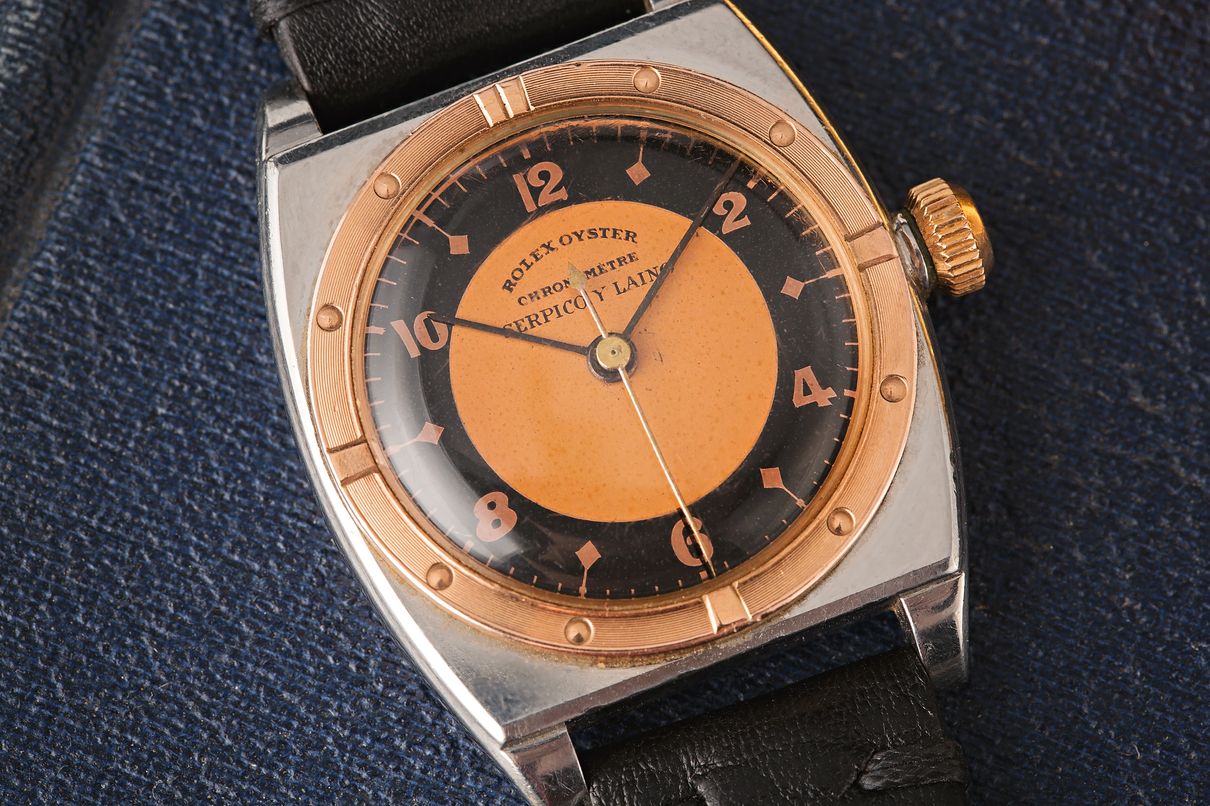 As is the case with the Rolex watches sold at Tiffany & Co. locations, some of the timepieces sold by Serpico y Laino were fitted with co-branded dials. As impossible as it is to conceive today, back in the 1920s and 1930s, Rolex was still forging its reputation and the brand was not the internationally renowned luxury manufacturer that it is today. Consequently, many customers were more likely to know and trust an established local retailer than a foreign company, and the co-branding from well-known and highly-regarded retailers such as Tiffany & Co. and Serpico y Laino served as a form of 'stamp of approval' regarding the quality of the imported watch.
The co-branded Rolex watches sold by Serpico y Laino most frequently can be identified by an additional line of text on their dials that reads 'SERPICO Y LAINO' and in some instances, a small 'S&L' engraving on their casebacks. Today we are taking a closer look at a highly unusual example of the ref. 3359 Rolex Oyster that is fitted with an Art Deco dial signed by Serpico y Laino.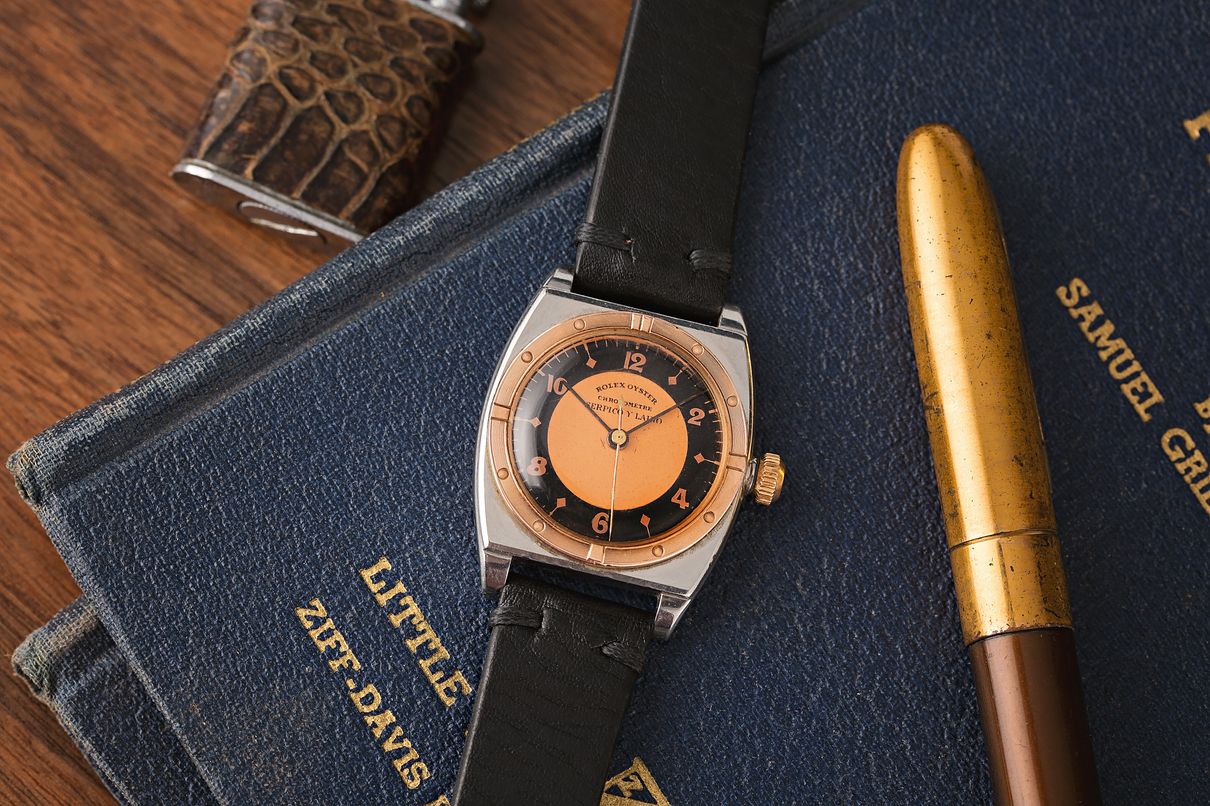 Rolex Oyster reference 3359
The Rolex Oyster ref. 3359 was one of the many durable and water-resistant watches that were made during the 1930s and 1940s. Displaying nothing more than the time of day with a running seconds hand, the reference 3359 was not specifically intended for a particular sport or activity; instead, it was simply a well-built watch that was intended to be the only timepiece that the average person would ever need.
The concept of owning multiple watches was not something that has always existed. During the 1930s and 1940s, most people only owned one watch, and they simply purchased the best one that they were able to afford. Except for pieces fitted with specific complications, most manufacturers simply built the most accurate and reliable watch that they could, rather than building a different specialized timepiece for each purpose. Rolex watch collections did not get their own individual identities until the early 1950s with the release of their 'Professional' collections, and most of the models that the brand put forward prior to that were simply robust, classically-styled timepieces.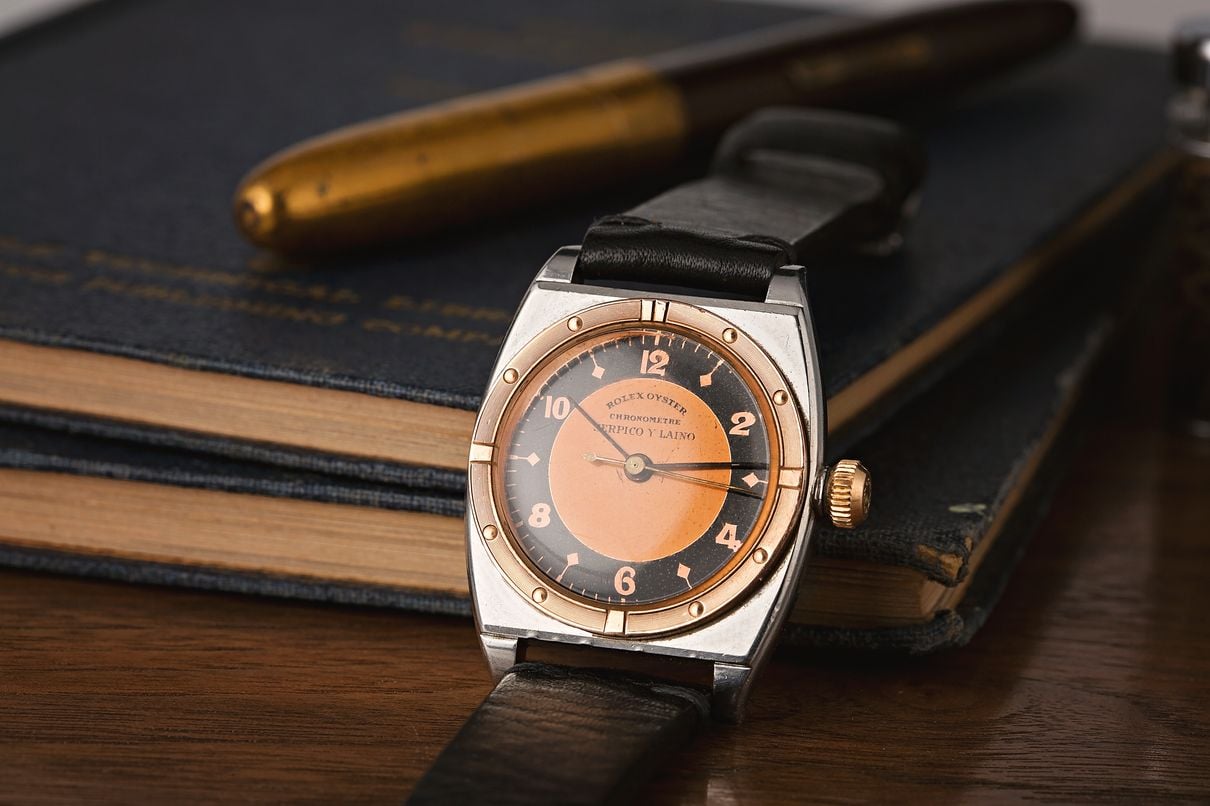 The reference 3359 is most commonly associated with the 'Viceroy' name; however not all Rolex watches that share this model number have the Viceroy name on their dials, while Viceroy branding can also be found on other models that have different reference numbers. Depending on the year of production, the market in which the watch was sold, and the specific style of dial fitted to it, ref. 3359 watches can be found with a number of different names on them. However, regardless of the dial branding, all reference 3359 Rolex watches feature angular tonneau-shaped Oyster cases with round dials and are powered by 18-jewel manually-wound movements.
Manufactured in either stainless steel, solid gold, or two-tone steel and gold, the Rolex Oyster ref. 3359 is by no means a common watch. With that in mind, the vast majority of examples were fitted with either a classically-styled dial with traditional stick markers, or a military-style dial with large glowing Arabic numerals. Additionally, dial colors were more-or-less limited to either black or white. While aesthetics have always been important to Rolex, the reference 3359 was first and foremost designed to be a functional object, and so it was not produced with nearly the same degree of dial variation as many of the brand's contemporary offerings.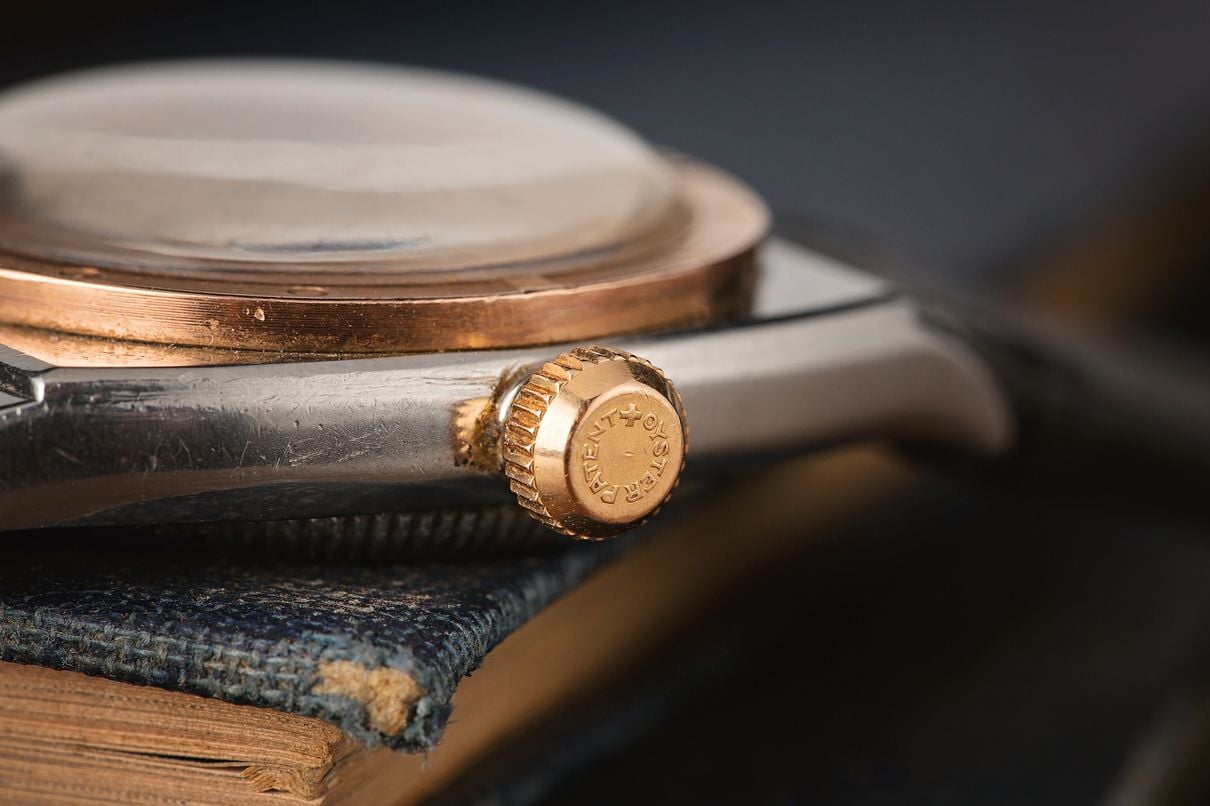 This particular ref. 3359 is of the two-tone variety with a serial number engraving that dates it to 1938. However, while the vast majority of bi-metal reference 3359 watches feature yellow gold components and stainless steel cases, this particular example has its bezel, winding crown, and dial detailing in rose gold. Although the two-tone rose gold construction of the watch is unusual, it is the dial of the watch that is the real talking point.
Rather than being a classic or military-style dial in either solid black or white, this Rolex Oyster ref. 3359 is fitted with a black and copper-colored sector dial with rose gold Art Deco numerals around its periphery. While this style of dial is highly unusual – especially on reference 3359 watches – it is the text on the dial that adds additional layers of intrigue for serious vintage Rolex collectors. Included below the standard 'ROLEX OYSTER' line of text on the dial is both chronometer branding – something that is very seldom seen on surviving examples of this vintage reference – and the all-important Serpico y Laino signature.
Art Deco became very popular in the watch industry between the 1920s and 1950s, and while some manufacturers embraced the style full-on, producing a vast assortment of Art Deco-inspired timepieces, others like Rolex only dabbled with the aesthetic. Rolex's most famous Art Deco-style dial was relatively unpopular while it was in production and can be found on certain vintage Daytona references. Today, these Art-Deco Daytona dials are known as 'Paul Newman Dials' by those in-the-know, and they represent one of the most desirable and fiercely sought-after traits in all of watch collecting.
A Horological Time Capsule 
This Rolex Oyster 3359 was purchased by its original owner from Serpico y Laino while he was working as a field engineer during the development of the oil drilling industry in Venezuela during the late 1930s. The watch was brought back to the United States and remained in the possession of its original owner until he passed in 1974. After his death, the watch was relegated to the bottom of a box of keepsakes, where it stayed for over forty years, until it was passed down to the grandson of its original owner.
When this ref. 3359 was originally sold during the late 1930s, there were no Rolex sport watches in existence. The very first purpose-built tool watches were still more than a decade away from making their first appearance, and robust and reliable timepieces such as this Rolex Oyster were the devices that people relied on for their everyday lives. These early Rolex references are representative of a time that predates the concept of the modern tool watch, and those with Serpico y Laino dials are emblematic of a unique time in Venezuela's history, one that was marked by rapid economic prosperity.
Although its case is small by today's standards and it lacks the high-tech pedigree of the brand's modern sports watches, this Rolex Oyster ref. 3359 is a remarkably unique specimen and a true horological time capsule. Everything about it from its hand-wind movement to its incredibly unique Art Deco dial with Serpico y Laino signature is characteristic of a time in the watch industry that has long since passed, and one that existed before Rolex became the ultra-standardized, vertically integrated manufacturer that it is today.