The big news to come out of Rolex's Baselworld booth this year was the introduction of the brand new 18k white gold Yacht-Master 42 ref. 226659 with a bigger 42mm case size. This is the first time the Yacht-Master collection crosses the 40mm size mark; however, Rolex has made several sub-40 mm Yacht-Master models as well. So, how many Rolex Yacht-Master sizes are there now? Let's find out, shall we?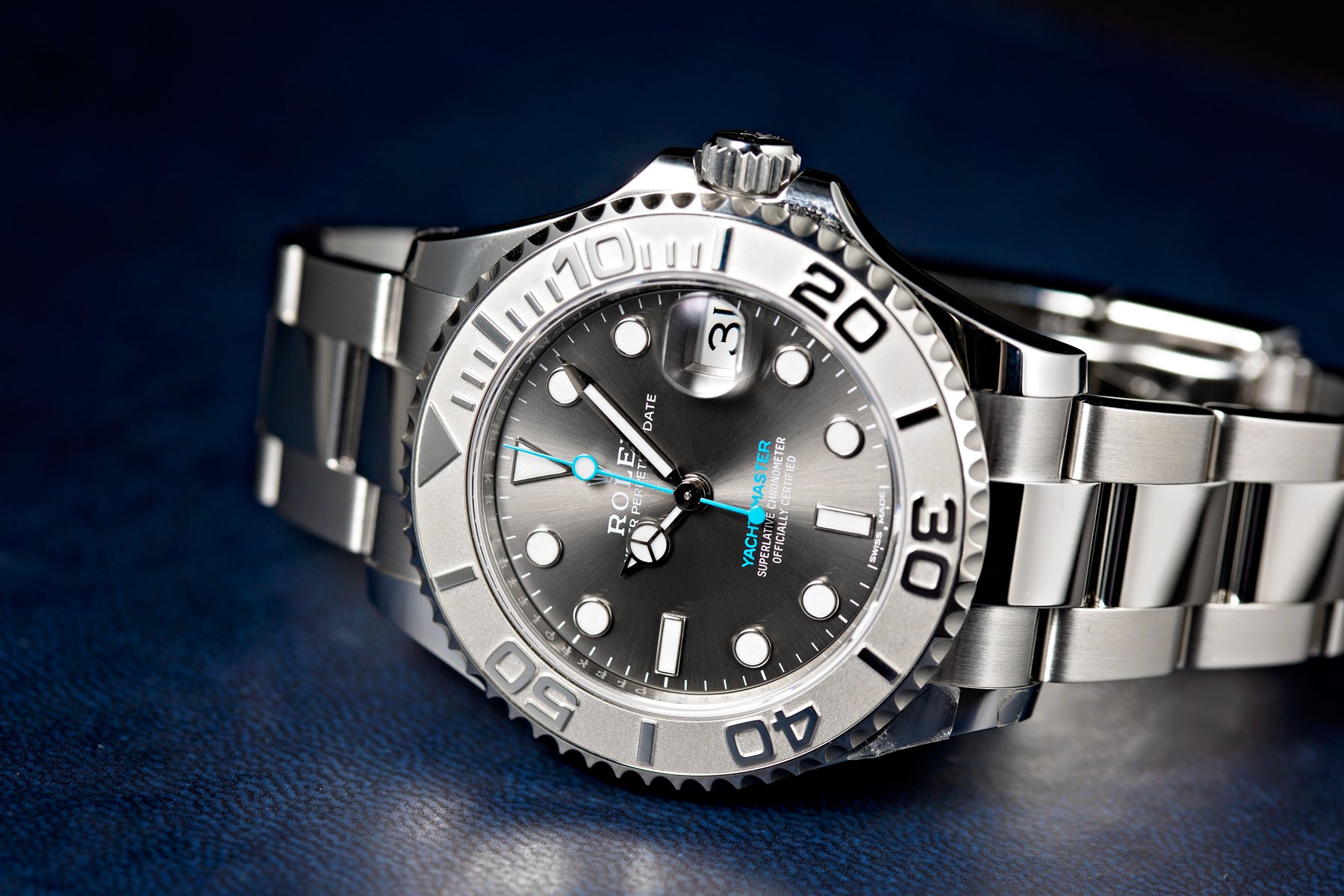 The Current Yacht-Master Sizes
Rolex currently makes three sizes of the Yacht-Master. There's the new Yacht-Master 42 we mentioned above, the Yacht-Master 40, and the Yacht-Master 37. While the largest model is exclusively offered in white gold, Rolex makes the two other sizes in Everose, two-tone Everose and stainless steel, and two-tone platinum and stainless steel.
It's worth mentioning that the Yacht-Master is the only Rolex collection that offers a functional bezel on a case that's smaller than 40mm. The Yacht-Master 37 (a size first introduced in 2015) is a great option for someone with smaller wrists looking for a Rolex sports watch.
The Discontinued Yacht-Master Sizes
Rolex first introduced the Yacht-Master collection in 1992 with the yellow gold Yacht-Master ref. 16628, which sported a 40mm case size. Two years later in 1994, Rolex unveiled two more sizes: the mid-size Yacht-Master ref. 68628 with a 35mm case and the ladies' Yacht-Master ref. 69628 with a 29mm case. From then on until 2015, Rolex offered these three different sizes within the Yacht-Master collection\
In 1999, the Rolesium edition of the Yacht-Master appeared. For those who may not know, 'Rolesium' is Rolex-speak for marrying platinum and steel on one watch – a combination still available in the current Yacht-Master collection.
Finally, in 2005, the Rolesor (Rolex's term for gold and steel watches) versions of the Yacht-Master made their entrance with yellow gold and stainless steel models. This particular metal configuration is no longer produced by Rolex, having been replaced by the Everose gold and stainless steel Rolesor watches. Rolex eventually dropped the 29mm and the 35mm sizes of the Yacht-Master and kept the 40mm size.
So in short, the Rolex Yacht-Master collection is available in five different sizes if we include the discontinued sizes: 42mm, 40mm, 37mm, 35mm, and 29mm. And if we include the Yacht-Master II model (which is, in all fairness, an entirely different watch despite the shared name) with its massive 44mm case, then it's six sizes in total. No other Rolex Professional collection comes close to offering this assortment of sizes.