Some brands steal all the headlines, while others quietly go about their business on the fringes of the industry, never quite getting the respect they deserve. Oris, for some reason or another, finds itself in the latter camp. While its presence throughout its global retailer network is impressive, and far outstrips those of many price-point peers, the chatter around the brand is, while overwhelmingly positive, not as loud as perhaps it should be.
Maybe it is because the majority of the movements are effectively off-the-shelf Swiss calibers bought in by the brand with minimal, mostly aesthetic modifications. Maybe it is because many people assume the brand is part of a major group (which it isn't) and punish it unduly for being an affordable pawn in an evil conglomerate's masterplan. Or perhaps it's because we as an industry have just learned to take Oris for granted. It's always been there, laboring away without a peep of complaint (despite coming perilously close to closure in the 80s when it shifted in and out of ASUAG control).
The brand makes good, solid, affordable watches that are nowhere near as derivative as one might expect for the asking price. You could accuse the designs of being safe but rarely do they come up even remotely boring under scrutiny. If Oris is a brand you're yet to dedicate some serious time to, I recommend you do something about it. To give you a snapshot of the kind of things the brand is offering, we're breaking down the three sub-families of the diving portion of the Oris catalog.
Oris ProDiver
The ProDiver is the least visible of the three water-bound families from Oris, probably because it features serious tool watches aimed at a professional diving audience. A small family currently comprised of just three models (two chronographs and one GMT), all references feature Oris's special bezel locking system. Unusually, the bezels must be depressed before they can be turned into position. This kind of feature requires extremely precise machining and Oris calls upon every day of its 115-year history to craft this component expertly.
Oris Aquis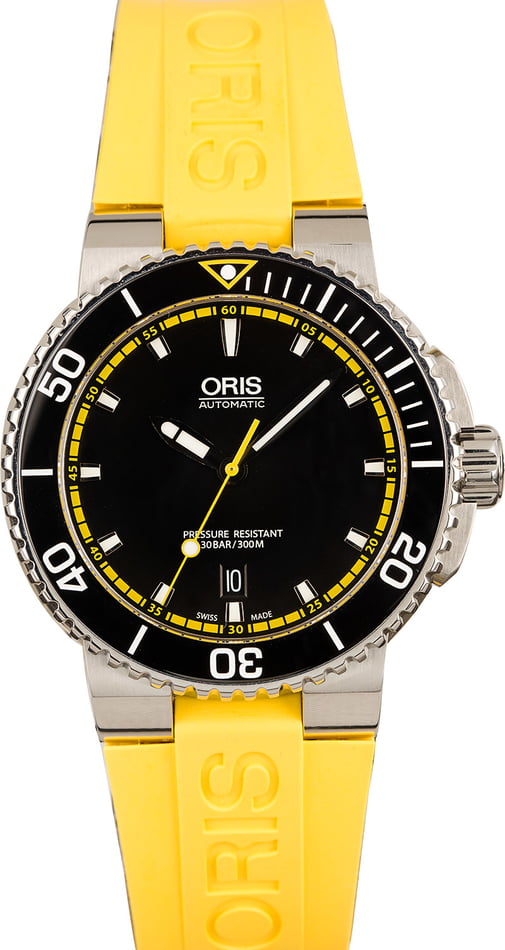 The Aquis is one of the best-known ranges in the Oris collection. Why? It's not just because of how favorably it stacks up against other basic dive models in this price point, but also to do with its individuality. Proprietary lugs are certainly not to everyone's tastes, but the sweet, vanilla-scented rubber straps with which Oris outfits these models as standard are surely enough to charm anyone. For those who prefer their divers on a bracelet, Oris does not leave them wanting. The standard Aquis bracelet is robust, easy to use, has a reliable fastener, and looks great specifically because of those special lugs.
The Aquis is the base model used in many special edition watches, and it has proven itself to be a remarkable canvas for expression. Probably the best thing Oris does with its limited editions is experimenting with different dial colors. While it remains a professional dive watch, the Aquis collection has seen some joyful blues, and mind-blowing teals make their way onto the face of the watch.
Certain models, such as the Oris Aquis Great Barrier Reef Limited Edition III, or the Oris Aquis Source of Life Limited Edition employ an incredibly satisfying date display mechanism that forsakes a traditional window in favor of a circular display, on which the dates are highlighted by a small bar of color that makes its way around the dial as the month progresses. It is little creative touches of this nature that make Oris one of the most appealing brands at this price point and earn it a ton of kudos for creative solutions to age-old problems.
Oris Divers Sixty-Five
The Oris Diver series is based around a classic model from 1965 and is all the better for it. Wisely, the brand has chosen to stick very closely to the original case and bezel design (with every model in the collection, whether it be a simple time and date model or a chronograph expressing the same genealogy that saw the family so positively received upon its re-release in 2015). The dials, however, went through a bit of a rejig following the model's rebirth.
The original Oris Diver released in 1965 was faithfully recreated in 2015, with its large cardinal numbers picked out by inverted lume wedges. Despite the model's positive reception, it was quickly brought "up-to-date" with dial markers that resembled a more commonplace layout (closer to that of the Rolex Submariner). Although it may have seemed a weird choice at the time, the long-term sense underpinning the decision is perhaps easier to appreciate given the range's longevity (which may have been capped by the unique, but the more divisive design of the original dial). There was a previous model from Oris that looked very similar to the current dial layout, but with a rectangular marker at 12 instead of the triangular or pointed-rectangular markers that occupy that space now.
Like the Aquis, the current Oris Divers Sixty-Five provides a perfect starting point for special editions, and a number of groups and brands others have already added their twists to the model with great success.