Oris represents one of the best values in Swiss luxury watchmaking. The company was founded in Hölstein, Switzerland, where it continues to operate to this day. Oris's commitment to both its Swiss heritage and quality craftsmanship is what earns the brand its place among some of the biggest names in the industry. Of course, what sets Oris watches apart from many of those produced by the other major players within this industry are their value-driven price points.
In this guide, we will explore the Oris catalog, its different price points, and answer the popular question, "How much is my Oris worth?"
Oris Watches
Oris Fact Facts:
– Founded in 1904.
– Headquarters in Hölstein, Switzerland.
– Founded by Paul Cattin and Georges Christian.
– Catalog consists of 4 categories: Culture, Motorsport, Diving, & Aviation.
– The "Oris" name comes from a nearby brook in the region.
– Produces its own in-house movements.
– Created the first automatic mechanical altimeter watch in 2014.
Click here for answers to some frequently asked questions about Oris watches.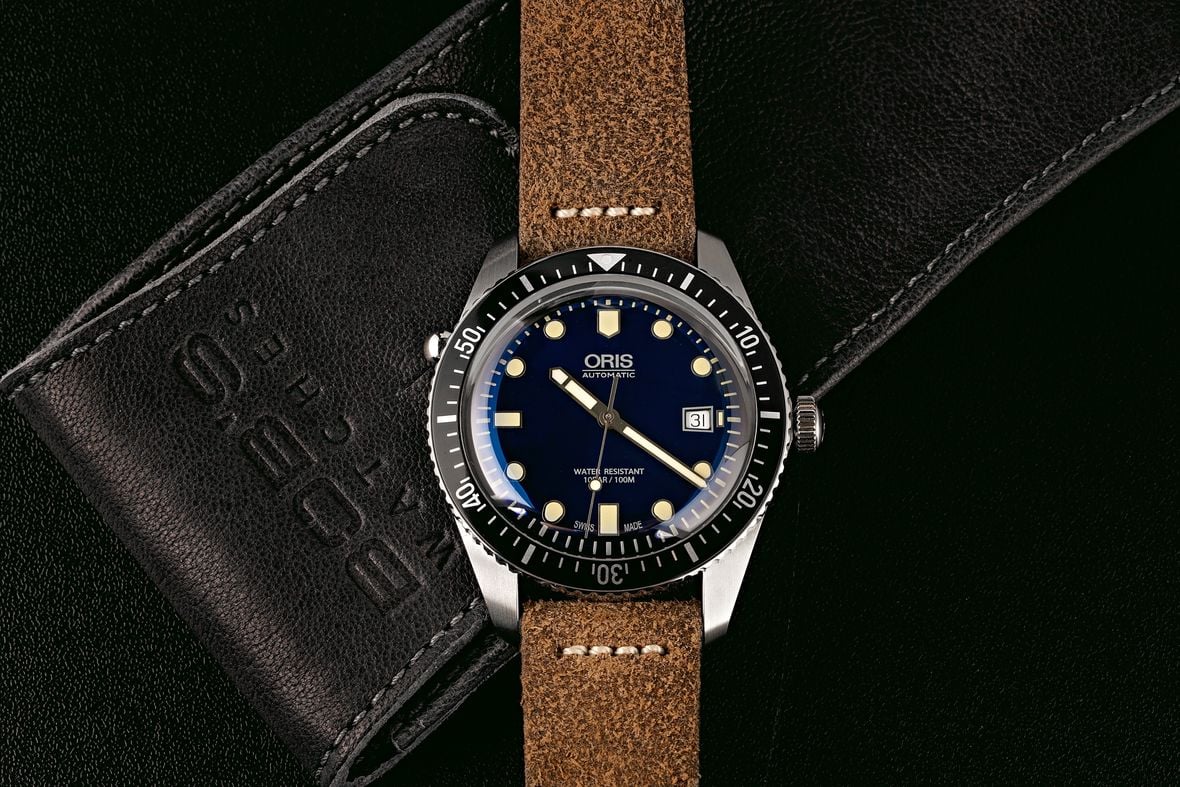 A Brief Oris History
Oris's rich heritage spans over a century, during which the company has proven that innovative, high-quality Swiss watches with timeless designs that will last for generations don't have to command a top-tier price. The brand's story began in 1904 when founders Paul Cattin and Georges Christian took over a watch factory in Hölstein, Switzerland. In 1925, the brand transitioned from producing pocket watches to wristwatches, and the foundation of the Oris catalog that we know today was born.
The next several decades marked many important firsts for Oris, including the production of its first in-house escapement (1938), its first Oris automatic movement (1952), and the launch of the Oris diver's watch in 1965, which would go on to inspire the massively-successful Divers Sixty-Five collection half a century later. Even when faced with many challenges during the first several decades, such as the quartz Crises and the resulting management buy-out, Oris persevered. Its dedication to quality and innovation is what has made Oris the success in the industry that it is today.
Continued Innovation
The late 1990s and early 2000s were a busy time for Oris. The company continued to stay ahead of the competition with the release of the first Worldtimer. This innovative watch allows the wearer to adjust local time forwards or backward one hour at a time. A few years later, Oris switched gears and developed the BC3, a sleek and modern automatic pilot's watch equipped with a dial topped with a luminous display and a durable stainless steel case.
The now-iconic red rotor made its debut in 2002 and has since become a fixture on many Oris watches. The following year, in 2003, Oris released the Artelier collection, a series of sophisticated dress watches that boast innovative movements and exquisite dials. Even during the past decade, Oris has continued to innovate, releasing such ingenious designs as the Aquis Depth Gauge and the Big Crown ProPilot Altimeter, the world's first automatic watch to feature a mechanical altimeter.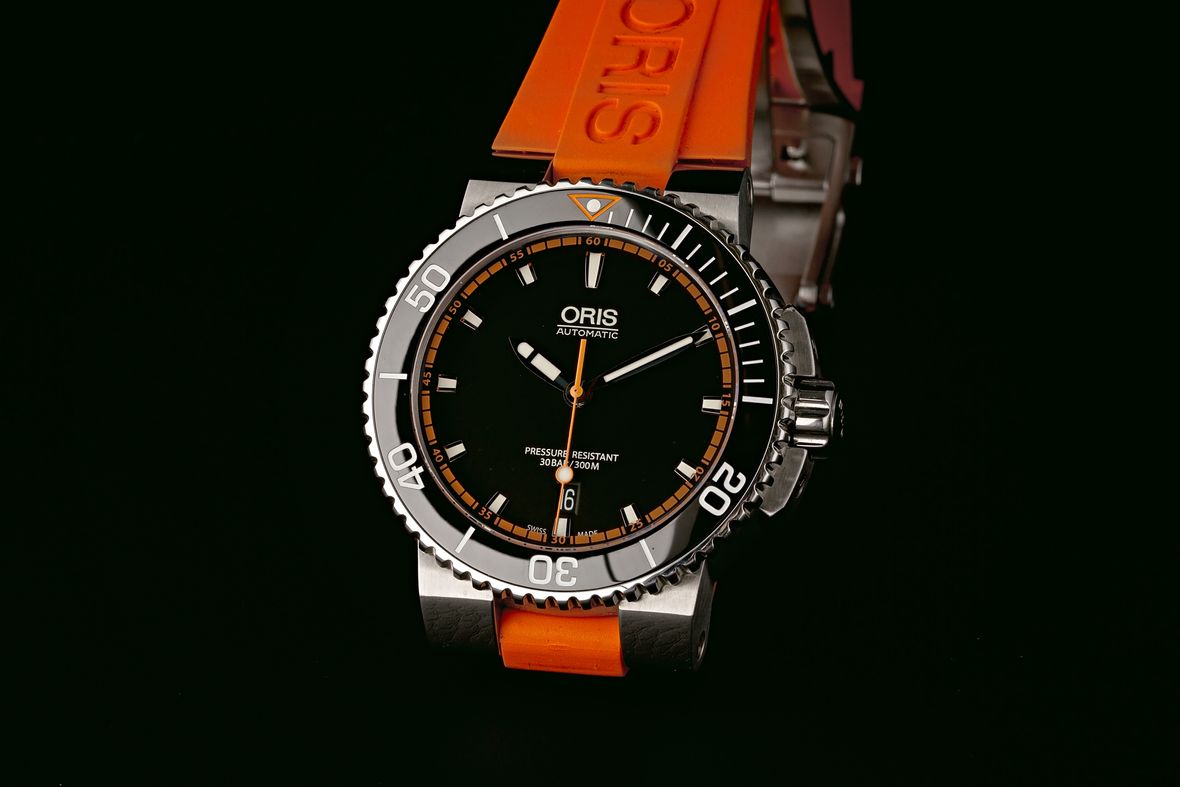 Oris Models
The Oris catalog is divided into four categories, each aimed at appealing to a different profession, environment, or lifestyle:
– Aviation: Developed for pilots and those flying at high altitudes and often boasting functions such as an additional time zone, highly legible display, or altimeter. Average Retail Price: $2k – $4k
– Motorsport: Developed for the world of professional racing. These watches often feature a chronograph movement for precise timing while on the racetrack. Average Retail Price: $2k – $3k
– Diving: A collection of highly water-resistant watches that often include added functions such as a built-in mechanical depth gauge, chronograph, or additional time zone. Average Retail Price: $2k – $5k
– Culture: Classically designed wristwatches more in-line with traditional dress watches, but featuring Oris's own distinct design language with some models featuring in-house movements. Average Retail Price: $2k – $10k
Oris Wach Categories
From there, the current catalog consists of the following main subcategories:
– Diving: Divers Sixty-Five, Aquis, ProDiver
– Culture: Artelier, Classic
– Aviation: Big Crown ProPilot, Big Crown ProPilot X, Big Crown
– Motorsport: Chronoris, Artix GT
Vintage Oris Watches
The history of the Oris brand dates back over a century. That impressive heritage and the company's exceptional level of quality make any vintage Oris watch an attractive prospect on the pre-owned level. Oris also positions itself as the more affordable option compared to many other Swiss vintage watches such as Rolex and Omega. So if you're in the market for an affordable vintage luxury watch with classic style, Oris is one of the best options on the secondary market. The average price for a vintage Oris watch is between $200 and $2,000.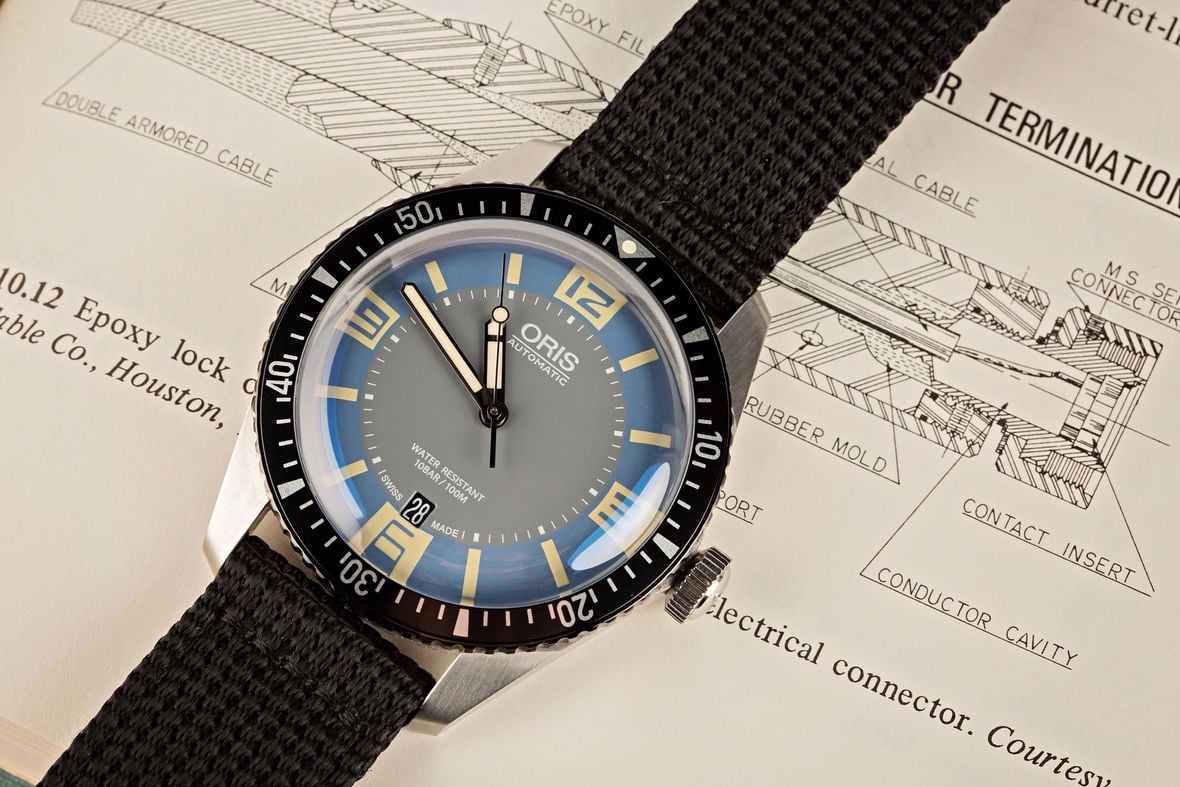 How Much is my Oris Watch Worth?
Oris watches are built to last for generations. At retail, prices start as low as $1,750 for more entry-level models such as the Big Crown Pointer Date. The middle tier averages around $3,000 to $6,000 for models with more complicated functions such as the Big Crown ProPilot and Artelier Caliber 113. Topping out the price range are expensive options such as the yellow gold limited edition Carysfort Reef Oris, which retails for $19,000, along with the solid 18k rose gold Artelier Calibre 111, which retails for $15,500. There is certainly an option for every budget within the current Oris lineup.
Retail vs. Pre-Owned Prices
Just like most luxury watch brands, you can often find a discount on Oris watches if you shop for them on the secondary market. For example, many of the brand's best-selling Aquis dive watch models retails for around the $2k to $3k range and some can be found available for as low as $1,500 on the secondary market. Additionally, the top-tier Oris models can also be found at a discount, like the Artelier in solid 18k rose gold, which retails for $15,500, but can often be found for about $10k to $12k on the pre-owned market.
Oris Watches Under $2k
Celebrated as one of the best values for the money when it comes to Swiss-made luxury watches, Oris produces a number of fantastic options that are available below the $2k price p0int.
Oris Big Crown ProPilot Big Day Date
– Retail Price: $1,750 – $2,100
– Pre-Owned Price: $1,200 – $1,500
The ProPilot series focuses on optimal functionality while in the cockpit, featuring clean, legible dials and the easier-to-grip oversized crown. The Oris Big Crown ProPilot Big Day Date also includes a convenient day/date mechanism on the dial at 3 o'clock. The distinction "Big" appears in the name twice – referencing both the crown and the day/date calendar feature. However, the current generation is also available with either a 44mm or 45mm case, further earning it the "Big" moniker.
Oris Chronoris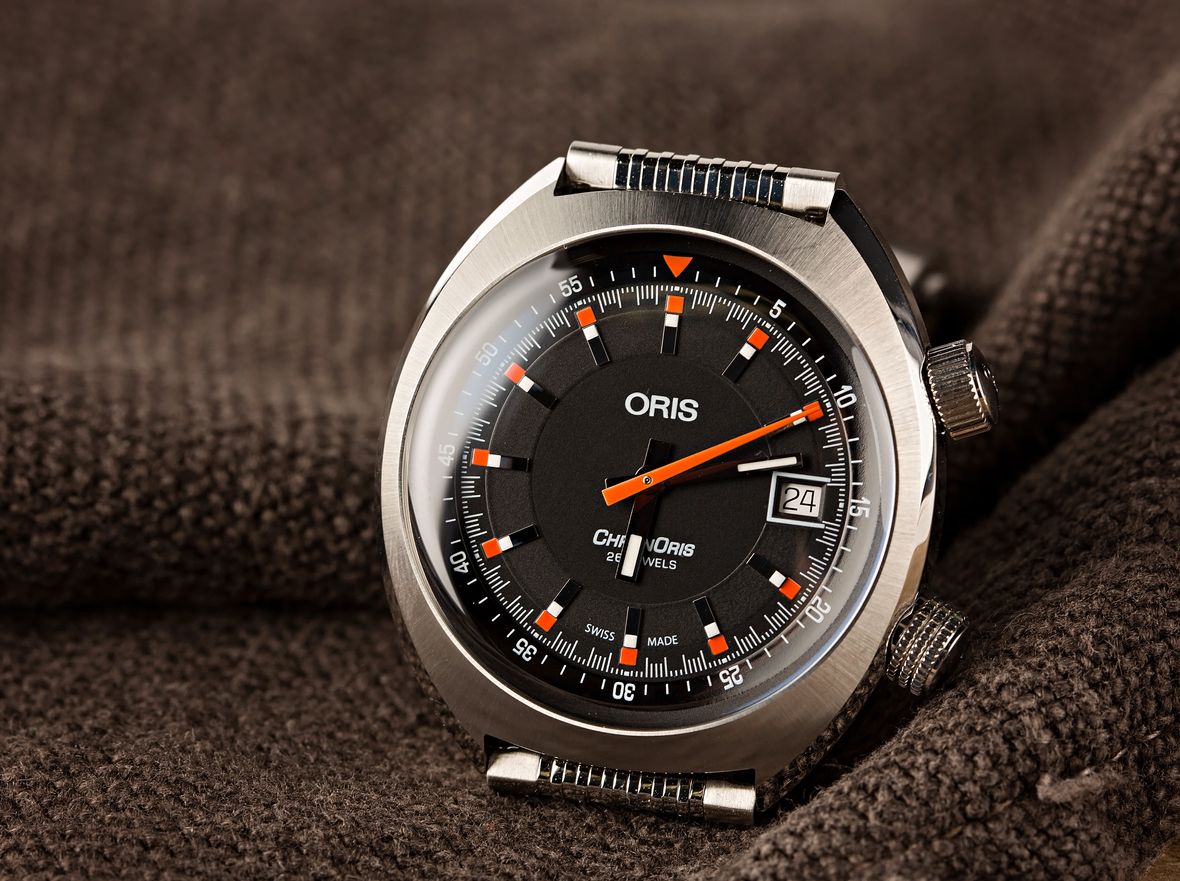 – Retail Price: $1,750 – $1,950
– Pre-Owned Price: $1,095 – $1,495
The Chronoris hit the market in 1970 and it continues in the modern era with a series of vintage-inspired timepieces that closely resemble the original 70s model. While the original model holds the title as the brand's first chronograph, not all modern Chronoris watches feature a chronograph complication. Instead, the models that skip this feature include a distinctive design with an inner rotating 60-minute bezel that is controlled by a second crown. Its new-vintage design consists of a unique sloped case and retro-inspired dial.
Oris Watches Under $3k
Many of the most popular Oris models from its various collections can be found for under $3k, especially when shopping on the pre-owned market.
Oris Divers Sixty Five
– Retail Price: $1,950 – $2,450
– Pre-Owned Price: $995 – $1,195
The Divers Sixty-Five pays tribute to Oris's iconic dive watch from 1965. Released fifty years later, this Diver puts vintage design front and center while equipping the series with modern amenities such as a domed scratch-resistant sapphire crystal, Super-LumiNova plots on the dial, and Sellita-based mechanical movements. As the vintage-inspired trend continues to thrive, the Divers Sixty-Five enjoys its status as one of the most successful Oris watches on the market right now.
Oris Watches Under $4k
Many of Oris's top-performing sports watches can be secured with a budget of $4k and this price point will also include models with advanced features and functionality.
Oris Aquis Depth Gauge
– Retail Price: $3,500 – $3,600
– Pre-Owned Price: $1,795 – $2,300
This edition of the Oris Aquis includes an innovative mechanical depth gauge built into the case. It works by allowing water to enter a channel surrounding the dial through a hole in the sapphire crystal. As the diver descends and the pressure increases, the air inside of the gauge is compressed. The depth is shown at the line where the water and air meet on a scale printed along the dial. The Oris Aquis Depth Gauge was a first for the brand and tops many collectors' must-have lists for its ingenuity alone.
Oris Watches Over $4k
Once you get above $4k you start to reach the most premium Oris watches from the brand's entire catalog, with some even available with advanced in-house movements and solid 18k gold cases.
Oris Artelier 110-Years Limited Edition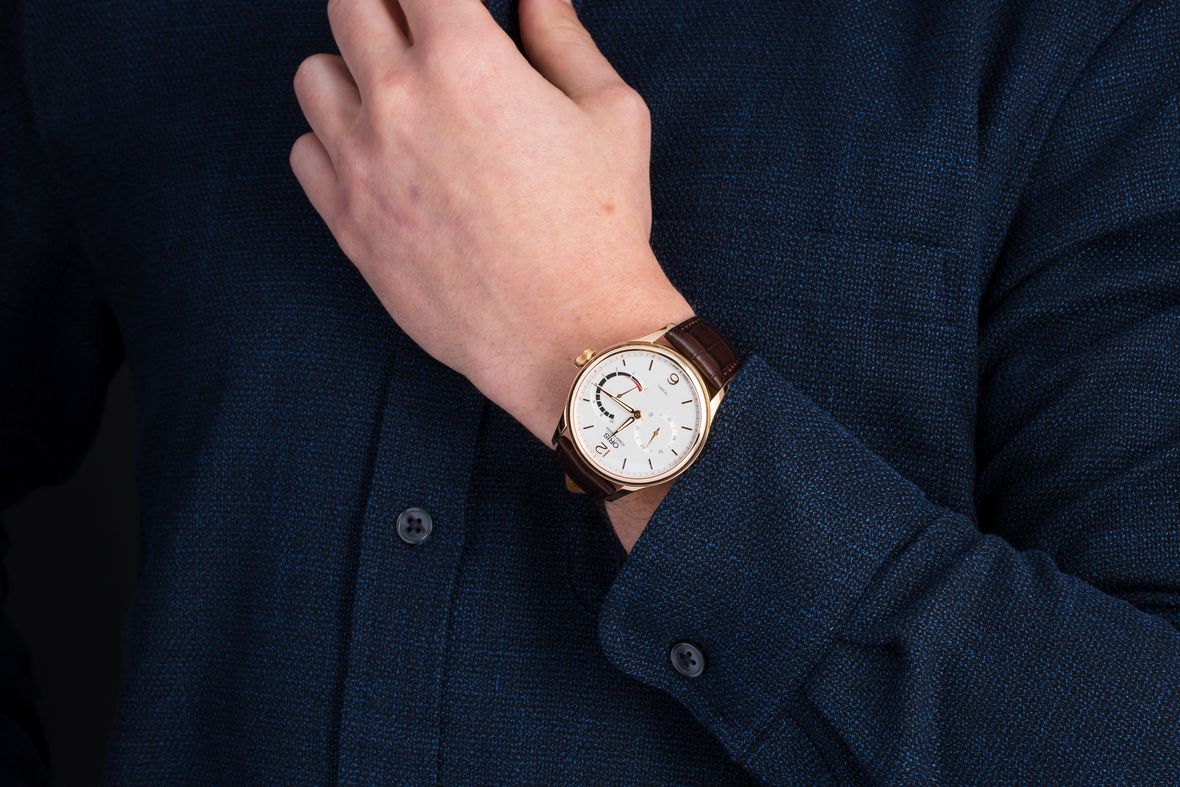 – Retail Price: $1,850 – $15,500
– Pre-Owned Price: $1,095 – $12k
The Oris Artelier series includes an impressive selection of movements, bracelet types, and metal options. Whether you're in the market for a simple, three-hand dial with a simple date mechanism, or one with more impressive functions, such as a moonphase complication or even a second timezone, there is a watch in this sophisticated and varied selection of dress references to suit your wrist. Entry-level options are available at both retail and on the pre-owned market with prices starting out around $1k – $2k. From there, prices vary drastically depending on the feature set and movement with some solid gold models selling for more than five-figures.