Patek Philippe's origins date back to 1839 when Antoine Norbert de Patek and François Czapek founded Patek, Czapek & Cie. Since then, the independent Geneva-based company has grown to become one of the finest Swiss watch brands in existence today. Patek Philippe is one-third of the "Holy Trinity" of Swiss Watchmaking, sitting alongside Audemars Piguet and Vacheron Constantin.
Under the guidance of the Stern family – who've owned the company since 1932 – Patek Philippe continues to make an assortment of watches that appeal to both seasoned collectors and newcomers. The headlining pieces at high-profile watch auctions are almost always Patek Philippe watches and in 2021, the brand currently holds eight spots out of the ten most expensive timepieces ever sold at auction.
Whether you're curious about the brand or are looking to add a Patek watch to your collection, delve into our ultimate guide on Patek Philippe to gain a greater understanding about this historic and celebrated watch manufacturer.
Is Patek Philippe a good investment? Click here to find out!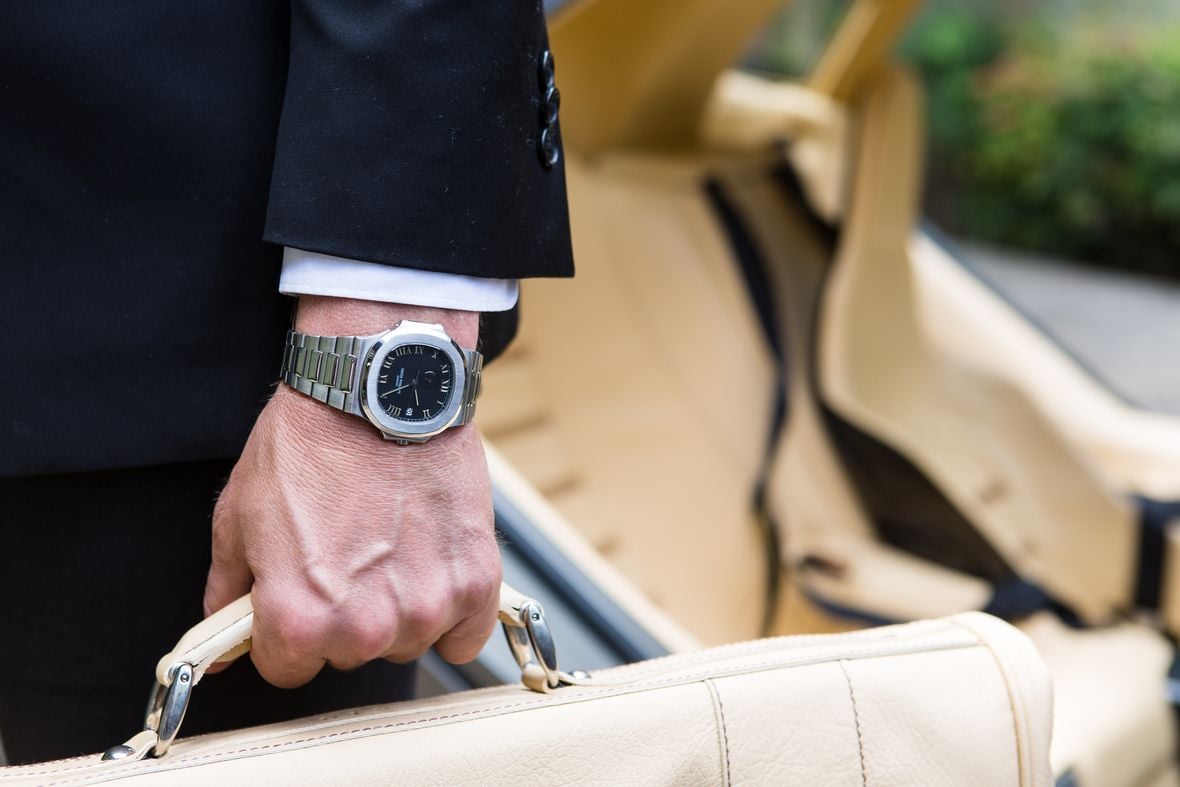 Patek Philippe Watch Collections Explained
From pared-down dress timepieces and luxury sports watches to dazzling diamond-set creations and high horology pieces, the Patek catalog is varied. In 2019, Thierry Stern, president of Patek Philippe, revealed that Patek Philippe makes around 140 models. However, compared to other Swiss watchmakers, Patek's yearly output is conservative (around 60,000 timepieces a year by some estimates,) which emphasizes the brand's exclusivity.
When looking at Patek references numbers, one important factor to remember is the letter codes denote the type of material used. However, these are French words so we've included English translations below
A – (Acier): Steel
J – (Jaune): Yellow Gold
G – (Gris): White Gold
R – (Rose): Pink Gold
P – (Platine): Platinum
With that, let's have a closer look at the Patek Philippe watch collections.
Patek Philippe Calatrava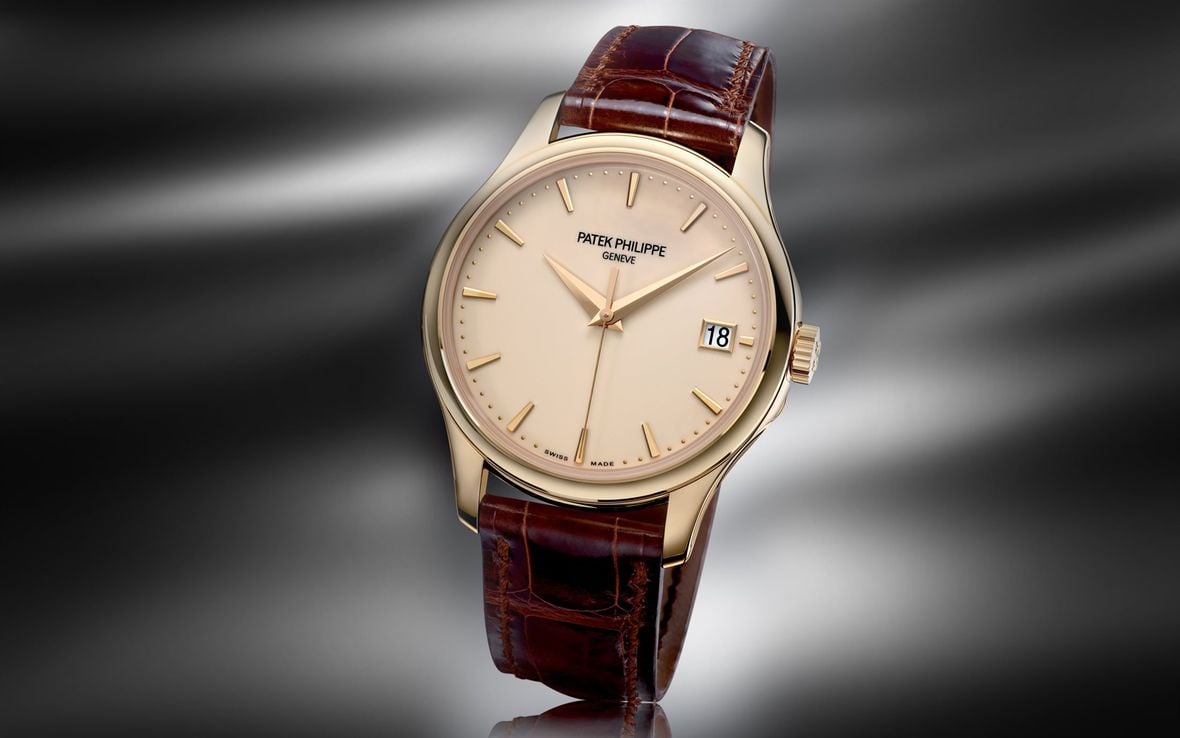 – Introduced in 1932 as the ref. 96
– Slim round dress watch
– Typically in gold or platinum
– Time-only or time/date dial

Introduced the same year as the Sterns took over the company, the Calatrava is Patek's line of refined dress watches. Calatrava watches are offered in various sizes for men and women, and they're characterized by slim round cases, elegant lugs, and clean dials. They often feature just a duo or trio of hands on the dial but sometimes a date window too. Calatrava dress watches are customarily fashioned from precious metals like gold and platinum but the brand recently unveiled a limited edition steel Calatrava. In Patek's world, steel is rarer than gold.
Patek Calatrava timepieces frequently run on manual-winding movements to keep the cases as slim as possible, but there are automatic editions too. While there are some Calatrava watches that feature additional complications, these Patek watches belong to the "Complications" collection rather than this dress watch lineup.
Patek Philippe Calatrava Prices (MSRP):
– Calatrava Small Seconds 5196J/R/G: $24,600
– Calatrava Small Seconds 5196P: $40,810
– Calatrava Date Self-Winding 5227J/R/G: $37,850
Despite being a true classic in the world of luxury dress watches, you don't always have to spend a fortune to purchase a Patek Philippe Calatrava. Pre-owned prices start at around $6,000 for older discontinued references, but they can quickly increase from there depending on the style, materials, and configuration.
Patek Philippe Nautilus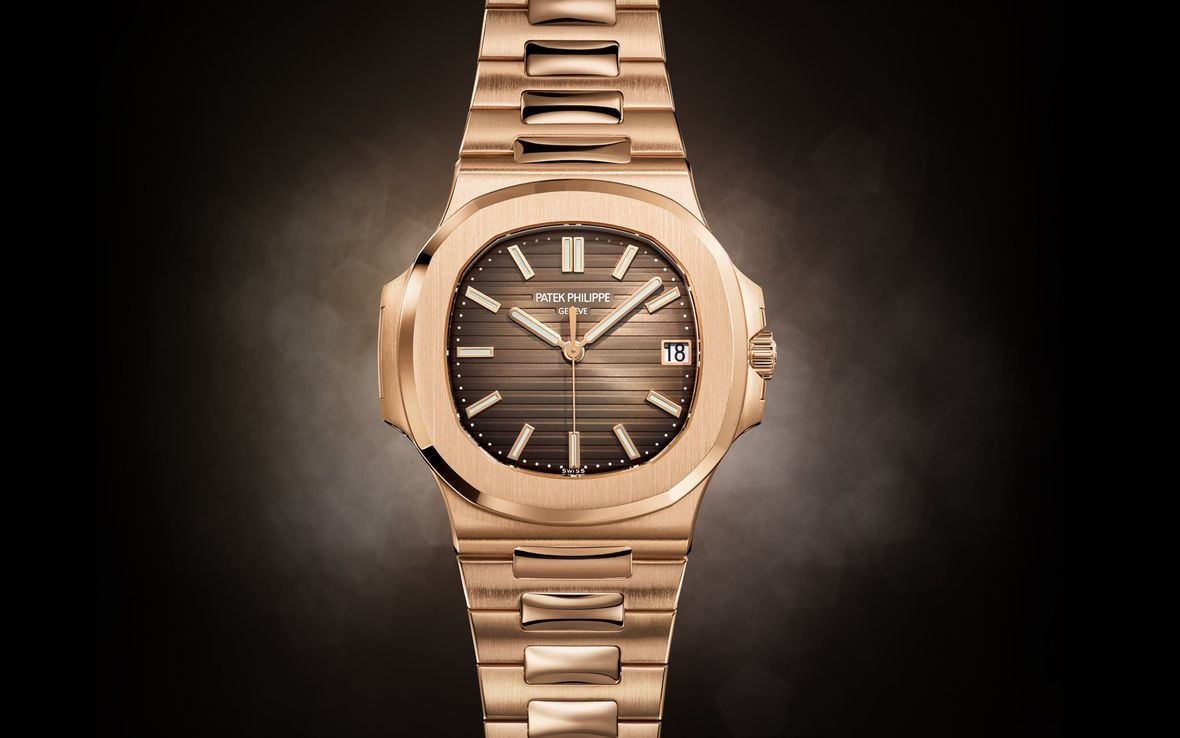 – Introduced in 1976 as the ref. 3700-1A
– Nautical inspired sports watch designed by Gerald Genta
– Available in steel, gold, two-tone
– Time/Date, Chronograph, Travel Time, Perpetual Calendar, Annual Calendar

The Patek Philippe Nautilus made its debut in 1976 – during the decade that gave birth to the luxury sports watch genre. The Nautilus was designed by Gerald Genta, the same man behind the Audemars Piguet Royal Oak, and the model featured many of his signature design traits.
There's the generously sized porthole-inspired case silhouette, the rounded eight-sided bezel, the horizontally striped time/date dial, and the integrated bracelet. However, perhaps most notable is that the first Nautilus was fashioned in stainless steel but carried a price tag as expensive as would accompany a solid gold timepiece.
The Nautilus collection has expanded to welcome other material variations and more complicated iterations since its launch. However, the stainless steel models with blue time and date dials have remained the most coveted of them all. In February 2020, Patek Philippe announced it had discontinued the Nautilus ref. 5711/1A-010 – a watch that was rumored to have up to 10-year waitlist.
As expected, demand for this unobtainable Patek watch sky-rocketed and prices have soared. While the last published retail price of the Patek Philippe Nautilus 5711/1A-010 was $33,710 it is not uncommon to find them on the pre-owned market selling for well beyond six figures.

Patek Philippe Nautilus Prices (MSRP):
– Nautilus 5711-1A (discontinued): $33,710
– Nautilus 5711-1R: $59,140
– Nautilus Moon Phases 5712-1A: $44,950
– Nautilus Moon Phases 5712R/G: $49,910
– Nautilus Annual Calendar 5726-1A: $50,270
– Nautilus Chronograph 5980-1R: $96,990
– Nautilus Chronograph 5980-1AR: $70,380
– Nautilus Travel Time Chronograph 5990/1A: $59,140
– Nautilus Perpetual Calendar 5740-1G: $134,840
The Nautilus collection as a whole is one of Patek Philippe's most desirable models today and its meteoric rise is thanks in part to its popularity among constantly photographed celebrities.
Patek Philippe Aquanaut
– Introduced in 1997 as the ref. 5060A
– Rounded octagon case
– Frequently paired with a textured rubber strap
– Time/date, Travel Time, Chronograph

Patek Philippe launched the Aquanaut in 1997 as a simplified version of the Nautilus line geared towards a younger generation. Similar to the Nautilus, the Patek Philippe Aquanaut sports a rounded octagonal case but without the hinged sides. Furthermore, a distinguishing design element of the Patek Aquanaut is its textured rubber strap that features a checkered design that matches the one on the surface of the dial.
While the first version of the Aquanaut was produced in steel, fitted with a time/date dial, and equipped with a black strap, the collection has expanded to include numerous other options. Today, the Aquanaut line is home to steel and gold versions, as well as complications such as a chronograph and a dual time. Although most Aquanaut watches have a "Tropic" rubber strap, Patek does make a version with a matching steel bracelet.
Patek Philippe Aquanaut Prices
– Aquanaut 5167A: $21,650
– Aquanaut 5167-1A: $24,840
– Aquanaut 5167R: $40,810
– Aquanaut 5168G: $43,760
– Aquanaut Travel Time 5164A: $39,030
– Aquanaut Travel Time 5164R: $58,190
– Aquanaut Chronograph 5968A: $49,680
The Aquanaut took some time to reach its stride; however, this modern Patek sports watch is now in high demand with resale values topping retail prices just like its Nautilus siblings.
Patek Philippe Complications and Grand Complications
In horology, the term "complication" refers to any watch function that goes beyond telling the time. A "grand complication" is a mechanical timepiece that boasts several complications and Patek Philippe is renowned for its industry-renowned mastery in this field.
The brand introduced its first minute repeater wristwatch in 1916, its first split-seconds chronograph wristwatch in 1923, its first perpetual calendar wristwatch in 1925, and its first annual calendar in 1996. Patek Philippe's archives feature some of the most complex timepieces ever made, including the Henry Graves's Supercomplication pocket watch with a total of 24 different complications.
The modern Patek Complication lineup is no less impressive, with plenty of fantastic references including Annual Calendar, Weekly Calendar, Flyback Chronograph, Pilot Travel Time, World Time, and World Time Chronograph.

Patek Philippe Complication Prices
– Calatrava Weekly Calendar 5212A: $35,480
– Annual Calendar 5146J/R/G: $47,310
– Annual Calendar 5396G/R: $53,460
– Annual Calendar Flyback Chronograph 5905R $70,380
– Chronograph 5172G: $78,420
– Calatrava Pilot Travel Time 5524R/G: $53,820
– World Time 5230G/R: $52,040
– World Time Chronograph 5930G: $79,250
For the serious collectors, the Patek Grand Complication is home to an exquisite selection of mechanical marvels such as Perpetual Calendar, Perpetual Calendar Chronograph, Split Second Chronograph, Alarm Travel Time, and Celestial.
Patek Philippe Grand Complication Prices
– Perpetual Calendar 5327J/G/R: $92,260
– Perpetual Calendar 5320G: $92,260
– Perpetual Calendar Chronograph 5270J: $176,240
– Split Seconds Chronograph 5370P: $274,410
– Perpetual Calendar Split Seconds Chronograph 5204R: $309'890
– Alarm Travel Time 5520P : $260,220
– Celestial 6102R: $311,080
The one-of-a-kind Grandmaster Chime Ref. 6300A-010 became the most expensive Patek Philippe watch ever sold when it was auctioned off for over $ 31 million in 2019.
Patek Philippe Golden Ellipse
– Introduced in 1968
– Ultra-slim elliptical cases
– Precious metal cases with leather straps
– Time-only dials

Inspired by the geometric principle of the golden ratio, the Golden Ellipse was first released in 1968. As their name implies, Golden Ellipse watches feature ultra-slim elliptical shaped cases. Furthermore, to maintain a balanced and clean aesthetic, their dials include a pair of hands pointing to slim baton hour markers.
Patek Philippe Golden Ellipse Prices
– Golden Ellipse 5738R: $34,070
– Golden Ellipse 5738P: $55,830
There are some quartz-powered vintage Patek Philippe Golden Ellipse watches available on the pre-owned market. However these days, the brand only makes mechanical versions of this elegant dress watch.
Patek Philippe Twenty~4
– Introduced in 1999
– Rectangular quartz models or round automatic models
– Time/date dials
– Available in steel, or rose gold

In 1999, Patek Philippe introduced a new collection of modern and luxurious, yet easy-to-wear watches for women. The watch was dubbed the Twenty~4 as it was positioned as a watch to be worn for all occasions.
For almost two decades, the Patek Philippe Twenty~4 lineup featured rectangular quartz-powered watches with integrated bracelets. In 2018, Patek expanded the Twenty~4 lineup to also include round watches with automatic movements. Today, the Patek Twenty~4 is available in both iterations.
Patek Philippe Twenty~4 Prices
– Twenty~4 4910/1200A: $14,670
– Twenty~4 4910/1201R: $44,950
– Twenty~4 7300-1200: $27,800
– Twenty~4 7300-1200R: $48,500
It's been rumored that the Twenty~4 is one of Patek Philippe's best-selling (if not, the best-selling) collection ever made, despite the fact that it doesn't ever receive nearly the same type of attention from the collection world as its Nautilus or Aquanaut siblings.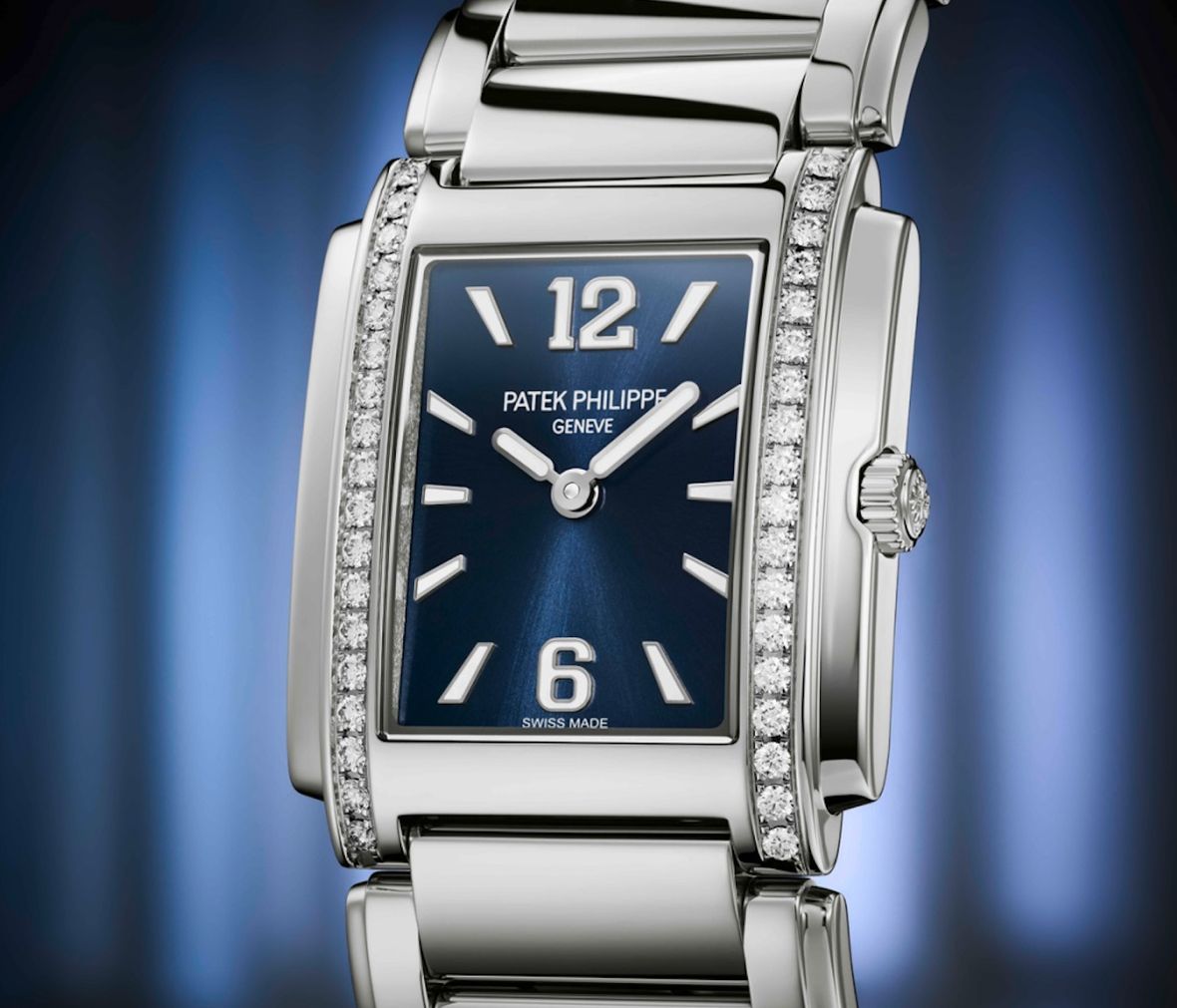 A Patek Philippe For All Generations
In addition to some of the world's most coveted timepieces, Patek Philippe is also famous for its longstanding tagline: "You never actually own a Patek Philippe, you merely look after it for the next generation."
That sentiment not only emphasizes the timeless appeal of Patek Philippe watches but it also underlines the fact that they're built to last several lifetimes and they are truly items designed and destined to become cherished family heirlooms.
* Images courtesy of Patek Philippe.